Sangfor SRAP
Innovation Overview
SRAP is Sangfor's newest virtual delivery protocol. Its essence is to add SRAP module to the server-side to implement a protocol agent, optimized to give the client increased speed and flawless user experience. Sangfor SRAP protocol is oriented to a variety of virtual desktops and application types through data forwarding control, data compression, caching and filtering, providing a user experience that's as good as traditional PC software. In addition, SRAP is able to adapt and adjust its optimization techniques to various user environments and environmental changes to provide the most seamless and effortless user experience.
Components
The SRAP virtual protocol technology framework primarily uses efficient flow compression, intelligent cache optimization, dynamic image filtering and multimedia redirection as a cohesive unit. These 4 integrated technologies provide rich optimization characteristics and the best desktop user experience in various scenarios with manual and automated adaptation and support 1080P HD video play fluency
High-Efficiency Flow Compression
Intelligence Cache Optimization
Dynamic Image Filtering
Multimedia Redirection
Advantages
In a typical desktop cloud office environment with elements like intranet, international branches or production lines, users need access to various applications including OP and ERP, as well as business critical software like email, PPT or PDF files.
Tests conducted in different office environments (LAN and Internet) concluded that PPT switching operations on a virtual desktop without optimization causes issues like slow display speed and incomplete imaging.
The SRAP protocol optimization function guarantees a smother desktop operation experience even in the event of high network latency and serious packet loss. Users notice little to no lagging with SRAP, while bandwidth occupancy remains quite low, making it highly efficient in both a LAN or Internet environment.
Outside the realm of a typical office environment, users need a desktop cloud solution that provides fluent reception of voice or HD video in application scenarios like call centers, multimedia training rooms, classrooms or for basic Internet surfing.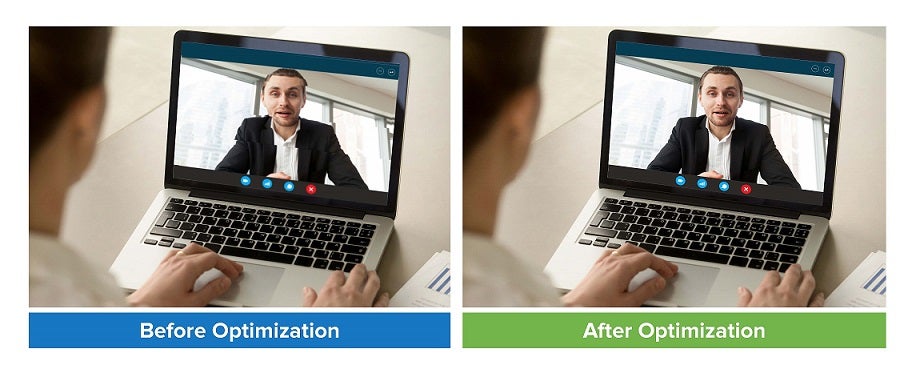 How Do I Get SRAP?
Sangfor developed SRAP framework continues to provide users with high-definition desktop experience in an intelligent, adaptive environment. By optimizing our SRAP protocol we are enhancing the integration of cloud desktop technology and ensuring your ability to maintain a rich and high-definition desktop operating experience, meet the access requirements of end-users, and simplify adoption of desktop cloud technology for enterprises.