Basic guarantee term:
SANGFOR provides 5 years hardware and software support guarantee since the date end user purchases the solution:
1. The hardware is guaranteed to support the latest software version release within the 3 years period and 5 years of maintenance releases/bug fixes for each version.
2. End user is guaranteed to be able to receive hardware for at least 5 years and software support for at least 10 years. This includes hardware support and software support terms as listed on SANGFOR support policy.
3. The support terms must be covered on a support contract.

The basic guarantee term acts as the minimum support guarantee, and is able to override Support Life Cycle policy. SANGFOR reserves the right for final explanations.
Support Life Cycle Policy
SANGFOR Support Life Cycle Policy defines its product software and hardware end of life, end-of-sale cycle and the corresponding service policy. The aim of SANGFOR Support Life Cycle Policy is to keep our customers and partners updated with SANGFOR products end of life information and also to guarantee the service and benefits of each party.

For hardware platforms, the following Support Life Cycle Policy applies:
If the renewal is needed, the service fee occurred during the unwarranted period should be paid.
If hardware support is needed during the unwarranted period, the service fee should be paid.
If hardware support is needed during the warranted period and the hardware is out of production, at SANGFOR discretion, hardware may be replaced with similar or equivalent product.

For software products and releases, the following Support Life Cycle Policy applies (does not include to Sangfor NGAF product lines):
The software release of a major release cycle will be supported for a period of 3 years since purchased.
The 5 years maintenance applies to every software version, which includes bug fixes, maintenance releases workarounds, and patches for critical bugs.
At most of 10 years technical support is provided since the date of purchase.

Sangfor NGAF Firmware Releases
Each customer may purchase up to 5 years of TAC support services from the date of hardware purchase.
During the support period, customers are entitled to technical support services for supported official firmware versions, such as general inquires, troubleshooting, hot patches, and version upgrades if available.
After 5 years since the date of purchase, the NGAF device will reach its End-of-Support (EOS). Customers will not be entitled to Sangfor TAC support services after the EOS date.
By default, each NGAF firmware version has a 3-year lifetime since its release date. The lifetime of some firmware versions may vary between 2 and 5 years depending on Sangfor's business direction, technical planning, and customer experience considerations. For more details, please refer to the SANGFOR COMMUNITY for the End-of-Life (EOL) date of each firmware version.
After a firmware's EOL date, customers need to upgrade to the latest supported version to be entitled TAC support services to ensure the best customer experience and support.
Note: These policies apply to all customers by default unless agreed otherwise.

For Trade-in:
Please ask your reseller for details.

For Security Products: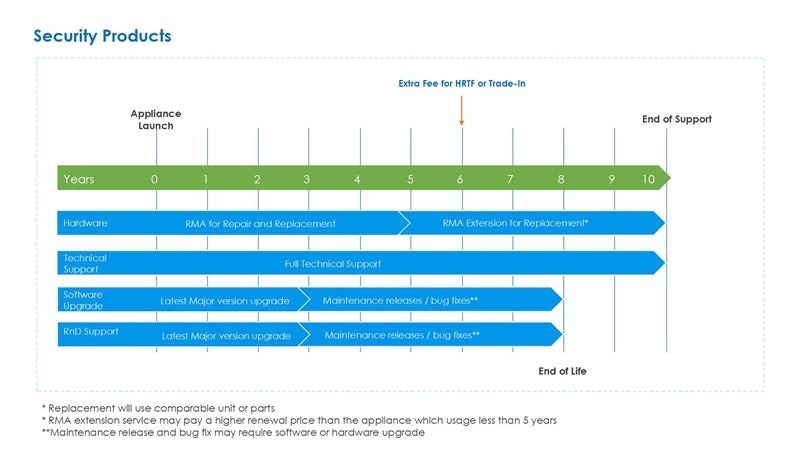 For Cloud Products: