Sangfor NG-CDI Architecture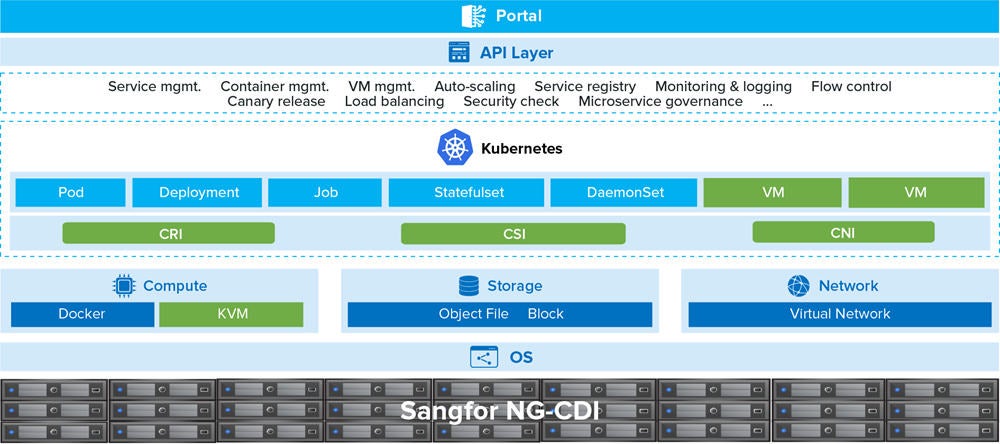 Sangfor NG-CDI Architecture
Digital transformation is indeed happening and rapidly transforming the way we live and work. Pull out your smart phone and you can do basically anything you want: transportation, hopping, chatting, blogging, you name it. Applications of all kinds are enabling people and businesses to get things done more quickly and more efficiently. These applications are more and more likely to be architected in distributed microservices, built and run on cloud-native infrastructure. Data center infrastructure must keep evolving to keep up with the velocity of application change. That's why Sangfor NG-CDI (Next Generation Converged Digital Infrastructure) comes to the play.
Sangfor NG-CDI Scenarios

Legacy Data Center Transformation
Future proof your data center infrastructure with the modern software-defined infrastructure that is cloud-native, scalable, reliable and secure.

Transition from Traditional Apps to Modern Cloud Apps
Smooth your transition from traditional VM-based apps to modern containerized apps with unified platform to support your business of the past and future.

Build and Run New Cloud-Native Applications
Develop, run and manage your cloud-native applications on NG-CDI with confidence and efficiency.
Sangfor NG-CDI Benefits

Business Centric
Application-centric management delivers outstanding business agility Run any app that your business favors, be it VM-based or container-based Adaptive infrastructure with Kubernetes conformant API

Secure and Resilient
Comprehensive stack of security with end-to-end protection Built-in infrastructure reliability with HA, backup and DR Platform-level resiliency with automated self-healing capabilities

Cost-Saving
Start from two nodes and scale out on demand Unified platform for both legacy and modern applications Easy-to-use GUI-based management simplifies O&M
Sangfor NG-CDI Key Features

Kubernetes is built into the kernel and containers are supported natively on NG-CDI

Expedite application deployment by packaging your application containers and VMs into Helm templates

End-to-end cloud-native security scheme to maximize the security of your infrastructure and applications, from inside out.

NG-CDI provides unified management, networking, storage, monitoring and logging for both VMs and containers
Recent News and Press Releases
Find out more about Sangfor's achievements, including industry recognition, awards, and accreditation from the world's leading analyst firms and test institutes.
News
Sangfor Technologies Peer-Recognized as a Strong Performer in the Gartner® Peer Insights™ Voice of the Customer for Full-Stack HCI Software
21 Sep, 2023
News
How Sangfor HCI and Thales CipherTrust KMS Provide a Secure and Compliant Solution for Key Management on HCI
12 Sep, 2023
News
Sangfor Recognized as a Sample Vendor in the Gartner® Hype Cycle™ for Infrastructure Strategy, 2023
29 Aug, 2023