Sangfor Technologies hosted its annual APAC Summits from the 27th February to the 3rd March 2023. The Summits focused on connecting innovative minds and showcasing pioneering technology in cybersecurity and cloud computing. The 2023 Sangfor APAC Summits were even more special this year as they were the first in-person summits held by Sangfor since the Covid-19 pandemic. Exclusive event apps were also released for both the Partner Summit and EPIC Summit to assist attendees and provide maximum convenience at the touch of a button. Both events also hosted an array of exciting and interactive contests, exhibitions, and breakout sessions.
The Sangfor Partner Summit 2023 – APAC Edition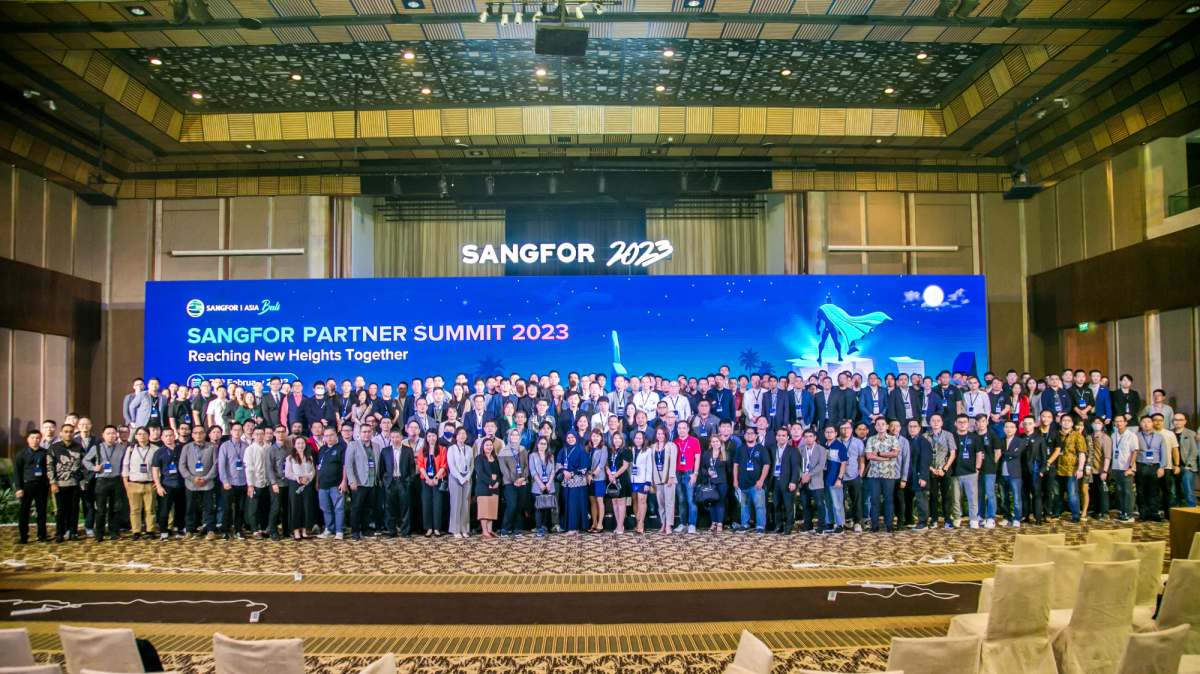 The Sangfor APAC Partner Summit 2023 took place at the end of February and saw more than 400 partners gathered to celebrate achievements and network amongst innovative minds. Sangfor executives and industry experts get the chance to showcase their latest products and services going into the new year.
Some key highlights of the 2023 Sangfor APAC Partner Summit included:
A welcoming and inspiring keynote speech by the Sangfor Co-founder and Chief Operating Officer, Mr. Wilson Xiong, that touched on "Building the Future Through New Partnership".
Sangfor's Chief Product Officer, Mr. Guy Rosefelt, gave a keynote speech that discussed the lessons learned from 2022 and how partners can use past wisdom to better address the security needs of customers in the upcoming year.
A keynote speech by Mr. Jeremy Jia, the President of Sangfor's International Market, presenting Sangfor's master plan for partners in 2023.
Mr. Allen Lim, the Sangfor Product Director for Security, presented a wonderful performance sketch of the threat to cybersecurity posed by ChatGPT and thereafter offered a presentation on the newest and enhanced Sangfor cybersecurity products and services available.
A presentation by Mr. Glay Wang, the Sangfor Senior Cloud Business Operations Manager, introduced Sangfor's new and improved cloud products, solutions, and services as well as partnership models to inspire growth.
Presentations of success stories from esteemed Sangfor partners all accompanied on stage by Sangfor's Director of Channel Partner Operations, Mr. Bory Liao. Our partners at the summit included Mr. Melvin Ong of TSI Distributors in Indonesia, Mr. Albert Tu of Data Alliance in Malaysia, Mr. Ephrem Jr Dela Cerna of PCI Innovations Tech Center in the Philippines, and Mr. Stanley Lee Chi Man of Fujifilm in Hong Kong.
The night ended with an elegant partner awards ceremony held during the Gala dinner event later on at the hotel in which we celebrated the achievements and milestones of our respected partners and gave our prizes won during the contests and lucky draws throughout the day.
The list of the award winners during our 2023 Sangfor Partner Summit ceremony went as follows:
Sangfor 2022 Best Distributor
PT Solusi Multi Tehnologi
IT Green Public Company (Limited)
Sangfor 2022 Best VAD
Data Alliance Sdn Bhd
BANBROS COMMERCIAL, INC.
Sangfor 2022 Best Gold Partner
FUJIFILM Business Innovation (Hong Kong) Limited
Sysnect Information Co., Ltd.
PT Gwen Tekno Pratama
MSE DotNet Sdn Bhd
IPSolutions Inc.
Sangfor 2022 Best Partner for Cyber Security
Momentum Z
Kmit-Group Co., Ltd.
Supplier Development Asia Pacific Ltd
Sangfor 2022 Best Partner for Cloud Computing
Map2u Sdn Bhd
HOMITECH JOINT STOCK COMPANY
R3HUB IT SOLUTIONS
Sangfor 2022 Fastest Growing Partner
First One Systems Co., Ltd.
Vega Networks Co., Ltd.
Business Resilience Technology
PT Wira Arta Telematika
Baro International Limited
Sangfor 2022 Best Industry Performer
ICO Technology Limited
E-Content (M) Sdn Bhd
Torque IT Co., Ltd.
PT. Berkah Sejahtera Abadi Indonesia
Massive Integrated Tech Solutions Inc.
Sundray 2022 - Fastest Growing Distributor
Sundray 2022 - Best Gold Partner
Sundray 2022 - Fastest Growing Partner
ASIA FORT SECURITY & NETWORK TECHNOLOGY CO.,LTD
Sundray 2022 - Outstanding X-LINK Distributor
Overall, the 2023 APAC Sangfor Partner Summit was a delightful success and in March, the Sangfor EPIC Summit was held – Sangfor's biggest customer event of the year.
View the photo album of the Sangfor Partner Summit 2023
The Sangfor EPIC Summit 2023 – APAC Edition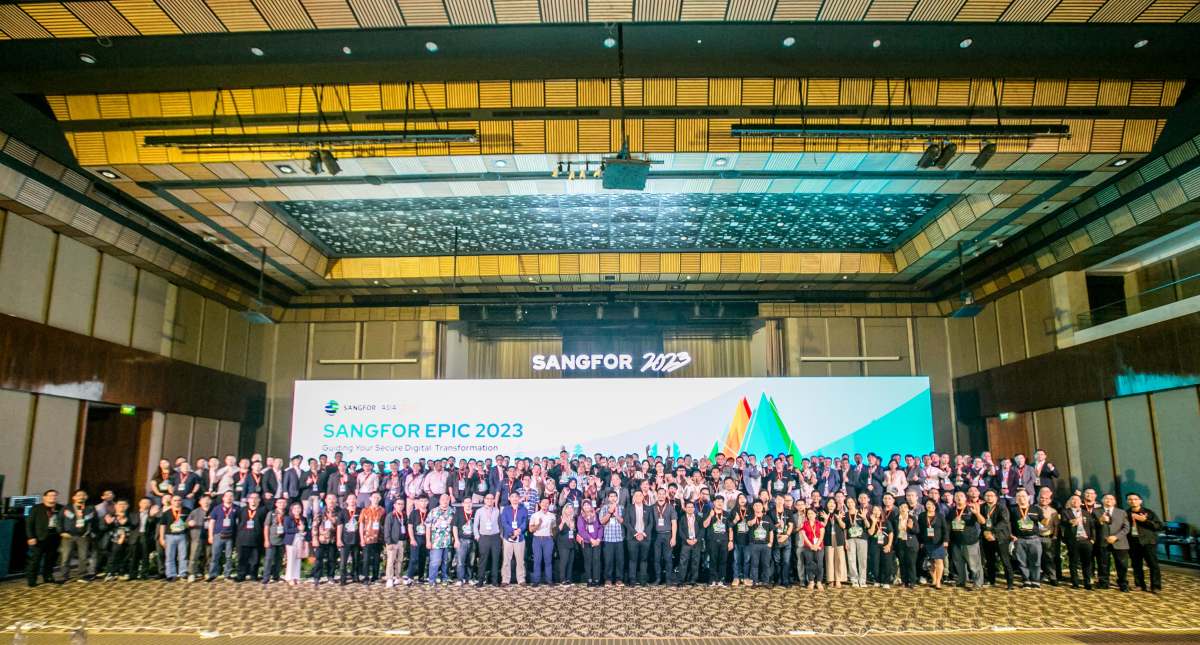 The event hosted 350+ customers from more than 10 different countries and regions in the APAC. The Sangfor EPIC Summit features executives and industry experts from around the world to showcase the latest cybersecurity and cloud computing products and services.
The theme of the event was innovation – led by expertise and strategies to help you protect and grow your business in 2023. INTEL played a pivotal role as a sponsor of the EPIC Summit and our esteemed guest speakers from the IDC and Forrester.
Some of the main highlights of the 2023 Sangfor APAC EPIC Summit included:
An opening speech by Sangfor's Co-Founder and Chief Officer of Operations, Mr. Wilson Xiong.
A keynote presentation by Mr. Michael Barnes, the Vice President and Research Director of Forrester, that delves into "Enabling a Future Fit Technology Strategy". The esteemed guest speaker focused on the way shifting market dynamics constantly redefine operating models and require fast, flexible, and connected technology.
The Sangfor Chief Product Officer , Mr. Guy Rosefelt, offering a keynote presentation on Sangfor's newest innovations in synergy with Sangfor XDDR 2.0 and the Zero Trust strategies that power Sangfor's Managed Cloud Services and make your digital transformation simple and secure.
A keynote presentation from Mr. Simon Piff, the IDC Vice President for APAC, entitled "The Future Model for Extensible Infrastructure." A focus on the challenges faced within the modern Digital-First business model and how to approach them.
A keynote presentation from Sangfor's Chief Marketing Officer for Cloud, Mr. Nicholas Tay, discussed the current cloud landscape, its challenges, and how Sangfor's Cloud solutions can strategically help organizations operate at scale with simplified cloud operations and integrated security.
The Sangfor President of the International Market, Mr. Jeremy Jia, gave a keynote speech on the risks of investing in technologies during a forecasted negative economic growth climate in 2023. Jia highlighted the ways Sangfor can minimize those risks through the powerful Synergy between security and cloud products and services.
A CIO Insights Panel that featured Sangfor and industry experts to discuss their organizations' digital transformation journeys, as well as the trends, challenges, and opportunities in the cybersecurity and cloud computing business landscape. These included Mr. Benedict Sulaiman, the Vice President of Information Technology of Ramsay Sime Darby Health Care in Indonesia, Mr. Kenneth Lai, Sangfor Partner and Head of IT Services of KPMG (Hong Kong), Mr. Lutzer U. Reyes, ICT Director and Associate Professor at The Polytechnic University of the Philippines, and Mr. Jankham Krit, CIO of Asian-Pacific Can Co., Ltd in Thailand.
View the photo album of the Sangfor EPIC Summit 2023
The EPIC Summit event came to a close with an award ceremony during the Gala dinner afterwards in which our valued attendees won a host of wonderful prizes.
The list of award winners for the 2023 EPIC Summit ceremony went as follows:
Sangfor 2022 Diamond Customer Award
Index Living Mall Public Company Limited
Palace of Justice
Sangfor 2022 Most Innovative Customer Award
Universitas Mercu Buana
RPX One Stop Logistics
Sangfor 2022 Best Cyber Security Use Case Award
Processing Center Company Limited
Best World International
Road Transport Department Malaysia
Sangfor 2022 Best Cloud Computing Use Case Award
Macau University of Science and Technology
Sentra Medika Hospital Group
Royal Malaysian Customs Department
Sangfor 2022 Most Engaged Customer Award
Bangkok Genomics Innovation Co., Ltd
Big C Supercenter Public Company Limited
Ramsay Sime Darby Health Care
Sangfor 2022 Best Industry Use Case Award
Walailak University Hospital
DCS Card Centre Pte Ltd
National Kidney and Transplant Institute
Sundray 2022 Best Industry Use Case Award
Philippine International Convention Center
We would like to extend our deepest gratitude to those who attended the 2023 Sangfor ACAC Summits and hope to see you soon on your journey to a safer and more advanced digital landscape.