Sangfor won the Visionary Cyber Security Company and Hot Company Extended Detection and Response (XDR) awards at the 11th Annual Global InfoSec Awards at RSAC 2023
Sangfor Technologies is proud to announce we have won the Visionary Cyber Security Company and Hot Company Extended Detection and Response (XDR) awards courtesy of Cyber Defense Magazine (CDM) which is the industry's leading electronic information security magazine.
Darren Du, the Vice President of Sangfor's International Market, has commented that Sangfor is honored to have received one of the world's most prestigious and coveted cybersecurity awards from Cyber Defense Magazine during its 11th anniversary as an independent cybersecurity news and information provider.
"We knew the competition would be tough and with top judges who are leading infosec experts from around the globe, we couldn't be more pleased," Darren shared. The Hot Company Extended Detection and Response (XDR) award was a huge milestone for Sangfor as the XDR framework was used to integrate Sangfor's security products long before it had a name.
Sangfor's eXtended Detection, Defense, and Response (XDDR) solution takes application control to the next level with its impressive features including application containment by integrating and correlating endpoints, containers, or workload application behavior with their respective behavior on the network.
Sangfor annually makes heavy investments in innovative technologies for its security products – investing at least 20% of annual revenue in R&D to improve products and develop new solutions. This has allowed us to release state-of-the-art features like the only Endpoint Ransomware Honeypot, the first Next-Generation Firewall to embed AI for threat detection, the only Next-Generation Firewall with integrated WAF and releasing this year, the only Next-Generation Firewall with built-in true deception technology.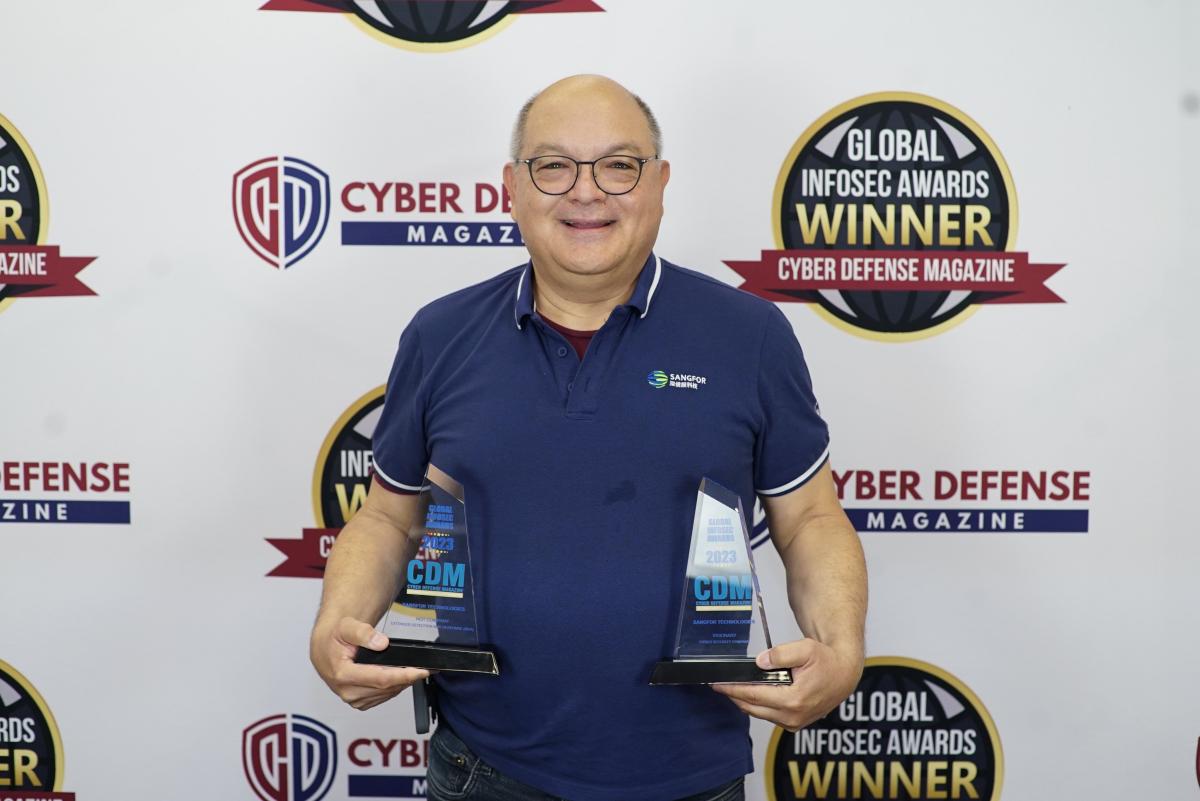 Guy Rosefelt, Sangfor Chief Product Officer, receiving the Awards during the RSA Conference 2023
Sangfor Technologies embodies three major features we judges look for to become winners: understanding tomorrow's threats, today, providing a cost-effective solution, and innovating in unexpected ways that can help mitigate cyber risk and get one step ahead of the next breach

Gary S. Miliefsky, Publisher of Cyber Defense Magazine
Sangfor is thrilled to be a member of this coveted group of winners and would be delighted to share our red-carpet experience with you. Easily join us to celebrate these incredible achievements by registering at the #RSAC RSA Conference 2023 at https://www.rsaconference.com/usa.
About CDM InfoSec Awards
This is Cyber Defense Magazine's tenth year of honoring InfoSec innovators from around the Globe. Our submission requirements are for any startup, early stage, later stage, or public companies in the INFORMATION SECURITY (INFOSEC) space who believe they have a unique and compelling value proposition for their product or service. Learn more at www.cyberdefenseawards.com
About the Judging
The judges are CISSP, FMDHS, CEH, and certified security professionals who voted based on their independent review of the company-submitted materials on the website of each submission including but not limited to data sheets, white papers, product literature, and other market variables. CDM has a flexible philosophy to find more innovative players with new and unique technologies, than the one with the most customers or money in the bank. CDM is always asking "What's Next?" so we are looking for best-of-breed, next-generation InfoSec solutions.
About Cyber Defense Magazine
Cyber Defense Magazine is the premier source of cyber security news and information for InfoSec professions in business and government. We are managed and published by and for ethical, honest, passionate information security professionals. Our mission is to share cutting-edge knowledge, real-world stories, and awards for the best ideas, products, and services in the information technology industry. We deliver electronic magazines every month online for free, and special editions exclusively for the RSA Conferences. CDM is a proud member of the Cyber Defense Media Group. Learn more about us at https://www.cyberdefensemagazine.com or visit https://www.cyberdefensetv.com and https://www.cyberdefenseradio.com to see and hear some of the most informative interviews of many of these winning company executives. Join a webinar at https://www.cyberdefensewebinars.com and realize that Infosec knowledge is power.
About Sangfor Technologies
Since its formation in 2000, Sangfor Technologies has been a global leader in IT infrastructure, security solutions, and cloud computing. Constant innovation and dedication to creating value for our customers are the heart of our corporate strategy.
Sangfor's 9500+ employees take customer's business needs and user experience seriously by servicing and supporting them at over 60 branch offices globally in exciting locations like Hong Kong, Malaysia, Thailand, Indonesia, Singapore, Philippines, Vietnam, Myanmar, Pakistan, UAE, Italy, Spain, Türkiye, and the USA.
Sangfor has more than 100,000 satisfied customers worldwide - including Fortune Global 500 companies. Governments, universities, financial institutions, manufacturing, and many other industries trust us to protect them from the next generation of cyber threats and help them on their journey to digital transformation with future-proof IT infrastructure.
Sangfor is also one of the only (if not the only) vendors that support end-to-end Zero Trust starting with authentication of user/device/application and providing dynamic authorization to both on-premises and cloud-based resources.
We also pride ourselves on our excellent service. Customers enjoy fast 24x7 online support 365 days a year and personalized on-site service support from over 10,000 certified engineers at our three Customer Service Centers in Malaysia & China as well as local consultants in most of the countries we are located.
Sangfor Technologies Inquiries:
Contact: Sunny Sun
Email: marketing@sangfor.com
Call: +86 755 8656 0605
Website: www.sangfor.com
CDM Media Inquiries:
Contact: Irene Noser, Marketing Executive
Email: marketing@cyberdefensemagazine.com
Toll Free (USA): 1-833-844-9468
International: 1-646-586-9545
Website: www.cyberdefensemagazine.com
Guy Rosefelt, Sangfor Chief Product Officer, Interview with Cyber Defense Magazine 2023