IDC is one of the world's foremost authoritative consulting organizations, well known and well respected globally. In the most recent International Data Corporation (IDC) rankings report, Sangfor's next-generation firewall (NGAF), ranked first in China, with a 15.4% market share, according to the "China IT Security Hardware Market Tracking Report for the First Quarter of 2020."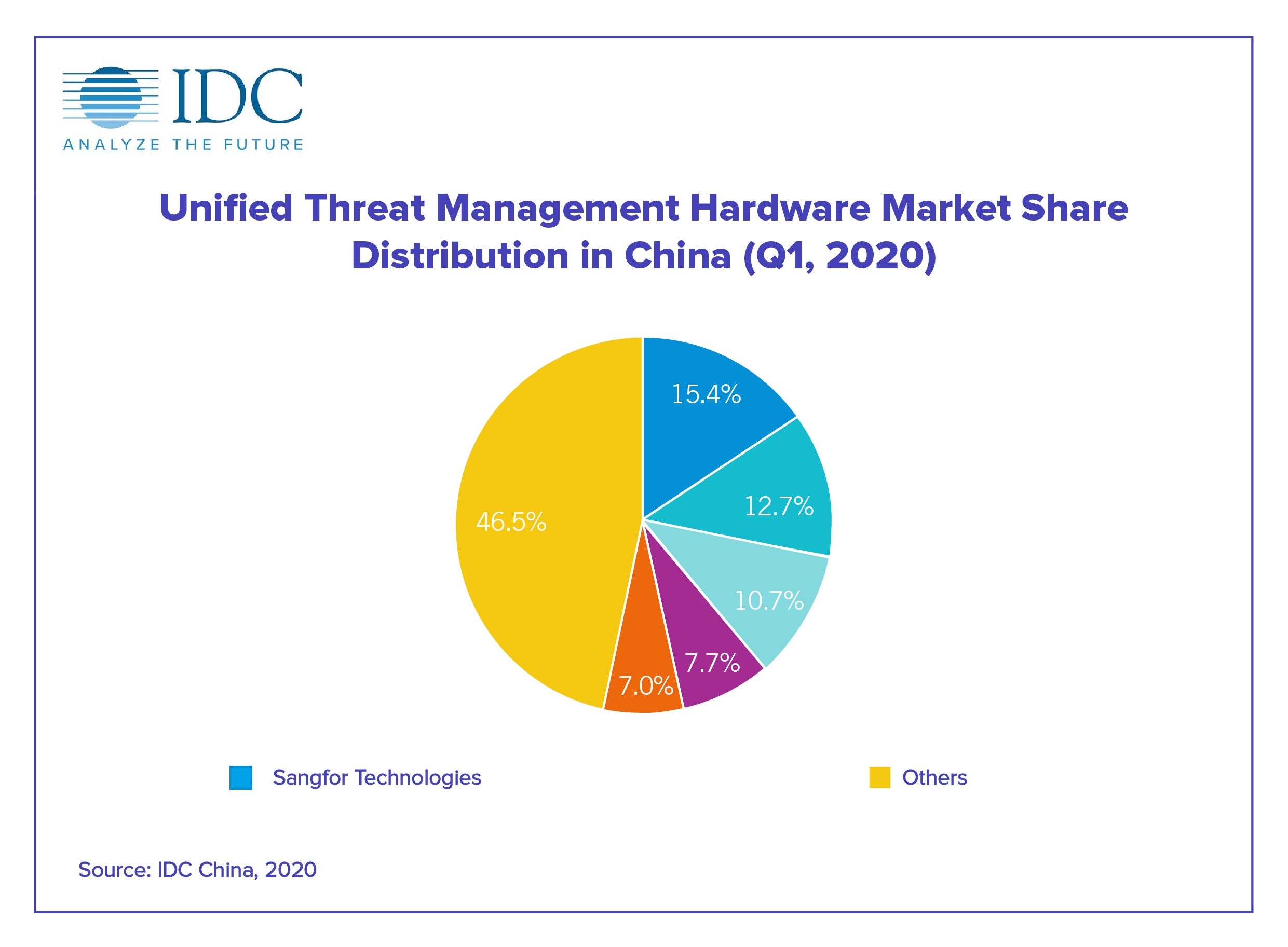 Sangfor achieved the largest market share because Sangfor's NGAF was designed with the primary focus of providing customers with better security protection. With continuously evolving advanced threats, user demand for security protection has increased significantly, with Sangfor products recognized as providing superior security, value and customer satisfaction.
Committed to Security, Better Response to Threat
As data becomes more valuable on the dark web, attacks become more prolific and undetectable. In 2019, CNCERT (The National Computer Network Emergency Response Technical Team/Coordination Centre of China) captured more than 731,000 unique ransomware signatures, an increase of more than x4 from 2018, according to "Summary of China's Internet Network Security Situation in 2019." More complex threat means users must compete with more complex security management issues, a challenge Sangfor takes seriously on behalf of our customers.
1. Rapidly Changing Threat Requires Higher Detection Capabilities
As technology evolves, the cost associated with creating new threats continues to decrease. A virus can be easily transformed into an entirely new virus, and a malicious request can be transformed into a new request with a few simple changes. Security protection products must wait for rule-based and cloud intelligence updates (with an update cycle of one week) to detect these small changes. Although some products can phase in traffic models to detect new threats, many users refuse to use this function because of its high false alarm rate.
Sangfor focuses on being aware of all changes in security threats and sharing its breakthrough results with NGAF to provide users with the most effective protection.
(1) Synchronization of Unknown Global Threat in 5 Minutes
Sangfor's independently developed 10 cloud engines provide analysis for intelligence, deep learning, distributed denial of service, external scanning and malicious downloads, as well as cloud sandbox detection and other comprehensive detection, to synchronize information about unknown threats from next-generation firewalls around the world, in only 5 minutes. For locally deployed NGAF solutions, Sangfor breaks through the low detection rate and high energy consumption issues, using their self-developed AI-powered Engine Zero to quickly identify new threats, and self-learning models to automatically update rules. In comparison tests of millions of ransomware sample collections, Sangfor NGAF achieves a 99.99% accurate identification rate without false alarms.
(2) The Accuracy Rate Locating Compromised Hosts as High as 99.7%
Sangfor innovation integrates detection technologies like DGA dynamic domain names and DNS hidden tunnels into NGAF products, to quickly and accurately locate any compromised hosts.
2. Specific Attacks Need Continuously Updated Security Protection & Confrontation
As business data value rises, attacks become more specific and attackers continuously look for new ways to penetrate vulnerabilities. The IT industry is moving away invasion prevention in favour of continuous monitoring and analysis. Security protection of a network boundary based on a signature database means traffic is difficult to analyse and boundary protection easily bypassed by attackers.
Sangfor focuses on business security issues and shares breakthrough results with NGAF products to achieve business continuity confrontation.
Sangfor uses their Intelligent Semantic Engine and Web Business Self-Learning Mechanism to perform an in-depth analysis, identifying business security issues, and quickly and accurately distinguishing between normal access and threat behaviour. The advanced threat detection rate for threats like protocol bypass and code injection is up to 91.7%.
3. Emphasis on Timing as Threats Spread Faster & Easier
Difficult to identify threats invade networks on a large scale, threatening hosts, networks, network firewalls and even endpoint security components from different regions, while fragmentation of the network and security management platform makes it difficult for users to manage network security. For example, when a firewall identifies a network threat, it finds it difficult to track and deal with it at the endpoint, and when the firewall can't be linked to other security detection components, malicious software spreads continuously and unchecked.
Sangfor focuses on threat management, integrating breakthrough results with NGAF to quickly block threats.
(1) One-Click Disposal of Risky Endpoints
Sangfor NGAF analyses network traffic characteristics and endpoint file characteristics, tracking terminal problems in each original process, and activating endpoint security software for one-click disposal.
(2) Immediate Block the Spread of Threats with Multi-Component Linkage
Sangfor NGAF uses a restful API interface to provide centralized management of different log centers and security management platforms while simultaneously linking multiple security components like sandboxing, honeypot, Cyber Command, Endpoint Secure and other products. When other components find problems, the Next-Generation Firewall will immediately block them and become an automatic gateway to control the spread of threats between different regions of the network.
Sangfor Recognized by a Wide Range of Users
Sangfor continues to innovate NGAF security capabilities, breaking through technical barriers, and increasingly recognized by international authorities like ICSA and OWASP. More and more users are choosing Sangfor's Next-Generation Firewall, with 60,000+ online devices operating stably, covering various industries including government, education, medical and finance. NGAF is also widely used in Internet export and business releases, branches and data centres.
According to International Data Corporation (IDC), in the first quarter of 2020, Sangfor Internet Access Management (IAM) and VPN also ranked first in the SWG and VPN market shares for China. Sangfor continues to offer effective protection for the future, innovating and enhancing security capabilities, helping users defend against security threats more effectively, and providing continuous security protection for more users!