What is a Secure Web Gateway?
A secure web gateway like
Sangfor Internet Access Gateway, or IAG
 (previously known as Sangfor IAM), is a network security solution to control user and device access to and from the Internet, preventing unsecured traffic from entering & leaving the internal network of an organization, and monitoring and controlling the behaviour of all network users.
Sangfor Technologies for its IAG Secure Web Gateway has been listed in the
Magic Quadrant for Secure Web Gateways (Gartner Subscription Required)
for 10 consecutive years.
*1
 Sangfor IAG provides enterprise internet bandwidth management, application control, URL filters, traffic control, information control, illegal hotspot/proxy control, behavior analysis, wireless network management, and total internet user behavior management.
Key features & capabilities of Sangfor IAG include:
Preventing access to non-business-related sites
Illegal Wi-Fi Hotspot Detection
Prioritization of bandwidth usage and availability
Reducing regulatory risks by minimizing data leakage and protecting intranet data security
Unified Wireless Controller Authentication Integration
Unified internet behavior management for wired and wireless networks
Simplified legal compliance with simplified cross-regional controls
Gartner Peer Insights Reviews: Sangfor Technologies
Sangfor Technologies looks to our customers for the inspiration to create new, more useful, and powerful products, and continues to value customer insight and experience in Gartner Peer Insights 'Voice of the Customer': Secure Web Gateways, published on 10 June, 2021, and based on 26 reviews. (As of Apr 2021)  Customers rated Sangfor Technologies a collective 4.8 out of 5, with the highest scores in "Sales Experience" (4.9) and "Support Experience" (4.9).*2

One 5-star Sangfor Technologies in Secure Web Gateway reviewer in Gartner Peer Insights shared how happy they were to say, "Bye Bye...... Bad Performance Online Meeting By Using Sangfor IAG," writing: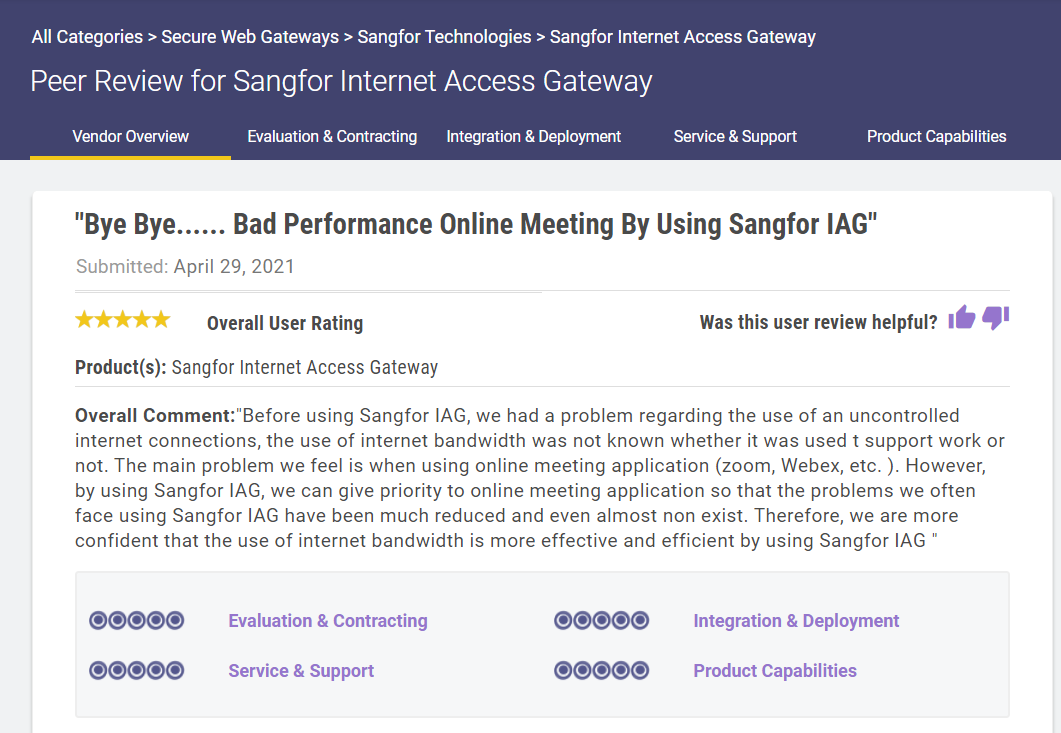 "Before using Sangfor IAG, we had a problem regarding the use of an uncontrolled internet connections, the use of internet bandwidth was not known whether it was used to support work or not. The main problem we feel is when using online meeting application (zoom, Webex, etc.). However, by using Sangfor IAG, we can give priority to online meeting application so that the problems we often face using Sangfor IAG have been much reduced and even almost non exist. Therefore, we are more confident that the use of internet bandwidth is more effective and efficient by using Sangfor IAG. [SIC]"

Source: https://www.gartner.com/reviews/market/secure-web-gateways/vendor/sangfor/product/sangfor-internet-access-gateway/review/view/3595580
Simple yet powerful Sangfor products, solutions and services are a critical factor in our success and the satisfaction of our customers. A second 5-star reviewer shared a short, yet powerful feedback saying how pleased he was when "Sangfor IAG Product Updated with Many New Features In 2021"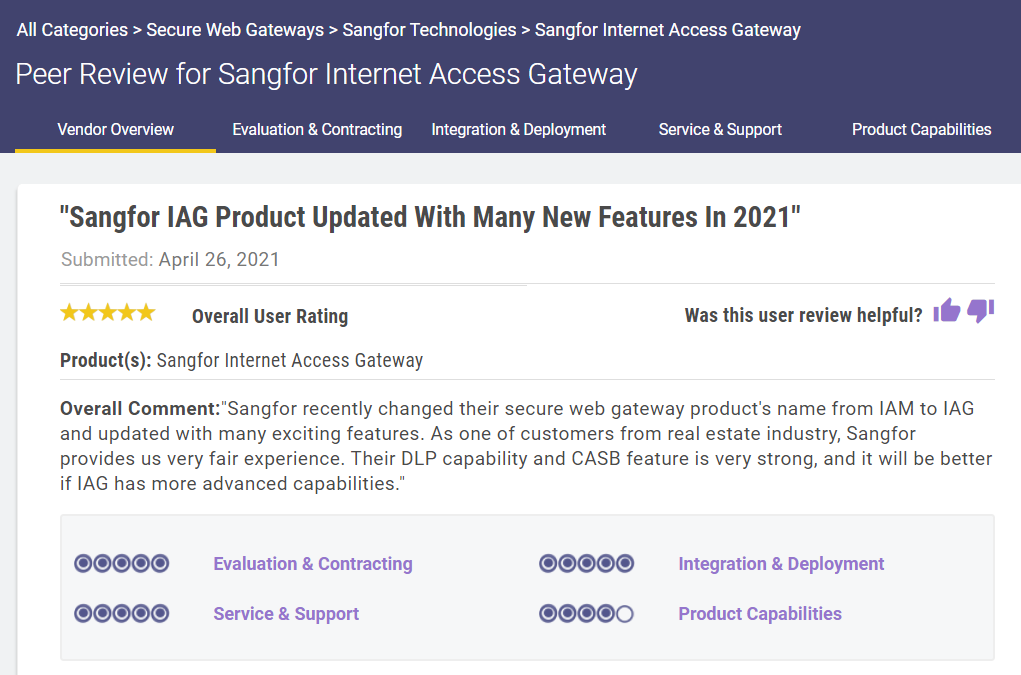 "Sangfor recently changed their secure web gateway product's name from IAM to IAG and updated with many exciting features. As one of customers from real estate industry, Sangfor provides us very fair experience. Their DLP capability and CASB feature is very strong, and it will be better if IAG has more advanced capabilities."[SIC]

Source: https://www.gartner.com/reviews/market/secure-web-gateways/vendor/sangfor/product/sangfor-internet-access-gateway/review/view/3591240

A third Sangfor customer and IT Manager in the services industry wrote a glowing review, saying: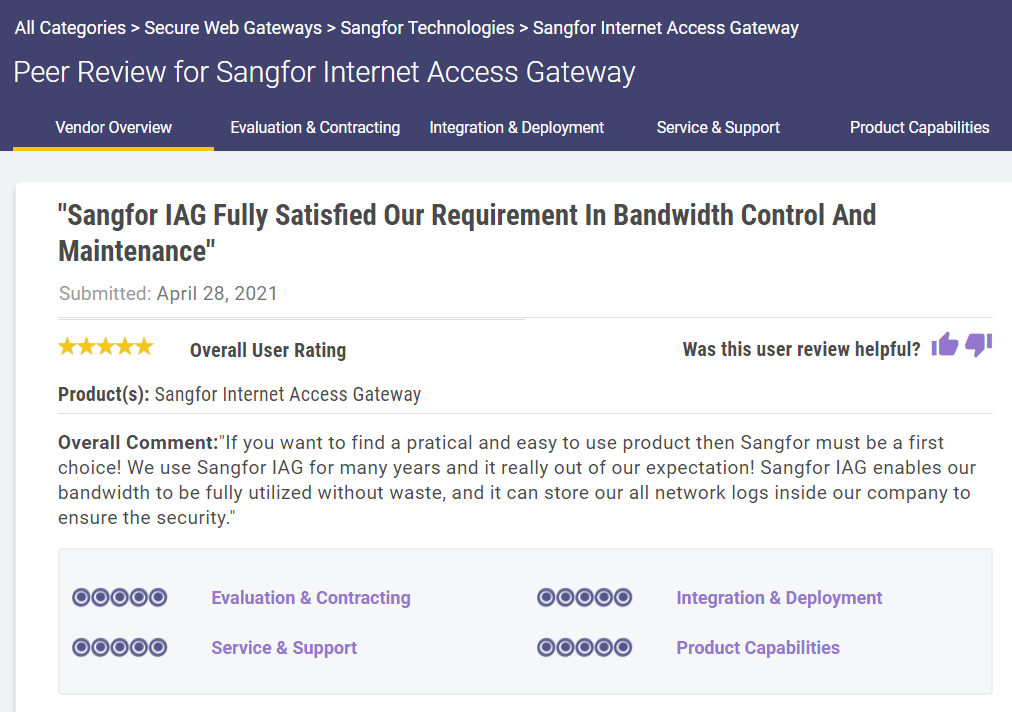 "If you want to find a practical and easy to use product then Sangfor must be a first choice! We use Sangfor IAG for many years and it really out of our expectation! Sangfor IAG enables our bandwidth to be fully utilized without waste, and it can store our all-network logs inside our company to ensure the security."[SIC]

Source: https://www.gartner.com/reviews/market/secure-web-gateways/vendor/sangfor/product/sangfor-internet-access-gateway/review/view/3594164 


Why Sangfor?
For more information on Sangfor's Secure Web Gateway IAG, and other cloud and security solutions, check out Sangfor's website at www.sangfor.com, or visit Gartner's SWG Peer Insights page, for more first-hand reviews of Sangfor IAG from industry experts around the world.

Sangfor Technologies is an APAC-based, global leading vendor of IT infrastructure solutions specializing in Network Security and Cloud Computing. Visit us at www.sangfor.com to learn more about Sangfor's security solutions, and let Sangfor make your IT simpler, more secure and valuable.


Source:
*1 : Gartner, Magic Quadrant for Secure Web Gateways, Lawrence Orans et al., 8 Dec 2020
*2 : Gartner Peer Insights 'Voice of the Customer': Secure Web Gateways Published 10 June 2021

Gartner Peer Insights Customers' Choice/Gartner Peer Insights constitute the subjective opinions of individual end-user reviews, ratings, and data applied against a documented methodology; they neither represent the views of, nor constitute an endorsement by, Gartner or its affiliates.

Gartner does not endorse any vendor, product or service depicted in its research publications, and does not advise technology users to select only those vendors with the highest ratings or other designation. Gartner research publications consist of the opinions of Gartner's research organization and should not be construed as statements of fact. Gartner disclaims all warranties, expressed or implied, with respect to this research, including any warranties of merchantability or fitness for a particular purpose.