Sangfor recently hosted its 2023 EPIC summit for the EMEA region in Dubai - one of its celebrated annual events that bring together the pioneering minds of our industry. The summit was held at the Hyatt Regency hotel from the 7th to the 10th of March this year. Its 2-day festivities focused on innovative thinking, technological exchange, and the opportunity to network amongst the brightest minds.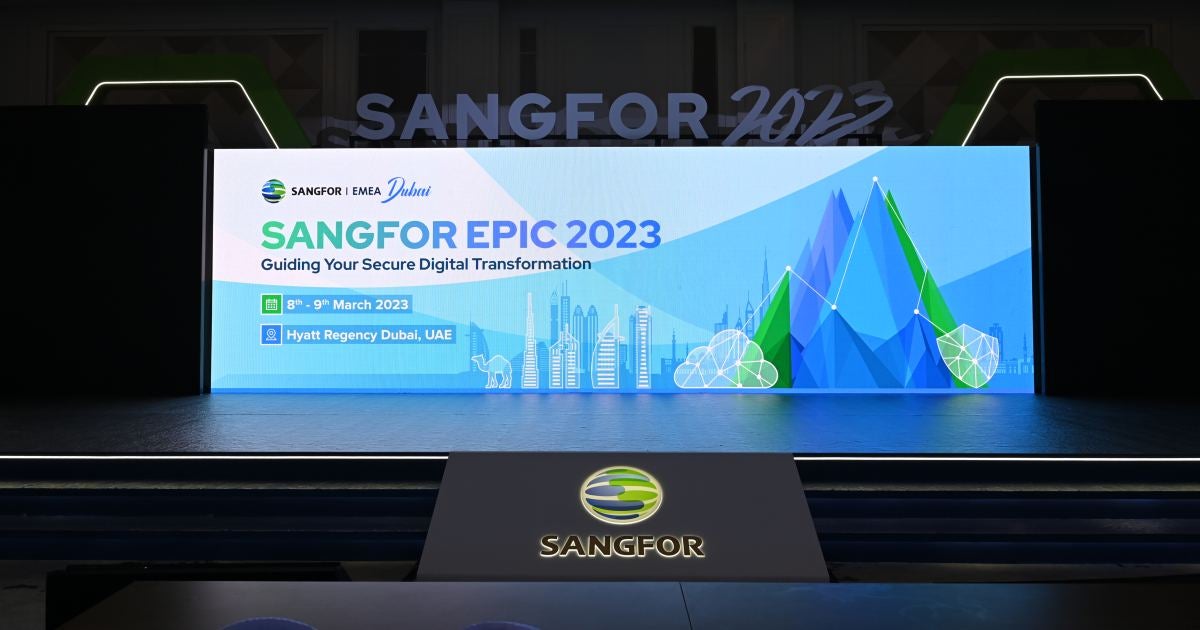 This year's theme for the event was "Guide Your Secure Digital Transformation" and featured global IT experts and esteemed Sangfor partners and customers alike - all taking part in an array of exciting activities and contests followed by a wonderful awards ceremony in which we celebrated their achievements.
The aim of the EPIC EMEA summit this year was to learn new skills and connect with new people – which was achieved by inviting a host of talented guest speakers and industry leaders from more than 10 countries and regions to give transformative business advice, showcase the latest technology, and share their unique cybersecurity and cloud computing insight strategies going into the future.
Being the first EPIC Summit hosted in the EMEA region since the pandemic, the event was extra special. Sangfor ensured the highest convenience by allowing attendees to use its event app to keep them updated and connected throughout the duration of the summit.
The event took place over 2 days and featured an array of fun contests with amazing prizes for the attendees to win. The 1st day of the EMEA EPIC summit included these highlights:
The inspired welcoming speech by Sangfor's Co-Founder and Chief Operating Officer, Mr. Wilson Xiong, titled "360° Innovation Creates Business Values."
A keynote speech by IDC Associate Research Director, Ms. Shilpi Handa, provided insight on overcoming challenges on the journey to "Modernize Security for Evolving Business Challenges."
Mr. Guy Rosefelt, Sangfor's Chief Product Officer, delivered a presentation titled "Synergy 2.0: Designing Your Digital Transformation Together" where he discussed Sangfor's newest innovations in synergy, Sangfor XDDR 2.0, and Zero Trust strategies.
A presentation by Omdia Chief Analyst of IT Operations, Mr. Roy Illsley, titled "2023 and What the Cloud Will Bring" in which he gave insights into the latest data on cloud adoption in EMEA in 2022 and 2023.
Sangfor's Cloud Chief Marketing Officer, Nicholas Tay presented the "Future Proof Your Cloud Journey with Sangfor Hyper Cloud" in which he discussed the current cloud landscape, its challenges, and how Sangfor Cloud can strategically help organizations.
An introduction to the innovative business models that Sangfor has developed to build stronger strategic partnerships with members of our partner ecosystem in a speech by Jackie Chen, the Sales VP of Sangfor's International Market.
Cheney Hu, the Sangfor Senior HCI Product Marketing Manager, presented a speech on what to expect from Sangfor's Hyper-Converged Infrastructure in 2023 to elevate your business.
A keynote speech by Mr. Francis Tsang, our Sangfor Senior Cloud Solution Strategist, discussed Sangfor Subscription Cloud's ability to unlock greater business value from your digital transformation.
A success story from our VIP Partner, Opiquad of Italy, and their CSI Department Manager, Mr. Alessandro Motta.
Sangfor's Cloud Solution Strategist, Mr. YK Lee, delivered a speech on the 4 benefits of Hybrid Cloud.
The Sangfor VDI Product Manager, Mr. Harper Zhang, introduced Sangfor's one-stop Virtual Desktop Infrastructure (VDI) solution in a keynote speech titled "A One-Stop Approach to Digitalize Your Traditional Workspace ."
Sangfor VIP customer success stories from Infoteam of Italy and their Solution Architect, Mr. Ivan Dalla Zuanna, Global Care Hospital of Abu Dhabi and their IT Director, Mr. Deepak Cheraparambil, and EFU Life Assurance LTD of Pakistan, and their General Manager of IT, Mr. Sohaib Shams.
The day ended with a wonderful gala dinner in which a prestigious awards ceremony was held to recognize and celebrate the outstanding achievements of Sangfor's customers and partners over the past year.
keynote speech by IDC Associate Research Director, Ms. Shilpi Handa
View the photo album of the Event (Day 1)
The 2023 EPIC EMEA Summit Customer Awards
The Sangfor 2022 Customer Awards were presented by Sangfor Founder and CEO, Mr. River He, Sangfor's Co-Founder and Chief Operating Officer, Mr. Wilson Xiong, and Sangfor's Deputy Manager of the International Market, Jackie Chen, respectively. The results went as follows:
Sangfor 2022 Diamond Customer Award
English Biscuit Manufacturers
EFU Life Assurance Ltd
Sangfor 2022 Most Innovative Customer Award
Feroze 1888 Mills Limited
Sangfor 2022 Best XDDR Award
China State Construction Engineering Corporation (Middle East) LLC
Sangfor 2022 Cyber Security Solution Award
Confartigianato Artigian Service
Sangfor 2022 Infrastructure Solution Award
Sangfor 2022 Most Engaged Customer Award
China National Petroleum Corporation (CNPC) Middle East
Sangfor 2022 Best Industry Award for Construction
Sangfor 2022 Best Industry Award for Healthcare
Sangfor 2022 Best Industry Award for Retail
Majid Al Futtaim - Carrefour
Sangfor 2022 Best Industry Award for Public Administration
Punjab Information Technology Board
Sangfor 2022 Best Industry Award for Utilities
Oman Electricity Transmission Company OETC
Sangfor 2022 Best Industry Award for Telecom
Telekom Networks Malawi Plc
The 2023 EPIC EMEA Summit Partner Awards
The next segment of the EPIC Summit's gala dinner ceremony was for the Sangfor partner awards to celebrate their milestones and victories in the past year as esteemed partners to Sangfor. The results of the partner awards were as follows:
Sangfor 2022 Best Distributor
Sangfor 2022 Best Distributor in Marketing
Sangfor 2022 Fast Growing VAD
Spollex Distribution Computer Trading LLC
Nexta Çözüm Danışmanlık Anonim Şirketi
Sangfor 2022 Most Loyal VAD
Advanced Business Solutions MENA FZCo
Sangfor 2022 Best Gold Partner
TELEC Electronics & Machinery (PVT) Ltd.
D.S.C. Digital System Computers s.r.l.
Sangfor 2022 Best Managed Service Provider
Sangfor 2022 Best Partner for Hybrid Cloud
Sangfor 2022 First DaaS MSP in Italy
Sangfor 2022 Fast Growing CSP
PEGASUS MSP SRL
DC Technologies FZ-LLC
Infoteam S.R.L.
Sinergy Studio srl
Sangfor 2022 Best Partner in the Exchange Industry
Netmate Information Technology
Sangfor 2022 Best Innovator in the Public Sector
Sangfor 2022 Most Innovative Cloud Service Provider
Day 2 of the 2023 EPIC EMEA Summit continued with a blast with several presentations by Sangfor experts and respected customers. An overview of the event goes as follows:
Starting, the Sangfor Security Product Director, Mr. Allen Lim, introduced Sangfor Access and demonstrated its use in a presentation titled "Securing Todays Network: Practical Security Planning in the Journey to Cloud."
Zoppo Chen, Sangfor's Platform Team Leader, spoke about how to "Streamline Your Security Operations with Sangfor XDDR."
A keynote speech on "Preparing for Tomorrow's Cyber Threats" by Steven Tsui, Sangfor's Security Product Marketing Manager, provided insight into Sangfor's new and upcoming products, solutions, and capabilities.
A presentation by Product Manager for IAG, Mr. Eugene Yew, on how Sangfor's Internet Access Gateway can provide visibility and granular control over users and endpoint devices across your environment.
The president of Sangfor's International Market, Jeremy Jia, presented "Investing in a Brighter Future" in which partner programs are introduced that will help Sangfor partners invest wisely in the future of the industry.
Transformation Mr. Jackie Chen, the Deputy Manager of Sangfor International Market, gave a speech titled "Transformation" that explored new partnership strategies.
Sangfor's Chief Product Officer, Guy Rosefelt, gave a keynote speech on "Empowering Your Business: A Channel Partner's Guide to Thriving in Today's Security Landscape." in which Sangfor's XDDR, Zero Trust, and security services and how they can be leveraged were discussed.
Sangfor's Cloud Operations Director, Mr. Glay Wang, presented an explanation of the strategies and proven models of "Driving Your Cloud Business Transformation to Success."
View the photo album of the Event (Day 2)
The event also had an array of VIP customer success stories featured throughout the day that displayed their satisfaction with using Sangfor Technologies. Key presentations were noted from:
Medilife Health Group and their representative, Mr. Kenan Turkyilmaz.
TechnoBT and their representative Mr. Erem Korkmaz.
Cattaneo Impianti and their IT and Project Manager , Mr. Federico Fracchiolla.
Sogetel SRL and their IT Manager, Mr. Davide Zampatori.
English Biscuit Manufacturers and their DGM of Information Technology, Mr. Zaid Umer Farooqui.
The Institute of Business Administration Karachi's Head of ICT, Mr. Wajeeh Zaidi.
And Confargianato Impresse who couldn't be there, unfortunately, but sent through a recording of their presentation.
The summit also included speeches by esteemed Sangfor VIP Partners. The list of notable partner speakers included:
Opiquad and their CSI Department Manager, Mr. Alessandro Motta.
DC Technologies and their Business Development Manager, Mr. Sibasish Banerjee.
Sielco SRL and their presales, Mr. Domenico Squadrito.
Netmate Information Technology and their head of Business Development and Project Execution, Mr. Amer Khan.
PEGASUS and their CEO, Mr. Giuseppe Marrone.
The Sangfor 2023 EPIC EMEA Summit was a great success, and we hope that all attendees had a wonderful and insightful time with us. We would like to extend our gratitude to our esteemed and loyal partners and customers for joining Sangfor at this hallmark event and wish you an inspired and brighter digital future ahead because of it. Watch the greatest moments of this event in the highlight video below.
The Greatest Moments of Sangfor EPIC Summit 2023 - EMEA Edition