Remote work has become more popular around the world.
When mentioning it,
What will come to your mind?
Mobile office applications? Video conference? VPN?
You probably don't know yet, but there are many other things that you can do !
During the next few days,
we will lead you and show you all opportunities brought by remote work.
Today, let's come with our first series of remote work opportunities.
---Remote Work Solutions Based on Sangfor VDI
You may ask, which scenario is it suitable for?
The answer is all of the below scenarios.
Scenario One: Daily Office Remote Access
aDesk solution means ease of access and maintenance, greater portability and simply management across multiple platforms. When ordinary employees working from home or on a business trip, how to quickly and efficiently access the intranet, check emails, and approve OA has become a high priority demand for each employee in companies.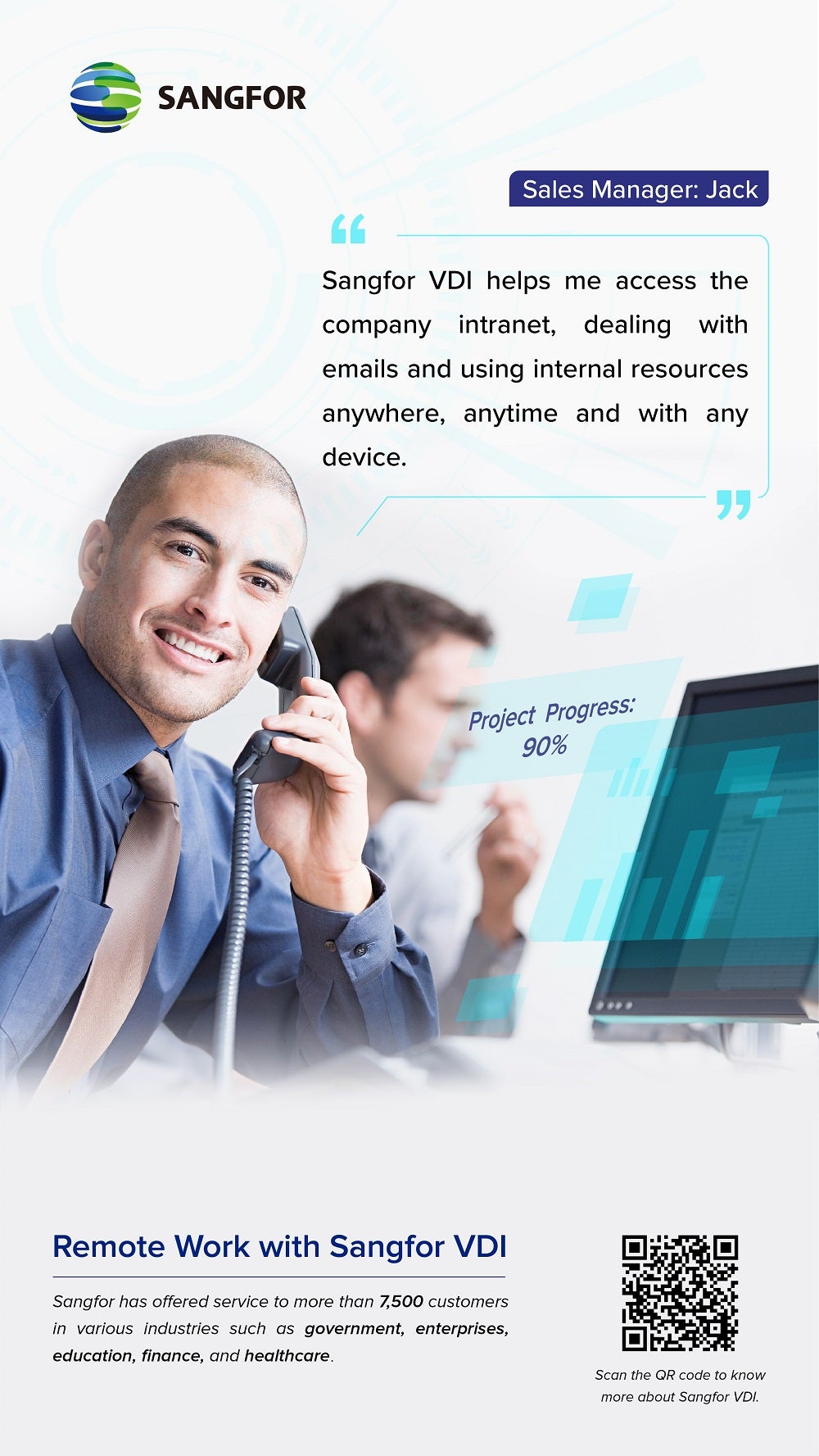 By creating a network which securely interconnects employee devices and company PCs, regardless of where they are in the world, Sangfor VDI could provide a smooth remote access experience from different terminal types, different operating systems and ensure the security of the connected business system at the same time.
Scenario Two: Sensitive Positions Remote Access
It is always a great concern for decision-makers to know what the status of revenue and expense is, or whether the employees' salaries can be paid on time, etc. However, finance, human resources, and other sensitive positions have high security requirements for access to data. If they work from home, data left on their personal computers can easily lead to data leakage, which will have a huge negative impact on the government and enterprises.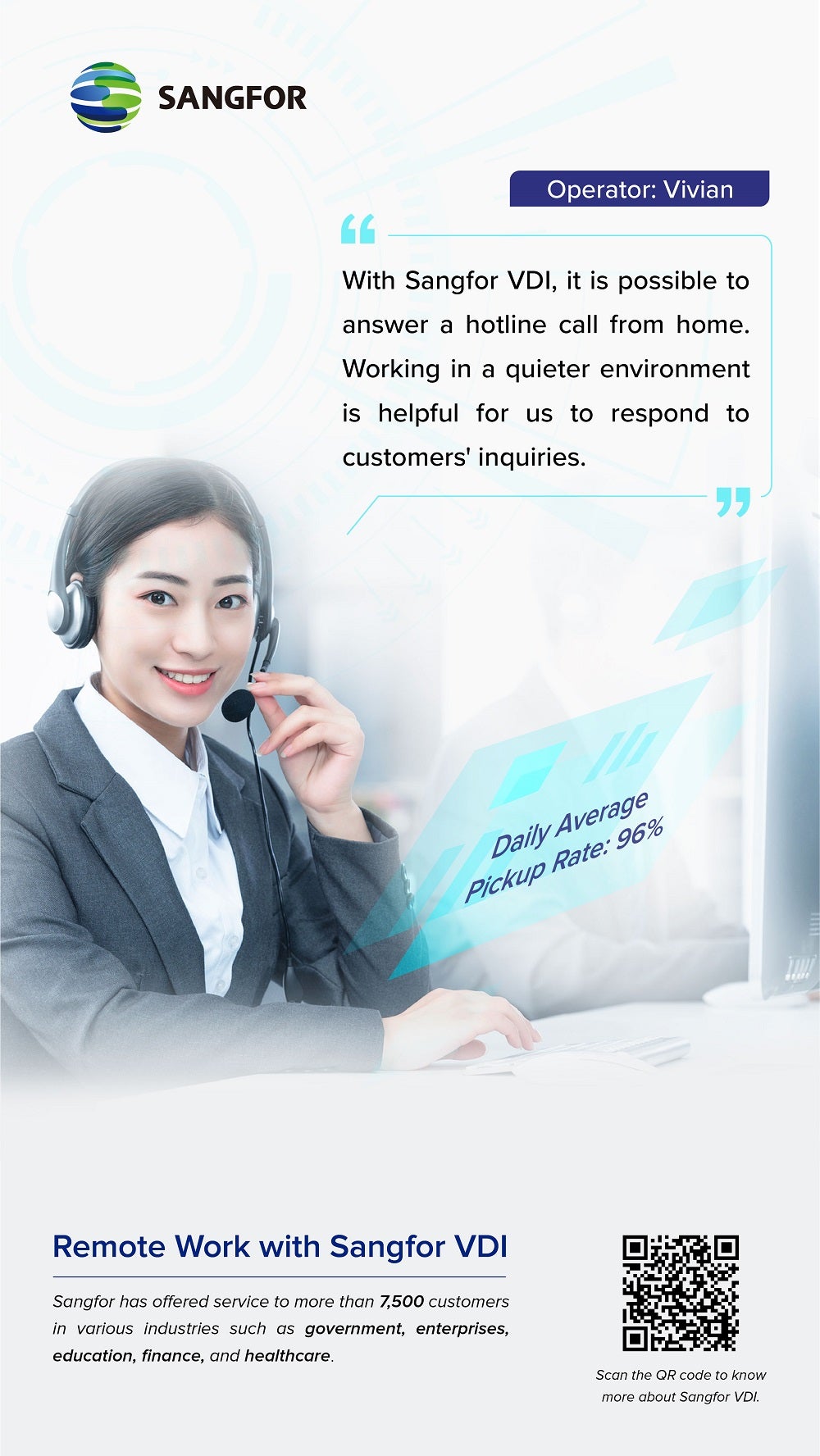 Through storing data centrally in the machine room or data center, Sangfor VDI only transmits desktop images to employees through VPN encryption. Employees can log on to the cloud desktop through a personal computer at home, to achieve normal work. No matter the Accounting, Sales team or HR work, all can be easily achieved at home. Besides, Sangfor VDI can guarantee the data security of these sensitive positions. Firstly, the sensitive data are stored in the data center and it can be backed up in real-time, which can prevent data loss or leakage; Secondly, the virtual portal can only be accessed remotely by authorized staff, which guarantees the mobile access security.
Scenario Three: Customer Service Work from Home
Customer service call center is an important entity for enterprises to communicate with customers and government agencies to respond to customer's demands. However, how to realize remote stable business development and how to guarantee the caller's information security have become a prominent challenge.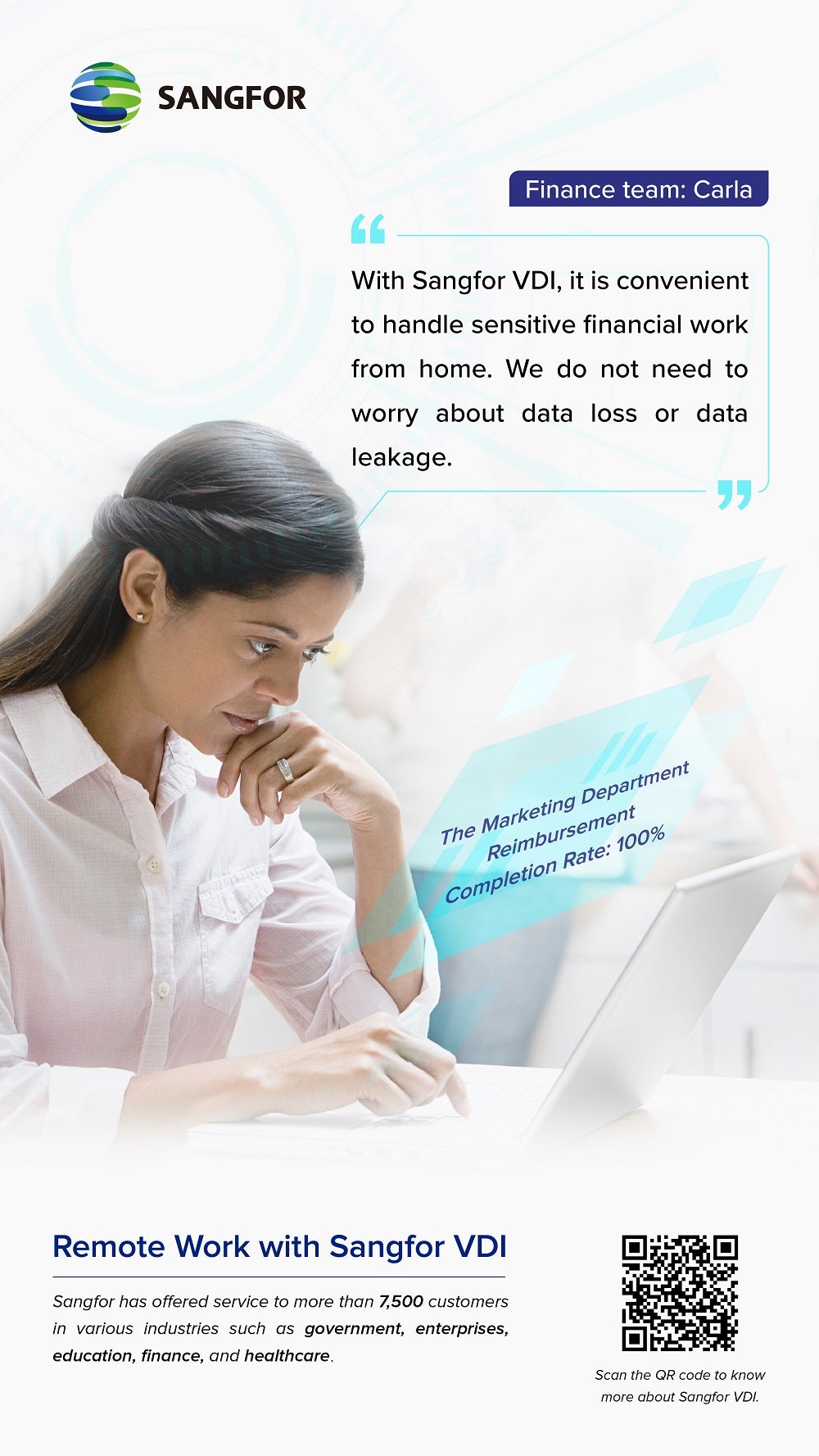 According to the business challenges the call center is facing, Sangfor VDI can migrate the agent business software (such as CRM, instant messaging, etc.) to the virtualization platform, and distribute desktop or application resources on demand. By deploying Sangfor VDI through the data center, employees can access the virtual desktop at home through their personal computers to realize a smooth service. While ensuring a high quality of the call experience, it can also adopt multi-factor authentication, USB interface control, screen watermarking and distributed firewall and dozens of other security policies to ensure the data security of the callers and avoid disclosure.
1.Rapid deployment to ensure business development on time.
Sangfor aDESK (VDI) can build desktop cloud platform based on the existing desktop resource pool or the old server of the government and enterprises, deploying the office desktop cloud quickly. Without changing the original desktop environment of the users, it can ensure that the employees can get to work quickly and ensure the steady development of the users' business.
2.Data stored in cloud to guarantee data security.
Sangfor VDI only transmits the desktop images, with the sensitive data remaining in the user's data center but not to the personal terminal.
3.Promote BYOD work mode to improve productivity.
Unbounded work and limited data are the new trends of IT construction. On premise BYOD and VDI can meet users' demands for mobile office and security control at the same time, so as to improve productivity.
Sangfor aDesk VDI
has offered service to more than 7,500 customers from various industries such as government, enterprises, education, finance, and medical treatment to fulfill the demands of remote work in different scenarios.
---