The recently released IDC 2021 Q4 China Cloud Terminal Market Tracker Report saw Sangfor aDesk VDI once again ranked number one, cementing its position as the top Chinese virtual desktop infrastructure (VDI), with an annual market share of 41.7%.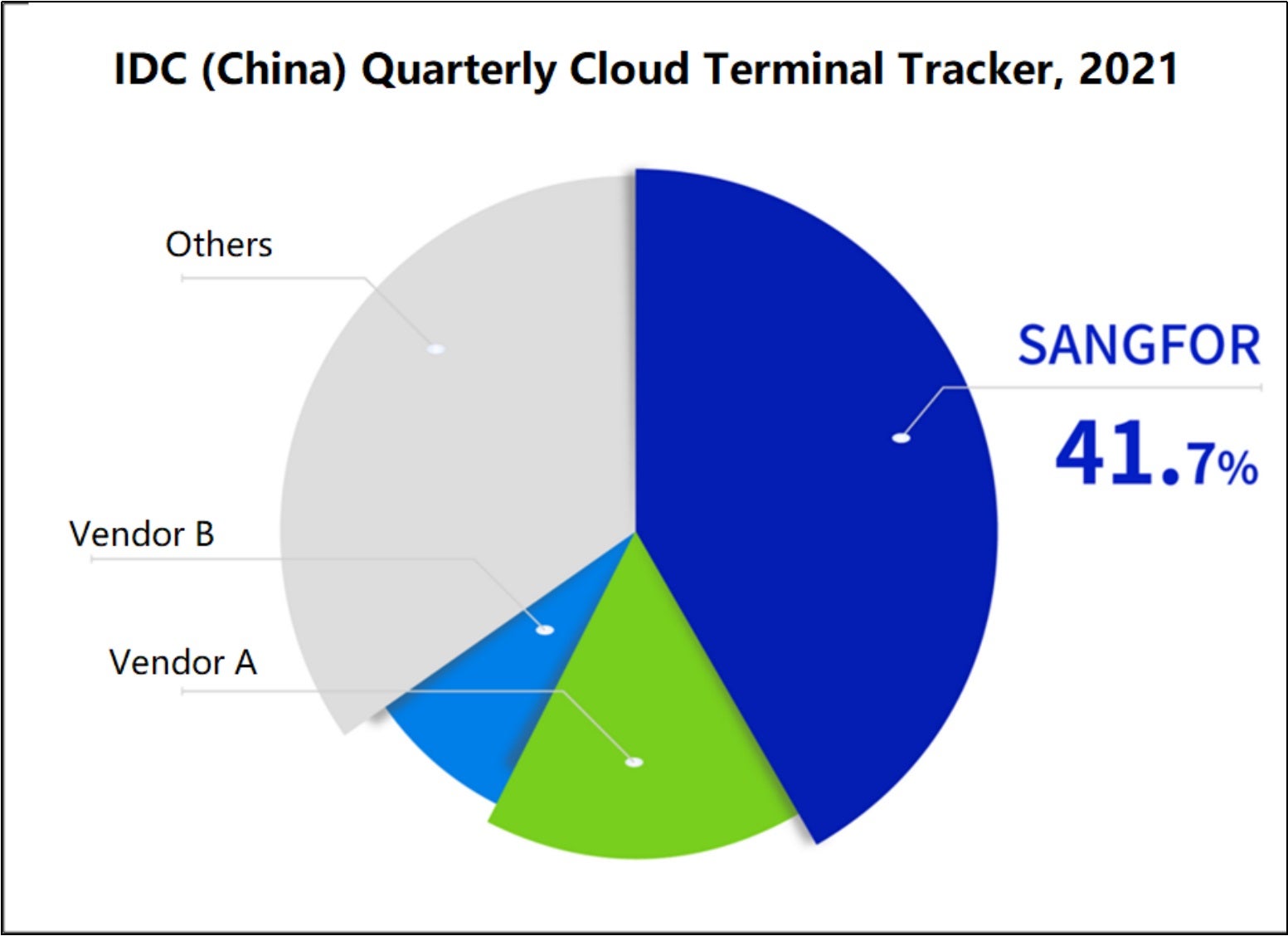 Data Source: IDC 2021 Q1-Q4 China Cloud Terminal Market Tracker Report
Note: The cloud VDI terminal market in this report only includes cloud VDI terminal devices with ARM processors running Android operating systems, which is a subset of the overall cloud VDI terminal market.
This achievement is a strong affirmation of our efforts, but at the same time serves as a sharp reminder. The fresh confidence of new users and high repurchase rate of old customers both remind us of our duties: to stay true to our purpose and live up to the trust afforded to us.
With this in mind, the aDesk VDI team would like to take the opportunity to share some of our progress and reaffirm our mission.
Dedication to Quality with Unwavering Commitment
Over the past year, we have never ceased to ask ourselves:
How do we keep improving?
We focused our attention on two core value values in our quest for continuous optimization and improvement.
Experience: The desktop operation mechanism was optimized to increase the speed of interactive operations by 40%. With regards to WAN, the new self-developed SDT transmission protocol based of UDP protocol has helped to improve desktop fluency and enhance image quality as well as audio and video quality. Issues in weak network environments such as lagging and jitter have been largely mitigated, improving user experience and overall work efficiency.
Stability: The innovation of our architecture has ensured the stability of products after launch so that users are unaffected in the event of unexpected malfunctions, such as desktop controller failure, server adjustment, or sudden reboot. In addition, highly reliable technologies such as multi-copy, backup, VM hot migration, host load balancing ensure the stability and continuity of office operations.
Faster, better managed and more stable, the aDesk VDI Team continuously strives without let-up to deliver an agile and superior operational experience.
Innovation and Dedication the Ingredients to Success
It is precisely because of our dedication to quality and unrelenting innovation that the repurchase rate of Sangfor aDesk has increased year after year, reaching 51.2%.
It is precisely because of our intelligent, secure and reliable solutions that an increasing number of users are deploying 1000+ VDI terminals, with increasingly evident marginal benefits to O&M and management.
It is precisely because of our number one market share that we have created a virtuous circle for our brand awareness. Sangfor aDesk VDI has become the first choice for more and more large enterprises, financial institutions and other industries.
Sangfor aDesk VDI Select Users
Large Enterprises:
Foxconn
Hisense Group
Xiamen Airlines
Financial Institutions:
Bank of China
China Merchants Bank
Huaxia Bank
China Merchants Securities
Leading 3AAA Tertiary Hospitals:
The Second Xiangya Hospital of Central South University
The Ninth People's Hospital Affiliated to Shanghai Jiaotong University School of Medicine
The First Affiliated Hospital of Guangxi Medical University
The First Affiliated Hospital of Nanchang University
Education Institutions:
Peking University
Southwest University
Wuhan University
Jingdezhen Education Bureau
Recognition from users from all industries is the fuel that drives us to keep making progress and breakthroughs.
A new phase, a new challenge? Contact Sangfor today to learn more about Sangfor VDI!