Solving Data Backup Challenges with VSS Backup
Data is the lifeblood of any business, and protecting it from loss, corruption, or disaster is crucial for ensuring business continuity and competitiveness. However, traditional backup solutions like tape drives, external hard drives, and cloud storage often face challenges such as high cost, low efficiency, complex management, and inconsistent data quality. How can you overcome these challenges and achieve reliable and secure data protection for your data center and cloud computing?
In this blog post, we will introduce Sangfor HCI 6.9.0, the latest version of our hyper-converged infrastructure product. It offers high performance, reliability, security, and easy operability for your data center and cloud computing needs. We will focus on the reliability features of Sangfor HCI 6.9.0, especially on its support for VSS backup, which was not available in previous versions. We will also provide several use cases in which Sangfor HCI 6.9.0 helps to protect your data.
What is VSS Backup?
VSS backup is a technology that allows you to create consistent snapshots of your data without interrupting your applications. VSS stands for Volume Shadow Copy Service or Volume Snapshot Service, which is a Windows service that coordinates the actions of applications, writers, requestors, and providers to create shadow copies of volumes or files at a specific point in time.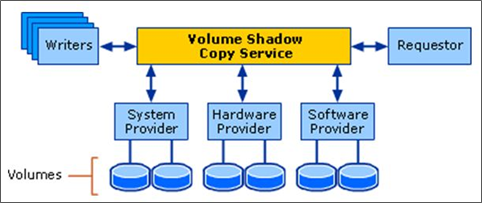 Figure: Architecture diagram of Volume Shadow Copy Service (Source: Microsoft)
VSS Service: A built-in feature in Windows that ensures the other VSS components can communicate with each other properly and work together.
VSS Requester: This is the backup software that requests the creation, import, and deletion of shadow copies. The backup applications in Widows are the Windows Server Backup utility and the System Center Data Protection Manager.
VSS Writer: This component ensures a consistent data set is available for backup. It is often included with applications like SQL Server and Exchange Server and with the OS for Windows components like Registry.
VSS Provider: This component creates and maintains shadow copies. It can be software or hardware. The Windows operating system comes with a VSS provider that uses copy-on-write.
The Advantages of VSS Backup
VSS backup is important because it offers a more robust way to protect data from accidental loss, corruption, or disaster. You can use VSS backup to restore your data to the original location or move them to a new one. You can also use the backup files to perform data mining, disk-to-disk backups, as well as fast recovery.
However, not all backup solutions support VSS backup. Some backup solutions only support file-level backup or block-level backup, which may cause data inconsistency or application errors when restoring the data. In general, VSS Backup offers several advantages over other backup solutions. Let's explore these.
Real-Time Backup vs Scheduled Backup: VSS captures and creates snapshots in real time while the system is online. In contrast, traditional backup methods often require scheduling backups during off-hours to minimize impact on system performance.
Consistent State Backup vs Inconsistent Backup: Unlike basic file copy methods or simple disk cloning, VSS ensures that all files, even those open or in use, are backed up in a consistent state. Basic file copy methods often cannot backup files that are in use, leading to potential inconsistencies in the backup data. For example, if you backup a database file while it is being updated by an application, the backup file may contain incomplete or corrupted data that cannot be restored properly.
Disk Space Efficiency vs Full Backups: VSS backups usually take up less disk space because they can be incremental or differential, storing only changes since the last backup. Traditional full backups, on the other hand, take a complete snapshot of all data, consuming more storage space.
Easier Restoration vs Tape Backup: Restoring from VSS is often quicker and simpler than from tape backups. Tape backups usually require sequential reading, which takes longer, especially if the data you need is at the end of the tape.
Application-Specific Backup vs General-Purpose Backup: While VSS can integrate with specific applications for more reliable backups, many traditional backup methods treat all files the same, regardless of whether they belong to a complex application like a database or are just simple text files.
Multiple Backup Sources vs Single Backup Source: VSS allows for both local and network-based backup, offering more flexibility. Some older backup technologies might only support local backups or might require additional hardware or software to support network-based backups.
VVS Backup in Sangfor HCI
Sangfor HCI 6.9.0 supports VSS backup for both Windows virtual machines (support for Linux VMs is on the way), which means you can create consistent snapshots of your VMs without affecting their normal operation. You can also use Sangfor HCI 6.9.0 to back up your VMs to local storage, remote storage, or cloud storage, and restore them quickly and easily when needed.
Other Reliability Features of Sangfor HCI 6.9.0
In addition to VSS backup, Sangfor HCI 6.9.0 offers other reliability features that enhance your data protection and availability. These include:
Network health check: This feature detects network latency and packet loss at the data link layer and promptly alerts the administrator of any potential problems.
RAID controller health check: This feature isolates and repairs RAID controller failures to prevent any impact on the cluster's reliability and performance.
Network attack protection: Sangfor HCI provides a built-in Cloud Security Center for administrators to configure network attack protection policies for the virtual network, providing seven-layer protection for cloud applications.
Virtual patch protection: The cloud security center also provides an intrusion prevention system (IPS) to protect VMs and block vulnerability attack traffic.
Cross-cluster live migration: This feature allows you to migrate VMs from different versions of Sangfor HCI clusters without downtime or data loss.
iSCSI HA for a two-node cluster with witness deployment: A physical terminal is used as a witness node to prevent cluster split-brain and improve reliability for small-scale scenarios.
These features make Sangfor HCI 6.9.0 a reliable and secure solution for your business needs.
What are the Use Cases of Sangfor HCI 6.9.0?
Sangfor HCI 6.9.0 caters to a wide range of digital transformation use cases across industries, including data center consolidation, mission-critical application hosting, hybrid cloud, virtual desktop infrastructure (VDI), remote office/branch office (ROBO), and disaster recovery (DR).
Conclusion
Sangfor HCI 6.9.0 is by far the most reliable version to date, offering features like VSS snapshot and backup, cross-cluster live migration between different versions, as well as health checks for the network and RAID controller. These enhancements improve both the reliability and availability of businesses using Sangfor HCI.
If you are interested in learning more about Sangfor HCI 6.9.0 or want to try it out for yourself, please visit www.sangfor.com or contact us. We will be happy to assist you with any questions or inquiries you may have.
VSS Backup FAQs
Volume Shadow Copy Service (VSS) is a native feature of Windows operating systems that facilitates the creation of consistent application-aware backups. To achieve backup data consistency, the following happens:
VSS temporarily stops writing operations performed by applications.
Buffers from memory are written to disk, that is, flushed and the file system is frozen.
A volume snapshot, also called a shadow copy, is created in the Windows operating system.
When creating a backup of a virtual or physical machine with running applications, especially applications that intensively write data to files and databases, ensuring backup data consistency is essential. Having consistent backup data facilitates recoveries without data corruption or delays. For this purpose, Microsoft developed the VSS technology.