Sangfor Secure SD-WAN
Businesses with multiple locations experience increasing difficulty in managing their wide area network (WAN) as they expand. Increased network traffic can cause bottlenecks and disrupt connectivity between headquarters and branches. This affects crucial functions like data transmission and application access. Furthermore, traditional WANs struggle to efficiently handle the growing use of cloud-based applications. Combined with the high costs of traditional WAN solutions, such as MPLS and leased lines, there is a clear need for a more flexible and cost-effective approach.
Software-Defined Wide Area Network (SD-WAN) offers an innovative solution to these challenges. By decoupling the control functions from the physical network, SD-WAN simplifies the management of complex, multi-branch networks. Its growing popularity, demonstrated by a 59% CAGR, indicates that it is becoming the go-to solution for modern networking needs.
Sangfor is a leading provider of SD-WAN solutions. Our offering combines Sangfor's leading VPN and proprietary security technologies, along with advanced central management capabilities. Designed to be simple, intelligent, secure, and fast, Sangfor SD-WAN is scalable to grow with your business needs.
Sangfor SD-WAN Product Advantages
Dynamic Path Selection
Automatic link quality detection based on packet loss, latency and jitter. Dynamically chooses the best quality link for critical application traffic, guaranteeing an optimal critical application user experience.
Automatic Fail-Over
Sangfor's SD-WAN product provides automatic, imperceptible fail-over in the event of link failure, dramatically improving business availability.
VPN Tunnel Bonding
SD-WAN bonds all WAN links as a resource pool and performs data load balancing on multiple WAN links, breaking through the single WAN bandwidth limitation and maximizing link utilization.
Security Status Visualization
With the Sangfor SD-WAN Centralized Management & Security Operations Center (SOC), your enterprise gains an insight into security and alert statuses.
VPN Status Visualization
Our SD-WAN Centralized Management & Security Operations Center (SOC) also provides enterprises with an oversight over their VPN status in real-time.
Branch Status Visualization
The Sangfor SD-WAN Centralized Management & Security Operations Center (SOC) offers a large-screen display of branch statuses, allowing for an ultra-simplified branch management system.
Built For Security
Sangfor Network Secure is an AI-powered next-generation firewall. It provides comprehensive protection from L2 to L7, ensuring robust defense against the latest threats and securing critical business systems.
SD-WAN For Efficient Enterprises
Full acceleration features solve any poor user application experience or data congestion issue, enhancing link throughput and boosting user productivity.
SD-WAN Security Architecture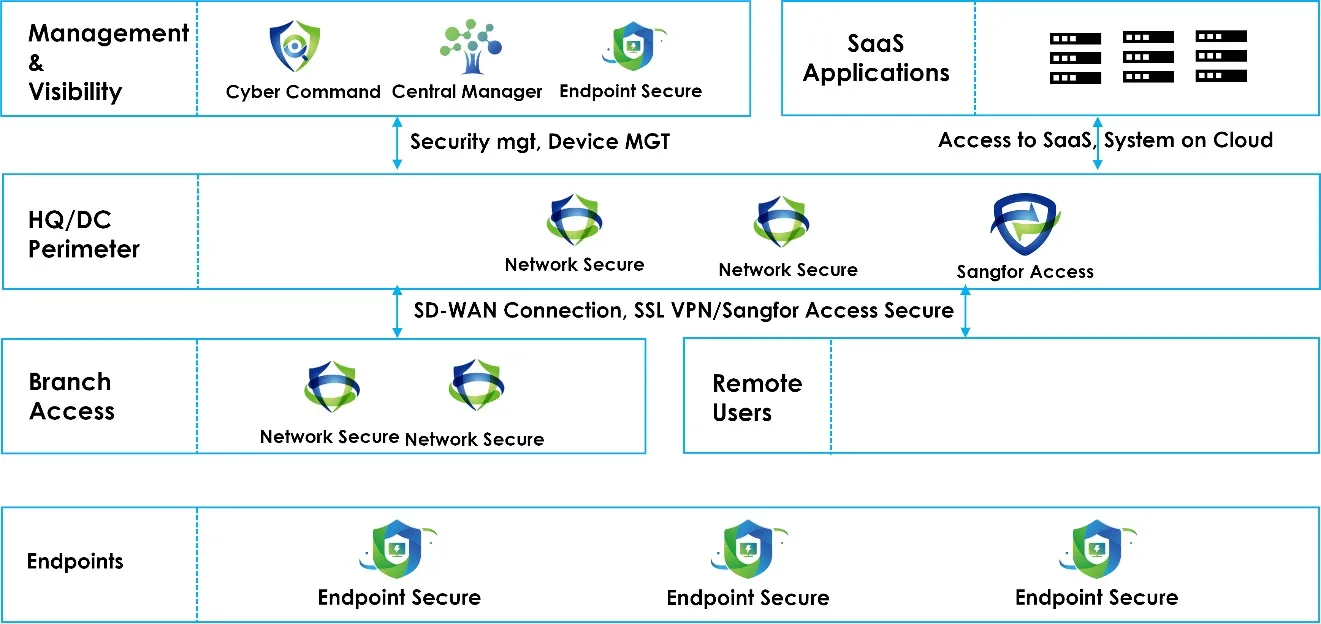 Scenario Solutions

Hybrid WAN
Internet replaces MPLS, reducing WAN investment and increasing bandwidth
Multi-WAN decreases the risk of single failure, improving business availability

Large-Scale Small-Footprint Locations
Quick deployment enables quick expansion of business while reducing engineer costs and business startup cycle
Centralized management and visualization operations simplify daily tasks and provide network-wide controllability

Global Network
A global cloud private network backbone solves long distance transmission issues and reduces international bandwidth costs
Unified management of global sites, reducing reliance on local IT staff
Customer Success Stories
Below you will find all the Success Stories with Secure Internet Gateway, classified by Industry, such as Enterprises, Governments, Schools & Universities, etc.
Recent News and Press Releases
Find out more about Sangfor's achievements, including industry recognition, awards, and accreditation from the world's leading analyst firms and test institutes.
News
Sangfor Technologies Ranked 2nd Largest HCIS Vendor by Revenue in Asia-Pacific for 2Q2023 based on Gartner® Market Share
19 Oct, 2023
News
Sangfor Named as a Representative Vendor in Gartner® Market Guide for AIOps, China
26 Sep, 2023
News
Sangfor Technologies Peer-Recognized as a Strong Performer in the Gartner® Peer Insights™ Voice of the Customer for Full-Stack HCI Software
21 Sep, 2023
Frequently Asked Question
An SD-WAN (software defined wide area network) is a software-defined wide-area network that allows for the use of multiple WAN technologies such as MPLS, Frame Relay, ATM, Ethernet, etc. The main benefit of enterprises using an SD-WAN product is that it allows for the deployment of different protocols across the same physical infrastructure. This makes it easier to deploy new services and keep costs down.
SD-WAN allows individuals or enterprises to connect multiple locations with one or more WAN connections. It enables you to consolidate multiple connections into one connection, allowing for better performance and cost savings. With SD-WAN, you can create a secure network connection between multiple locations using a single router or switch. It allows you to connect remote offices with a high-speed Internet connection without having to install new equipment at each location.
An SD-WAN provides several advantages over a traditional WAN, including reduced latency, increased speed, lower costs, better security and faster business operations. SD-WAN is also a leading network solution for connecting branch offices together using a single IP address. This allows businesses to connect to each other via a virtual private network (VPN), which provides secure connections between branch offices