The 2019 VDI Client Shipment Ranking is Released! Sangfor VDI Continues to Maintain Rapid Growth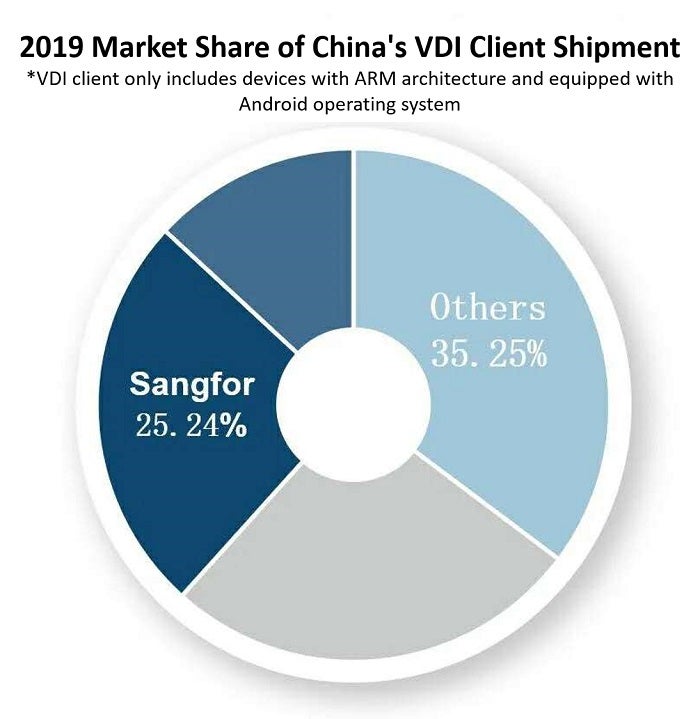 - VDI client market share reached 25.24%
- Market share further increased, approaching No.1 in the ranking
- Continue breakthroughs in large companies and financial industries
Recently, the newly released "2019 IDC Tracking Report of VDI Client Market in China" (hereinafter referred to as the "Report") shows that the total shipments of China's VDI client market in 2019 increased to 1.007 million units, a year-on-year increase of 2.9%. In this report, VDI client only includes devices with ARM architecture and equipped with Android operating system.
Sangfor continued to maintain its rapid growth. In 2019, shipment of VDI client was 254,000 units, ranking second with a market share of 25.24% and a difference of only 1.16% from the No.1 market share.
Breakthrough in All Industries & Scenarios
IDC mentioned in the Report: The proportion of virtualized desktop adoption in the market has increased every year. Along with digital transformation, governments, enterprises, education, finance, and medical industries have brought comprehensive upgrades to their organizational informatization. In the future, desktops will be moved to cloud in terminal upgrades and new project deployments, to build secure mobile digitalization that can be used on demand, greatly improving office efficiency and desktop productivity. Among them, Sangfor Virtual Desktop Infrastructure undoubtedly occupies an important proportion.
Sangfor VDI has been fully applied in various industries. It has maintained a good market performance in the government and enterprise markets, and occupies a good volume in the education and medical markets. At the same time, Sangfor VDI has been fully recognized by large enterprises such as ByteDance, Hisense Group, Xiamen Airlines, Huaxia Bank, China Development Bank and financial industry users, for its highly secure, stable terminal and smooth experience as well as ease of management.
In addition, daily office solutions, vGPU solutions, WAN solutions, multi-network isolation solutions, application virtualization solutions, etc., have enabled Sangfor VDI to achieve a wider and more diverse usage scenario coverage, such as general office, public terminal, Call center, software development, student computer room, branch office, mobile remote office, graphic design, etc. Among them, the WAN solution, by optimizing the transmission of WAN, Sangfor and major operators jointly launched DaaS, which leads to a new scenario of desktop cloud. DaaS helps users use cloud desktops with different paid packages as needed, eliminating high cost of equipment purchase, operation and maintenance. Enterprises and end users, every organization and individual can enjoy the safety, efficiency and convenience brought by VDI.
Ultimate Experience, More Secure and Efficient
Sangfor VDI has been committed to using software to reshap users' IT infrastructure. Through continuous technical optimization and solution innovation, it continues to provide users with in-depth integration of front-end and back-end software and hardware, as well as the integration of ultimate experience,  and a more secure and efficient cloud office.
Daily Office Solution: Through a variety of desktop template derivation methods, software distribution, intelligent diagnosis and troubleshooting platform IOM and other tools, rapid deployment and remote batch maintenance of cloud desktops are achieved, which greatly shortens the time for desktop to go online and reduces the workload of operation and maintenance.
Dual-Network Isolation Solution: Establish a 3D security protection system of "Cloud-Network-Terminal" Security Management & Control Strategy + Global Risk Visual Analysis. The Dual-Network Isolation Solution has gained  the security compliance certification from public security institutes. Through extremely simple terminal deployment of "a dual-network isolated cloud terminal + 1 display", it can achieve complete physical isolation and mutual access control of data between two or more networks.
vGPU Solution: The first in China to launch vGPU Virtual Desktop Solution based on KVM to achieve higher performance and higher density GPU virtualization experience. It takes  VDI from ordinary office scenarios to high-end 3D application scenarios, fully supporting user's business innovation.
WAN Solution: Innovative launch of high-efficiency desktop encoding protocol HEDC, which greatly reduces traffic of video and PPT play, and achieves a minimum office bandwidth of only 600kb, ensuring an extremely smooth WAN access experience.
Application Virtualization Solution: Use remote display protocol to transfer application to user terminal in the form of image, greatly improving resource utilization and application online efficiency.
With the release of the new version, Sangfor VDI now has a built-in distributed firewall, which further strengthens security; it provides multiple OpenAPI interfaces to achieve system connection with the cloud management platform and user business systems, making the platform more open; users can apply for desktop resources and perform O&M via self-service; it also further expands compatible peripheral types to achieve ultimate user experience.
Sangfor Desktop Cloud has served more than 7,500 organizations in various industries, especially during the epidemic period. It has become a rigid need for remote and secure office in scenarios such as software development, financial & human resource as well as call centers, helping users smoothly work from home. Being highly secured, easily managed, energy-saving and environmentally-friendly, VDI provides a cost-effective integrated solution that is superior to traditional PC experience. It has become the most powerful tool for improving desktop performance and productivity in the digital age. Undoubtedly, more and more organizations will deploy desktop cloud or cloud desktop applications in the future, and Sangfor VDI will continue to lead.
---