SANGFOR COMMUNITY REFERRAL PROGRAM
Invite Your Industry Peers to Sangfor Community and Win Amazing Gifts!

500 Coins for Each Successful Referral
Click on the below button to generate your own invitation link and send it to your friends and colleagues. 
New members who successfully registered with the corporate email address
will be counted automatically.

CLICK HERE TO GENERATE YOUR INVITATION LINK  


Terms and Conditions:
•The campaign starts on the 29th of July and will end on the 30th of September. 
•The referral will be counted by the amount registered successfully through the personal invitation link.
•Please register with the corporate email address. Free email accounts will not be eligible for bonus points.

What is Sangfor Community?
Search, post, discuss and download technical documentation. 
Let's get started!




Sangfor Community is a content-filled, self-service, technical support community where provides:
•A unique & open platform to discuss the latest IT innovations, with dedicated content for local regions in local language (such as Bahasa).
•IT experts with loads of technical solutions on different scenarios and convenient online technical support to make full use of Sangfor products and achieve business success.
•Sales & Presales with massive tools and resources to present Sangfor value proposition, analyze and fulfill customer expectations, show Sangfor expertise, explore more opportunities and win more deals.

How to Register in the Sangfor Community?
Sangfor Community provides loads of partner exclusive sales and technical documents.

1. Register with your company email address.
Verified as General Member
Even though you are not working with Sangfor yet, you can still register on the Sangfor Community to get access to the massive resources and communicate with Sangfor Experts.

Verified as VIP Member
If you are a Sangfor end-user, select "I am an end-user of Sangfor product (VIP)", and then input the Serial Number of Gateway ID of your Sangfor product and click "Submit" to verify your account as Sangfor VIP member.

Verified as Partner
Your account will be verified as partner account immediately if your company information is already in our system. If not, please fill in the pop window after your registration to submit a verification application. Your partnership will be verified within 1 business day.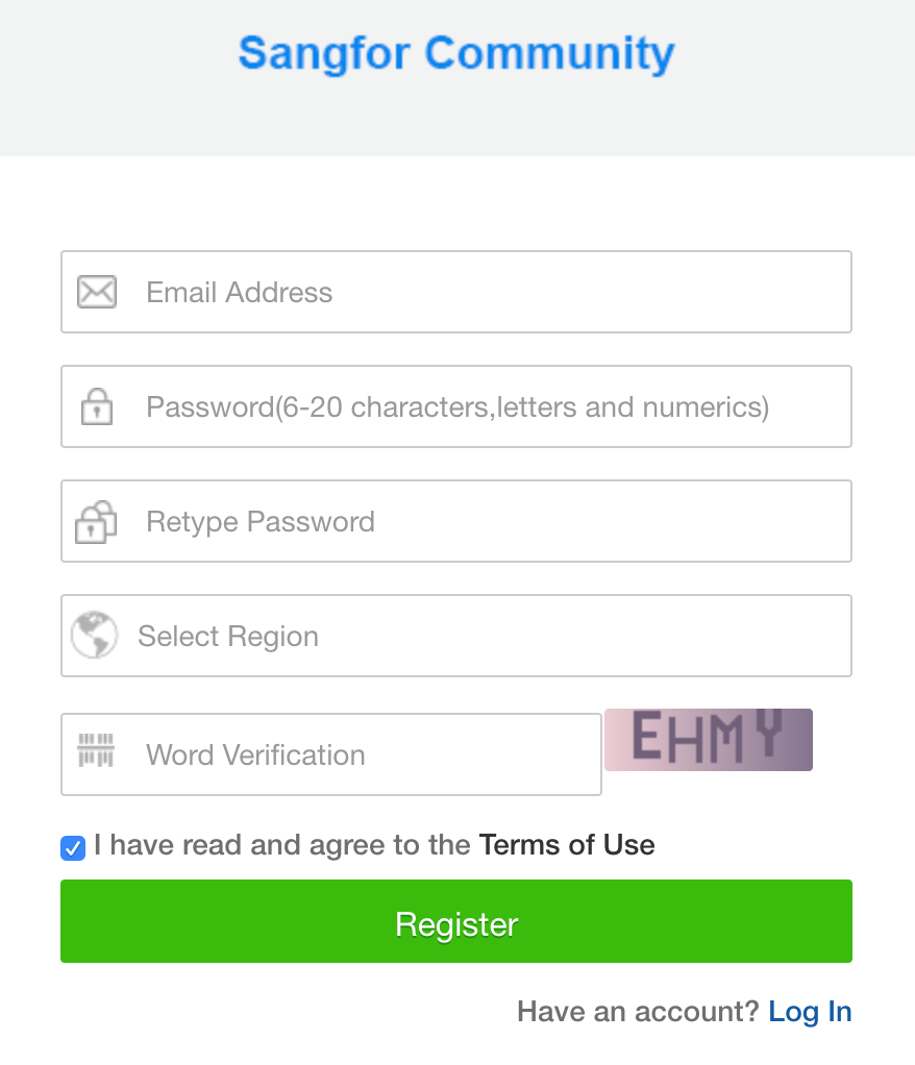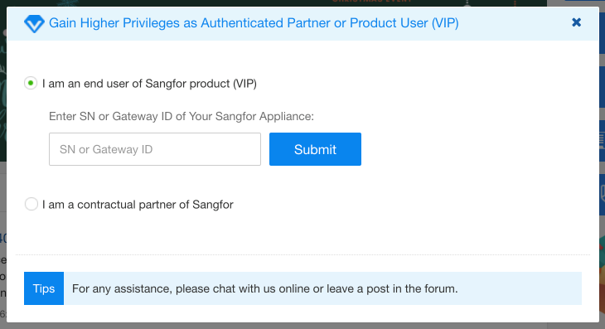 2. Successfully Verified.