Sangfor Technologies and Western Digital Join Hands to Break Ground in Enterprise Storage
On August 12, 2022, Sangfor Technologies and digital storage giant, Western Digital, convened in Chongqing, China to hold in-depth talks on market dynamics and opportunities. Both companies brought forth their respective expertise and experience with the view of joining forces. After the successful meeting, Sangfor Technologies and Western Digital jointly announced a strategic partnership agreement that aims to achieve mutual business goals and break ground in the field of enterprise storage.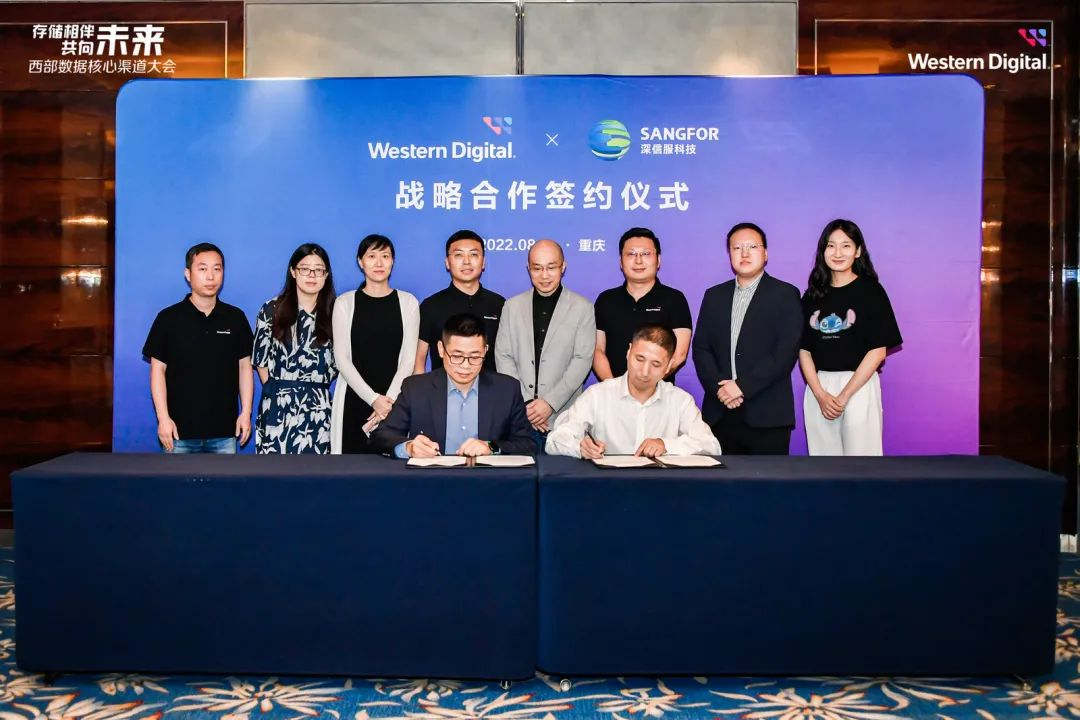 Image courtesy of Western Digital
Since its establishment in 1970, Western Digital has been at the forefront of game-changing digital storage. By being on the cusp of innovation and pushing the boundaries of technology, Western Digital continuously produces more powerful and innovative data storage solutions. This is perfectly in line with Sangfor's unwavering commitment to constant innovation.
Founded in 2000, Sangfor Technologies is a leading global technology company specializing in enterprise-grade cyber security, cloud computing, IT infrastructure, and IoT products and services. With a corporate mission to "Make Digital Transformation Simpler and Secure", Sangfor aspires to lay the groundwork for digital transformation for organizations across all industries.
The strategic partnership agreement between Sangfor Technologies and Western Digital is an affirmation of our unremitting efforts to innovate and meet the world's ever-growing digital transformation needs. In this partnership, both companies will leverage their respective expertise to engage in technical cooperation. It promises to streamline the optimization and evolution of enterprise storage systems to better meet not only current enterprise storage needs but also the future exponential growth in storage demand.
Value Propositions
(1) The integration of Western Digital's enterprise SDD with Sangfor Hyper-Converged Infrastructure (HCI) and Distributed Storage promises to enhance the overall performance, reliability, and cost-effectiveness of application hosting and Sangfor's cloud solutions, such as Sangfor Hybrid Cloud, Managed Cloud Services, and Disaster Recovery (DR).
(2) Both companies will cooperate to produce enterprise storage solutions that better align with the precise needs of specific industries, including enterprise, healthcare, government, education, and energy.
(3) Both companies will join hands to provide customers with more efficient technical support and higher quality service.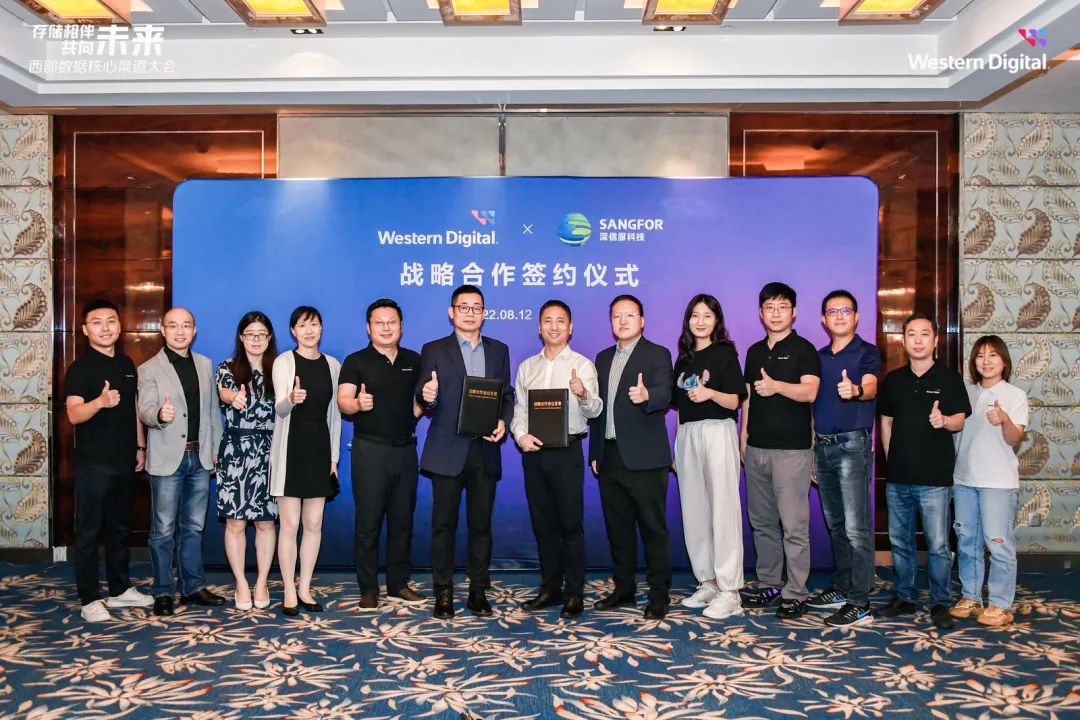 Image courtesy of Western Digital
"Sangfor is confident that the signing of the strategic partnership agreement is the birth of a fruitful alliance," says Kaden Zhang, President of Sangfor International Market. "We believe that through continuous cooperation, the partnership between Sangfor Technologies and Western Digital will propel both companies into a business ecosystem of mutual benefit."
About Western Digital
Founded in 1970, Western Digital Corporation (NASDAQ: WDC) is an American global provider of data storage solutions, headquartered in San Jose, California. It designs, manufactures, and sells data technology products, including enterprise storage, data center systems, and enterprise cloud storage services. Western Digital sells its products under the G-Technology, SanDisk, and WD brands to original equipment manufacturers, distributors, dealers, resellers, and retailers. Visit www.westerndigital.com to learn more about Western Digital's full range of products.
About Sangfor Technologies
Sangfor Technologies is an APAC-based, leading global vendor specializing in Cyber Security, Cloud Computing, and IT Infrastructure. Founded in 2000 and publicly listed since 2018 (STOCK CODE: 300454.SZ), Sangfor employs 9,500 employees, operates 60 offices, and serves more than 100,000 customers worldwide, many of them Fortune Global 500 companies, governmental institutions, universities, and schools. Visit us at www.sangfor.com to learn more about Sangfor's solutions and let Sangfor make Your Digital Transformation Simpler and Secure.