Hyper-converged infrastructure is the future of the forward thinking enterprise, with it's already astronomical growth spurred on by COVID and the sudden need for more robust and intelligent cloud resources and digital transformation. Where do IT decision makers go for information from their peers on the best hyper-converged solutions available in an overly saturated market? We do from Gartner Inc. and our own customers, of course!
What is Hyper-Converged Infrastructure?
A hyper-converged infrastructure, often known as HCI, is an element of cloud computing designed to be flexible and intelligent software, combining server, storage and compute into a small, powerful and easy to manage platform, network and storage array. Sangfor's HCI solution has named in Gartner 2020 Magic Quadrant for Hyperconverged Infrastructure Software. But, what are Sangfor customers saying out their personal and day-to-day experience with Sangfor HCI? Let's go to Gartner Peer Insights.
Gartner Peer Insights Reviews: Sangfor Technologies
The best indicator of the quality of the product is the high praise of current users, and this is exactly what Sangfor got, with 75% users giving 5-stars for their review in Gartner Peer Insights. (As of May 18th, 2021 Based on 64 reviews.)
One 5-star Sangfor reviewer shared how "Sangfor HCI Can Manage From Single-Cluster HCI To Multi-Cluster HCI, And Provide Cloud."
Our organization has adopts the Sangfor HCI for " Software Defined Data Center". The Sangfor HCI has good elastic expansion capabilities. When a new physical machine is added, data can be automatically migrated and balanced. When a disk or physical machine fails, it can achieve data reconstruction of about 20min/T, which is very good Stability and self-healing capabilities; the platform can easily realize virtual machine micro-isolation and east-west security protection. Later, different levels of security protection strategies can be set for different virtual machine services to ensure data and virtual machine security. In addition, Sangfor HCI can initiate active health detection on the business rather than the virtual machine itself, and display the usage status of all resources on the cloud platform such as Oracle database, SQL database, weblogic middleware, etc. on a large screen monitoring center, which is very easy to use and easy to manage. And through the cloud management platform to unify the hyper-converged clusters of the main and standby computer rooms, instead of relying on third-party software, the centralized management of the resources of the main and standby computer rooms and the monitoring of disaster recovery status are realized. [SIC]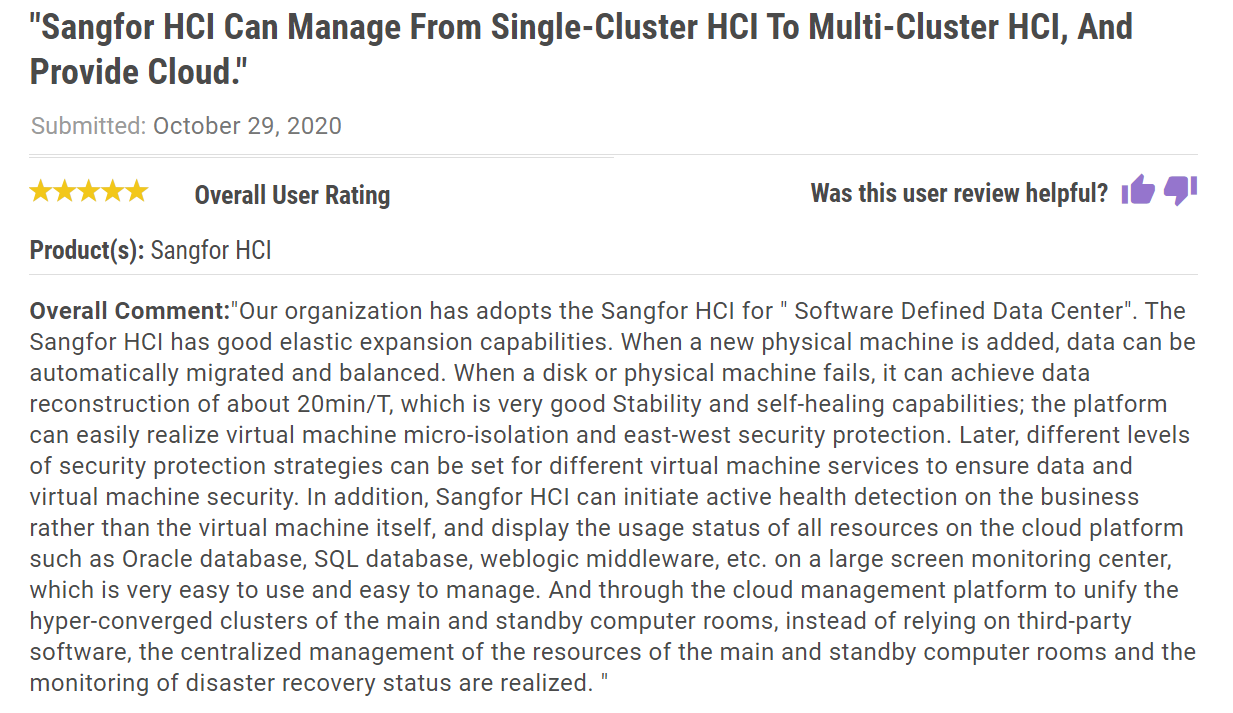 Source: https://www.gartner.com/reviews/market/hyperconverged-infrastructure-software/vendor/sangfor/product/sangfor-hci/review/view/3462618
A second 5-star reviewer shared their happiness about the price, stability, and power of Sangfor HCI, writing;
Being using Sangfor HCI solution since 2018 till now, we found out that the solution was essentially a stable, user friendly hyper converged solution. The level of statistical performance data it is able to report in real time is extremely useful. The pricing is good for us and just what we are looking for. We can cut off the VMware license and maintenance support on this solution. The most important functionality is the ability to extend cluster storage and cluster computing power securely without loss of data. Also, the ability to set up an extended cluster on multiple sites in a much simpler and easier way than with a traditional storage solution. [SIC]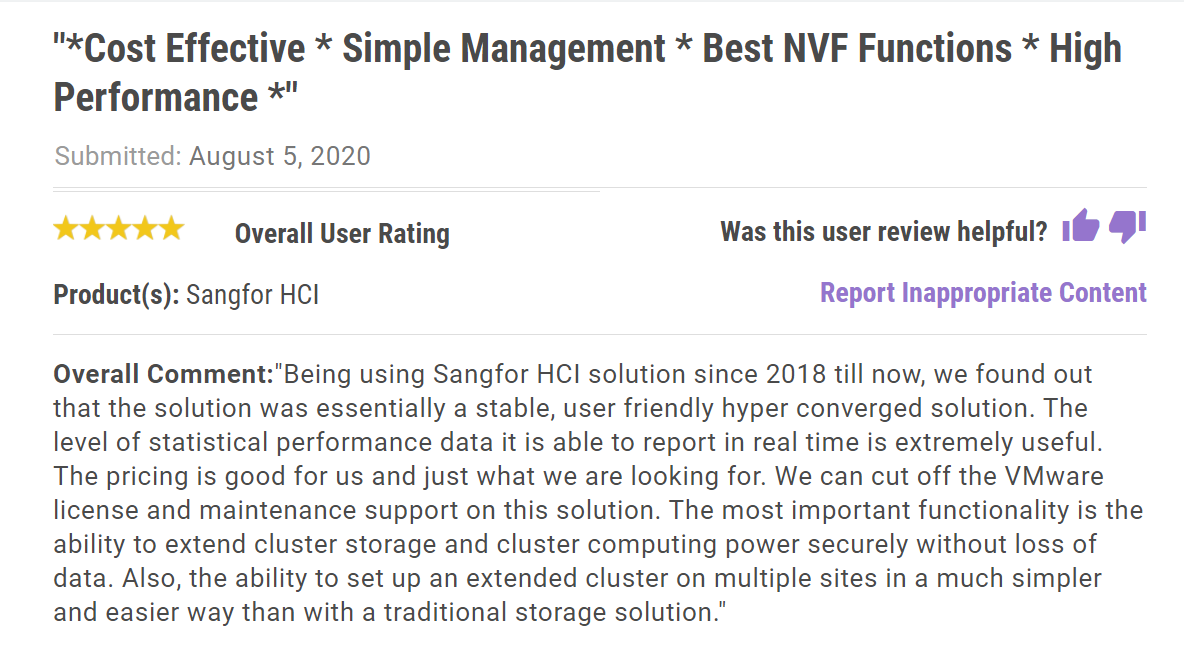 Source: https://www.gartner.com/reviews/market/hyperconverged-infrastructure-software/vendor/sangfor/product/sangfor-hci/review/view/1401452
A third Sangfor customer was pleased with Sangfor HCI's strength and capabilities, saying;
Sangfor HCI can carry most of our business and gurantee security at the same time, its perfect business continutiy protection system and strong High Availability feature helps us business run a long period without interruption, which really benefits to our efficiency. Also, they offer excellent after-sales service to help us solve all problems related to our IT system, especially on all important moments. [SIC]

Source: https://www.gartner.com/reviews/market/hyperconverged-infrastructure-software/vendor/sangfor/product/sangfor-hci/review/view/3457742
Without the customer, Sangfor is nothing. We appreciate and support our customers in every way, and we hope this dedication shows in the words of our customers. Sangfor HCI is one of many industry-leading products, designed specifically for the needs of our customers and the world of enterprise at large. We are, as always, humbled and pleased to be included in "Gartner Peer Insights 'Voice of the Customer': Hyperconverged Infrastructure Software," and strive to maintain the same excellence in 2021 and beyond.
Why Sangfor?
For more information on Sangfor's Hyper-Converged solution (HCI) and other cloud and security solutions, visit Sangfor's website at www.sangfor.com, or visit Gartner's Network Firewall Peer Insight page for more first-hand reviews of HCI from industry experts around the world.

Sangfor Technologies is an APAC-based, global leading vendor of IT infrastructure solutions specializing in Network Security and Cloud Computing. Visit us at www.sangfor.com to learn more about Sangfor's Security solutions, and let Sangfor make your IT simpler, more secure and valuable.

Source:
Gartner Peer Insights 'Voice of the Customer': Hyperconverged Infrastructure Software, Published 12 May 2021

Gartner, Magic Quadrant for Hyperconverged Infrastructure Software, Jeffrey Hewitt et al., 7 Dec 2020
Gartner Peer Insights constitute the subjective opinions of individual end-user reviews, ratings, and data applied against a documented methodology; they neither represent the views of, nor constitute an endorsement by, Gartner or its affiliates.
Gartner does not endorse any vendor, product or service depicted in its research publications, and does not advise technology users to select only those vendors with the highest ratings or other designation. Gartner research publications consist of the opinions of Gartner's research organization and should not be construed as statements of fact. Gartner disclaims all warranties, expressed or implied, with respect to this research, including any warranties of merchantability or fitness for a particular purpose.