Executive Summary
Palm Oil Industry
Industry: Manufacturing
Location: Indonesia
Customer Background
Tianjin Julong Group, the leader of China's oil palm industry as well as the world's first palm oil processor to achieve a "Green Food" certificate, owns the highest palm oil market share in China, and is ranked in the list of "Top 20 Global Competitive Company" of the year 2011-2012. In 2012, the operating revenue of Julong Group was 20 billion.
Julong Indonesia is a Chinese foreign company under Tianjin Julong Group. Their core business focuses on the Palm oil industrial chain consisting of oil-crop plantation, edible oil processing, port logistics, oil and grains trade, oil and fat product R&D, brand packaged-oil promotion, and grains industry financial services.

Source: julongindonesia.com
Challenges
3-tier old infrastructure. The client used traditional physical servers for core apps, consisting of 4 physical servers and external storage. All of these servers are old and have no proper documentation from former IT team members.
Risk of downtime. Core development application servers are already unable to be utilized (due to some software damage internally) and currently, there are only 2 production servers remaining. As such, it is only a matter of time before failure occurs. If no action is taken, this will eventually have a significant negative impact on the business.
Old hardware is underperforming. Their physical servers' resources are difficult to upgrade. As such, this was impacting the client's applications performance due to the outdated hardware.
Complicated migration. Core applications are based on SAP ECC, and migration requires professional services. Initially, the client had no confidence in HCI, so we extended our offering to explore the migration plan with the hopes of addressing their concerns.
Sangfor Solution
Two nodes of all flash aServer 2205
aSV+aSAN+CDP
Easy migration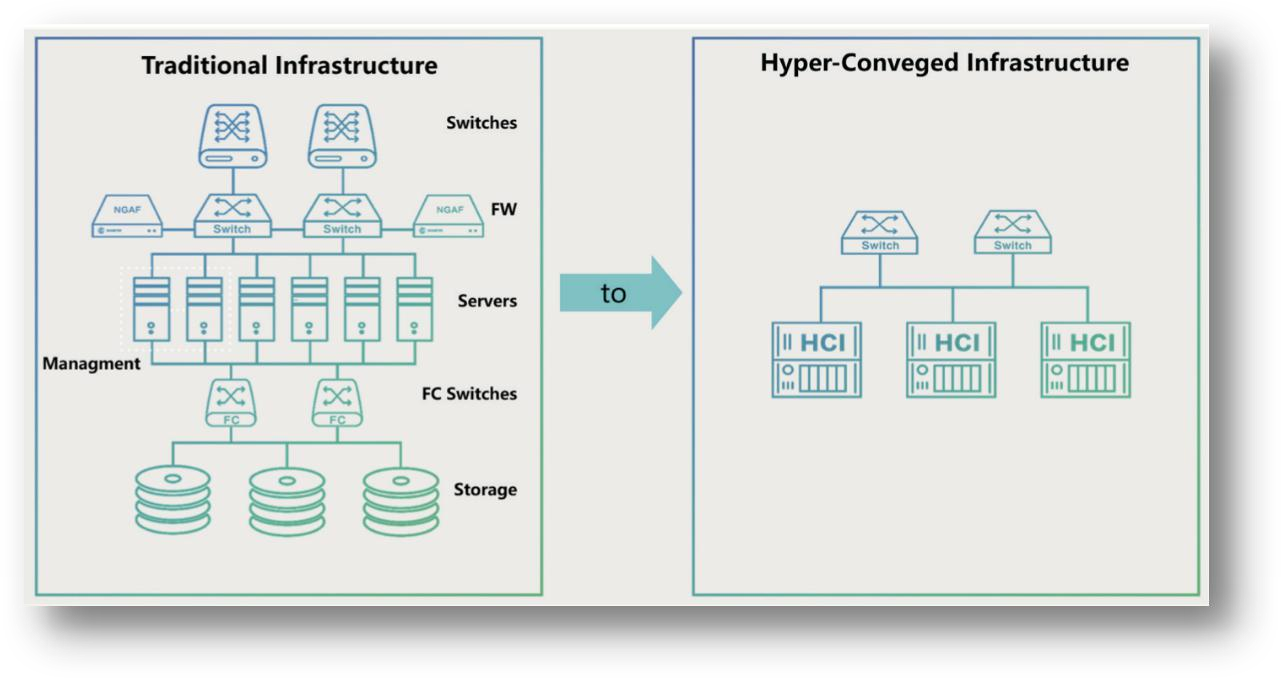 **Figure depicting Julong's infra transformation from former 3-tier infrastructure to Sangfor HCI.
Solution Values: Simplified Architecture and Better Performance
HCI Consolidations. We combined all of the old physicals servers to Sangfor HCI with simplified migration approaches like the topology above with 2 nodes of HCI deployment.
Easier scaling. HCI provided better scalability to the apps from a compute and storage perspective compared to the old traditional infrastructure that is difficult to scale out.
Solution-minded. We understand Julong is concerned of their SAP which is critical, so we provided a much more reliable infrastructure compared to former one and we provided built-in high availability if 1 node goes down in the cluster, the business systems are still be able to resume in no time (no more than 1 minute).
Easier Migration. We migrated their production apps, UAT, and development servers from physical to Sangfor HCI through our easy-to-use P2V tool.
Higher and better performance. Previously on the customer's physical servers, they were limited to 9 concurrent users at most for daily activities. After migration, the number increased to 15 concurrent users. And overall, business process speed increased significantly thanks to performance enhancements brought by Sangfor HCI, and all-flash configurations.
About Sangfor Technologies
Sangfor Technologies is an APAC-based, global leading vendor of IT infrastructure and security solutions specializing in Network Security and Cloud Computing. Visit us at www.sangfor.com to learn more about how Sangfor's Cloud and Security solutions can make your digital transformation simpler & secure.
---