About Julong Group Indonesia
Julong Group Indonesia is a Chinese foreign company under the Tianjin Julong Group. Tianjin Julong Group is the leader in China's oil palm industry, with the largest market share. The company's business spans the entire palm oil industrial chain, including plantation, oil processing, logistics, trade, R&D, promotion, and financial services. Tianjin Julong Group is the world's first palm oil processor to achieve a "Green Food" certificate and ranked in the list of "Top 20 Global Competitive Company" of the year 2011-2012.

Source: julongindonesia.com
Julong Group Indonesia's IT Challenges
3-Tier Infrastructure: Julong Indonesia was using a 3-tier infrastructure for core applications. The old infrastructure consisted of 4 physical servers and external storage. All the servers were old and had no proper documentation from former IT team members.
Risk of Downtime: Core development servers were unusable (due to internal software damage) and only two production servers were working. It was only a matter of time before these also failed. The business would have been significantly impacted if no action had been taken.
Underperforming Hardware: It was difficult to upgrade their physical server resources. This was impacting the performance of applications.
Complicated Migration: Core applications include SAP ECC, and migration requires professional services. Initially, Julong Indonesia was unsure about HCI, so we extended the project to include the migration to address their concerns.
Sangfor's Solution
Two-Node Sangfor HCI: All-flash aServer 2205
aSV (hypervisor), aSAN (storage), Continuous Data Protection (CDP)
P2V Migration Tool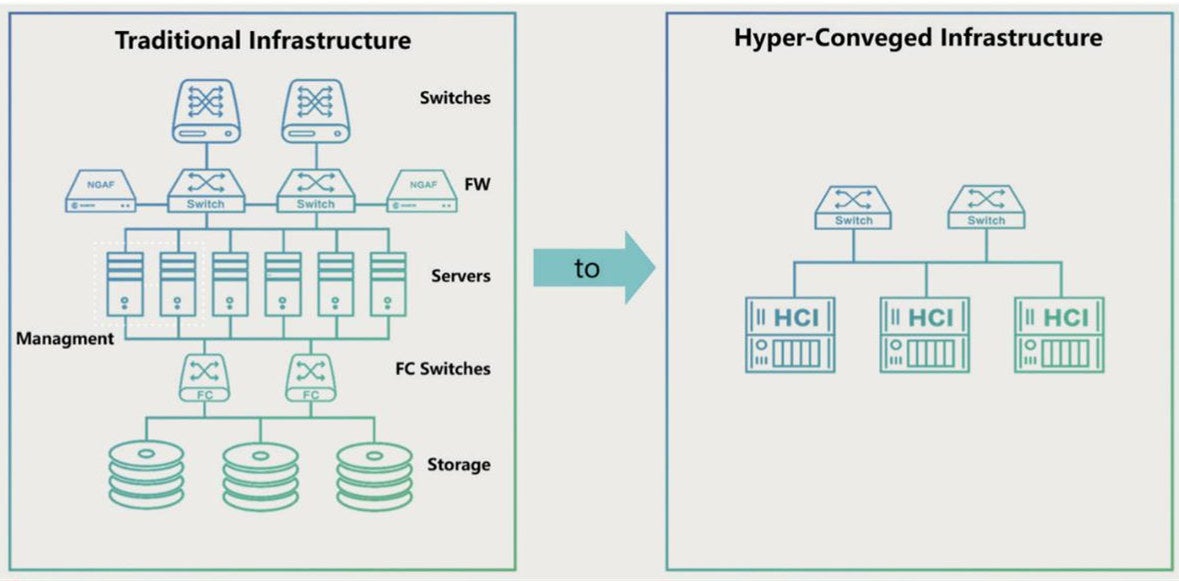 *Figure depicting Julong Indonesia's transformation from former 3-tier infrastructure to Sangfor HCI.
How Julong Benefited from Sangfor's Solution
Data Center Consolidation: We replaced all the old physical servers with a 2-node deployment of Sangfor HCI to significantly reduce the data center footprint and complexity.
Scalability: HCI allows Julong Indonesia to scale out compute and storage resources more flexibly compared to the old traditional infrastructure.
Reliability: Julong Indonesia requires high reliability for its critical SAP application, so we provided a much more reliable infrastructure with built-in high availability. Even if one node were to fail, the SAP application would resume in no time (maximum 1 minute).
Easy Migration: We migrated Julong Indonesia's production systems, UAT, and development servers to Sangfor HCI using our convenient physical-to-virtual (P2V) migration tool.
Superior Performance: The old physical servers were limited to 9 concurrent users at most for daily activities. After the migration, the number increased to 15 concurrent users. Business processing speeds increased significantly thanks to performance enhancements brought by Sangfor HCI.