Executive Summary
Products: Home appliances
Industry: Manufacturing
Location: Hong Kong
About Toshiba Hong Kong Limited (THL)
Toshiba Hong Kong (THL) has built a formidable reputation as the sole agent for Toshiba Home Appliances in Hong Kong and Macau. Apart from product sales, THL also provides warranty services and after-sales repair services in Hong Kong and Macau. As a core part of the Toshiba lifestyle business, THL is committed to providing their customers with leading and technologically innovative products as well as offering excellent customers services to meet the demanding markets in Hong Kong and Macau.
Critical Challenges:
Remote workforce
Lacks visibility of user internet activities
Exposure of confidential company data
Workforce move from office to home.
Complexity of infrastructure and management planning when preparing workforce to work from home.
Existing on-premise solution not designed to protect remote workforce.
Inability to ensure users are not exposing company confidential data.
Lack of visibility into users' internet activities
Inability to prevent users accessing of inappropriate websites.
Sangfor Solution for Toshiba Hong Kong Limited (THL)
Sangfor Internet Access
Securely connect users to SaaS applications and internet resources.
User identity driven policies to provide seamless protection on devices.
Protect user internet experience from online threats
Prevent critical corporate data from leaking out.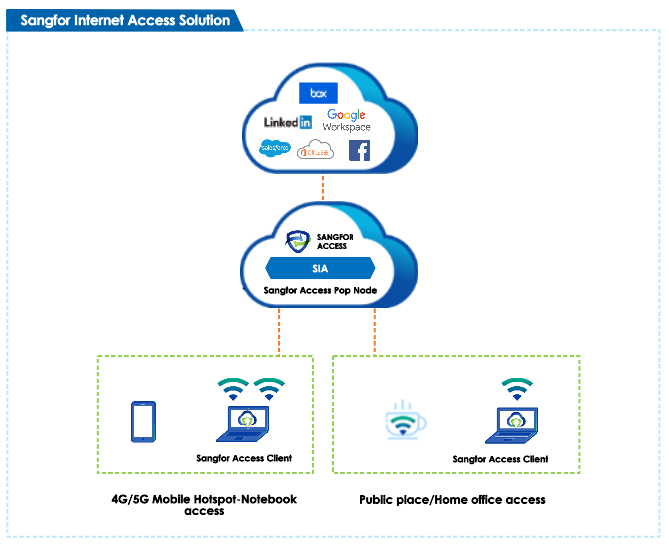 Solution Values
Ensure users are complying with company Acceptable Use Policy (AUP).
Empower your remote workforce to work from anywhere securely.
Reduce security O&M by using resources more efficiently.
Reduce disruption due to pandemic and ensure business continuity in an ever-changing environment.