Humans are an inherently social community. We build, create, and explore to find meaning and purpose but also mostly to connect. The holiday season is a great reminder for many people that as much as we grow apart and move away, we are all still part of one family. Thanksgiving coming on 23rd November 2023, is a wonderful example of how people pause their busy lives to come together and celebrate their love and gratitude for one another.
As we've evolved, we have found new and exciting ways to show that connection. A fundamental concept of all technology is the ability to connect with one another. We invent new ways to stay together even when we might be far apart. Cloud computing has been a crucial part of creating these connected technologies that allow us to share and cherish special moments from wherever we might be.
In this blog article, we discuss the role that cloud computing has played in creating technologies that keep us connected to our loved ones during Thanksgiving. We explore the significance of being together during the holiday and the ways that cloud-based platforms have helped to facilitate that atmosphere of sharing. First, let's delve further into the importance of Thanksgiving gatherings.
The Significance of Thanksgiving Gatherings
Thanksgiving is an annual national holiday in the US and Canada that falls on the fourth Thursday in November. The holiday itself is meant to celebrate the blessings of the past year and commemorates a 1621 harvest feast shared between the Wampanoag people and the English colonists known as Pilgrims. For the colonists, the "thanksgiving" days were meant for prayer to show gratitude for abundant harvests, military victories, and safe travels.
Traditionally, Americans and Canadians gather their families and loved ones together every year for Thanksgiving to share a meal and celebrate all that they are grateful for. This can include friends, family, health, safety, and more. Parades and football games are also longstanding traditions associated with the holiday.
However, as people grow up, they do tend to grow apart physically as well. Many people have moved to new cities or countries for job opportunities, studies, or other reasons. There has been a dramatic shift in the geographical closeness of many families in the modern age. This has caused holidays like Thanksgiving to be quite challenging. Fortunately, technology has allowed us to connect despite these physical distances and cloud computing has been responsible for most of it. Let's see how cloud computing has changed the way we stay connected this Thanksgiving.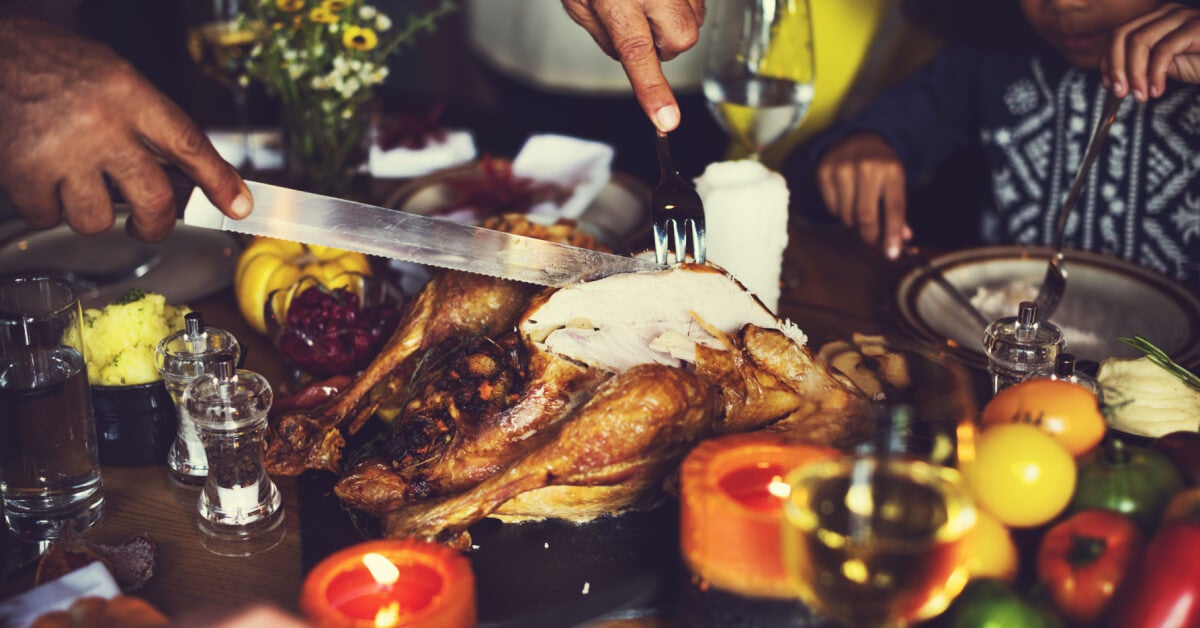 Cloud Computing: A Game Changer for Staying Connected on Thanksgiving
Cloud computing can be defined as the outsourcing of data servers and computing resources through the cloud – or online. By virtualizing computer processes like storage, analytics, networks, and more, companies are given flexible, scalable, and affordable means to run platforms and process data. Cloud computing has revolutionized the way we use technology.
Now, when people hear the term "cloud computing", they might think of a giant corporation and boring data management. However, the cloud has been used in many different technologies – some of which you've probably been using each day already. One of the great parts of cloud computing is its ability to facilitate and enable connected technology across the globe.
Cloud infrastructure is used in almost every major app or platform today. Due to its efficiency, sustainability, and low costs, cloud computing has become the most viable framework for most companies to process data, launch apps, and store information. Smartphones, home security systems, and more can all be connected to the cloud. Bringing it back to the main topic, let's see how the cloud has helped the Thanksgiving connection issue through virtual reality as well.
Thanksgiving 2.0: Virtual Gatherings
Virtual Reality (VR) is an immersive experience technology that creates an entirely new virtual environment in your field of vision. Augmented Reality (AR) is based more on adding virtual elements to your surroundings. While virtual reality technologies have been largely used in gaming markets, it's quickly gaining traction as a social tool as well.
In 2014, Facebook bought the virtual reality company Oculus and the popularity of virtual reality grew. The global VR market is now expected to grow to US$ 22 billion by 2025. The Metaverse also lets you meet up with your friends or family members in a virtual 3D reality setting – allowing you to connect no matter where you are. Zuckerberg's Meta company maintains that the Metaverse VR technology isn't just for gamers or developers but for everyone.
The Internet of Things also created an array of Connected Technology devices that allow different devices to be synced with one another to make your daily life more efficient. The number of connected devices is expected to reach 29 billion IoT devices in 2030. These technologies help to create a community atmosphere that can keep devices linked to know where your loved ones are and what they might be doing in real time.
Virtual technologies are a great way to help loved ones stay in touch this Thanksgiving despite physical limitations, however, businesses are also taking advantage of the technology to stay in the spirit. In 2022, famous retailer Macy's held its customary parade in the OnCyber metaverse. The virtual Thanksgiving Day parade was complete with balloons from designs made available in the store's NFT collection from the 2021 parade.
Naturally, VR technology relies on cloud computing to create such elaborate and widespread connections. The cloud has allowed virtual reality and all connected technologies to keep us together through its flexible and efficient framework. Now we'll go over some of the main benefits of cloud-based Thanksgiving celebrations.
Benefits of Cloud-Based Connected Technology for Thanksgiving Celebrations
You might be wondering why the cloud needs to help out at all for Thanksgiving when you could all just get together in real life. However, that isn't the reality for many people around the world. The COVID-19 pandemic saw a huge influx of virtual and connected technologies when we were all stuck in lockdown and forced to celebrate important holidays and milestones together through a screen. Fortunately, that time has passed but we now have a means to stay in touch even when we physically can't.
Cloud-based connected technologies have been ideal for family members living abroad, long-distance relationships, those who are in hospital, and others who cannot be there. The cloud computing platforms and apps have ensured that we can share locations, collaborate on ideas, and share holiday greetings, recipes, and more. Let's explore some of the main cloud computing tools that can help your Thanksgiving be a success.
Popular Cloud Computing Tools for Thanksgiving
Most technologies these days use cloud computing in some manner or fashion. Whether it's for storage, communication, or streaming – these are some of the main cloud computing tools to keep your Thanksgiving celebrations festive:
Cloud Computing for Video Conferencing Platforms
We've all had a disastrous video call with an older relative who can't tell where the camera and mute button are for the first 10 minutes. Video conferencing calls are a brilliant cloud-based technology that allows you to see and speak to loved ones no matter where they are. Video platforms like Zoom, Google Meet, Skype, and Microsoft Teams might usually be associated with business meetings, however, the platforms are also affordable and accessible ways to keep your family together this Thanksgiving.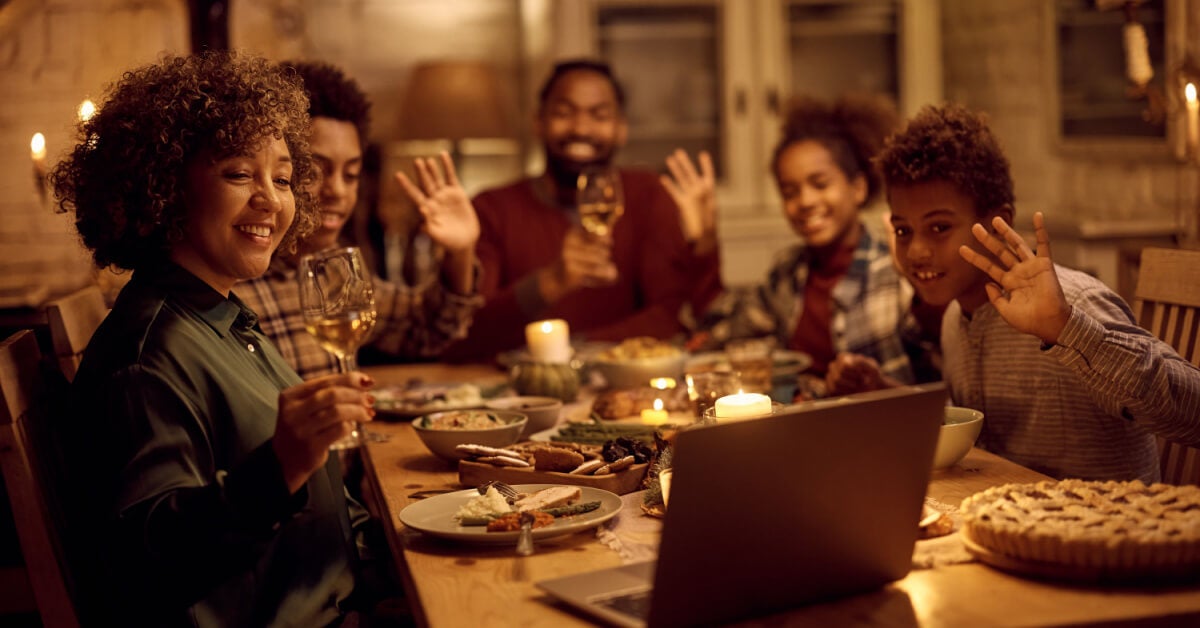 While it might seem a bit dreary, having a video conference Thanksgiving can be a fun way to keep in touch and include those members of the family who couldn't make it. Some tips on how to create the best video conference Thanksgiving include:
Using the biggest screen in the house to make the video call. You might want to connect the video conference to the TV before the festivities begin.
Using a high-grade webcam. Nobody wants to endure blurry images and terrible quality during the holidays.
Maintain a reliable internet connection for such connected technologies. Your video conference will only be as great as your internet connection is, so ensure you have a steady and fast-running one.
Set the right lighting and atmosphere. Remember, you're not hiding from your boss in this video conference so you probably want to test out different lighting and ensure that everything you want to be in the frame is in frame. Put up some decorative backgrounds and settings to create a comfy Thanksgiving mood for the call.
Familiarize yourself with the video platform you're using to make sure you know which buttons to press and how long your call can go on.
Try to make use of games and interactive activities that can be done over a video call.
Test your sound and mic systems to make sure that everyone can hear you and can be heard properly.
Cloud Computing for Messaging Apps on Thanksgiving
Messaging apps like WhatsApp, Facebook Messenger, and Telegram also make use of cloud computing to keep people connected over the holidays. The cloud-based messaging apps connect billions of people around the globe and ensure that your Thanksgiving greetings and messages reach your loved ones.
Cloud Computing for Social Media on Thanksgiving
Social media is another great cloud-based technology that connects you for Thanksgiving celebrations. Apps like Facebook, Instagram, and X – formally Twitter, can be used to share your Thanksgiving messages across the internet with friends and family alike. Many brands also take to using their social media platforms to wish customers holiday wishes as well. Some great tips to use social media platforms for your Thanksgiving include:
Create interactive posts that ask what people are grateful for this Thanksgiving. This can create a sense of community and perhaps might help those who don't have loved ones to share in the spirit of the holiday.
Ask people to post pictures of their Thanksgiving meals and decorations. The holiday focuses on extravagant meals and settings and sharing them will keep your friend and family groups close.
Sending out virtual Thanksgiving greeting cards. The cloud technology keeps us connected. There are innovative ways to send your Thanksgiving wishes in the modern age so why not make use of them to keep your social media platform wholesome and inviting?
Create groups for your family members where you can share pictures, memories, and thoughts that you might not want posted publicly.
Cloud Computing for Sharing Apps on Thanksgiving
Thanksgiving can be a very chaotic time for most families and cloud-based sharing apps can help out with that. Make use of apps that allow you to share recipes, grocery lists, and more. You can also use apps to make and distribute lists of what each family member needs to do or bring for the day. Plan your entire day or weekend using apps that can schedule and set reminders for everyone involved. Make use of virtual game apps or VR headsets when the family is together for added fun – all made possible using the cloud.
Cloud Computing for Streaming Apps on Thanksgiving
Watching TV might be a seemingly trivial pastime but it can be memorable when watching as a family on Thanksgiving. Share the joy of your favorite movies, sports events, shows, and music with your loved ones by using cloud-based streaming services like Netflix, Hulu, Disney+, or Amazon Prime.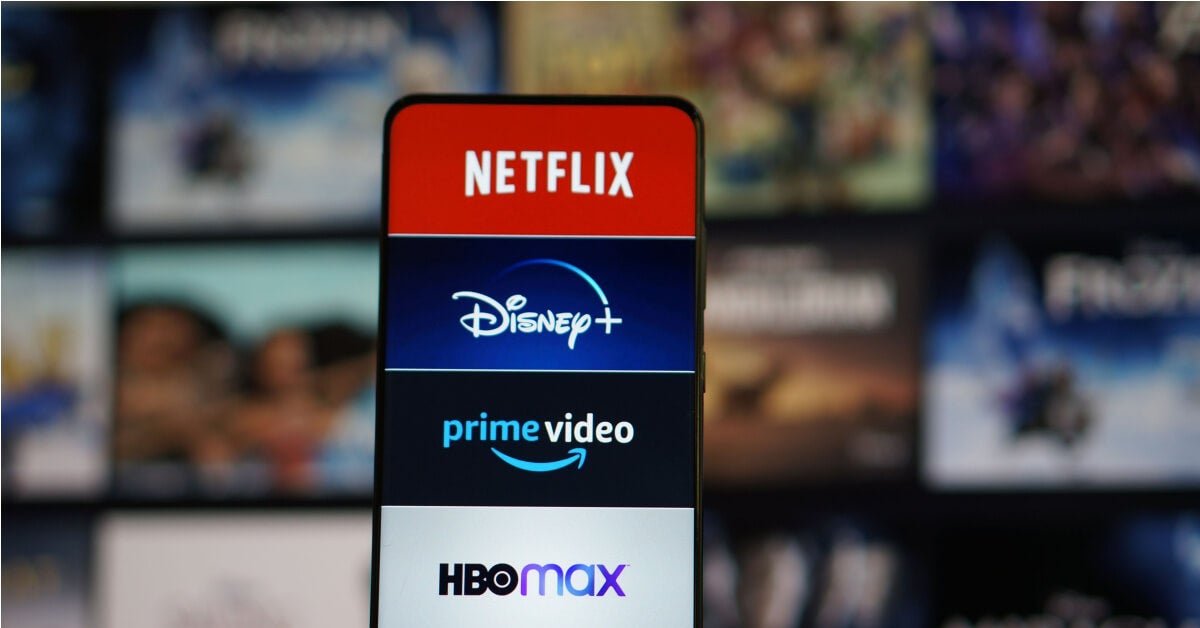 Logos of streaming services
The cloud will use a network of servers that host and deliver video. When you are ready to live stream or upload a video for viewing, the service you've selected will transcode your video to prepare and optimize it for transmission. Your content will be transcoded into HLS and instantly made available. That's how cloud computing makes streaming services possible. To make the most of your Thanksgiving streaming, follow these few tips:
Use a third-party extension like Netflix Party or Prime's built-in Watch Party features to stream simultaneously with your loved ones across the globe or use Discord or Twitch to stream your video games.
Use a stable internet connection for your streaming and ensure that your subscription is paid.
Make snacks and keep things cozy with blankets and candles.
Cloud Computing for Online Shopping Apps on Black Friday and Cyber Monday
Thanksgiving is a massive shopping event as well. Apart from gifts given on the day itself, the holiday also falls just before Black Friday and Cyber Monday. This means that retail sales see a dramatic hike. A recent survey revealed that almost half of American consumers are likely to begin their holiday shopping on Black Friday in the early morning.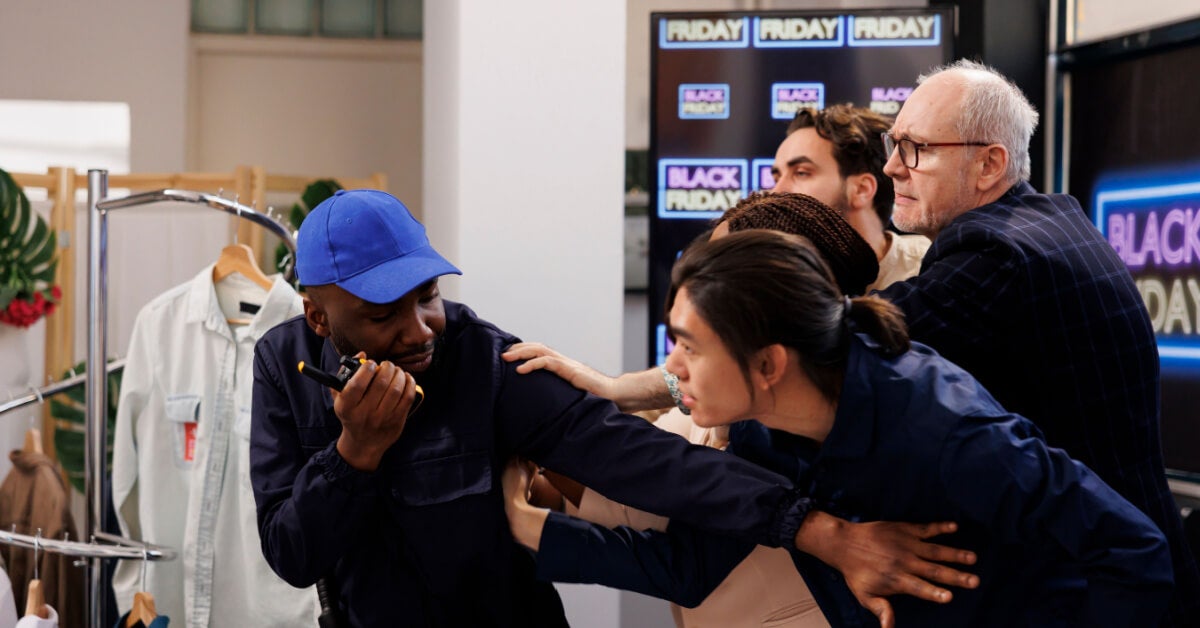 Crazy Black Friday sales
To beat the rush, many people opt to do their shopping online through cloud-based retail platforms. In 2013, retail giant Amazon, actually made the switch to cloud computing after Thanksgiving shopping traffic pushed its infrastructure to the limits. The cloud helps retail stores manage the sudden spike in network traffic during the holiday season by being scalable, flexible, and affordable.
Cloud Computing for Data Storage
Thanksgiving is a time for creating and sharing memories with your loved ones. From photographs to video files, your memories are mostly stored in data bytes across multiple smartphones and cameras. Fortunately, cloud-based storage solutions can help keep your family's Thanksgiving memories safe while allowing everyone within the family to share and access them whenever they want to. The cloud stores your data in a virtual environment that ensures that your files are safe, not taking up too much space, and easily accessible.
Cloud-based apps like Google Drive, iCloud, Dropbox, and more make it possible to share and store your data seamlessly. Sangfor's aStor platform can also be used for businesses looking for an effective cloud storage solution that's safe and efficient. The cloud can be used to share Thanksgiving recipes, photos, videos, and more with your family and friends in a protected and efficient way. Some tips for using cloud storage for your Thanksgiving include:
Syncing your gallery to the cloud to keep every picture, video, and memory captured on the day.
Connecting your family members to the cloud or including links to the shared cloud after the event so everyone can share their pictures and videos as well.
Collaborate on recipes, decorations, and more through the cloud to make your Thanksgiving one to remember.
While Thanksgiving is an important holiday, some might feel that the real connection is lost through the use of technology. Let's take a closer look at the emotional elements of staying connected through the cloud for your holidays.
Virtual Thanksgiving - The Human Connection in a Digital World through Cloud Computing
It might seem strange at first to use the cloud to stay connected during Thanksgiving. After all, the holiday is about coming together to celebrate and somehow doing that through a screen doesn't quite provide that. However, humans are an evolving species. We are always trying to find new ways to stay in touch with each other while still reaching for the stars.
Technology is a great way to enhance the connections we have with one another when we might not be able to fulfill those emotional needs in person. While using cloud computing for your Thanksgiving might still keep the voices of your loved ones echoing in your home, it cannot replace the feeling of a hug or hand to hold. Technology can only give us a small piece of that human connection – and that might be enough to just get by for now - especially for those who live across the globe.
Thanksgiving Beyond Borders
The world is a wide playground and we might not always stay in the same places as those we love. For work, studies, and more, people are constantly moving across borders and starting new lives in new places. However, this makes it difficult to celebrate the holidays that mean the most to us – like Thanksgiving. For these people, cloud computing allows us to stay connected no matter the country we're in or the borders that separate us. It maintains our global village through technology and cloud-based engineering.
Cloud Computing: Keeping You Connected This Thanksgiving
The cloud has been a game-changer for the data industry. While it has transformed the way businesses operate, it has also transformed the way we connect. Cloud computing has allowed us to reach across oceans and borders to stay in touch so we may celebrate holidays like Thanksgiving in the company of those we love. Embrace cloud-based technologies this Thanksgiving and show your gratitude for the innovation that has kept us connected in ways we could never have imagined.
Sangfor Technologies is a global leading cloud computing and cybersecurity company that is dedicated to ensuring efficient and secure cloud technology to transform our world. Contact Sangfor today to see our wide range of cloud computing and cyber security platforms or visit www.sangfor.com to see how we're trying to keep you connected.
Contact Us for Business Inquiry
Additional Resources and References for Your Cloud-Based Thanksgiving