What Is Process Improvement?
Process improvement is a framework used by companies that take in feedback and evaluation to continuously improve their intrinsic processes. Think of it as keeping a machine well-oiled and running better. These processes are what make the business run smoothly. Where and how data is managed and stored is a major process that can slow down any business. Cloud computing solutions can help process improvements by streamlining the data management process and giving easier and unified access to all processes. This ensures that everyone in the company is on the same page for better collaboration and easier understanding.
How the Cloud Helps with Process Improvement
In a dynamic and digital age, keeping your company at peak performance can be challenging for most businesses. As technology and consumer markets evolve, so do your business demands. Data management and the use of mixed systems can become a burden for most businesses. To overcome these hurdles and keep up with demands, businesses need to invest in tools and practices that are invested in continuously improving – such as cloud-based solutions that ensure seamless collaboration and unified understanding. To ensure this, process improvement methodologies need to come into play.
Following are the ways how cloud can help with process improvement: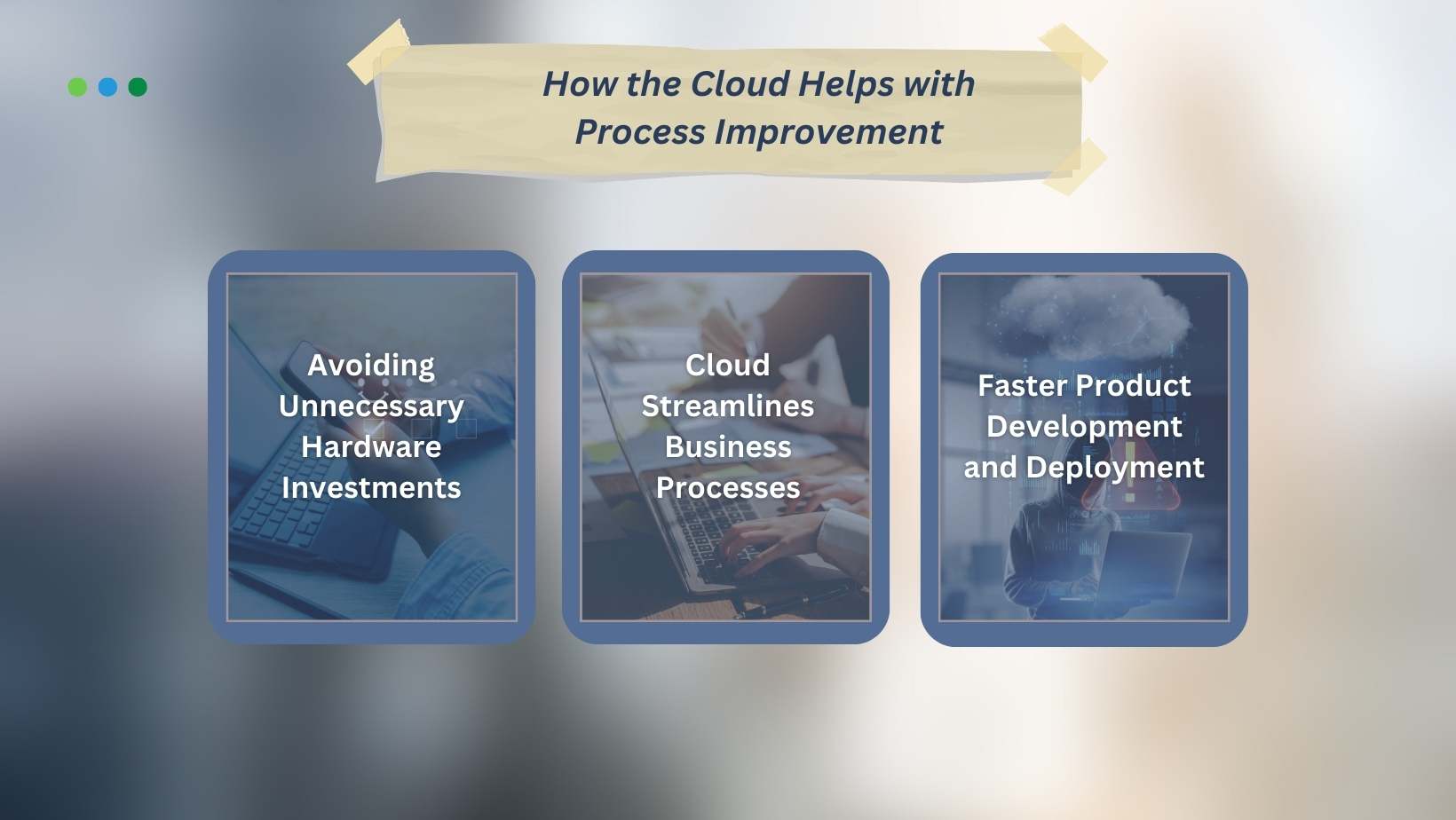 1. Avoiding Unnecessary Hardware Investments
For successful business process improvement, you need to identify, analyze, and optimize processes in a way that costs less and produces the best results. Essentially, you need to cut out unnecessary overheads to make your processes run more efficiently. For a company in the modern age, on-premises hardware has become one of those unnecessary investments. These physical systems require maintenance, human input, and scaling energy resources.
When cloud infrastructure is an option, an investment in on-premises hardware directly slows down your process improvement. Cloud infrastructure ensures a secure, reliable, and seamless virtual system that can keep up with expanding process improvements. With minimal energy expenses and almost no maintenance requirements, cloud computing enables efficient processing that's easier on your wallet. Using the cloud also keeps you from spending on labor, repairs, and physical security for the hardware.
2. Cloud Streamlines Business Processes
A dynamic landscape has altered the way we do business across industries. Since the COVID-19 pandemic restrictions pushed people to work from home, remote and hybrid working environments caught on as much as the actual virus. Businesses soon realized that working from home actually saved company resources, improved process flexibility, and was also better for the environment. This sudden shift to remote work inadvertently forced a lot of companies to radically digitalize their systems.
As remote working became popular, businesses began to roll out virtual infrastructure and turn to cloud computing to keep their systems as flexible as their workforce. This streamlined business processes and boosted productivity by ensuring better collaboration, enhanced data management, and a driven workforce. Sangfor's Virtual Desktop Infrastructure helped several businesses leap to remote working in a secure, efficient, and seamless process. The one-stop solution offers end-to-end protection, fast deployment, and the best user experience.
3. Process Improvement Through Faster Product Development and Deployment
Statista claims that flexibility in running services on the cloud and on-premises has become one of the most important factors influencing decisions. Using the cloud has led to a definite spike in the speed at which products are developed and deployed across industries. Cloud infrastructure has been crucial to process improvement by streamlining these elements.
Continuous Integration and Continuous Delivery
With a cloud platform, continuous integration ensures that developers are allowed to work throughout the day and drastically improves speed. Continuous delivery also streamlines production and enables constant small software changes for users on a quick and regular basis.
Smarter DevOps and Agile Workflow
The continuous integration and continuous delivery frameworks both form part of the DevOps and Agile methodologies. These ideologies both promote the usage of modern tools to streamline processes and promote sustainable development. Using cloud infrastructure, you can seamlessly and efficiently implement Agile and Scrum project management techniques.
Implementing Efficient Time Management Through Hybrid Working for Business Process Improvement
The hybrid working situation has placed companies in an unusual position to maintain productivity within a remote workforce. The hybrid setup has led to a much more flexible work-life balance for many employees. However, the transition was still challenging for some businesses. Forbes noted that while the hybrid setup was growing in popularity, certain companies pointed out that the lack of collaboration and communication between employees working remotely and in-office resulted in a decline in productivity and employee satisfaction.
In contrast, a survey by Mercer of 800 HR leaders reported that 94% found that the staff at their companies were more or equally productive working remotely compared to working in the office. The biggest obstacle for most hybrid workers can be the sudden blur between a home and work lifestyle. Dr. Petros Chamakiotis, the associate professor of management at ESCP Business School, noted that remote working creates greater complexity and responsibility per employee.
Time management becomes a growing issue for these workers as they have to structure their work in a space usually meant for leisure. Cloud infrastructure can help your company streamline processes online, however, your workforce still needs to perform within a much more flexible setting. Companies need to invest in tools and platforms to ensure a more efficient and structured remote working environment to maintain effective operations. Sangfor's Virtual Desktop Infrastructure (VDI) provides the necessary flexibility, security, and structure to ensure that your hybrid workforce keeps a time-efficient, balanced, and effective workspace.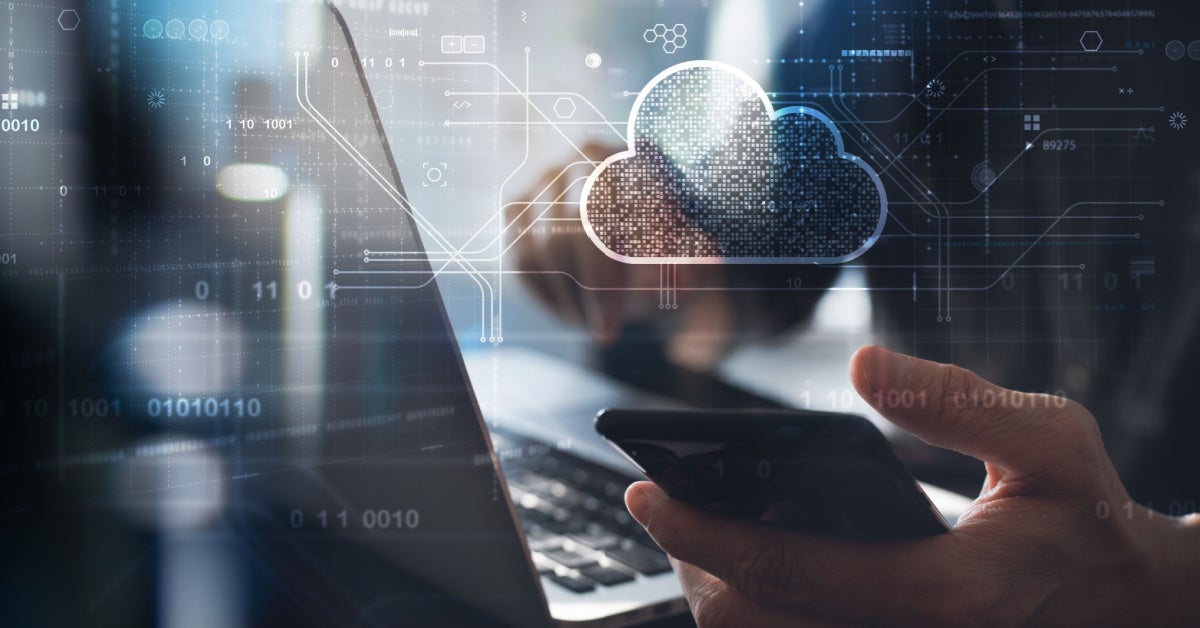 Improve your business processes by Staying Organized
For any business or project to succeed, you need to always be organized. Organization is a lot more than simply keeping a neat desk and your pencils in a line, it refers to planned and precise arrangement of tasks, processes, and administration. Staying both digitally and physically organized can boost productivity and process improvements. Some of the other key benefits of staying organized include:
Efficient File Storage: With an organized workspace, your files are always named appropriately, stored securely, and automatically updated. Within a cloud system, you can easily store files using services like Google Drive or Dropbox.
Data Connectivity: Data connectivity ensures that your business stays online and functional in a digital world. Using organizational skills, you can keep your company connected and your network secure.
System Integration: An organized workspace also means that you can integrate systems – existing or new – and have your processes streamlined through different platforms and services in a way that makes sense.
Administration Processes: Effective organization helps simple administrative processes go a lot faster as well. Your company can easily track and manage where files are and automatically generate reports on processes as they happen for later evaluation.
Synchronization Between On-Premises and Off-Premises Systems: A mix of cloud and on-premises infrastructure can be complicated for some companies. This is why organizational skills will ensure that your data is automatically and regularly synched across platforms for seamless access and retrieval.
Avoiding Distractions: Brushing up on organizational skills also means limiting the distractions around you. Your workspace needs to be a place of structured focus and effective compartmentalization.
How Sangfor's Enterprise Hybrid Cloud Helps in Process Improvement
Maintaining a hybrid cloud infrastructure can seem daunting for any business given the effort required to stay organized in such a flexible environment. Fortunately, Sangfor's Enterprise Hybrid Cloud platform provides a uniquely homogenous, flexible, and secure solution. With Enterprise Hybrid Cloud, you have the power to run your applications on- or off-premises as you require. Some of the highlights of using the Sangfor Enterprise Hybrid Cloud include:
Seamless cloud migration.
Cost-effectiveness.
Minimized risks through easy stack deployment.
Built-in cloud-native security systems.
Simplified interface and operations.
Enhanced visibility with visualized drag-and-drop topology.
AI-powered management.
Next-Generation Converged Digital Infrastructure (NG-CDI) that supports both VMs and containers.
Choosing Sangfor's Cloud for Process Improvement
According to Statista, cloud IT infrastructure spending in 2023 will reach almost US$ 94 billion. The cloud computing market is expanding, evolving, and becoming embedded in the way businesses are run on a global scale. Choosing cloud infrastructure is the easiest way to ensure that your company has effective and efficient process improvement in place. With an effective cloud platform, you can ensure:
Accessibility: Cloud-based resources can be accessed from anywhere with an internet connection – ideal for remote and hybrid working environments.
Speed: Using a cloud-based platform gives you high availability and better performance speeds through dedicated servers.
Productivity: With a cloud-connected company, processes can be streamlined and productivity can be faster and more effective. A shift in infrastructure management also frees up your workforce for more important business-related aspects.
Affordability: A cloud platform is much cheaper to maintain than a physical infrastructure. With a cloud platform, you don't have to purchase the actual software and hardware.
Scalability: Within a rapidly evolving business landscape, your company needs to be able to expand as needed. Cloud infrastructure ensures that your business can scale according to your specific needs at the time.
Security: Using a cloud platform also ensures that your data has the best security and ensures that regular backups and disaster recovery options are in place.
Sangfor is a leading cloud computing and cybersecurity provider that understands how to make process improvements more efficient and effective through the use of advanced cloud infrastructure. Sangfor also understands that cloud computing can help businesses elevate their process improvement methodologies to streamline tasks, reduce expenses, improve production, and maintain optimized organizational skills from within. Effective process improvements can be made through the use of Sangfor's Hybrid Cloud platform which goes the extra mile in ensuring fast, integrated, and intelligent virtualization with the benefit of world-class security.
For more information on Sangfor's cybersecurity and cloud computing solutions, please visit www.sangfor.com.