Did you know that over half of global enterprises are looking for ways to optimize their cloud costs as they transform? It's actually been of the biggest issues in IT for several years. Many enterprises are just venturing into the cloud computing realm, finding the ease of use, continuity and security intoxicating. But just as we all started to get comfortable with the magic of the cloud, as they so often do, some challenges related to cost started to emerge – and the answer is often "FinOps."  But what is FinOps, and why is it so important?
What is FinOps? 
The pandemic forced enterprises to prioritize implementations at the expense of optimization and management concerns, many enterprises are making cloud cost optimization a priority in 2021 and beyond.  A crucial point for organisation is to understand the impact of the shift from CapEx to OpEx. And the cloud spans across your entire organization – and anyone that uses the cloud must share responsibility for their portion of spending. Thereby, your existing software asset management processes designed for on-premises technology simply won't account for the disparate nature of the cloud. A new strategy will be required to ensure all users are accountable for cloud spend. They should adopt a philosophy where finance, IT, and business are actually working together with a value-oriented mindset and a common goal to successfully deliver key projects. This approach coalesced around the term FinOps. In the same way that DevOps breaks down silos and increases agility, FinOps increases the business value of the cloud by giving all the stakeholders the power to control their spending.
FinOps is a cool way to describe "cloud financial management." In its simplest terms, FinOps is the process of managing public cloud finances. About 43% of enterprises are just learning about FinOps, with 41.5% having established FinOps, but in the process of maturing. Only about 15% of enterprises have mature FinOps policies and are evolving fast. In practice, it's far more complex. Just as cloud allows us to scale faster and take advantage of an increasingly decentralized workspace, we are also seeing rapid and mysterious changes for IT, finance and even engineering.
What is FinOps Foundation?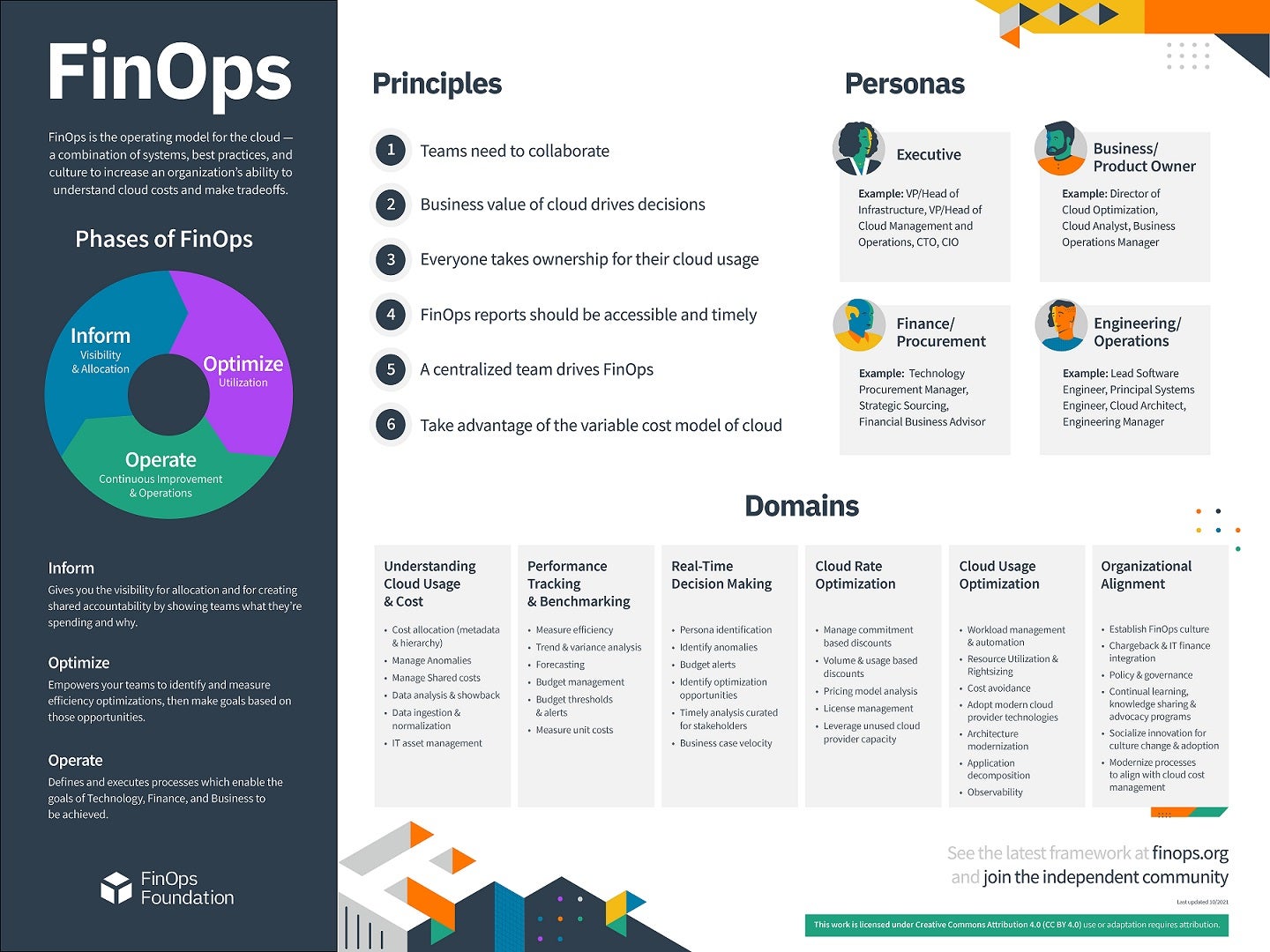 FinOps Poster Source: FinOps Foundation: https://www.finops.org/introduction/what-is-finops/ 
A great place to learn more about your FinOps options, is the FinOps Foundation. The FinOps Foundation works with with The Linux Foundation and organizations like the Cloud Native Computing Foundaiton to advance cloud financial management and help enterprise realize true growth. The FinOps Foundation provides training, best practices and the highest FinOps standards, based on years of on-the-ground experience. With over 4,400 members in over 1500 enterprises, FinOps seeks to educate the world on cloud financial management gold standards, and build a community of sharing. This community is active in blogging, influencing, events, training and even open-source collaboration. For more details, please visit their website.
Why does FinOps matter and what you should consider?
Enterprises are being hit with rapidly ballooning bills for their cloud, often unexpected, and the accompanying management issues associated with digital transformation and a move to the cloud. As we come to rely on the cloud more and more, many are searching for ways to control their spending and management, with only 29% of those who participated in a 2020 Accenture survey saying that they are "confident that their organization's cloud migration initiatives will deliver the expected value at the expected time." Let's take a look at four elements you will need to consider when restructuring your cloud financial management structure.
Visibility – you need to be able to see where you are spending, and where you are overspending on cloud, before the bill comes due. You will want a solution that will track either your single cloud service provider, or even multiple providers.
Optimization – you will want to ensure that you aren't paying for services you aren't using, or learn about any discounts or sale pricing at the beginning of the process.
Automation & Compliance – you will need to both educate your employees on proper cloud usage, and control their usage with a solution, to avoid any potential compliance issues. This means you will need a solution with more automation, especially for bigger enterprises.
Integration – take stock of your business goals and strategies, to ensure your cloud can be integrated with your existing solutions, budget and any future initiatives.
As with most financial services, cloud financial management never ends, with daily or even hourly changes or shifts that you must be aware of in real-time or near real-time. This comes from a close and open relationship with a cloud service provider that you trust to give you the best deals and best solutions on those deals. Then you must educate your team on proper cloud usage and maintenance, and remind them that while cloud is supposed to save money in the long run, improper usage will nip that initiative in the bud. Finally, you need to get buy-in from the C-suite and your IT executives for this move, as transparency, communication and education are the keys to keeping cloud costs down.
Biggest Cloud-Cost Contributors:
It's easy to say that cloud costs can be confusing, but harder to see where you are losing money – making FinOps more valuable. But what are the top reasons enterprises are finding for their mysteriously increasing cloud costs? 
Unused resources – you pay to store all resources, making obsolete snapshots and data costly, in addition to idle load balancers.  The ease of use of cloud makes it easy to create new applications and resources, but leaving them on your system means storage fees that can quickly add up. 
Compute resources – using kubernetes is great for managing and allocating compute resources, but idle can be costly, when applications are not making use of all reserved resources. You can also fall victim to the issue of empty clusters, environments and workspaces. 
Storage – while we expect to pay for storage, putting input/output (I/O) in storage can be costly. Data transfers also contribute to the higher-than-expected cost.
Many enterprises are trying to reduce cloud costs by reducing idle costs or going smaller than expected, but this is a learning process. This is called "rightsizing," and it's harder than you imaging. Another way people are reducing costs is by reducing the number of unallocated resources on their system. Finally, many enterprises are not taking advantage of volume discounts that many cloud providers will give you for enrolling for their services for a given time period. These are great practices, but many people choose to go with the open-source FinOps approach. Let's explore a few of your options in this space.
Are there any Open Source FinOps tools available?
Open-source technologies are the solution of choice for some financially minded entrepreneurs hoping to manage their cloud costs, including infrastructure and software, from the get-go. Using open-source software is also great for enterprises hoping to develop their cloud project quicker. Let's explore a few more of the benefits of managed FinOps services.
Cloud native applications are easier to deploy and use
Migrating public workloads to private or public cloud easier and faster
Fast digital transformation for application creation
Immediate access to FinOps professionals at a manageable up-front cost
Avoid immediate vendor lock-in as you build
Access to more specific data regarding existing or potential issues
Easier and more automated compliance 
Let's explore a few different open source FinOps solutions that enterprises are relying on to launch their cloud transformation faster and more efficiently, and have total control over costs.
Which are the Best Open Source FinOps?
FinOps FAQs
What does FinOps stand for? 
FinOps stands for "Cloud Financial Operations," but is also seen written as "Cloud Financial Management" and "Cloud Cost Management." It is a broad term, covering most aspects of managing your cloud finances, using software and best practices.
Why is FinOps needed?
FinOps is needed as a platform to manage cloud finances, which can often balloon unexpectedly without close management. FinOps creates an environment of financial accountability for enterpise, and allows teams to better manage cloud elements like speed, cost and quality.
What are the job opportunities for FinOps?
Roles and responsibilities related to FinOps Job include:
FinOps Certified Engineer – knowledge of the entire FinOps lifecycle from start to finish
FinOps Practitioner – create and implement FinOps best practices by training and standarization
FinOps Analyst – compiles data from users and drills it down to actionable information.
Cloud Cost Optimization Data Analyst – responsible for tracking cloud usage for optimization, based on best practices and actionable data.
FinOps Best Practices with Sangfor Technologies
For more information on how you can optimize your cloud transformation or usage with managed services, turn to Sangfor. Sangfor Managed Cloud Services take the pressure of enterprises to build and manage a world-class data center. Sangfor MCS is relied on for creating a globally distributed data center in addition to IaaS and PaaS services.
For more information on Sangfor's wide range of cloud computing options for optimization and easy cost management, visit our website or email us directly today.
---