The cloud market has continued to grow in recent years as industries rush to implement cloud strategies in hopes of increasing performance and revenue, and the long-term, lowering business expenses. The rise in the trend is so great that earlier this year in April, Gartner forecasted the global cloud expenditure in 2022 to grow by 20.4% from 2022, reaching an estimated $494.7 billion up from $410.9 billion in 2021. Cisco's 2022 Global Hybrid Cloud Trends Report released in May also found that 82% of leaders are adopting hybrid cloud environments. These numbers will continue to grow, particularly as leaders recognize the value of being able to merge public clouds with private hardware. The questions that arise, however, are whether organizations are spending too much on cloud, and how they should achieve cloud cost optimization.
How companies fail to achieve accurate cloud cost optimization
Of course, much of the growing trends are due to the global emphasis placed on cloud-first policies. Many businesses adopted cloud looking to shed the weight of on-premises infrastructure, but like any other large business investment, cloud adoption requires careful planning. While the cloud has many benefits, if an organization has not looked at how to share responsibility in creating transparency surrounding their cloud computing infrastructure and costs, those benefits can be diluted. Cloud is promoted using scalability, flexibility, and long-term savings as key selling points, but the pay-as-you-go service often leaves an unclear image for finance and engineering teams of how much businesses are truly spending. That is until they see their bills.
According to the 2022 State of Cloud Cost Intelligence Report by CloudZero, organizations that have adopted cloud environments admittedly struggle with their costs and feel that they are spending too much on them. Forty-nine percent of the respondents in the study felt that their cloud costs were higher than they should be. It was also found that in different metrics ranging from product features to development teams, individual customers, and more, only one in three participants felt they knew what their cloud spend was attributed to.
As a result, they intended to place greater emphasis on prioritizing cloud cost optimization this year whereas they had failed to do so in previous years.
It was also noted that cloud costs are an issue that affects both engineering and finance teams, meaning that approaching the matter required FinOps teams to cover all factors of cloud spending. According to the FinOps Foundation Technical Advisory Council, "FinOps is an evolving cloud financial management discipline and cultural practice that enables organizations to get maximum business value by helping engineering, finance, technology, and business teams to collaborate on data-driven spending decisions."
All of this highlights the importance of cloud cost optimization: it allows organizations to structure how they spend on the cloud according to their business needs, their priorities, and their available resources/budget.
By better understanding the costs surrounding their cloud strategies, and better managing their resources, organizations are able to fully take advantage of the benefits of their cloud strategies. As seen above, many companies fail to achieve accurate cloud cost optimization because they simply have little to no idea what it is they are spending on. By having Financial Operations teams or cloud financial management, organizations can begin to responsibly direct their resources to cloud costs.
According to TechTarget, the eight ways to reduce the cost of cloud for businesses are:
Opting for reserved or spot instances
Capacity planning
Limiting data transfer fees
Using cost monitoring tools
Preventing cloud sprawl
Caching storage strategically
Running workloads on cloud-based platforms where computing is cheaper
Restricting access to the cloud
Sangfor's Solutions
Sangfor Managed Cloud Service (MCS) removes the weight of having to navigate cloud platforms and infrastructure from CIOs by Infrastructure-as-a-Service and Platform-as-a-Service using its globally distributed data center. According to the 2021 Global Platform-as-a-Service Market Report, the global platform as a service (PaaS) market is expected to grow from $47.29 billion in 2020 to $54.09 billion in 2021 at a compound annual growth rate (CAGR) of 14.4%.
Sangfor Managed Cloud Service gives organizations the scalability and flexibility of a public cloud, as well as the freedom, control, and security of a private cloud. It provides users with distributed Cloud DC and dedicated resource/data security, full-stack security protection, and a new security responsibilities model, as well as proactive & professional 1-on-1 expert services. As such, businesses can transition to Hybrid Cloud strategies with the support and resources needed to run all their workloads including VM applications, containers, and any other applications utilized by the business. Sangfor MCS is ideal even for remote work environments, providing businesses with cloud services that extend beyond their offices/branches.
Sangfor's Hybrid Cloud provides End-to-end solutions that are powered by our Next Generation Converged Digital Infrastructure (NG-CDI). With an emphasis on being cost-effective and avoiding overspending by our clients, our hybrid cloud services are easy to deploy with minimal impact on your business's existing infrastructure and easy to use which assists in saving costs on investing in new talent. It also offers full support during and after adoption to make the process as smooth as possible. The flexibility of our hybrid cloud lies in businesses being able to select what they utilize it for without needing to spend on services they may not need. By offering application migration options such as Lift and Shift, Partition, and Re-Architect, businesses can migrate according to which migration method best suits their needs, but also according to which is the most cost-effective for them at any point in time.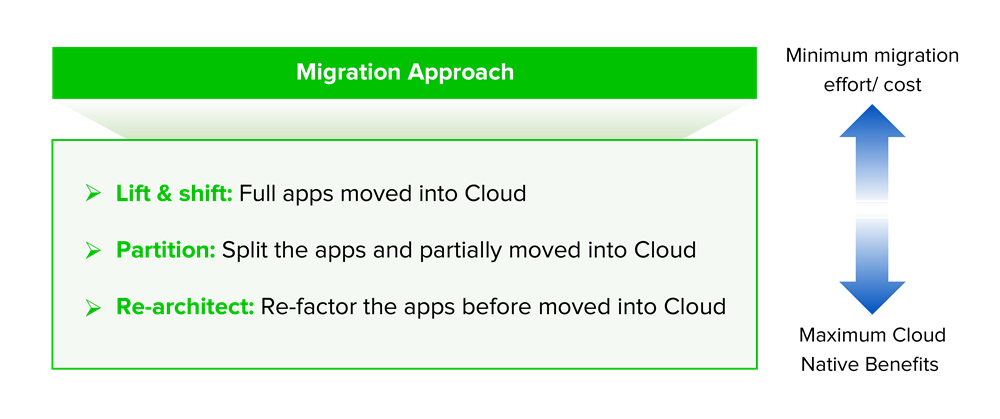 Final thoughts on cloud cost optimization
Cloud plays a vital role in digital transformation, and as organizations adopt cloud strategies, they must think carefully about what kind of environment works best for them, what their needs are from a cloud/hybrid cloud environment, and what resources they will delegate to which aspects they hope to benefit from through a cloud strategy. This will ensure that they have a realistic outline of what their costs are, and a clear understanding of the metrics used to measure cloud success. Through these, they can upscale and downscale, using only what they need. This is a process that must involve the board, engineers, and the finance department in order to receive input from all ends.
Finding the right cloud vendor to assist in migration and deployments is also a huge factor that will determine the costs relating to how much your organization will spend on cloud. As is the case with Sangfor, vendors that prioritize meeting the cloud environment needs of an organization while remaining cost-effective create a culture of cost and service transparency, simplifying the process.
Organizations must ask themselves if these are conversations, they are having not only internally with their DevOps teams, but also with their vendors; calculate their input to output/investment to benefits ratio, and adjust accordingly. This is the basis of being cloud smart.