Those who forget history are doomed to repeat it. A look back at a few of the major corporate casualties over the past few years could teach us a few lessons in cyber security and the value of Incident Response (IR) services, if we are willing to listen and learn.
October 2017
- Malaysian Communications & Multimedia Commissions leaked 46 million mobile subscribers' data including mobile numbers, phone serial numbers and home addresses to the dark web.
March 2018
– Thailand's second-largest mobile network True Corp suffered an attack which exposed 45,000 customers ID cards, drivers licenses and passport information stolen from the public-facing Amazon S3 bucket in which it was stored.
August 2018
- Cebuana Lhuillier's marketing server breached, with the breach going undetected until January 1019 and with over 900,000 Philippines customers information exposed.
January 2019
- Records of 14,200 Singaporean people diagnosed with HIV stolen from SingHealth and leaked online, following an initial cyber-attack in the preceding 6 months.
January 2019
- Hackers Steal $18.5M from Italian-based Tecnimont SpA in Italy by impersonating Tecnimont's CEO and lawyers through email and telephone, eventually authorizing a massive currency transfer to their personal accounts.
March 2019
- Toyota Suffers a multi-national chain of data breaches with 3.1 million client's data exposed as a result.
How does Sangfor IR Help YOU?
Sangfor believes that everyone should have access to basic IR services, and thus offers a complimentary IR package. If contacted for help during mid-incident, Sangfor professionals will identify the ransomware family type, ransomware variant type, determine the kill chain, identify the entry point, and perform Indicator of Compromise (IOC) and triage determination. This complimentary service is available once per year on a first-arrived, first-served basis. Please
contact
Sangfor for more information about this offer.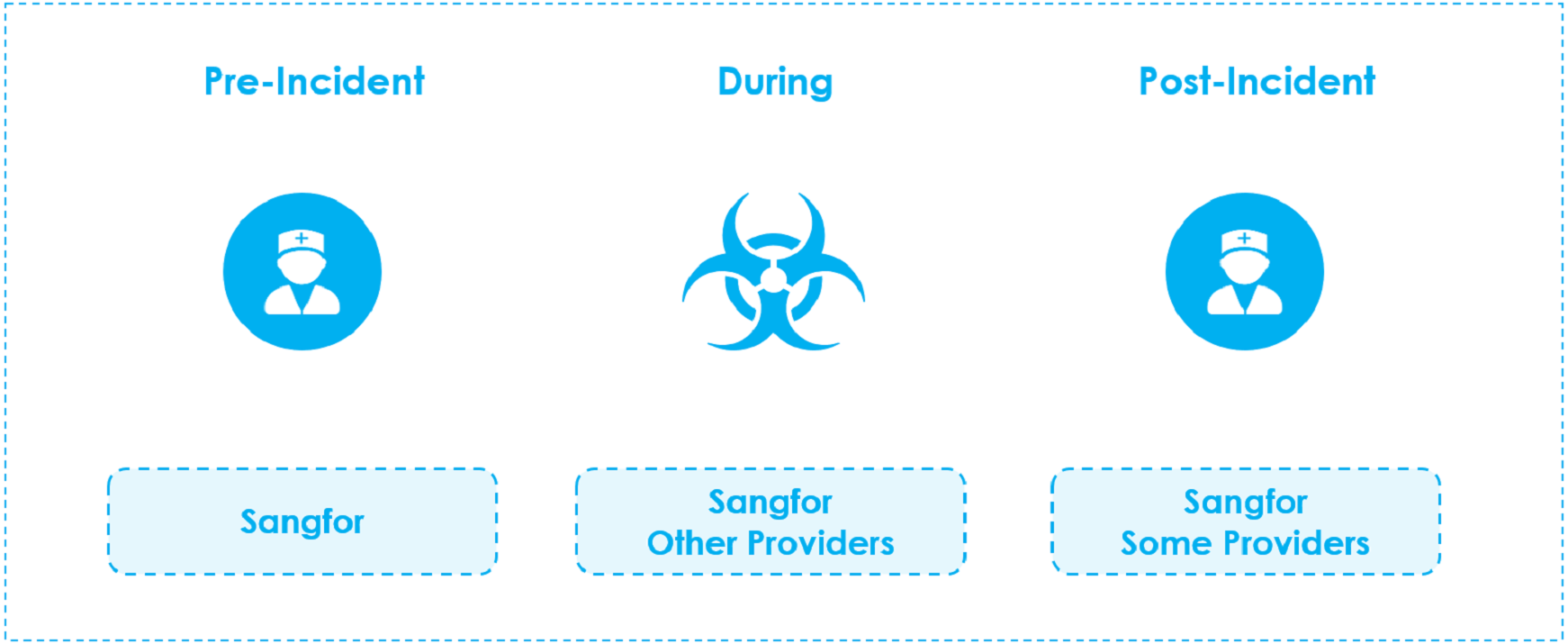 Many organizations, especially those who have suffered devastating attacks in the past, are interested in more comprehensive IR service. Similar to COVID-19, Sangfor not only care about the mid-incident process, but Sangfor emphasizes and concerns on "Precaution is Always Better Than Cure". In comprehensive IR service, Sangfor will help customer in identifying external attack surface that could be exploited by attackers and malicious actors to gain access and introduce ransomware into organizations' network. Sangfor's comprehensive IR packages include: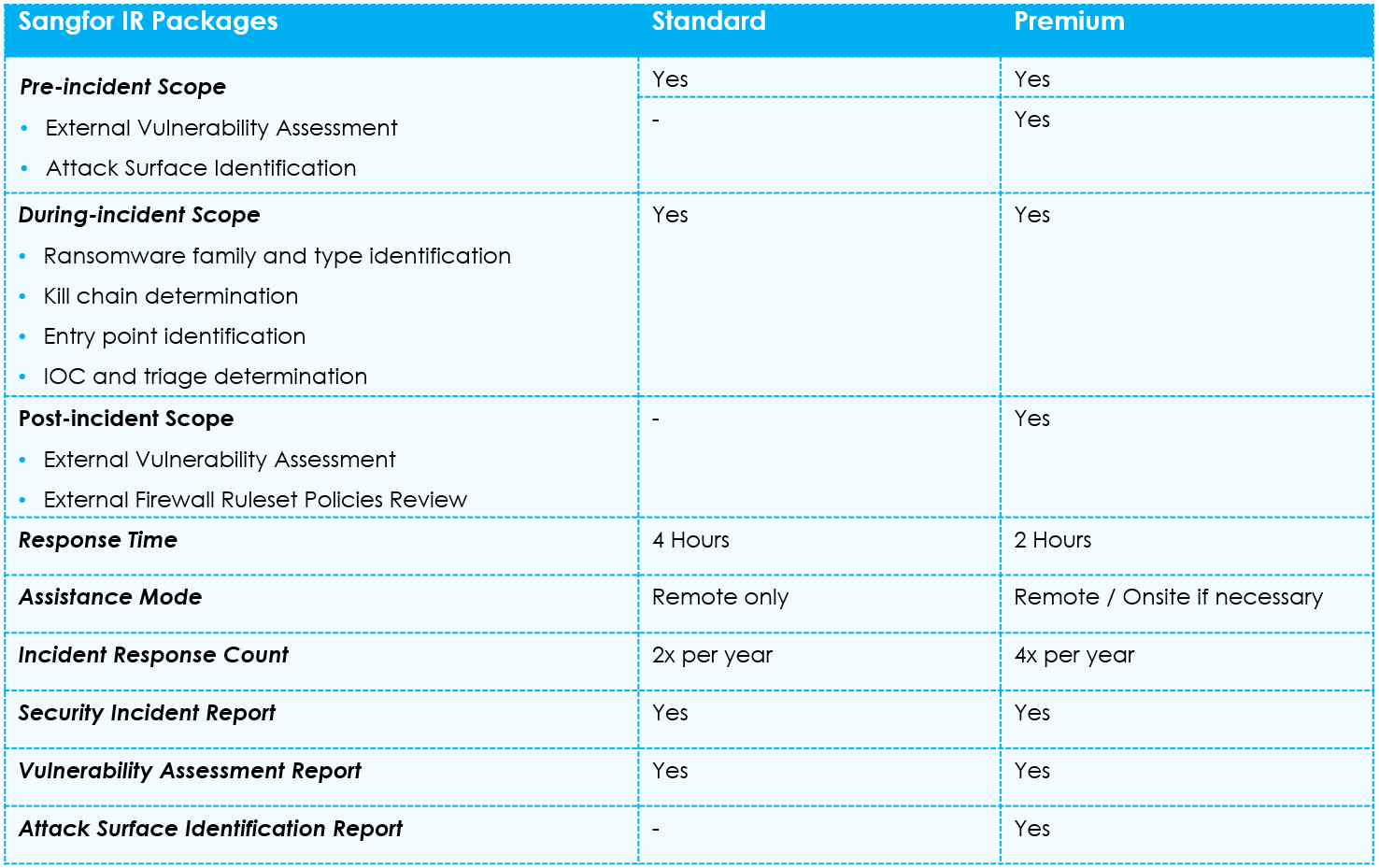 Customer Success Stories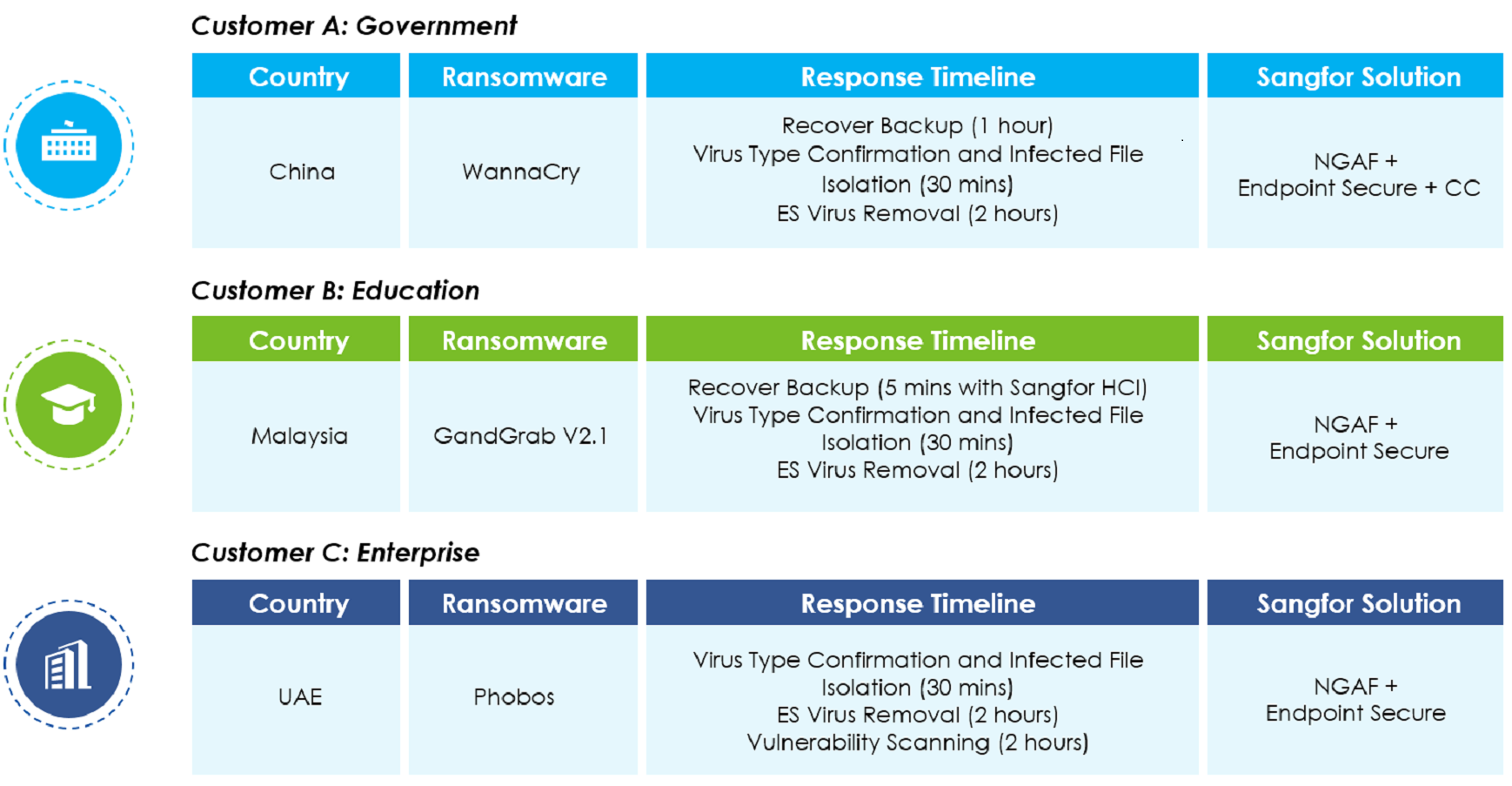 Demo Video: Sangfor Security Solution Against RansomwareWhy Sangfor?
Sangfor Technologies is an APAC-based, global leading vendor of IT infrastructure solutions specializing in Network Security and Cloud Computing. Visit us at
www.sangfor.com
to learn more about Sangfor's network security options, and let Sangfor make your IT simpler, more secure and more valuable.

Organizations infected with Ransomware can call us at +60 12711 7129 or +60 12711 7511 for direct phone support!