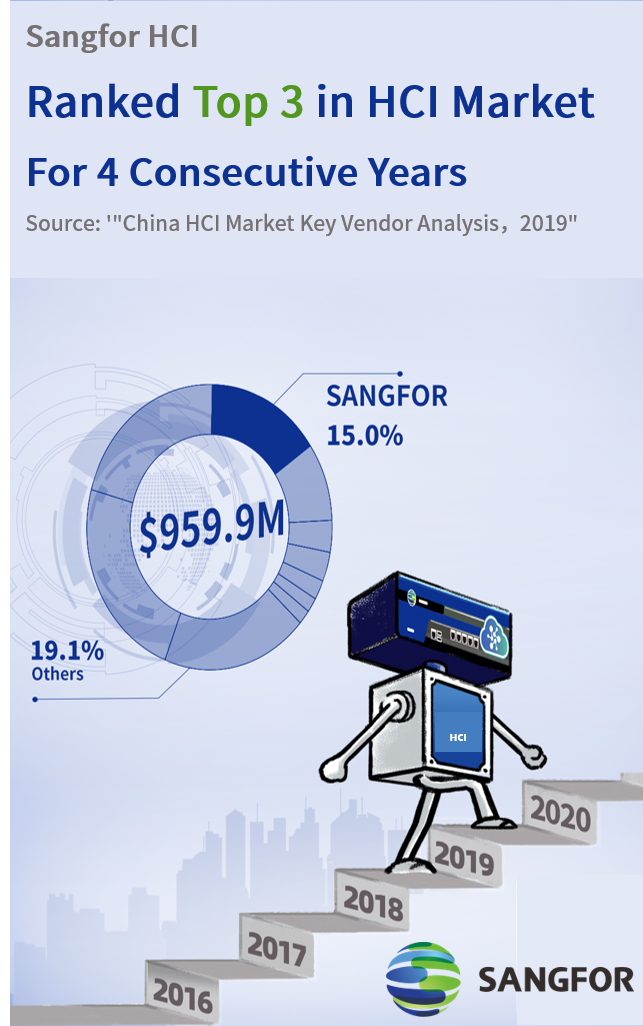 The world-renowned consulting agency IDC has recently released "China HCI Market Key Vendor Analysis,2019". According to the report, the scale of China's hyper-converged infrastructure market in 2019 is approximately RMB 6.79 billion, with a year-on-year growth rate of 33.8%. The market driving force is mainly coming from cloud computing and software-defined storage platforms.
Sangfor has ranked No.3 in the overall market share of HCI software and hardware. This is the 4th consecutive year that Sangfor is in top 3 in China HCI market since 2016.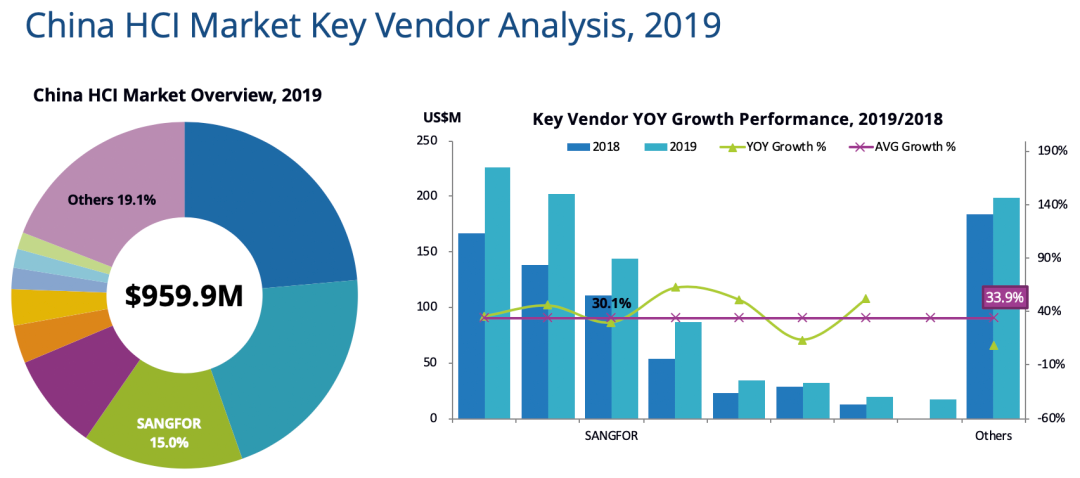 Source: '"China HCI Market Key Vendor Analysis,2019"
Looking at IDC data in recent years, the development of China's HCI market has stabilized. After going through the initial stage of concept marketing, users have returned to rationality when choosing hyper-converged infrastructure. Users will only trust a HCI solution that truly meets their needs.
A Solid Technical Foundation
As the software-defined infrastructure of next-generation data center, Sangfor HCI integrates compute, storage, network and security through virtualization, providing advanced features such as O&M management, disaster recovery and intelligent monitoring to help users build a reliable, agile and efficient cloud data center.
In the newly released HCI Version, Sangfor has launched five innovative functions, focusing on data protection and business system support. The new version of HCI brings triple-copy that supports the start of three hosts, allowing users to enjoy comprehensive data protection with lightweight configuration. The storage strategy of the virtual disk allows high capacity utilization and high cluster fault tolerance. Innovatively introduce rapid and full-scale cloning and deliver performance in seconds while achieving lossless performance. The new storage snapshot mechanism makes the execution of snapshots more imperceptible and convenient. At the same time, disk scanning and repair function is added to ensure clusters always maintain excellent performance.
In terms of carrying core applications, Sangfor HCI can reliably carry key applications such as Oracle RAC, MySQL, HIS, ERP, and MES. It has obtained SAP OPC certification in early 2020, becoming an official SAP certified partner in China, which can stably carry SAP key applications in large enterprises . Meanwhile, Sangfor Cloud Computing has established a broad application-centric ecosystem, and has linked with nearly 100 application manufacturers such as UFIDA, Kingdee, Panmicro, Lanling, Zhiyuan, and has been recognized by a large number of industry ISVs. In terms of hardware equipment, through the ecological cooperation laboratory, Sangfor HCI is widely compatible with mainstream servers in the market, such as Dell, Lenovo and so on.
Smooth Adaption to Cloud
Along with this year's strategic upgrade, Sangfor HCI help users pave the way to complete the transformation to a cloud data center. Sangfor HCI, together with Cloud Computing Platform, provides an optimal solution for the evolution of traditional data centers.
Solution 1: HCI. Use hyper-converged infrastructure to carry business, building the cornerstone for user's cloud evolution, standardizing the infrastructure and reducing complexity and cost.
Solution 2: HCI Cloud Data Center. Different resource pools constructed with hyper-converged infrastrcuture carry different types of business, and solve the problems of business security classification and continuity at the same time.
Solution 3: Private Cloud Data Center. Improve private cloud construction, including cloud management system, cloud security system, and initiate the establishment of container cloud and application store, etc., to improve IT management capabilities and efficiency.
Solution 4: Hybrid-Cloud Data Center. Build a same-architecture hybrid cloud for sensitive applications, and a DevOps architecture & microservice governance framework to achieve elastic scaling between multiple data centers, cross-cloud disaster recovery, and rapid cross-cloud business release.
Solution 5: Multi-Cloud Service Center. Build application platform, data center and publish comprehensive cloud service catalog to realize IT as a Service.
In this series of solutions that use HCI as the cornerstone to boost data center cloud evolution of data centers, whether it is a district or county-level hospital or school; a large-scale manufacturing or energy enterprise; municipal administration, transportation, and other government administrative systems; financial institutions such as insurance and securities companies; enterprises and institutions in various industries and IT stages can find the way that suits them best to cloud.
---