Sangfor Technologies Achieves SAP® Certification for Operations Capabilities for Cloud and Infrastructure Operations and SAP HANA® Operations Services
HONG KONG, China, February 23, 2022 - Recently, Sangfor Technologies has renewed its local SAP® certification for operations capabilities in cloud and infrastructure operations and SAP HANA® operations in China. This means that the company's platform, Sangfor Cloud, has the operational ability to provide businesses that use SAP technologies with a customized combination of infrastructure and cloud services as well as high-quality operational services for solutions based on the SAP HANA database.
SAP offers a certification program for partners that manage customer environments in the cloud or on premise. SAP-certified operations capabilities help customers identify best-in-class service providers to meet their requirements in terms of quality, scope and geography, while certified partners can increase market visibility and drive new revenue.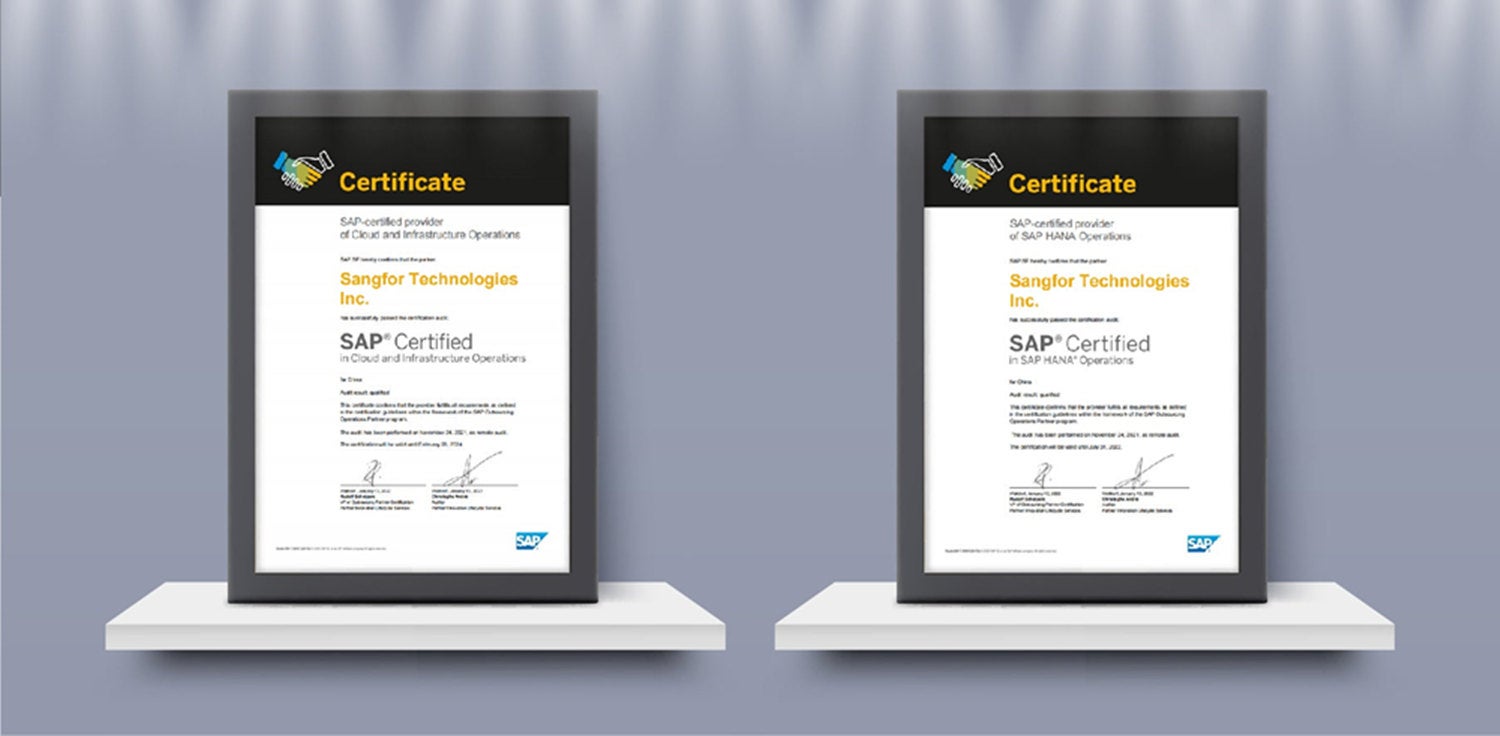 SAP partners who are eligible for these two certifications should have the ability to provide high-standard product architecture, service delivery, project quality management, and continuous improvement of operations. Through outstanding performance, Sangfor Hyperconverged Infrastructure (HCI) and Managed Cloud Services (MCS) have successfully passed hundreds of audit items by SAP and proved their ability of high-quality cloud services and support.
As a software-defined infrastructure for next-generation data centers, Sangfor HCI helps users build simple, stable, and high-performance cloud-based data centers. When users build or transform business systems based on SAP ERP, Sangfor HCI can stably carry business components from SAP technologies (including SAP ERP Central Component, SAP Process Integration, SAP Business Warehouse, SAP Customer Relationship Management, SAP Supplier Relationship Management, etc.). With Operation & Management, disaster recovery backup, intelligent monitoring, and more, Sangfor HCI can not only ensure the continuity of the data when using SAP ERP but also monitor the usage of the business system intuitively through a unified management platform.
Sangfor Managed Cloud Services is a one-stop cloud service that provides users with computing, storage, network, security resources, and full-life-cycle business hosting services. It helps users realize the asset-light operation of data centers. Based on the Sanford MCS global data centers, users can improve the SAP ERP business system access experience through high-quality dedicated line access. It is worth mentioning that Sangfor MCS can provide an exclusive and isolated resource environment, which can ensure the performance and security of key business systems such as enterprise resource planning.
Sangfor plans to deepen its partnership with SAP to provide professional and reliable cloud services for various industries and make each user's digital transformation simpler and more secure.
About the Outsourcing Partner Certification Program
The outsourcing partner certification program is implemented globally by SAP, a well-known vendor in the enterprise application software market, aiming to provide more partners with a full set of outsourcing operation services covering a wide range of SAP products. This program includes eight certifications: cloud and infrastructure operations, hosting operations, SAP HANA® operations, SAP Business Suite solutions operations, SAP S/4HANA® solutions operations, SAP SuccessFactors® solutions operations, business process outsourcing (BPO) operations, and DevOps.
About Sangfor Technologies Inc.
Sangfor Technologies is a leading global vendor of IT infrastructure and security solutions, specializing in Cloud Computing and Network Security, with a wide range of products & services including Hyper-Converged Infrastructure, Virtual Desktop Infrastructure, Managed Cloud Services, Next-Generation Firewall, Internet Access Management, Endpoint Protection, Ransomware Protection, Managed Detection and Response, WAN Optimization, SD-WAN, along with many others.
SAP and other SAP products and services mentioned herein as well as their respective logos are trademarks or registered trademarks of SAP SE in Germany and other countries. Please see https://www.sap.com/copyright for additional trademark information and notices. All other product and service names mentioned are the trademarks of their respective companies.