INOAC Industries Thailand Overview
INOAC Corporation was founded in 1954 as the first company to introduce polyurethane foaming technology in Japan. The group is focused on the development of functional materials based on polyurethane, rubber, plastics, and composites.
The leading manufacturer produces foam for well-known companies around the world including Mitsubishi, Daikin, MCP, and Toshiba. These products are made with the express intention of helping various industries advance and are used for two-wheeled vehicles, information technology equipment, construction materials, and consumer products.
The group has a global reach with overseas locations in North America, China, South Korea, and Southeast Asia. Inoac Industries (Thailand) Co., Ltd., one of the group's companies in Thailand, manufactures products mainly using polyethylene foam along with other foam materials. Products of IIT are mainly provided to home electronics manufacturers along with other industries.
"INOAC" stands for "Innovation and Action" – this shows the company's commitment to remaining innovative and active at all times. The organization uses a dedicated corporate philosophy combined with a deep knowledge of polymer chemistry to establish a reliable brand for its customers.
With such a resilient and eager mission, INOAC Industries Thailand requires an IT infrastructure that can match its standards.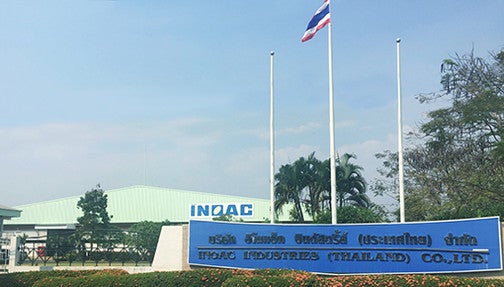 Image Source: www.inoac.co.jp
INOAC Industries Thailand's Pain-Points
INOAC Industries Thailand reported some performance issues with its older system. The company was previously using an Enterprise Resource Planning (ERP), file-sharing, and robotic system.
The company also began looking toward finding a cloud service provider as the costs of building a data center would be too high. Investing capital in that would have been too much of an expense for their budget.
INOAC also needed a platform that could integrate both hyper-converged infrastructure and disaster recovery. This would help this company immensely in terms of easier management.
Sangfor's Solution
INOAC Industries Thailand consulted with Pakcha House as a Hyper-Converged Infrastructure expert group and began using Sangfor's Hyper-Converged Infrastructure to enhance its IT posture. The platform immediately improved the company's performance – pushing efficiency levels higher than the previous system would allow.
The company moved some of its applications to Pakcha Cloud Services which makes use of Sangfor's Managed Cloud Services platform. This was an ideal move for the company as it boosted the IT infrastructure's performance while still being easy to manage.
The Recovery Point Objective (RPO) and Recovery Time Objective (RTO) were initially set with a target of 4 hours, however, with the use of Sangfor's Managed Cloud Services, they reached the target in just 2 hours.
The leading provider of versatile and efficient foam products was highly pleased with Sangfor's products. Jaturong Utamakul, the IT manager for INOAC Industries Thailand, has attested that the Sangfor platforms in place have already improved performance by 40% in comparison to the company's old system.