Customer Background
LOTTE E&C Co., Ltd. was established in 1959 and is a known commercial and industrial facilities builder. To shorter manufacturing periods and cost reduction, Lotte E&C applies 3D printing technology to enhance its utilization in construction projects and utilize digital woodworking in areas of high-level construction.
Challenges
High Infrastructure cost
The maintenance and operation costs of 3D printing are very high, thus customer need a concise one-stop service to solve the cost problem.
Data leakage
3D models rely heavily on data to build their 3D visualizations. Therefore, the system can lead to a cyber security threat, exposing collected data to leakage and compromising the reliability of collected data as it can be altered. Data leakage and security vulnerabilities occur when partners and employees access file servers. Access is restricted to certain IP addresses, and secondary authentication is required.
Difficult to Manage
It's difficulty in sharing resources with design partners (purchased and provided to separate workstation subcontractors). License management is also a problem for limited 3D modeling programs. Operational stability and compatibility of graphic programs is required (E3rD, SP3D).
Sangfor Solution
Sangfor Product: Sangfor VDI (Thin Client)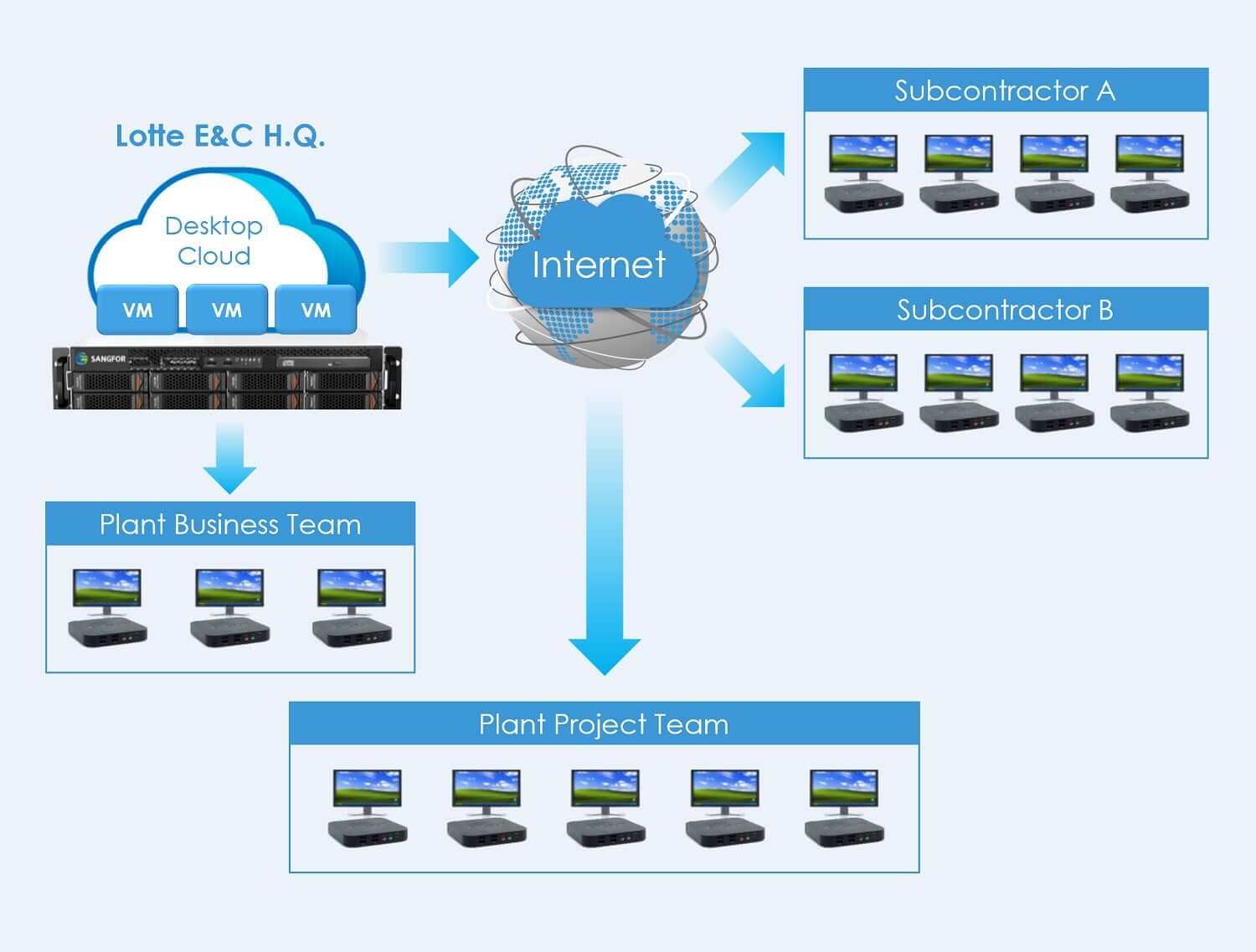 Security
Sangfor VDI based on SSL VPN to control internal/external access, while user accounts and hardware IDs are protected by secondary authentication provision. Only initially approved endpoints are accessible, and security is enhanced with administrator approval if additional endpoint access is required. Internal users/partners control server and internet access by applying group/user policies.
Data Protection
Sangfor VDI enables confidential documents and data are stored at back-end server. Data loss prevention in case of disk/server failure due to 2Copy/Spare Disk HA operation, along with double protection of data through daily scheduling backup. Sangfor VDI also provides clipboard/USB/file export/anti-screen shot/watermark functions to prevent data leakage.
Cost Saving
Low failure rate of desktop cloud & server, saving O&M cost. Scale out easily as capacity extension is required.
Efficiency Operation
Providing integrated HCI-based VDI solution aDesk to ensure the operational stability of 3D resources. GPU Resource management (1GB, 2GB, 4GB) by efficiently sharing Nvidia GPU resources.