Sangfor WANO Case Study Maybank Philippines Incorporated
Customer Background
Maybank is Malaysia's largest bank and one of the largest banks in Southeast Asia, with total assets exceeding US$165 billion and a net profit of US$1.75 billion (2015).
Maybank is also ranked 95th in The Banker's 2015 Top 1000 World Banks and 362th in the Forbes Global 2000 Leading Companies.
Maybank's network spans across all 10 ASEAN nations as well as key Asian countries and global financial centers with a network of 2,400 offices worldwide with more than 45,000 employees.
Maybank Philippines Incorporated (MPI) started operation in 1997 as a full-service commercial bank licensed by the Bangko Sentral ng Pilipinas (Central Bank of the Philippines). In August 2000, Maybank successfully acquired up to 99.96% of MPI to become the first foreign bank to have almost 100% ownership stake in a Philippine commercial bank under the new Philippine banking law.
Maybank Philippines has an extensive network of 79 branches which are strategically located in key cities nationwide. There is a total of 30 branches in Metro Manila, the capital of the Philippines, and 49 branches in the provinces of Luzon, Visayas and Mindanao. These branches provide a wide range of financial products and services to meet the needs of the retail and business segments. MPI is also involved in treasury operations, with an emphasis on money market operations and foreign exchange trading, as well as trust services.
Project Background
Maybank Philippines use 10Mbps bandwidth and IBM Mimix to synchronize banking data between Carmona and Manila HQ. Because of the limited bandwidth and expensive MPLS bandwidth cost, synchronizations start from 12PM to 12AM the next day, user cannot use the latest data when they go to work in the morning.
The speed from some branches to HQ server like Legaspi Tower is very slow, which effects users' work efficiency when they access core bank systems (Image Checking System/Collection System/GDS/LOS), Maybank Online Branch Report, Anti-Money-Laundry System, etc.

Sangfor WANO Solution
Byte Cache --> Delete duplicated data
Compression --> Reduce data transfer in WAN
Application Proxy --> Reduce application's connections in WAN
Transfer Protocol Optimization --> Improve transfer efficiency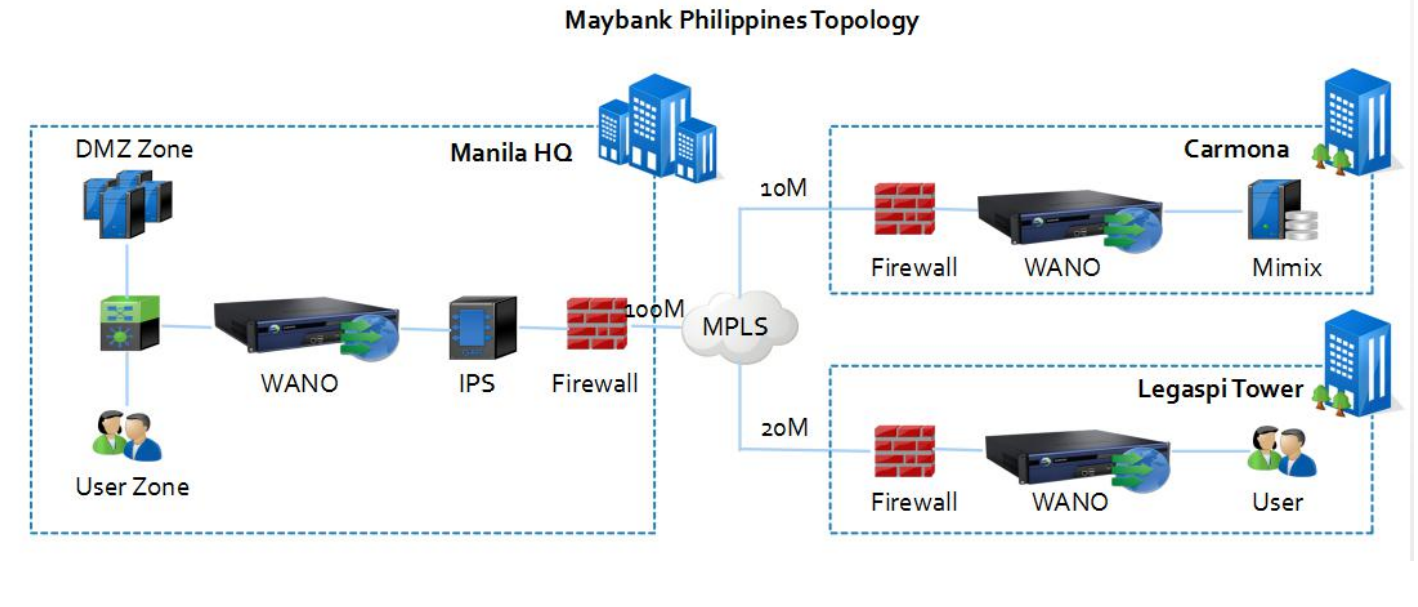 POC Results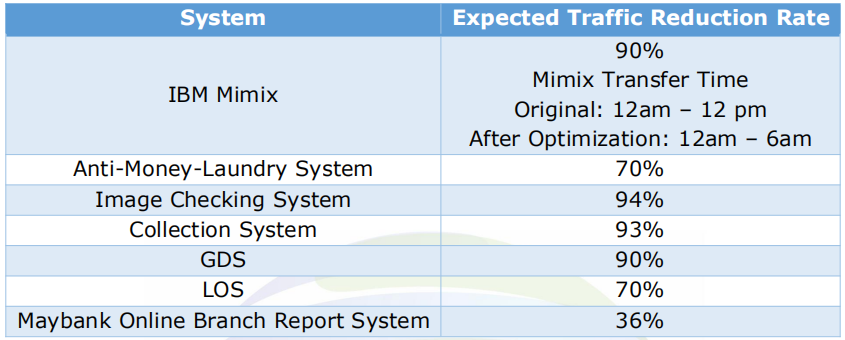 Sangfor WANO Value
Save synchronization time

Reduce MPLS bandwidth upgrade cost

Improve user work efficiency and productivity

Improve MPLS throughput
---