- Location: UAE
- Industry: Construction
- Company Size: 2,500 employees
- Sangfor Solution: Sangfor NGAF + Endpoint Secure + HCI + IAM + Cyber Command
For confidential reason, we are not allowed to display the customer name.
On a dry and smoldering afternoon one comes to expect in the UAE, the Sangfor UAE Country Manager received an urgent phone call from an IT Manager at well-known construction enterprise. The customers system had been infiltrated by an unknown ransomware, which caused the immediate shutdown of all the company PCs. While the enterprise had been exploring the option of deploying VDI with many different vendors for several weeks, they had yet to finalize the purchase, and found themselves in need of immediate help.
A phone call from the Sangfor UAE country manager to Sangfor Headquarters (HQ) to explain the situation, resulted in the immediate selection of an emergency response group at the Sangfor HQ. Sangfor's emergency response group personally delivered their
Sangfor NGAF
solution to the affected customers office, to replace the F****Gate they were currently using, which had proven itself unable to stop C&C communication between the hacker and victim. Sangfor's HQ experts were provided remote access and control over the network, and quickly determining that the files and servers were infected by the newest Phobos ransomware virus, which had encrypted the customers entire OA system. Then Sangfor team assisted the customer in installing Sangfor's newest product,
Endpoint Secure
, which promptly eliminated all threats and viruses from the system. Sangfor HQ went on to supply a comprehensive incident report and PPT presentation to explain the causes and effects of the virus to upper management of the company.
Within 24 hours of infection, Sangfor had successfully discovered, identified and mitigated the risk, assisted the customer to recover their backups and business systems and provided them with an entirely infection-free and secure network environment.
Shortly thereafter, the customer signed a Strategic Cooperation Agreement with Sangfor, trusting Sangfor with the 24x7 security of their system, and effectively replacing Fo****et, one of Sangfor's top competitors.
The Sangfor Solution:
Sangfor solution, graded at the highest level of firewall-endpoint integration as defined by Gartner Inc., provides a firewall-endpoint integrated solution (
Sangfor NGAF
+
Endpoint Secure
) designed to ensure the security of customers' cyber boundary and endpoints.
Sangfor HCI
can then be deployed to improve business reliability and data security and deliver higher performance and agility. HCI can also be trusted with disaster recovery in a data center while
Sangfor IAM
performs external risk management through identification, visualization, and control over users and applications. Limited IT manpower and skills within an organization isn't the kiss of death to enterprise anymore, with Sangfor's unified, automated and highly visible platform, designed to simplify O&M and provide security risk analysis through Sangfor Cyber Command.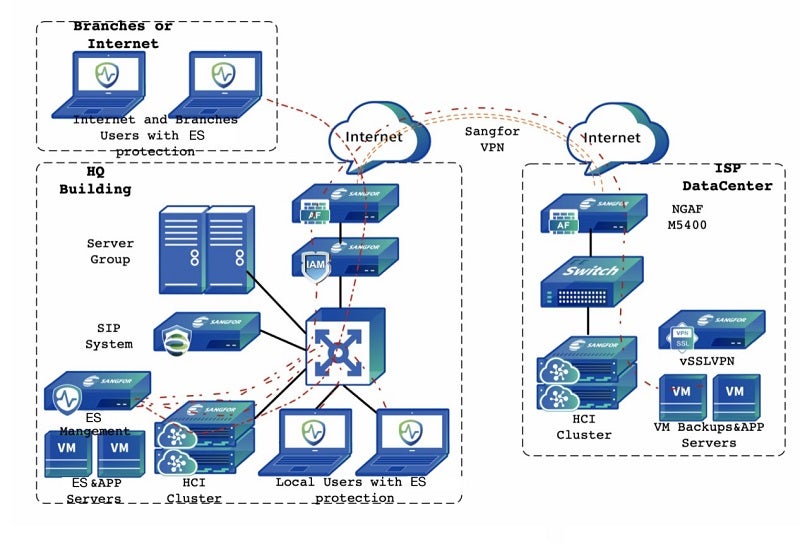 ---