Gartner expects the Global Cloud Revenue to reach an estimated $474 Billion in 2022, up from $408 Billion in 2021. In addition to that, it was predicted by Gartner that global public cloud spending would surpass 45% of all IT expenditure by enterprises by 2026, a number that was less than 17% at the start of 2021. These are numbers that analysts all across the IT industry have agreed are on the rise, and fast. The rave on the benefits of moving to the cloud has never been louder, and understandably so; but do people really understand what a total shift from on-prem data centers means? And is that exactly what every organization needs?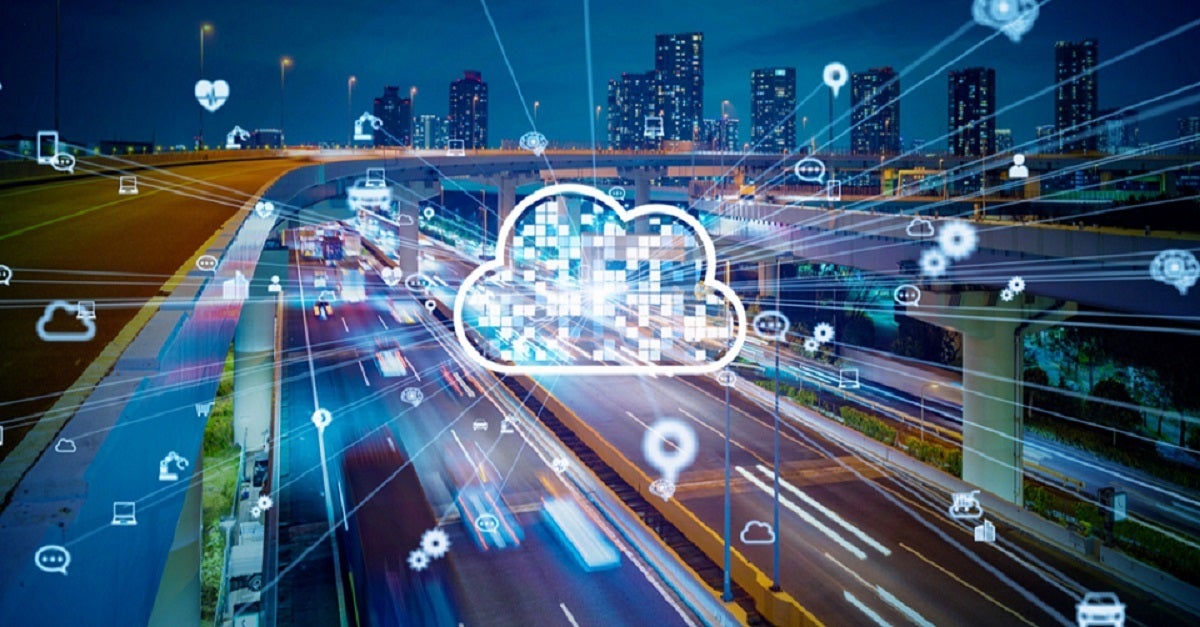 The age of the cloud began nearly a decade ago as organizations in every sector to some extent or another recognized the value of a cloud strategy, and pursued it in an attempt to free themselves from the burdens of on-prem data centers to meet their network, compute, and storage needs. With that came the "cloud first" strategy.
"Cloud first" meant that organizations would by choice or by obligation (as was later enforced in certain organizations) always look to see what cloud-based solutions were available to meet their needs before looking to a private cloud or on-prem strategies. In the last couple of years, many organizations have and continue to find themselves quickly migrating their existing processes, workloads, data, and applications to the cloud as it has seemed to present the most cost-effective, flexible, efficient, and agile strategy to meet the needs of a growing business. However, many of those same organizations are finding that with time, the quick move to cloud-first is not as beneficial as they had initially assumed. For many, in the long run, the costs of an unthought-out full-on migration seem to outweigh its benefits.
It was said by Gartner analysts in 2021, that more than 85% of organizations will embrace a cloud-first principle by 2025 and will not be able to fully execute their digital strategies without the use of cloud-native architectures and technologies. These statistics came as businesses jumped on the cloud-first wave, not without reason of course. The cloud is the future but cloud-first is a huge step, and any cloud strategy requires careful consideration and analysis of business goals. Additionally, it would also require in-depth prioritization to determine which attributes will carry the business systems (i.e. is speed the most important? Do you want flexible storage? What security policies are associated with your strategy?) Last but not least, a full understanding of which elements of your strategy will be best met by cloud usage, on-prem facilities, or the hybrid route. These questions encapsulate what a cloud-smart strategy is all about.
Those who have had to double back on the cloud-first route have had to do so because, while the cloud holds great benefits, migration means the adaptation of old systems to an advanced way of working. This is not always easy in instances where legacy applications are being run in an unsupported cloud environment. So, what is cloud-smart, and how can it be leveraged differently to cloud-first to ensure business continuity in the age of the cloud? Read on.
What Is a Cloud Smart Strategy?
A Cloud-Smart strategy involves the matching of business systems to the environment that will best meet their needs. From software and applications to storage and backup needs, the way in which an organization has developed and managed these in the past, and seeks to continue doing so, will require tailored solutions.
"Cloud smart Technological policies should fit the mission of the organization as well as the intended purpose of the software. Some organizations, for a variety of reasons, will continue to maintain more traditional on-site infrastructure. In these situations, it may be more appropriate to maintain on-premises security tools such as firewalls and virus protection," says Suzette Ken, US Federal CIO.in government wide cloud computing adoption.
This raises endless ways a Cloud Smart Strategy can look. It is unique to your business as a whole and not just a single need.
View Recent Webinar on Cloud Smart Strategy
Cloud has provided unparalleled advantages in mobility, elasticity, and agility for innovating business processes. As the cornerstone of digital transformation, cloud computing technology is enabling organizations to quickly modernize their infrastructure while lowering operations and maintenance (O&M) costs.
However, moving from traditional IT architecture into the Cloud requires a lot of expertise for planning, migration, implementing best practices and many other things including managing the costs associated with the transition. Many organizations want the benefits from embracing cloud computing but are hesitant because of the skills and investments needed.
Learn how to design a lightweight hybrid cloud based on "No Expertise Needed" technology to provide your customers "Worry-free" Service from this webinar: Start Your Simple and Worry-Free Cloud Journey, No Expertise Needed.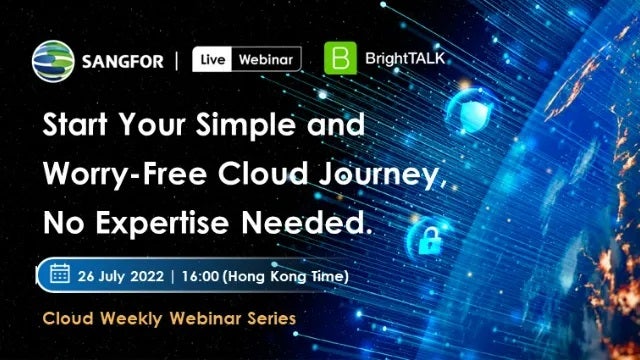 Gartner on Cloud Smart Strategy
According to Gartner, 60% of organizations that have adopted a cloud-first strategy will replace it with a cloud-smart strategy by 2023. Gartner's recent guideline, "The Cloud Strategy Cookbook, 2021", outlines the approach to creating a cloud strategy that connects business strategy to cloud implementation and migration. Read Sangfor Newsletter Featuring Gartner Report on Cloud Strategy.
"Organizations pursuing a cloud-first strategy often find this approach evolving into a cloud-only approach despite some use cases being a poor fit for the cloud," says Henrique Cecci, Gartner analyst and compiler of Gartner's 2020 paper titled Move From Cloud First to Cloud Smart to Improve Cloud Journey Success. In the paper, Gartner explores many of the key challenges faced by organizations, as well as best practices for cloud strategic planning.
The goal of a Cloud Smart Journey is to ensure that the adoption of cloud initiatives aligns with each organization's priorities and delivers value This would be the effect of successful cloud adoption. This journey is mapped out as follows:
Close the Gap Between Cloud Expectations and Reality
Create an Automated Governance Strategy
Get Cloud-Smart "FEVER": Faster, Easier, Valuable, Efficient and Repeat
Focus on Simplicity with KISS (Keep It Simple and Safe)
Reflect Your Organization's Unique Context and Cloud Realities
These steps start with a real-life reflection of where an organization is regarding their team/staff and their abilities, what the expected gains are from "Going Cloud" in comparison to what the shift is actually able to provide, the alignment of the cloud strategy with the overall business strategy, and what changes or growth is needed from the current business model to successfully embark on the journey.
A cloud strategy goes beyond the I&O officers and teams, and aligning the strategy to business missions is critical in ensuring it will generate an expected outcome that is as realistic as it is successful. By outlining where the business is and where it needs to go, the steps regarding what it needs to get there will follow. From compliance to workload prioritization, to risk management and proximity factors, organizations that pursue cloud strategies need to do so with a full understanding of what it means to implement a cloud strategy. As such, this involves what investments it takes on their behalf, and which aspects of the cloud they stand to benefit from (because there are many, but not all of them will fit your organization).
"I&O leaders must champion cloud initiatives that align not only with the context of their organization but also with local cloud realities, like proximity and regulatory factors. Ensure a successful journey to the cloud by protecting your organization and its investments while supporting cloud initiatives that enable speed, agility, innovation, and cost-efficiencies," says Cecci.
The Benefits of Cloud-Smart vs Cloud-First - Which Strategy to Choose?
There is no truly right or wrong strategy for businesses to follow if they do so correctly. Both Cloud First and Cloud Smart initiatives hold an extensive list of benefits that just depend on what the needs of your organization are and how you intend on meeting them. Cloud Smart is undoubtedly the more long-term route. It presents you with the opportunity (or obligation, you choose) to constantly reconsider if the infrastructure you are using is still suitable for your business and aiding its growth. Or, if it is too expensive and more than your budget has allocated, or if your systems are outdated and need to be adapted to function in a cloud environment. Legacy applications can be essential to your business, especially when many of its functions are founded or reliant on these applications, but is this sustainable? All of these questions and factors must be considered when making the decision, and a Cloud Smart strategy will expose the answers before you potentially overcommit yourself.
| Cloud First | Cloud Smart |
| --- | --- |
| Access to unlimited resources such as software and platforms. | Access to managed cloud services and platforms such as Sangfor Cloud Platform, without complete reliance on external vendors. All the support is on standby with relinquishing control. |
| Modernization of all systems that will allow for easy updates and integration in the future. | The ability to adequately allocate resources to different channels only as necessary, ensuring a clear understanding of expenditure and associated benefits. |
| Lower infrastructure and maintenance costs off the bat. | Freedom to decide which hardware is beneficial to business practices and is necessary for current systems. |
| Increased speed. | Freedom to expand into cloud usage as needed according to what will benefit certain systems and applications at that point in time. |
| Simplified Managed Cloud Services that do not require in-house expertise; a vendor that will manage repairs, updates, and improvements for you. | The ability to fully explore hybrid cloud strategies according to business needs, constantly shifting from on-prem to cloud and vice versa according to where the business is and what is most conducive to its growth at that point in time. |
"As with any IT initiative, disciplined program management, good communication between the various teams, and a thorough understanding of the applications and the infrastructure options are necessary," says Sachin Chheda.
White House Outlines a Move to a Cloud Smart Strategy
In 2018, the White House released a draft outlining their Cloud Smart strategy following the United States government's confirmation of their decision to make the move from cloud-first to cloud-smart. This comes after the Obama administration in 2010 announced the implementation of a Cloud-First Strategy, which until 2018, had continued to be the strategy followed by the US government. Of course, in 2010, the cloud was at its earliest phases of adoption. Since then, over a decade of research, developments, and experience have gone into and come out of the cloud.
"To be Cloud Smart, agencies must consider how to use their current resources to maximize value: reskilling and retraining staff, enhancing security postures, and using best practices and shared knowledge in acquisitions. Cloud Smart is about equipping agencies with the tools and knowledge they need to make these decisions for themselves, rather than a one-size-fits-all approach," said Suzette Kent, U.S. Federal Chief Information Officer.
Why You Should Move to Cloud Smart Strategy
As outlined above, there are several benefits to a cloud smart strategy. However, the purpose of a cloud smart strategy stands to provide environments with a strategy that best meets their needs, and this does not always mean a complete shift to the cloud. A cloud smart strategy allows businesses to take a holistic approach to how they manage their processes. As opposed to adopting one platform to host all their applications, storage, and processes, they analyze each and decide which will operate best on what platform. This will enable your organization to take full advantage of different aspects such as functionality, performance, agility, memory, security, and more on a per-need basis. Furthermore, a cloud smart strategy allows businesses to shift from cloud to on-prem and vice-versa as business needs change. While this requires a team that will constantly assess the needs and mission of the organization, it will mean that you are constantly aligned with cloud best practices that are unique to your organization instead of what only looks to be beneficial upfront, but may be detrimental at a later stage.
Additionally, with the vast array of hosts and vendors available to businesses such as Sangfor Managed Cloud Services and Sangfor HCI (Hyper-Converged Infrastructure), businesses can relieve themselves of having to navigate creating cloud strategies all on their own, or filling the gaps that they lack. Companies such as Sangfor Technologies are dedicated to linking business processes to managing services that will tailor solutions to their needs, as a cloud smart strategy should.
While it may be difficult to understand exactly which steps your team should follow in pursuit of a cloud smart strategy, Nutanix leader of corporate strategy and strategic partnerships, Sachin Chheda recommended that organizations "inventory their existing apps and IT services with an eye toward categorizing them all as to whether they should be maintained, modernized, or retired." He went on to categorize the next steps a business should take according to the following criteria:
Remain: This involves allowing legacy applications to continue running as they are
Retire: turning off an application or replacing it with an entirely new cloud-native version
Rehost or re-platform: moving an application to the cloud as-is; also called "lift and shift"
Refactor: modifying an existing application so as to allow it to support the cloud environment
Rewrite or rebuild: modernizing an application by rewriting it completely from scratch
These steps simplify the process and give businesses a clearer understanding of what it is they should be assessing in their existing systems before choosing to migrate (or not).
Sangfor Success Stories on Cloud Smart and Managed Cloud Strategy
Sangfor Managed Cloud Services is a platform built to provide businesses with the flexibility, agility, and unlimited resources that come with a public cloud, with the security and immediate access that come with a private cloud. Our managed cloud services eliminate the burdens of in-house data centers through consolidation and remove the complete reliance of businesses on on-prem infrastructure. Sangfor Technologies also provides organizations with a hybrid environment that allows them to utilize all the benefits of the cloud without completely forgoing their existing on-prem facilities as far as they need them. By offering Infrastructure-as-a-Service as well as Platform-as-a-Service, Sangfor allows businesses with different needs to take advantage of a wide range of services that will allow them to maximize the very best of the computing resources they have, and the computing resources that they need. From managed private cloud services to app modernization (rewriting or modifying your application to allow it to run on the cloud), Sangfor provides trusted and reliable services to small-large sized businesses who are looking to offload the heavy work of managing clouds to an efficient vendor. Sangfor's clients span a wide range of sectors with organizations and businesses of varying sizes, from governments to businesses in the manufacturing sector and more. Some of Sangfor's clients include:
Success Story #1 - Malaysia's Ministry of Rural Development (KPLB) (Government)
For more details on how Sangfor helped Malaysia's Ministry of Rural Development, please watch the below YouTube video:
Success Story #2 - Annotation AI South Korea (Communications, Media, and Services)
Established in 2020, Annotation AI is a South Korean-based AI utility management platform service company that provides high accuracy data labeling automation to maximize work efficiency related to AI data pre-processing.
To learn more about how Sangfor helped Annotation AI South Korea, please read this Success Story
Success Story #3 - Global Business Power Corporation – Philippines (Manufacturing and Natural Resources)
Global Business Power Corporation (GBP) is a leading energy company (Top-3) in the Philippines, producing high quality, reliable, and cost-efficient power supplies through five subsidiaries and ten power generation facilities nation-wide.
Please read this Success Story to learn how Sangfor helped to solve GBP's pain points.
A good cloud smart strategy will even be considerate of factors such as the industry your organization is in because it takes into consideration every factor that determines how your business works and what its mission is. However, your industry is a micro-factor in the greater scheme of cloud strategies. What this highlights is that going cloud smart is about hyper-analyzing each and everything that could possibly affect the infrastructures that your organization uses to understand what infrastructure your organization will need. By doing this, you have a realistic view of what the cloud will and won't do for your organization, and which avenues outside of this will holistically meet your needs. The "work smart, not hard" phrase rings true here. A cloud smart strategy will save your business time and energy by delegating infrastructure on a per-needs basis, fueling digital transformation and your core business goals.
---