In the digital age, almost everything we do is online. This has led to many businesses setting up websites as an interface to connect with potential clients. However, when creating a new web project, there are many web hosting options at play for you to consider. Each available option has different performance levels, price tags, and capabilities. We consider the suitability of web hosting options based on your specific needs – focusing mainly on the contrast between a dedicated server and a virtual private server.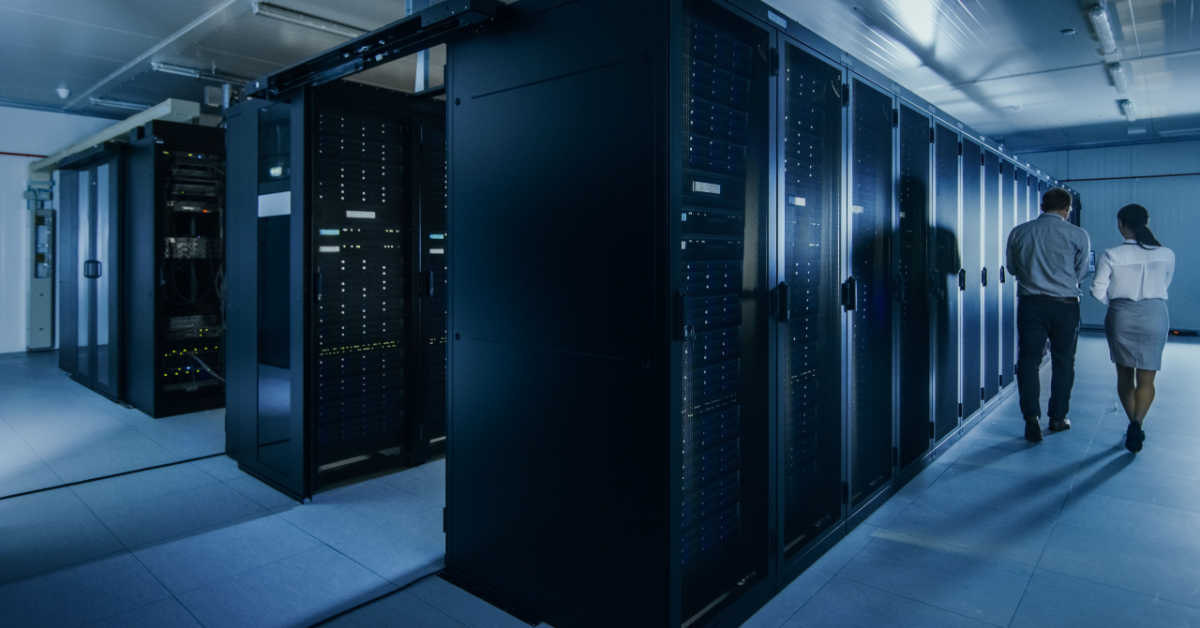 What is a Dedicated Server?
A dedicated server works exactly as its name suggests – with dedication. This type of web hosting involves a physical server that places all its resources at your disposal entirely. The dedicated server design gives you full control and customization of the operating system and software used. It allows you to allocate security, storage, and networking capabilities as you see fit.
Dedicated hosting gives users increased flexibility and enhanced performance – coupled with advanced and consistent security protocols to ensure maximum privacy and data safety. This form of web hosting is ideal for websites that experience high levels of network traffic and don't mind paying a little extra for it.
Dedicated servers can be seen as somewhat of a blunt opposite of shared servers or shared hosting. With a shared server host, your data and applications are hosted on a virtual server used by multiple people. This limits the control of bandwidth and management capabilities available to you due to the confined resources you are given to share with others – which is also what makes shared hosting servers a lot cheaper to invest in.
While this might be compatible with most startup websites and smaller businesses, there is a middle ground for those who want a bit more control without leaning entirely toward dedicated server hosting.
What is a Virtual Private Server (VPS)?
A virtual private server can be thought of as the best of both worlds – the control and services of a dedicated server combined with the virtual setup of a shared server. In a VPS setting, the resources of the host server are still shared with other users but every user is given a set amount of resources to call their own.
Using virtualization hypervisor technology, a VPS can easily host multiple servers while still sectioning them off within the created virtual space – giving each user their own set of toys to play with while they still sit in the same playpen, so to speak. The VPS option is also highly scalable by nature and can adapt to the user's needs and be customized as they see fit. You can explore more about Sangfor Hyperconverged Infrastructure to explore more about server virtualization.
VPS Hosting vs. Dedicated Hosting
When comparing the two sets of web hosting, it's important to note that each client has a different set of needs that is specific to its respective hosting server. We'll be comparing the dedicated server and VPS setup according to various criteria that will help your website's performance: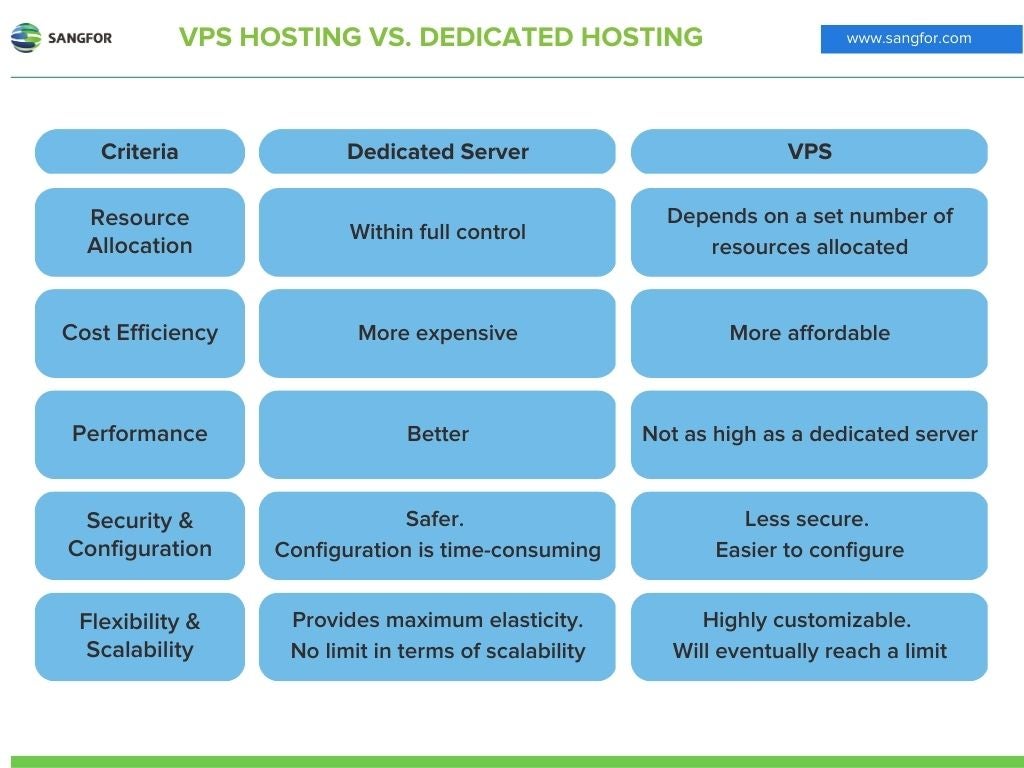 Resource Allocation
Dedicated Server: Naturally, a dedicated server will come out on top when comparing the number of resources available as the entire server is within your full control. You are free to upgrade and install different services and software – all without sharing it with anyone else.
VPS: A VPS relies on a set number of resources that are allocated by the physical host server and can be more limiting than a dedicated server. These resources, however, are entirely yours to use and can be scaled as you need.
Cost Efficiency
Dedicated Server: This is the pricier option in terms of web hosting. Setting up the physical hardware to support a dedicated server is expensive and requires maintenance and management that will also end up padding your bill's bottom line. This option makes more sense for large companies that have the capital to invest in extensive web hosting capabilities for their data requirements.
VPS: Virtual private servers will likely cost more than the regularly shared server option but is definitely a more affordable alternative to a dedicated server. Due to the shared nature of the hardware used with a VPS, the costs to maintain the host server are also shared – reducing its price significantly.
Performance
Dedicated Server: A dedicated server provides the best solution if your website is reliant on rapid loading and peak performance at all times. It can handle high amounts of network traffic and has unlimited RAM, storage, and general performance capacity. Think of it as a bus that slows down as more people need to make a stop. With a dedicated host, the bus is reserved entirely for you and goes as fast as you need it to without any stops.
VPS: With its reliance on the main server, a VPS will reach optimum performance levels but not as high as a dedicated server due to its resource sharing – or, to continue the analogy, due to more people using the bus.
Security
Dedicated Server: This is the safer option in terms of security – especially for websites that hold critical user information and data. A dedicated server is not impenetrable but its isolated nature allows it to be reinforced by advanced security and puts it at a lower risk of a cyber-attack than a shared VPS is.
VPS: A large risk point when considering any form of shared web hosting is its security. This is especially true for e-commerce websites that require account details and personal information to process payments. While a VPS setup isolates your website – securing it from threats to other websites on the same server - an attack on the server itself, or a Denial-of-Service attack will ultimately impact your website as well. This makes it a slightly less secure option than a dedicated server.
Configuration
Dedicated Server: Dedicated servers give you full control over your server, yet they tend to be a lot more time-consuming and complicated in terms of management and maintenance. It becomes a lot easier when opting for a managed version of a dedicated server – which allows expert technicians to maintain your server to the best of their abilities. Again, this option is best suited to large-scale enterprises with dedicated IT teams to navigate and maintain these issues.
VPS: A VPS gives you limited control over the server however, its virtual nature means that it can be up and running whenever you are. This allows you to configure your server as you need to with a lot more ease in a much shorter span of time. However, to the layman, a VPS infrastructure can a bit tedious to implement which is why it can also be chosen as a managed service – allowing you to enjoy its benefits, without handling its admin entirely.
Flexibility
Dedicated Server: The flexibility of a privately owned server gives you the maximum amount of control and elasticity. Sudden spikes in network traffic or business growth can be seamlessly adapted without compromising performance levels. While both dedicated and VPS solutions give you root access to customize settings, a dedicated web host gives you free rein on any or all changes made.
VPS: As said before, a VPS solution is highly customizable in its own right as well – not to the level of a dedicated server, but enough to effortlessly adjust to peak network traffic and application installations as needed. Consider an online store having a Black Friday sale, with a VPS you can easily adjust your processing capacity to meet the needs of a fluctuating market on that specific day and then simply place it back to its regular setting when the day is over.
Scalability
Dedicated Server: A dedicated server has no limit in terms of scalability - which is why it makes the perfect choice for large companies that garner large amounts of network traffic.
VPS: A VPS structure is highly modular and allows your business to grow at a more paced-out level. The resources at hand can be adjusted as your business expands, allowing you to use only what you need at the time that you need it. However, this web hosting option will eventually reach a limit to its reach – unlike the dedicated server.
Which One Should You Use?
As mentioned before, when considering a web hosting solution, it's important to first understand and establish exactly where your company is and what it is capable of. It's also good to remember that your web host is not set in stone and you may choose to migrate your network accordingly at any time in the future.
Your company's needs are vital in choosing a web host and so is a realistic approach to its network traffic capabilities. Investing in a dedicated server when you have a small business is nonsensical as you'll be underutilizing most of its capabilities for a ridiculous price.
Custom dedicated servers are suited to large enterprises that experience huge amounts of network traffic – processing multiple transactions and large data files daily. If you cannot provide or outsource the expertise to maintain and operate a dedicated server, you probably cannot be choosing it as a web hosting option.
Dedicated servers also cost a lot of money because you need to arrange data centers to keep everything safe and secure. Enterprises are also using HCI (hyperconverged infrastructure) that helps them to reduce 80% of cost.
Alternatively, a virtual private server (VPS) is outfitted for almost anything a step below a large corporate function. This option is perfect for beginner websites and small-to-medium-sized enterprises. Its scalable nature allows your web hosting resources to grow as your business does - without overshooting your target market or breaking the bank. It is also adept at hosting or creating gaming servers and offers individuals and smaller businesses enhanced flexibility.
More people tend to move towards VPS for these reasons – especially a cloud-based model of it. Cloud computing has revolutionized the data industry and created a flexible, convenient, and secure option for your web hosting needs.
Sangfor's Hyper-Converged Infrastructure
Choosing your web hosting server is a stressful event for anyone, that's why Sangfor Technologies prides itself in being a leading provider of cloud-based solutions and cybersecurity services that will grant you peace of mind when making these choices.
The Sangfor Hyper-Converged Infrastructure (HCI) has been recognized by Gartner as a server virtualization platform of choice. It provides an innovative 3rd-generation cloud computing architecture that converges compute, storage, networking, and security into a single software stack.
The simplified 1-stop software-defined data center solution is tailored to business-critical applications and enables extensive backup capabilities and data protection. The platform boasts easy operation and quick installation for business-critical applications while being able to integrate with any commodity servers commercially available in the market. Read more about the Hyper-Converged Infrastructure here in the Sangfor HCI Brochure.
Additionally, Sangfor's Managed Cloud Service provides a new approach to public and private cloud. Providing a globally distributed data center with the convenience and flexibility of a public cloud, with the security, control, and professional service of a private cloud while relying mostly on self-developed compute and cybersecurity technologies. Leveraging Sangfor's Managed Cloud Services allows organizations to focus on digital transformation while creating more business value.
Lastly, Sangfor's Cloud Platform is a reliable and seamless automated cloud computing platform that reduces the complexity of cloud data center construction and management through standardized and process-oriented functioning.
For more information on Sangfor's cyber security and cloud computing solutions, visit www.sangfor.com.