A Leading Vendor of SDS and VDI Solutions in the Asia-Pacific
Gartner recently published the Market Share: Infrastructure and Operations (I&O) Software, Worldwide, 2022¹, which highlights the market share of various I&O software vendors across multiple product categories. These categories encompass IT Operations Management, Network Software, Operating Systems, Storage Management, and Virtualization Infrastructure Software.
Sangfor Technologies (hereafter, "Sangfor") is delighted to announce its favorable rankings in several sub-segments, most notably:
Software-Defined Storage (SDS): The 2nd highest market share in the Asia-Pacific*
Virtual Desktop Infrastructure (VDI): The 3rd highest market share in the Asia-Pacific*
We believe these results are a testament to our consistent leadership in the SDS and VDI sub-segments within the rapidly expanding I&O market. According to the Market Share report, "The worldwide infrastructure and operations (I&O) market grew 9.4% to $133.2 billion U.S. dollars in 2022."
Learn more about the key differentiation of our leading solutions below and discover how they can add value to your business needs!
*Asia-Pacific is a combination of the "Mature Asia/Pacific", "Greater China", and "Emerging Asia/Pacific" regions in the Gartner Market Report.
Sangfor aDesk (VDI Solution)
Introducing Sangfor aDesk, a revolutionary VDI solution, designed to seamlessly transition organizations from traditional PC-based workspaces to modern digital workplaces. This cutting-edge solution offers ultra-fast deployment with a unified management console for better operation and maintenance of virtual machines (VMs), freeing IT personnel from the burdens associated with traditional PC setup & provisioning operations. Furthermore, Sangfor aDesk promotes employee productivity by allowing remote access of virtual desktops from any device and location, enabling businesses to realize cost savings through reduced hardware investments, hardware failure, and electricity consumption.
As Sangfor aDesk is a one-stop secure VDI solution, it incorporates essential components such as thin client, hypervisor, server, and virtual desktop controller (VDC) in a single offering. It is delivered with our Sangfor HCI, for which Sangfor ranks as one of the world's leading vendors in Gartner Market Share² and a Representative Vendor in Gartner Market Guide for Full-Stack Hyperconverged Infrastructure (HCI) Software³.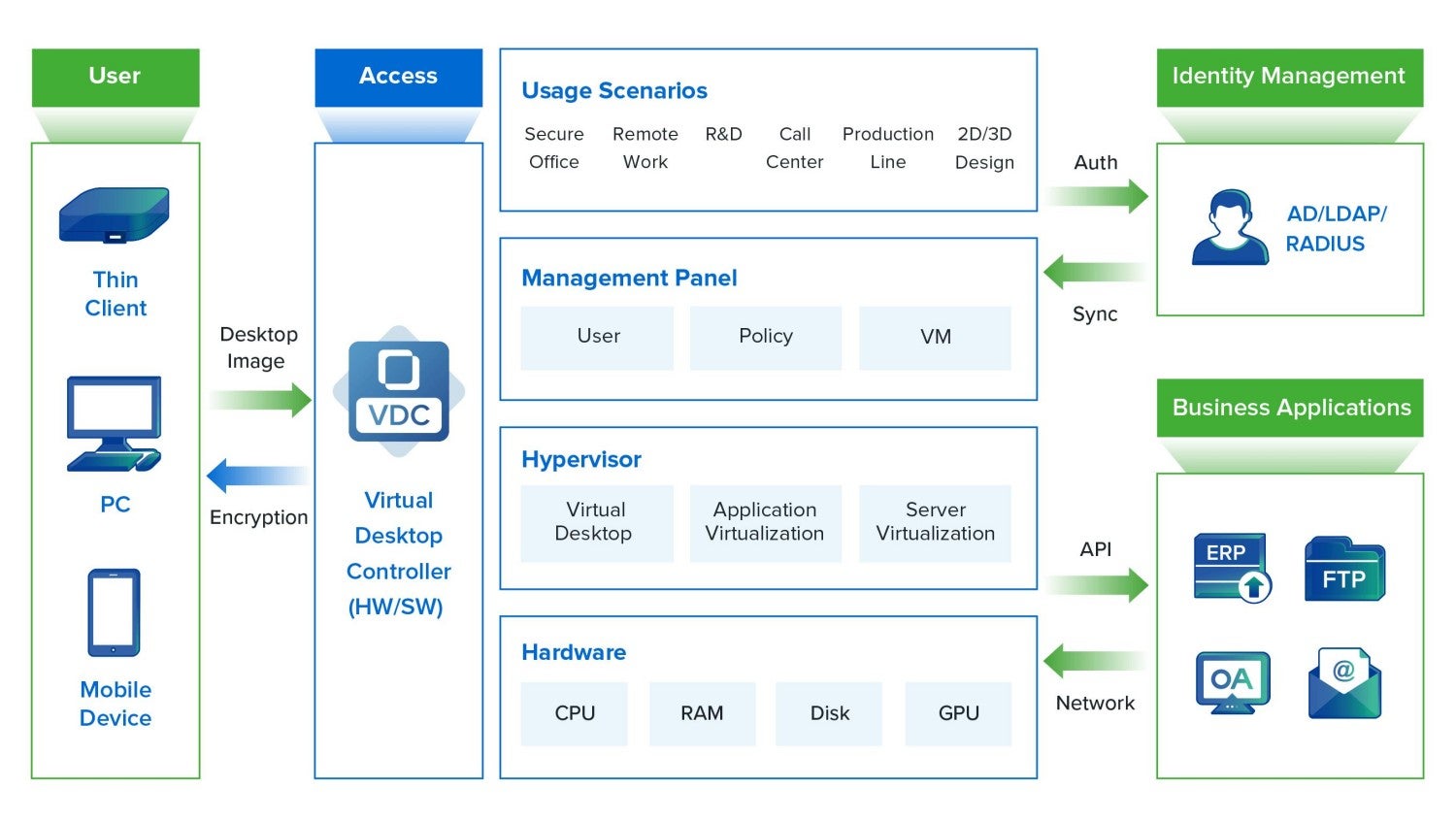 Sangfor aDesk VDI Architecture
Security is also a top priority with Sangfor aDesk, as it is packed with advanced features to offer added protection against sensitive data leakage and cyber threats. These advanced features include anti-screenshot, screen watermark, USB and clipboard control, file export audit, built-in web application firewall (WAF), distributed firewall, and endpoint security integration, among others. Organizations can rest assured and trust that their data remains protected within the Sangfor virtual desktop environment.
Smooth and uninterrupted performance is ensured through Sangfor's proprietary SRAP and HEDC protocols. These intelligent protocols optimize the transmission of desktop images, enabling fluent desktop operations even under unstable network conditions. Users can experience seamless productivity regardless of their network environment, negating any disruption to service
The versatility of Sangfor aDesk makes it suitable for a wide range of use cases. From secure office and remote work scenarios to production lines, call centers, service halls, computer labs, and training rooms, Sangfor aDesk adapts effortlessly to a diverse range of environments. It even supports 2D/3D design work, making it a versatile solution for various high-tech industries.
With an impressive continuance of our track record, Sangfor aDesk has already deployed over 2.2 million virtual desktops, with more than 200 large-scale deployments of 1,000+ aDesk thin clients. Notable customers, including Foxconn, EFU Life, and Lotte E&C, have entrusted their VDI deployment to Sangfor, reaffirming aDesk as a trusted and reliable VDI solution with many added values to our customers
Upcoming New VDI Release
We are thrilled to announce the upcoming release of Sangfor aDesk 5.5.6 – our most advanced and optimized VDI solution to date! This latest iteration packs new and upgraded features that will further revolutionize your digital workspace experience. These new features include:
New and optimized HEDC 2.0 WAN protocol for even smoother connectivity
The first VDI solution to incorporate groundbreaking USB Storage Acceleration
Optimized vGPU and new 3D Workspace Management solution to boost 3D work
Do stay tuned for our official announcement of this highly anticipated release!
Sangfor aStor (SDS Solution)
Introducing Sangfor aStor, our cutting-edge software-defined storage (SDS) solution that is reshaping the landscape of enterprise data storage. With its innovative features and powerful capabilities, aStor enables organizations to efficiently manage and store their rapidly growing data while ensuring scalability, reliability, and cost-effectiveness.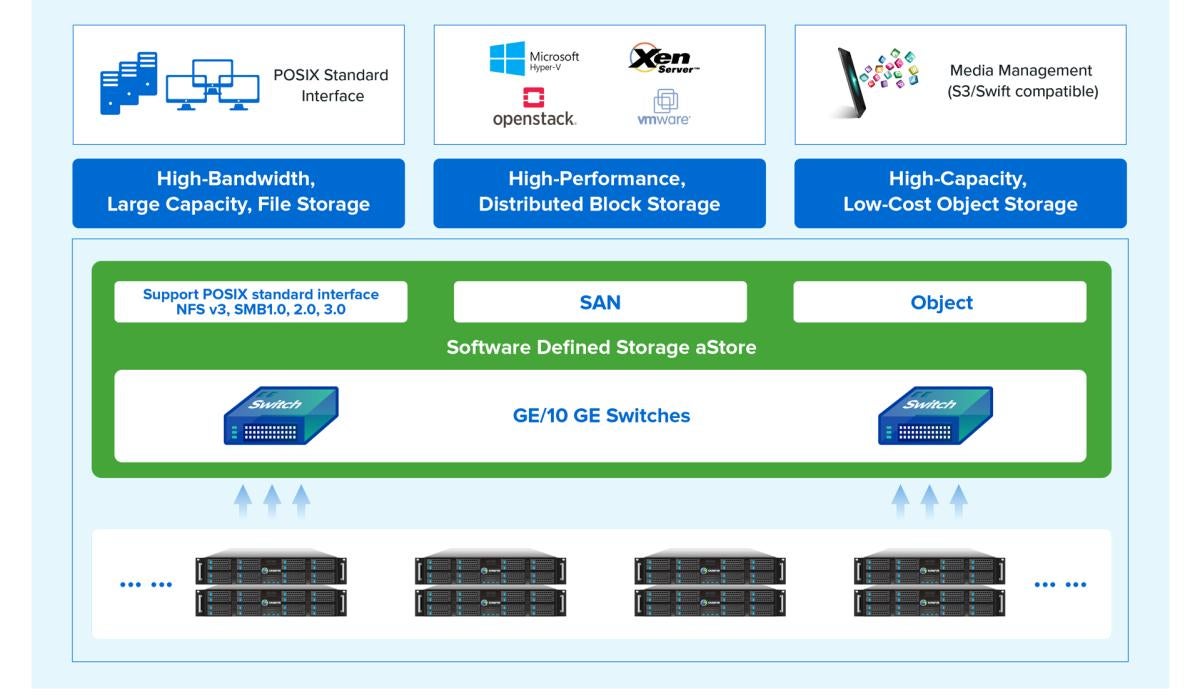 Sangfor aStor SDS Architecture
One of the key advantages of Sangfor aStor is its distributed architecture, which facilitates seamless and on-demand expansion without the need for extensive capacity planning in advance. This software-defined storage solution also utilizes parallel processing to achieve exceptional performance, accommodating both structured and unstructured data requirements. Moreover, aStor helps organizations reduce their total cost of ownership (TCO) by utilizing standard X86 servers and distributed storage software to construct storage resource pools, eliminating the need for redundant investments and simplifying maintenance.
With its open platform, aStor enables centralized management of block, file, and object storage, and it supports integration with third-party cloud management platforms for streamlined management of the entire cloud environment. In terms of reliability, aStor employs sub-health monitoring, fault monitoring, and rapid fault repair mechanisms to achieve an impressive 99.9999% data reliability, even when using lower-spec hardware. It can proactively identify potential data risks, ensure data redundancy, and facilitate quick service recovery.
Furthermore, aStor maximizes performance through advanced technologies like RDMA and intelligent caching. It significantly improves the hit rate of the hot data cache, enhances small I/O read and write performance, and efficiently handles high IOPS workloads. Additional features and capabilities include merging small files for enhanced I/O processing, robust handling of massive metadata with minimal performance variation, AI-assisted autonomous management, failure prediction, trend analysis for capacity planning, and intelligent QoS optimization.
Sangfor aStor stands out as a powerful software-defined storage solution that combines high performance, cost efficiency, scalability, and intelligent management, making it an ideal choice for organizations seeking reliable and flexible storage infrastructure.
Sources:
1. Gartner Inc., Market Share: Infrastructure and Operations (I&O) Software, Worldwide, 2022, by Laurie Wurster et al., published May 30, 2023
2. Gartner Inc., Market Share: Data Center Hardware Integrated Systems, Worldwide, 4Q22 Update, by Andrew H Kim et al., published April 3, 2023
[Sangfor Technologies ranks as the 6th largest vendor of Hyperconverged Infrastructure Systems (HCIS, Appliance) in the world and the 3rd largest HCIS vendor in the Asia-Pacific region by market share as of the end of 2022]
3. Gartner Inc., Market Guide for Full-Stack Hyperconverged Infrastructure Software, by Jeffrey Hewitt et al., published March 14, 2023
Gartner Disclaimer:
GARTNER is a registered trademark and service mark of Gartner, Inc. and/or its affiliates in the U.S. and internationally and is used herein with permission. All rights reserved. Gartner does not endorse any vendor, product or service depicted in its research publications and does not advise technology users to select only those vendors with the highest ratings or other designation. Gartner research publications consist of the opinions of Gartner's research organization and should not be construed as statements of fact. Gartner disclaims all warranties, expressed or implied, with respect to this research, including any warranties of merchantability or fitness for a particular purpose.