EFU Life Background
In 1990, the government of Pakistan reopened the life insurance business to private sector organizations. EFU Life Assurance Ltd. started operations in November 1992 as the first private sector life insurance company. In early 1993, EFU Life commenced its Group Life Insurance Business and, by March 1994, the company began writing its individual life insurance business. The concept of unit linking was first introduced in Pakistan by EFU Life and today the life business is primarily unit linked.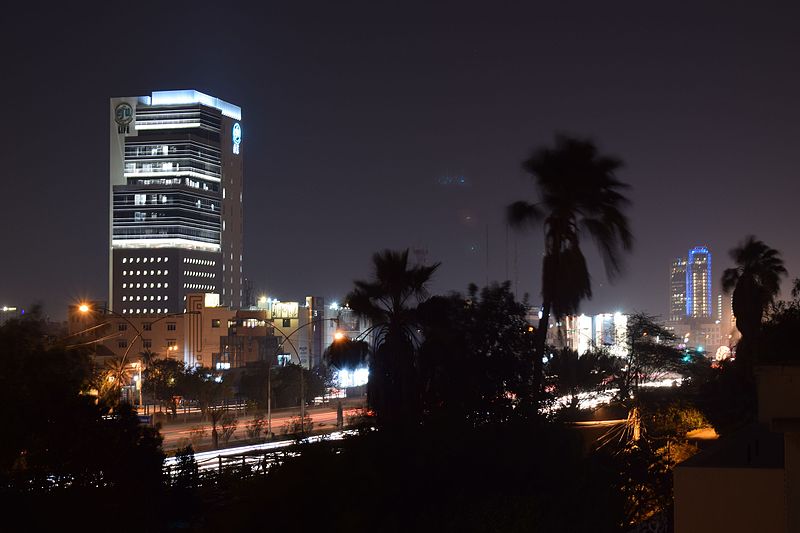 Night View of EFU Life Building. Source: https://en.wikipedia.org/wiki/EFU_Group
EFU Life Challenges
The customer has a variety of critical workloads running at their location including many self-built in-house and Third-Party Applications, Databases, ERP, and Domain Controllers. As well as Mail Servers, File Servers, HRMS, and Web Servers among other things, which were previously running on Traditional 3-tier architecture using VMware as Hypervisor with HPE 3-PAR Storages.
Based on the above information, the customer had the following challenges:
The customer was using old hardware which led to consistent performance issues. The maintenance of the hardware components was costly and still left the recurring risk of compromised faulty elements.
3-tier legacy architecture is overly complex. The administration of the system can be difficult as the customer has to manage every tier in the data center separately based on intricate management consoles which often require high-level expertise.
The organization required increased availability and higher input/output operations per second (IO/IOPS) for client portals, Point of sale (POS), and other mission-critical VMs. They were using SAN storage configured to a VMware server – which was not agile enough for capacity extension.
The webservers of EFU Life required professional web application firewall protection.
Large silos of hardware in the data center including servers, switches, storage, SAN switches, and firewalls increase the operational costs of the data center, and a low yearly budget required the reuse of the current server with the new solution.
Hardware Lock-In while scaling up or scaling out the infrastructure was also an issue - especially with regard to storage, as the customer would have to go to the specific Original Equipment Manufacturers (OEM) from whom they had purchased the products.
The customer was using third-party backup and replication products for the sake of data backup and off-site replication.
The use of different OEMs resulted in difficulties finding solutions efficiently and effectively as most manufacturers would rather pass the blame than try and resolve the issues at hand.
The organization planned to add a Secure Sockets Layer VPN (SSL VPN) in the upcoming year, to provide 2000 new users with an SSL concurrent connection without adding hardware.
Sangfor's Solution for EFU Life
Sangfor's Hyper-Converged Infrastructure (HCI) integrated with their current hardware in two-node clusters with virtual storage and network - upgrading hard disks with solid-state drives and deploying an advanced virtual firewall with a web application firewall.
Sangfor provides integrated one-window operations through Sangfor's Cloud Platform (SCP) in terms of multi-site management by consolidating compute, storage, network, security, backup, and DR operations within a single window.
Sangfor provides Software-Defined Data Center (SDDC) architecture and by being a completely hardware-agnostic system, provides the customer leverage to use any x86 platform hardware concerning future scaling. This mitigates the hardware lock-in problem that the customer faced with the 3-tier legacy architecture platform.
Sangfor provides built-in disaster recovery and backup solutions with no need to purchase or renew any third-party solution or deploy any separate appliance.
Sangfor provides the customer with a single enterprise-grade license model for all its components - including Hypervisor, Storage Virtualization, and Network Virtualization – among others. This includes all the enterprise-grade features such as DRS, Hotadd, Tiering, Caching, VXLAN, Micro-segmentation, NFV Integration, and CDP to name a few, without any hidden feature locking or extra charges.
Customer Benefits After Deployment of Sangfor Solution
Sangfor HCI allows the client to reuse their current highly performing hardware - reducing the initial investment cost.
The unique clustering design and SSD tiering of virtual storage provided high availability and high performance for the insurance company.
Sangfor's Network Function Virtualization (NFV) feature provided a virtual firewall without the need for extra hardware.
Sangfor HCI includes a one-stop disaster recovery function. It helps provide DR with a second-level Recovery Point Objective (RPO) and a minute-level Recovery Time Objective (RTO), which can be activated as needed.
Sangfor provides single-vendor local support. By opting for Sangfor SDDC, all the support and warranty services are provided by Sangfor itself. This helps the client avoid the tedious task of dealing with multiple OEMs - mitigating the time-consuming and redundant conflict resolution EFU Life previously faced by relying on support from a single vendor for every tier.
Sangfor leverages virtualization technology for every tier and converges compute, storage, network, network security, backup, and replication in a single-box solution. This provides effective utilization of resources and data center consolidation. This drastically reduces the data center's footprint by reducing the hardware components needed.
EFU Life now operates smoothly with the support of Sangfor's elevated computing infrastructure. Sangfor provides enhanced cyber security and cloud computing options for organizations. Visit www.sangfor.com for more details.
Watch the interview video to learn more.
Interview with EFU Life Assurance Ltd Pakistan | Sangfor HCI&VDI