Looking for a peer reviewed Next-Generation Firewall (NGAF)?
Check out 2022 Gartner® Peer Insights™ 'Voice of the Customer': Network Firewalls report.
Sangfor Technologies has been listed in Gartner® Peer Insights™ 'Voice of the Customer': Network Firewalls report for the second consecutive year, for its cutting-edge next-generation firewall Sangfor NGAF with an Overall Rating of 4.8 out of 5 as of February 2022. Sangfor Technologies was recognized as a 'Strong Performer', and received the following ratings in four categories:
Product Capabilities [4.8/5]
Sales Experience [4.8/5]
Deployment Experience [4.8/5]
Support Experience [4.9/5]
According to the report, 93% of reviewers would recommend Sangfor NGAF.
At Sangfor, we are always striving to enhance our products and services and we believe our innovation and dedication has really shown through in the latest Gartner report, and further reflected on Gartner Peer Insights based on NGAF reviews from the past 12 months (as of May 12, 2022).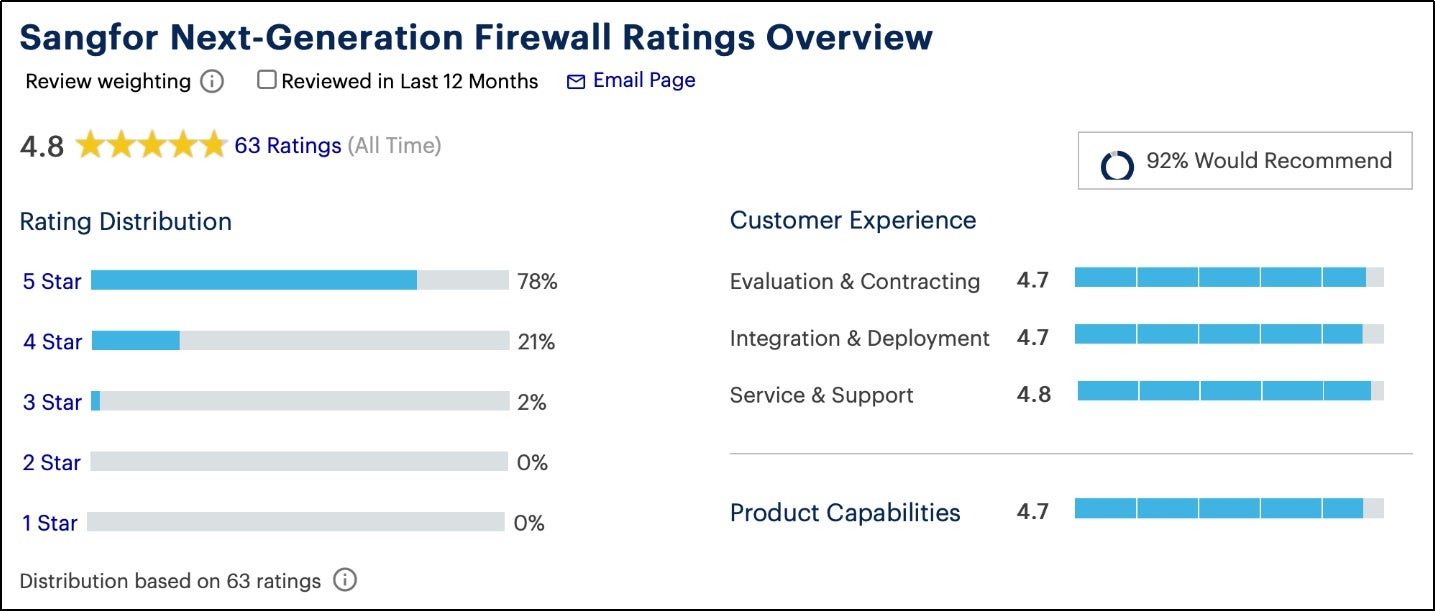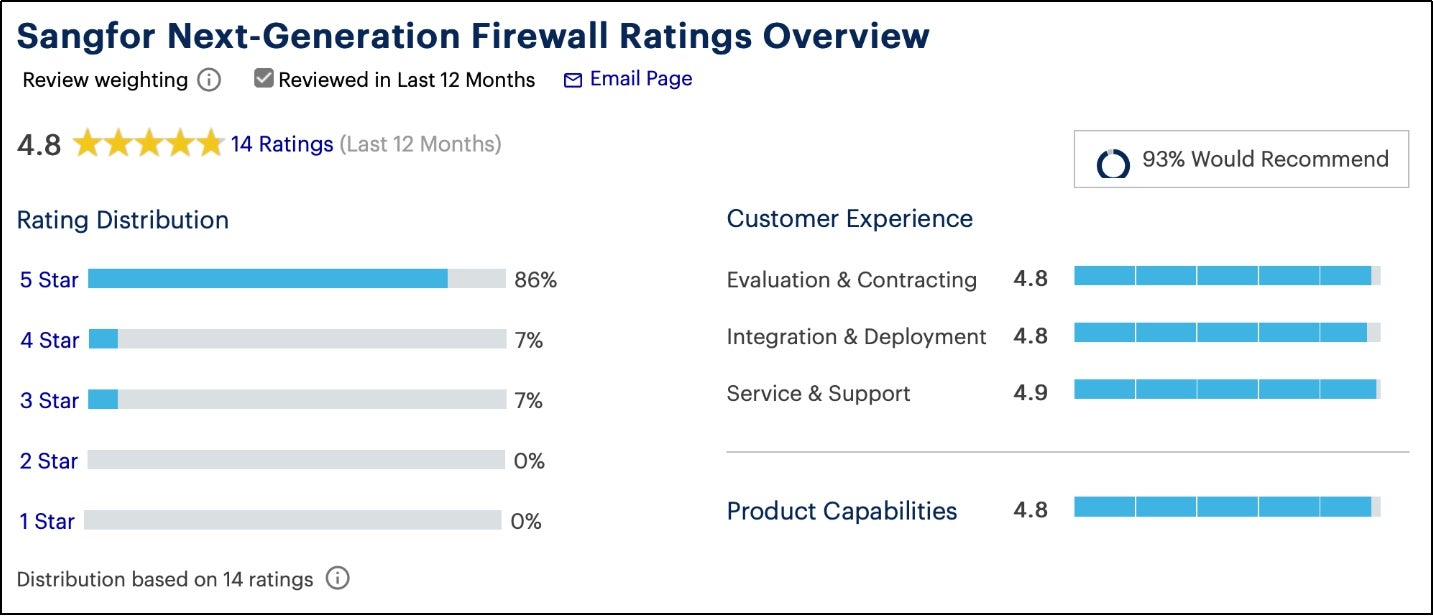 Screenshots from Gartner Peer Insights comparing Sangfor NGAF all time ratings and ratings from the past 12 months (as of May 12, 2022)
Customers from various industries and of varying sizes (SMB to large enterprises) have kindly shared their thoughts and experiences with Sangfor NGAF. Let's dig a little deeper to find out what they have had to say.
In one review from February 18, 2022, the IT Assistant Officer of a Malaysian government organization which deployed Sangfor NGAF On-Premise wrote: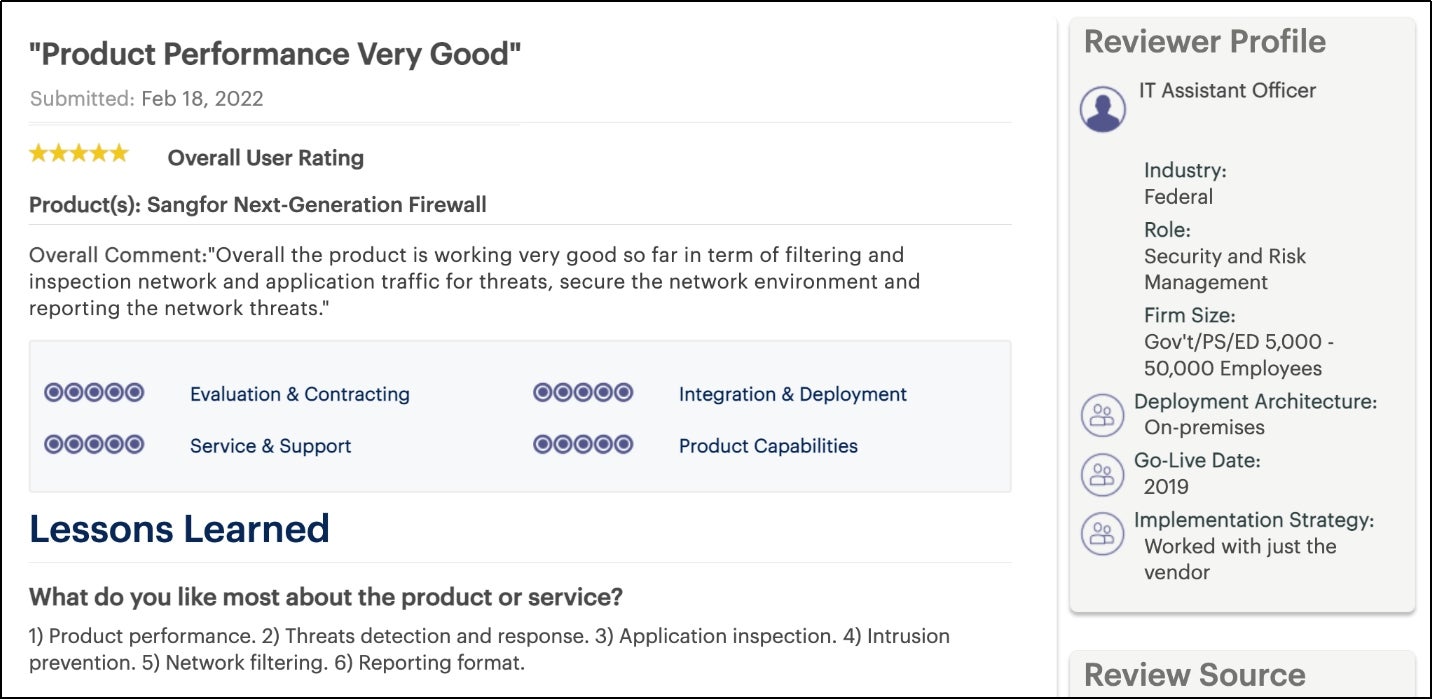 Screenshot from Gartner Peer Insights
In another review from February 27, 2022, the Deputy General Manager/Chief Supply Chain Officer of a manufacturing firm in Thailand noted that: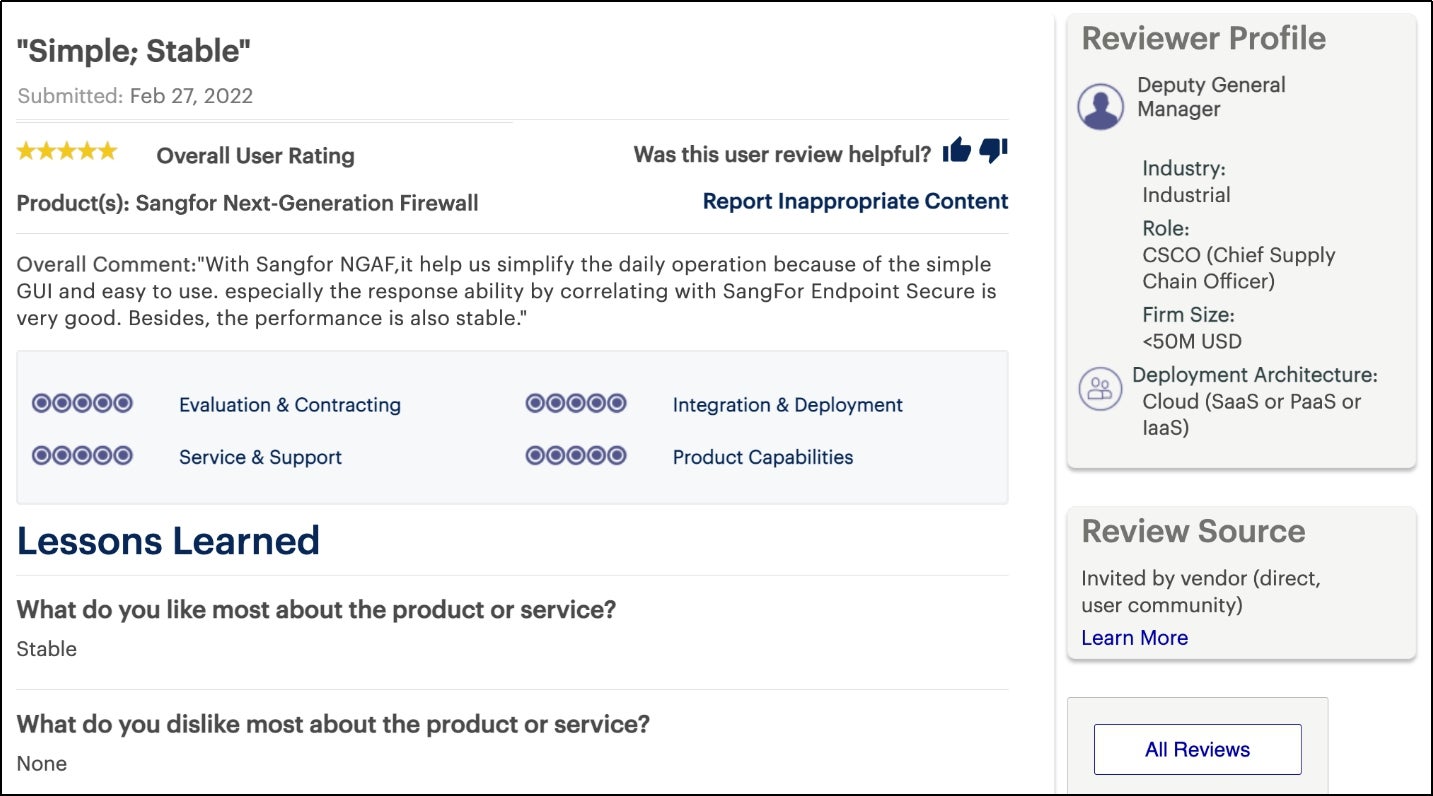 Screenshot from Gartner Peer Insights
For plenty more detailed reviews on Sangfor NGAF, visit Gartner Peer Insights by clicking here.
Sangfor would like to express its sincere gratitude to all customers and partners for their continued support. Your positive experiences and success stories are the driving forces behind our continuous innovation and strive for excellence.
Sangfor is committed to bringing users old and new the industry's leading products and services to make your digital transformation simpler and secure.
Source: Gartner Peer Insights 'Voice of the Customer': Network Firewalls, Peer Contributors, Published on 29 April, 2022
Disclaimer: GARTNER is a registered trademark and service mark, and PEER INSIGHTS is a trademark and service mark, of Gartner, Inc. and/or its affiliates in the U.S. and internationally and are used herein with permission. All rights reserved. Gartner Peer Insights content consists of the opinions of individual end users based on their own experiences with the vendors listed on the platform, should not be construed as statements of fact, nor do they represent the views of Gartner or its affiliates. Gartner does not endorse any vendor, product or service depicted in this content nor makes any warranties, expressed or implied, with respect to this content, about its accuracy or completeness, including any warranties of merchantability or fitness for a particular purpose.
About Sangfor NGAF
Listed in the Gartner Magic Quadrant for Network Firewalls as Visionary, Sangfor NGAF is the world's first AI-enabled, WAF-integrated next-generation firewall (NGFW) designed with robust malware detection and response capabilities to secure the network from malicious intrusion and unknown zero-day attacks, eliminating over 99% of threats at the perimeter.
Powered by Sangfor Neural-X and Engine Zero, and fully correlated with Sangfor Endpoint Secure (EDR) and Cyber Command (NDR), NGAF filters and inspects all network and application traffic for threats to provide a holistic view of the entire organizational security network. NGAF can be installed on-premise as a network hardware firewall or on cloud as a software (virtual) firewall, compatible with Sangfor HCI or VMware ESXi.
To find out more about Sangfor NGAF, including product advantages, success stories, and videos, please visit us at https://www.sangfor.com/cybersecurity/products/ngaf-next-generation-firewall.
About Sangfor
Sangfor Technologies is an APAC-based, global leading vendor specializing in Cyber Security, Cloud Computing, and IT infrastructure. Visit us at www.sangfor.com to learn more about Sangfor's solutions and let Sangfor make your Digital Transformation simpler and secure.