Sangfor is proud to announce its AAA rating in CyberRatings.org's 2021 Enterprise Firewall + SSL/TLS Product Ratings, released on the 18th of February 2021. Sangfor NGAF provides the best of breed protection and efficiency, achieving the highest security effectiveness score at 99.7%. The total of cost of ownership (TCO) surpassed some of the best price points amongst the group of eleven vendors rated.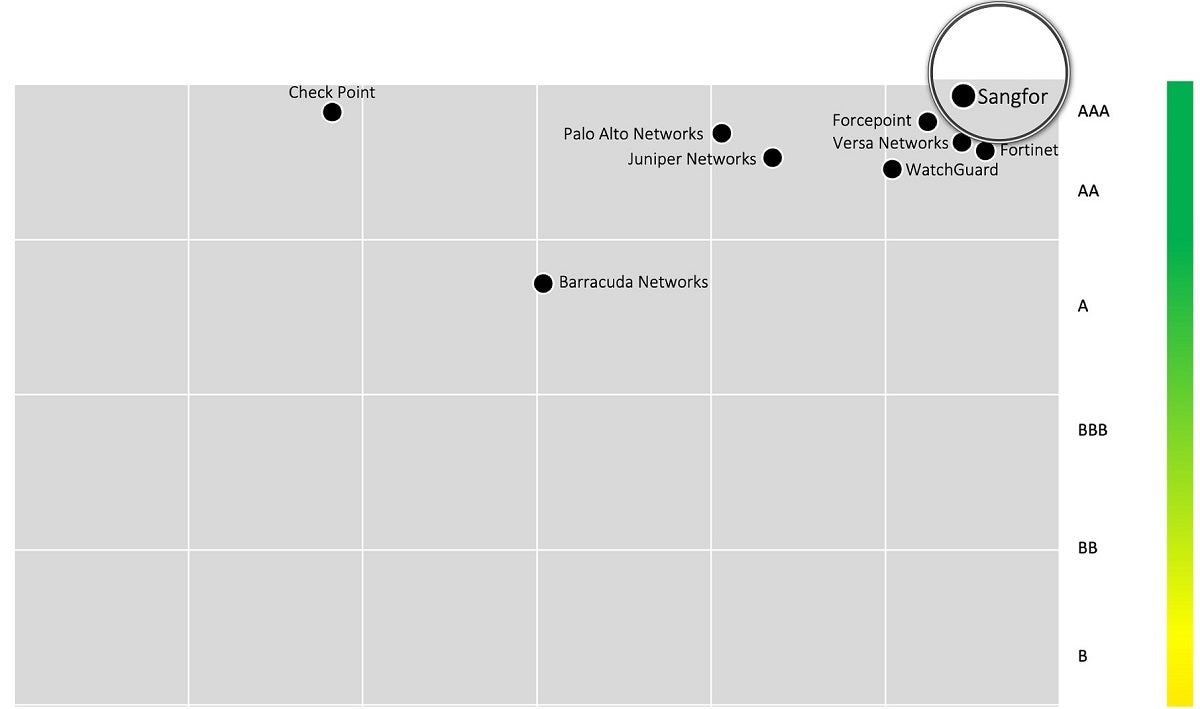 Click Here to Download the Report
CyberRatings.org, a new member organization, offers expert guidance on addressing Security risk to the cybersecurity community. Founded by the former CEO of NSS Labs, CyberRatings.org provides unbiased ratings, technical reports, and industry analysis for a multitude of cybersecurity technologies.
"Sangfor's security effectiveness was outstanding, with 264 out of 264 evasions and 2325 out of 2331 exploits blocked," said Vikram Phatak, CEO of CyberRatings.org. "High customer satisfaction makes their product a serious alternative to more established vendors."
The pandemic has changed our world. Business, travel, home and even IT has shifted, with more organizations now forced to move faster toward digital transformation. The remote work trend has led to increased adoption of the cloud, meaning greater flexibility to maintain ongoing, consistent business. However, cyberattacks are becoming more sophisticated. Therefore, Enterprise IT teams need to quickly adopt new security strategies to guard assets from cyberattacks under a limited budget or a lower TCO – elements that are important to consider when choosing a next generation firewall (NGFW).
A good independent 3rd party report greatly helps you eliminate the noise from all the different vendors. While every vendor claims their technology can make customer networks safe, one cannot be fully certain without independent validation.
Highlighted Test Results:
Security Efficiency:
99.7% block rate for all 2331 samples
100% block rate for evasion
SSL/TLS: supports all standard cipher suites.
Stability and Reliability: 100% achieved on all tests, proving NGAFs hardware and software stability while continuously detecting and alerting when malicious traffic is detected.
Sangfor Security Solutions
As a leading security solution company, Sangfor is focused on providing the ultimate security experience. It protects customers from cyber threat using comprehensive security management functions unique to NGAF.
Sangfor's XDDR security framework integrates Sangfor NGAF, Endpoint Secure, Neural-X, and Cyber Command to deliver on demand best-in-class protection, security automation, and closed-loop management.
Sangfor NGAF is the world's first AI-enabled and fully integrated NGFW (Next Generation Firewall) + WAF (Web Application Firewall) with all-around protection. It is a truly secure and simplified firewall solution, providing a holistic overview of the organizational security network, with ease of management for administration, operation & maintenance.
Sangfor NGAF is an end-to-end comprehensive Enterprise Firewall Protection solution, designed to protect users from internal, external, and future threats updated regularly to keep your network safe.
Why Sangfor?
Click here to download the report, or visit Sangfor's security solution page for more details on how Sangfor NGAF can future proof your business, and be prepared for the next cyber-attack.
Sangfor Technologies is an APAC-based, global leading vendor of IT infrastructure solutions specializing in Network Security and Cloud Computing. Visit us at www.sangfor.com to learn more about Sangfor's Security solutions, and make your IT simpler, more secure, and valuable.