Customer Background
The Lyceum of the Philippines University is a school system,which espouses the ideals of its first founder, Jose P. Laurel – the third president of the Philippines, bearing its signature motto - Truth and Courage, for God and Country.
The Bayleaf Cavite is a 4-star hotel located along Governor's Drive in the historic city of General Trias. The Bayleaf Hotels is owned and operated by Lyceum of the Philippines University.
Challenge
Low Resource Utilization and Low Performance of the Traditional Datacenter.
Individual applications were running on over 20 seperate servers.
High Cost in CapEx and OpEx.
Vmware Enterprise version were used with high license cost and renewal cost in 2018.
Lack of Reliability Design.
No auto backup, no disaster recovery solution.
Sangfor provides a viable solution to reduce the high annual licensing cost of Vmware.
Sangfor has strong local team with the ability of migration, implementation and upkeep of the infrastructure.
Moving to public cloud is going to be a lot more costly due to the high cost of bandwidth.
Sangfor Solutions
Sangfor aCloud with aSV, aSAN , aDR, aCMP and aSEC was deployed in 4 separate clusters with a total of 10 nodes, complete with a Disaster Recovery plan while maintaining autonomy between two large university campuses combined and two 4-star hotels with 5-star service delivery needs.
Sangfor HCI Values
One-stop solution: Tailor-made and one-stop solution for all datacenter requirements:High Availability, High Performance, Backup, DR and Security.


Cost reduction: 30% cost reduction on CapEx, 50% cost reduction on OpEx.
Ease management: They can visualize all traffic and easily manage with web-based console "what you draw is what you get".
Fully-connected interactive education environment with course functions and educational resource sharing.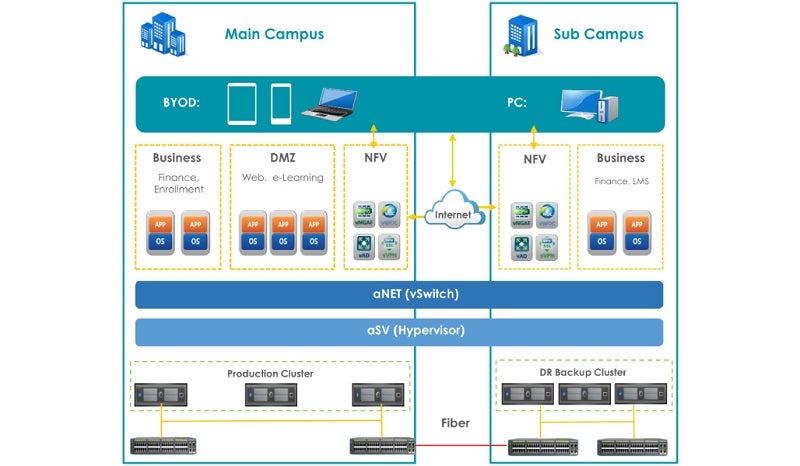 ---