Customer Background
JS Bank Bank is a commercial bank offering a range of consumer, corporate, and other banking services. It is a majority-owned subsidiary of Jahangir Siddiqui & Co. Ltd. Headquartered in Karachi, JS Bank has a network of 323 branches in 161 cities including an international branch in Manama, Bahrain.
Customer Demand
Two scenarios are required to replace the PC into the VDI solution, one is for the SWIFT department and the other is for the normal office users. In total, they have more than 5000 units of the desktop.

The SWIFT department needs high availability of desktop operation and protection of sensitive data from data loss or leakage. Normal office users need to use Linux with simple applications to reduce the OS cost of windows and easier management & data protection.
Sangfor VDI Solution for Banking Customer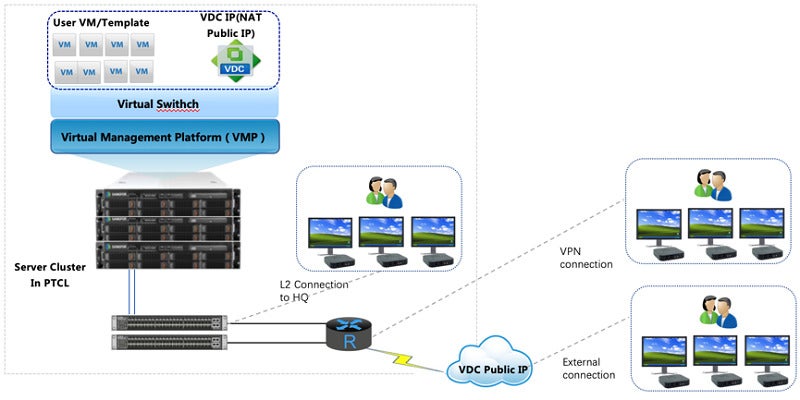 2 nodes have been installed during phase 1 to run 60 users' desktops with HA. The servers are placed in PTCL and use fiber to connect to HQ. XUbuntu is used for the desktop. Phase 2 is to add 1 more node for a total of 120 users. In the coming phase, desktops of the branch site will be replaced with Sangfor VDI.
Customer Benefits after Deploying Sangfor Solution
All data is kept in server end, policy-based to control users' network connection as well as USB read and write control, making sure there's no data leakage.
HCI infrastructure for VDI solution, high availability for data, and built-in VM backup can help prevent data loss. No Windows license needed in Linux VDI.
Centrally manage virtual desktop by simply 2 consoles, VMP for server end management and VDC for user end management.
Single platform solution, server/hypervisor/ VDI controllers are all from Sangfor.
---