In today's evolving world, the way we store and share data is more important than ever. Businesses rely on intelligent engineering to be more efficient. This is where the concept of cloud computing came up. Essentially, companies can now rely on IT infrastructure from outside the business for servers, storage, networking, and more. A report found that the global cloud computing market size is expected to grow from US$ 445.3 billion in 2021 to US$ 947.3 billion by 2026.
According to other recent statistics, cloud computing environments are showing up and dominating - almost everywhere:
By 2025, over 100 zettabytes of data will be stored in the cloud, and the total global data storage will exceed 200 zettabytes of data.
Cloud data centers will process 94% of all workloads in 2021.
The largest data center in the world – Citadel - covers 1.3 million square feet, with eight separate data center structures and over 7.2 million square feet of server space upon completion.
While cloud computing is an exciting technology on its own, each business has specific needs. This is why the cloud infrastructure is categorized into private, public, and hybrid cloud architecture.
While the public and private cloud infrastructure is typically the more common, the hybrid cloud is the newest and more versatile option. In 2020, the global hybrid cloud market was valued at US$ 52 billion and is expected to reach $145 billion in 2026. The APAC region is expected to grow at the highest rate while North America holds the highest share. In this article we look at the hybrid cloud definition, the advantages of hybrid cloud, and why it is the future of cloud computing.
What Is Hybrid Cloud?
Hybrid cloud computing is a blend of both public and private cloud platforms. This means that it provides a unified and flexible computing model. The combination of private and public cloud resources allows companies to choose the optimal cloud environment for each workload and navigate between services as required. The hybrid cloud has many of the same elements found in both public and private infrastructure, with a few surprising elements many find meeting their expectations and needs better.
Businesses with a focus on network security often choose to keep their premise data centers and use the cloud to host less critical data and resources. The hybrid cloud platform provides a seamless, flexible, and controlled solution. For example, using multiple deployment models means that confidential data can be moved safely from a private environment to approved devices running on the cloud. Organizations also have the flexibility to decide where their data and resources are stored and how much security they need. The increased scalability, security, and streamlined migration capabilities have pushed hybrid cloud services to become the solution of choice for most companies interested in easy management, longevity, and efficiency.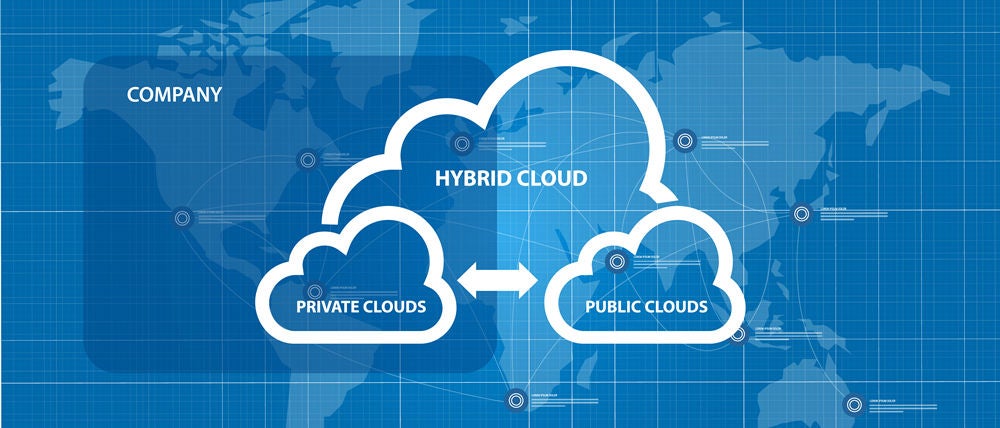 How Does the Hybrid Cloud Work?
Initially, hybrid cloud computing mechanisms revolved around using solutions like Red Hat OpenStack or enterprise middleware for resource integration and physically connecting on-premises data centers to public cloud providers. Now, the focus is on enabling consistent workload movement across multiple cloud environments, combining on-premises, private cloud, and third-party public cloud services. This is achieved by adopting cloud-native technologies, developing applications with microservices that are deployed in containers, and using infrastructure virtualization.
The contemporary hybrid cloud architectures now work by integrating diverse infrastructure elements such as a Virtual Private Network (VPN), a Wide Area Network (WAN), and Application Program Interfaces (APIs), merging resources and services from multiple computing environments. With a hybrid cloud, virtualization, containerization, and software-defined networking are all crucial elements that work together to allocate computing resources and provide enhanced storage, processing, and efficiency.
The Difference Between Public Cloud and Private Cloud
Public cloud and private cloud are two distinct approaches to cloud computing, each offering its own set of advantages and considerations.
Public cloud, often likened to renting an apartment in the cloud, provides cost-effectiveness, scalability, and reliability. It allows businesses to make use of resources and infrastructure provided by a cloud service provider without the need for maintenance. With a private cloud, which is similar to owning a cloud apartment, offering tailored solutions, enhanced security, and control. It allows organizations to customize their cloud environment, ensuring data privacy and accommodating specific needs, albeit at a higher cost.
However, the public versus private cloud debate may not have a definitive resolution, as both options have their merits. This is where hybrid cloud comes into play, offering the best of both worlds. In 2020, 82% of global enterprises started adopting a hybrid cloud strategy, and the numbers were set to rise continually. A hybrid cloud strategy combines public cloud environments and private cloud environments, granting organizations flexibility, control over data and security, granular cost management, and the ability to allocate resources according to varying business needs. Basically, it's similar to owning a cloud apartment while being able to rent out the space. By integrating public cloud services, private cloud services, and on-premise infrastructure, hybrid cloud enables efficient orchestration, management, and application portability across all three environments.
What Are the Common Use Cases of Hybrid Cloud?
Given how the hybrid cloud works, its approach offers a blend of on-premises and cloud-based solutions to cater to a diverse range of business needs. Let's discover them through the below notable use cases:
Data Center Expansion
By leveraging the hybrid cloud solution, businesses can run multiple applications and handle seasonal workloads efficiently. For companies with unpredictable workloads or fluctuating resource requirements, the hybrid cloud solution allows organizations to tap into public cloud resources during demand surges, with steady-state operations anchored on the private cloud. The infrastructure of hybrid cloud is able to scale up or down as required, eliminating the need for substantial hardware investments.
Disaster Recovery Strategy
Businesses can ensure high availability and create robust disaster recovery strategies with hybrid cloud solutions by utilizing public cloud resources for backup and recovery purposes while housing critical workloads on their private cloud. This approach enables businesses to be well-prepared to handle unexpected incidents, minimizing downtime and facilitating seamless business continuity in the face of disruptions.
Streamlined Development and Testing
Hybrid cloud streamlines the development processes by providing access to scalable public cloud resources for efficient testing while safeguarding production workloads and sensitive data on your private cloud infrastructure. It is cost-effective, and convenient, ensuring a secure and controlled environment.
Adherence to Regulations and Compliance
Navigating the complexities of regulatory compliance can become more manageable with the hybrid cloud. Businesses can ensure that sensitive data, often subject to strict regulations, is securely stored in the private cloud. Additionally, the flexibility of hybrid cloud allows them to conduct business activities in regions where they may not have a physical presence, while adhering to compliance with local regulations.
Remote Desktop Solution
Hybrid cloud proves highly beneficial in the area of remote desktop solutions. businesses can securely provide their employees with access to desktops and applications from anywhere in the world through hybrid cloud computing technology and infrastructure. This capability not only enhances productivity but also contributes to cost savings in IT expenses.
What Are the Benefits of Hybrid Cloud Computing?

While it's already easy to see why the hybrid cloud is a leading solution, let's further explore the numerous benefits of hybrid cloud services and learn why the hybrid cloud is the future of cloud computing as a whole:
Great Accessibility and Disaster Recovery
Before the hybrid cloud infrastructure, disaster recovery, and backup were huge expenses for organizations. Businesses needed to physically store data in energy and space-consuming data centers. Now, less critical resources are stored on the public cloud while more sensitive data is allocated to a safe, private cloud space. You pay for what you use and can easily restore your company after a disaster. Whether it's ransomware or a natural disaster, backup and disaster recovery are quick and seamless in a hybrid cloud environment. With hybrid clouds, storage, and computing costs are low while availability stays high.
Strengthening Security and Compliance
Security and data protection are essential for every business. A hybrid cloud solution enables organizations to leverage best-of-breed cloud security and regulatory compliance technologies. Implementing security and compliance measures consistently across all environments improves overall data protection and regulatory adherence.
Streamline Day-to-day Functionality
Customer and business needs change daily and your company needs to be agile to keep up. The hybrid cloud approach is great for making quick changes without shutting down or even slowing down operations. With the right cloud provider, migration of data between environments, VMs, or containers is done with a single button. The makes your IT team more efficient and gives users a consistent experience.
Easy Sharing Without Sacrificing Privacy
Network security should be a priority for every business after the recent string of cyber-attacks in the past few years. A hybrid cloud infrastructure means that users can easily access sensitive information without compromising their privacy.
A multi-tenant cloud separates applications and resources and can be further isolated with VLANs and encryption. Hospitals, in particular, prefer the hybrid cloud for easy, secure, and private access to personal and patient information. A more advanced and secured hybrid cloud solution not only enhances the efficiency of their day-to-day operations but also provides better protection against cyber-attacks in the medical sector.
Better Control and Management of Big Data Analytics
Users create 2.5 quintillion bytes of data daily while poor data quality costs the United States economy US $3.1 trillion yearly. Data control is vital to organizations and a worthy investment. The hybrid cloud platform is perfect for quick and easy storage. Cloud environments work well with big data because they can be flexible, scalable, and offer the same computing power as traditional infrastructure.
Advancing Infrastructure for Efficiency
Your company's growth doesn't need to be expensive and time-consuming. Incorporating a hybrid cloud solution provides IT operations teams with meticulous control over resources, enabling them to optimize spending across diverse cloud providers, public clouds, and private clouds while minimizing the time required. This heightened level of control amplifies application modernization initiatives, allowing organizations to seamlessly integrate cloud services with on-premises infrastructure or data, resulting in enhanced value delivery.
Improving Customer Experience
Customers want and expect fast service in today's digital and eCommerce-centric environment. This is why companies need to be able to respond quickly and track customer experiences to develop better products and services. The hybrid cloud ensures that all that information is secure but still readily available to all the employees who need it to improve services and customer experience.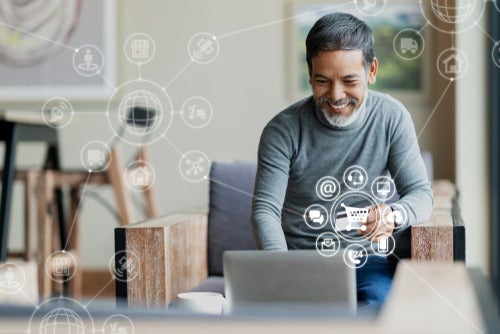 Enhancing the Efficiency of Development Team
Adopting a hybrid cloud solution can significantly enhance developer productivity by facilitating the widespread adoption of Agile and DevOps methodologies.
With this, the development teams can now write code once and easily deploy it across multiple cloud environments.
Facilitate Business Growth
A hybrid cloud environment can propel your business forward. By leveraging the hybrid cloud model, businesses can streamline the integration and collaboration with partners or third-party services, enabling faster business and product development to meet the evolving market demands.
Future-Proof Your Business
Cloud computing is the future. Industry giants like Tesla are already becoming increasingly reliant on the cloud by the day and more businesses will soon follow. For most companies, the hybrid cloud platform is the perfect cloud environment and solution for the future of the Internet of Things (IoT) ecosystem. IT systems need to evolve as your business does and the flexibility of a hybrid cloud ensures this.
Providing Sustainability
Cloud computing provides sustainability, which enables the technology to emerge as an environmentally friendly solution for businesses and enterprises, particularly through the implementation of hybrid cloud strategies. By combining public and private clouds, enterprises can access public cloud resources while still utilizing on-premises hardware, resulting in several organizational advantages and promoting sustainability:
Reduced Hardware/Infrastructure: Cloud solutions reduce hardware usage and associated costs, leading to less electronic waste and carbon emissions from manufacturing.
Reduced Electricity Used: Cloud computing significantly decreases electricity consumption for cooling, power conditioning, and lighting, offering energy efficiency advantages and cost savings compared to on-premises infrastructure.
Reduced Carbon Footprint: Cloud adoption results in fewer servers, lower power consumption, and an 88% reduction in carbon emissions, offering a more environmentally friendly alternative to outdated technologies.
Read more about cloud computing and the ESG framework here.
Selecting a cloud vendor committed to sustainability is the initial step toward a sustainable cloud strategy. IT buyers are predicted to consider carbon emissions data when sourcing hyper-scale cloud services in the future.
5 Principles for Guaranteed Security and Versatile Hybrid Cloud
There are 5 guiding principles to follow to ensure a secure and versatile hybrid-cloud environment for your business:
Focus on Flexibility: Prioritize flexibility in application deployment to ensure that each application has the resources it needs to be effective and works to the best of its ability.
Cost-Free Evolution: Focus on allowing applications to move from environment to environment easily without purchasing more space or deploying new solutions.
Seek Simplicity: Avoid the fancy stuff and simplify operations by using a unified operating model with a structure proven to reduce network security risks.
Fully Realized Resources: Fill any knowledge gaps and minimize learning curves by providing automated security features for all users.
Automate Automatically: Scale automatically to meet the needs of users and network administrators.
Choosing the Right Hybrid Cloud Solutions Provider

Transforming businesses with its flexibility and seamless integration of public and private cloud resources, hybrid cloud has become the go-to choice for many organizations. However, when selecting a hybrid cloud solutions provider, it's important to first look into the features and advantages they offer. Organizations should access their own IT infrastructure, business models, and operations while considering the following key aspects:
Separating Critical Workloads
Big Data Processing
Manageable Digital Transformation
Temporary Processing Capacity
Future-Proof
Best of Both Worlds
There are 5 premium hybrid cloud solutions providers that any businesses or enterprises should take note of when it comes to providing these advantages and features:
Sangfor Cloud Platform: A one-stop platform providing enterprise cloud/hybrid cloud solutions, including features such as SaaS and comprehensive monitoring. Sangfor emphasizes streamlining and simplifying cloud data center processes and management.
IBM: Renowned for their strategic acquisition of Red Hat, IBM emphasizes migration, integration, and comprehensive cloud management services.
Microsoft Azure Stack: A consistent industry player, Azure Stack offers a diverse range of features from VM scaling to serverless computing and emphasizes the harmonization of on-premises assets and cloud innovation.
AWS Outposts: Introduced as a fully managed service, AWS Outposts is tailored for latency-sensitive applications and prides itself on its ease of configuration and native AWS integration.
Google Cloud Anthos: Advocating for a hybrid model across diverse platforms, Google Cloud Anthos is a strong proponent of open-source solutions, particularly Kubernetes.
Sangfor's Hybrid Cloud Solution
Sangfor's hybrid cloud platform is built on Hyper-Converged Infrastructure (HCI) that combines computing, storage, virtualization, and security. This ensures simple deployment, ease of management, and cutting-edge security – which is what attracts users to the hybrid cloud. Watch this whiteboard video to learn more about Sangfor's hybrid cloud architecture and why it's the perfect solution for your company's digital transformation.
Enjoy the Benefits of Private Cloud & Public Cloud with Sangfor Hybrid Cloud Solution
It's time to step into a future with a hybrid cloud - the ultimate solution for flexibility, speed, power, and security combined. Sangfor's Hybrid Cloud is an end-to-end cloud solution powered by Next-Generation Converged Digital Infrastructure (NG-CDI) and enables flexibility in the application partition or workload placement design to optimize cloud adoption value.
Additionally, Sangfor's Disaster Recovery Management (DRM) offers a comprehensive disaster recovery solution between Sangfor HCI and MCS which includes an active-passive disaster recovery solution and an active-active stretched cluster solution to protect business continuity on demand.
Finally, the Sangfor Cloud Platform is a reliable and seamless automated cloud computing platform that reduces the complexity of cloud data center construction and management through standardized and process-oriented functioning.
For more information on what your industry peers are using for their hybrid clouds and hyper-converged vendors, check with a reputable company like Gartner. The most interesting and ground-breaking businesses are using the latest and most powerful and intelligent tools, and replacing legacy IT systems.
Frequently Asked Questions
Hybrid clouds are a great long-term solution for enterprises and organizations that aim to reduce their carbon footprint. With reduced hardware, infrastructure, and electricity usage, hybrid clouds not only provide solutions to IT challenges but also create less of a negative environmental impact than more outdated technologies with similar functions.
Some of the world's largest and fastest-growing enterprises such as Amazon, Google, IBM, and Netflix all rely heavily on hybrid cloud computing for their day-to-day operations due to the various advantages outlined above. Many smaller and lesser-known businesses are also using hybrid cloud solutions to scale their services up quickly and meet newer and larger demands with ease.
Hybrid Cloud and Multi-Cloud are both cloud deployments that use more than one cloud. Hybrid Clouds by definition always include a private cloud, and are managed as one entity. Multi Clouds always include more than one public cloud service that performs different functions.
It's easier to think of a Hybrid Cloud as a blend of different types of clouds, while a Multi-Cloud blends different clouds of the same type. Learn more about Multi-Cloud here.
Hybrid clouds can often be more complex to manage when compared to their traditional counterparts. A hybrid cloud infrastructure can also be difficult to implement due to its higher demands for network capabilities, servers, and storage. While the initial cost of migrating to an enterprise hybrid cloud solution might discourage some business owners, its various benefits and advantages will ultimately prove to be a good investment in the long run.
Most businesses and enterprises would benefit from hybrid cloud computing due to its far superior cost and efficiency when compared to most traditional on-premise solutions. Feel free to contact Sangfor's expert team to get a more detailed and personalized assessment of your business's specific needs.