The terminology associated with managed cloud services can be daunting, especially if you're navigating this space for the first time. This Sangfor Glossary is designed to guide you through the labyrinth of managed cloud service providers, highlighting the pivotal role they play in enhancing data storage and management for optimized business performance.
What is a Managed Cloud Service?
Managed Cloud Services encompass a wide array of IT functionalities provided over the internet or an intranet. These services enable access to and use of infrastructure, platforms, and applications that are controlled by cloud service providers for enterprises. The underlying tenet of these services is "outsourcing," where a third-party managed cloud service provider oversees maintaining, managing, and ensuring the proper operation of cloud resources.
Managed cloud services, from data storage to network solutions, address a variety of company demands and open the door to innovation and operational efficiency. By opting for managed cloud services, businesses can focus more on their core competencies and less on IT management chores. They can rely on the expertise of cloud managed service providers like Sangfor to handle the complexities of cloud management.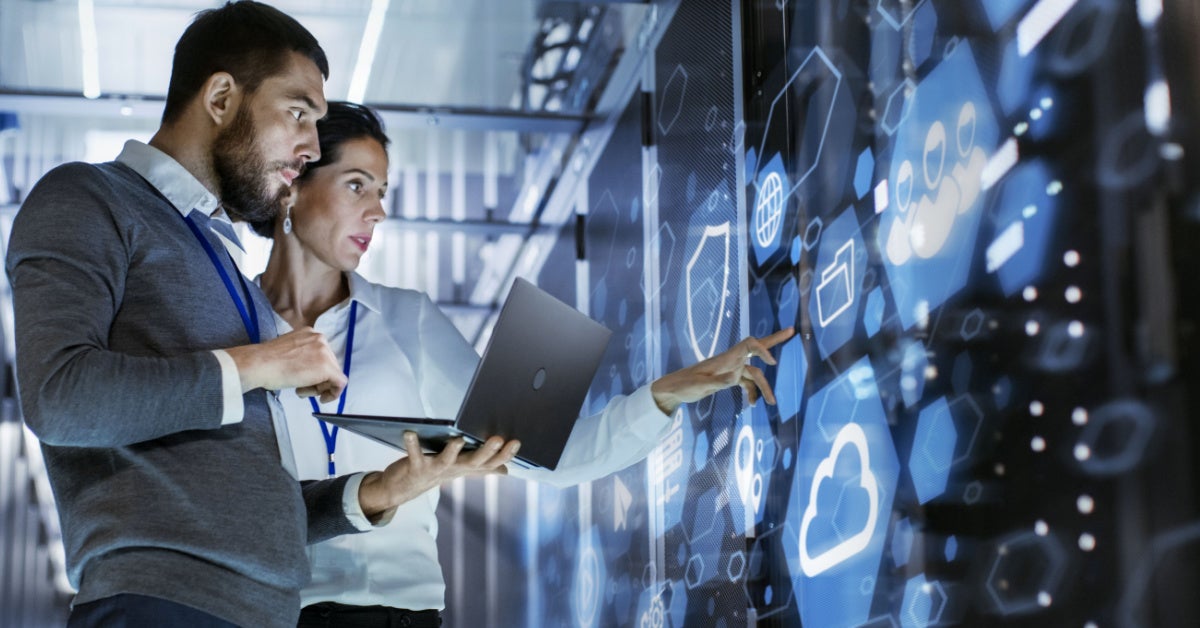 What are some key components of Managed Cloud Services?
Businesses can benefit significantly from a service provider's wide range of services, which include managed cloud storage, data backup, network upkeep, cybersecurity, disaster recovery, and more. These service providers assist companies in maximizing the flexibility, scalability, and affordability of the cloud, releasing them to concentrate on long-term goals and expansion.
Managed cloud services include a number of elements that simplify maintaining IT infrastructure and aid in streamlining business processes. Here are a few of the crucial elements:
Managed cloud storage: A critical component of managed services, it allows businesses to store vast amounts of data on the cloud. This data can be accessed and retrieved when needed, ensuring seamless business operations.
Managed network services: These services encompass the management and monitoring of a business's network infrastructure, providing reliable connectivity and optimal performance.
Managed security services: Security is paramount in the cloud environment. Managed security services help protect a business's data and applications from cyber threats.
Disaster recovery services: Managed service providers offer disaster recovery solutions to ensure business continuity in the event of data loss or a cyber-attack.
What different types of managed cloud services are there?
Cloud management services can be broken down into several different types, each with its own unique set of offerings. Here are some of the most common types:
Infrastructure-as-a-Service (IaaS): IaaS gives companies access to computing resources like servers, storage, and networking. With Iaas, businesses can keep control over their apps and data while outsourcing the management and upkeep of their infrastructure to a provider.
Platform-as-a-Service (PaaS): PaaS provides companies with a framework for creating, deploying, and maintaining their applications. Businesses can delegate to a supplier through PaaS the administration of their infrastructure, platform, and application stack.
Software-as-a-Service (SaaS): SaaS is a category of managed cloud service that gives companies online access to software applications. With SaaS, businesses contract out the management of their software applications to a supplier, who is in charge of upkeep and updates.
Database-as-a-Service (DBaaS): DBaaS provides companies with online access to a database platform. Businesses can use DBaaS to contract out the management and upkeep of their databases to a provider, who is in charge of assuring their performance, availability, and security.
Disaster Recovery-as-a-Service (DRaaS): A managed cloud service called DRaaS offers enterprises a disaster recovery solution. Businesses can use DRaaS to contract out the management and upkeep of their disaster recovery infrastructure to a provider, who is then in charge of making sure that the data is secure and retrievable in the case of a catastrophe.
By understanding the different types of services available, businesses can select the type that best meets their specific needs. In the next section, we will discuss the factors to consider when choosing a managed cloud service provider.
What benefits do Managed Cloud Services can offer?
Managed Cloud Services offer a variety of benefits, making it attractive for organisations looking to reduce costs, optimise their IT infrastructure and cyber security.
Reduced Infrastructure Costs: By outsourcing cloud management to a service provider, organizations can leverage network infrastructure without the need to purchase expensive assets. The service provider takes care of setting up and maintaining the network, including staff training, hardware assets, and cloud migration plans.
Predictable Pricing: Managed cloud services offer the advantage of choosing a pricing tier that best fits the organization's needs. This allows for leveraging a robust and reliable network infrastructure without worrying about expensive costs. The service can also be scaled based on usage, allowing for adjustments in pricing as needed.
Reduced Infrastructure Costs: When organizations outsource their cloud management to a service provider, they can leverage network infrastructure without the need to purchase expensive assets. The service provider takes care of setting up and maintaining the network, including staff training, hardware assets, and cloud migration plans.
Resource Optimization: Managed cloud services enable organizations to optimize cloud resources. With a pay-as-you-go model, businesses only pay for the cloud resources they use, avoiding unnecessary costs. This allows for better resource allocation and the ability to scale resources as needed.
Integrated and Custom Service: In terms of payment plans and service options, managed cloud service providers offer a great deal of flexibility. Organizations can choose from payment plans or pay-per-service options that align with their needs. Additionally, some providers offer converged solutions, including new service area setup, network monitoring, and security protection, resulting in cost savings.
Rapid Response Time: Managed cloud service providers offer round-the-clock support, ensuring quick response times to address any issues or concerns. Their cloud specialists and relevant personnel are available to provide timely assistance and support.
Compliance Support: For businesses subject to industry regulations, such as online retailers, healthcare providers, and financial institutions, managed cloud service providers help ensure compliance with security and privacy regulations. They assist in maintaining regulatory compliance, reducing the risk of non-compliance and associated penalties.
Cybersecurity Support: Managed cloud service providers have the skills, tools, and solutions to protect critical data from cyber threats. They ensure that the cloud environment is secure and implement measures to prevent data breaches, protecting the organization's data and business from potential harm.
What can Managed Cloud Security Services do?
Managed cloud security services specifically focus on the security aspect of cloud computing. These services involve the outsourced management and oversight of security measures and practices within a cloud environment. Before implementing managed cloud security services, consider the following benefits and challenges.
Benefits of Cloud Security Services
Automation: Cloud security services offer automated systems that provide 24/7 continuous protection without the need for human intervention. This reduces reliance on human error and increases efficiency.
Agility: Cloud security services improve data security and regulatory compliance through timely patching, updates, and decreased downtime. They enable businesses to adapt quickly to changing security needs.
Safety: Real-time alerts on threats help protect against external and internal sources. Cloud security services embed security into the system, enabling a proactive response to potential threats.
Proactive Approach: Cloud security services focus on proactive security measures, allowing businesses to identify and address potential vulnerabilities before they are exploited.
Enhanced Enterprise Infrastructure Security: Cloud security services, such as Concierto, provide robust security protocols to protect cloud assets and ensure the overall security of the enterprise infrastructure.
Challenges of Cloud Security Services
Security Compliance: Ensuring compliance with regulations such as HIPAA, GDPR, and PCI-DSS can be challenging. Cloud security services need to align with these regulations and implement the necessary security measures to meet compliance requirements.
Expertise and Skillset: Cloud security services require specialized expertise and knowledge of cloud security best practices. Some companies may lack the necessary skills and training to fully comply with security regulations or effectively manage security in the cloud.
Multi-Cloud Complexity: Managing security in multi-cloud environments, such as Azure and AWS ecosystems, can be complex. It requires significant administration and development expertise within each cloud platform.
Differences from Traditional Security Solutions: Cloud security operates differently from traditional security solutions. Automatic scan reporting and false positives can cause alarm or misinterpretation if not properly understood and managed.
Cost Considerations: Implementing cloud security services may involve costs associated with staffing, software licensing, hardware, implementation, and management. It's important to weigh these costs against the potential benefits and risks.
How do Cloud Management Services enhance data storage & management?
A new era of data administration and storage has arrived thanks to cloud management services, which provide companies with unprecedented efficiency and flexibility. Leveraging the full potential of these services requires an understanding of how to maximize data storage, retrieval, and management.
Simplified data storage: Through managed cloud services, data storage becomes a seamless process. With Sangfor's managed cloud storage services, your data is safely stored in secure data centers. This eliminates the need for maintaining physical storage systems, freeing up resources for other essential business operations.
Efficient data retrieval: Data retrieval is quick and effective using cloud management services, like those provided by Sangfor. Using cloud managed services, you can ensure that your data is always available, whether you need to access resources for big data analytics or just retrieve files for regular operations.
Data security: Security is a paramount concern when it comes to data storage and management. Managed cloud service providers ensure the safety of your data with robust security services. From encrypting your data in transit and at rest to implementing stringent access controls, Sangfor prioritizes your data's security.
Scalability of data management: Managed cloud services provide scalable data management solutions. As your business grows, so do your data management needs. As such, cloud management services are designed to scale seamlessly, catering to your expanding data storage and management requirements.
Disaster recovery: In case of data loss due to unforeseen circumstances, a reliable service provider can enable swift disaster recovery. This can be done by replicating your data across multiple data centers, safeguarding your business continuity, minimizing downtime, and ensuring a speedy recovery.
How to choose a Managed Cloud Service provider?
Choosing the right cloud management service can be difficult, especially with the multitude of options available. Here are a few key factors to consider:
Expertise: An MCSP should have experience with the exact cloud services your company needs. For instance, if you require a database platform, seek out an MCSP with DBaaS experience.
Service Level Agreements (SLAs): It is preferable that an MCSP can provide SLAs that can be customized to your company's requirements. SLAs ought to have specific, quantifiable goals for security, availability, and performance.
Security: When choosing an MCSP, security should come first. A good MCSP will have established security policies in place and a track record of providing secure cloud services.
Compliance: It is crucial to find an MCSP with experience in compliance management and who can show compliance with pertinent legislation and standards if your company operates in a regulated sector, such as healthcare or finance.
Pricing: Pricing is an important consideration when selecting an MCSP. The key here is to ensure the provider offers a pricing model that is transparent and predictable, with no hidden costs or fees.
Support: Look for an MCSP that provides thorough support, including technical support and monitoring, that is available around the clock. Remember to also verify that the service provider has a staff of knowledgeable technicians that can swiftly address any difficulties as soon as they occur.
Reputation: Work only with MCSPs that have a strong reputation in the industry. One tip here is to read online reviews and ask for case studies to get a sense of the provider's experience and track record.
Sangfor's managed cloud services offer numerous benefits to businesses, including:
Operational efficiency: Sangfor's services enable businesses to streamline their operations, improve agility, and reduce costs.
Enhanced security: Sangfor ensures robust cloud security, and leveraging the Sangfor Cyber Guardian solution can safeguard businesses against potential cyber threats.
Scalability: Sangfor's managed cloud services are scalable, allowing businesses to quickly adapt to changes in business demand.
Cost savings: By outsourcing their cloud management to Sangfor, businesses can reduce their IT overheads and focus their resources on core business activities.
Access to expertise: Sangfor's team of experts offer continuous support, ensuring optimal cloud performance and business continuity.
Final thoughts: Leverage Sangfor's expertise
Managed cloud services offer enterprises a flexible, affordable option for managing their cloud-based IT infrastructure. Businesses that outsource cloud administration to a reputable managed cloud service provider can concentrate on their core business while utilizing the skills of a team of cloud specialists.
Sangfor Technologies is a trusted MCSP that provides a wide range of cloud management services to businesses of all sizes. Our team of experts has the experience and knowledge required to help businesses achieve their cloud goals while providing the highest levels of security, compliance, and support.
Sangfor Managed Cloud Services

If you are interested in leveraging the benefits of managed cloud services, we encourage you to consider SANGFOR as your MCSP of choice. Contact us today to learn more about how we can help your business succeed in the cloud.