Malaysia, 31st March 2022 - Sangfor Technologies today launched its Managed Cloud Services (MCS) which allows companies to access IT services on demand without the need to invest in costly hardware and manpower. MCS offers the convenience and flexibility of a public cloud, with the security, control and professional service of a private cloud, making it the best cloud service approach for large companies as well as small and medium enterprises (SMEs).
The launch was in partnership with OGX Networks Sdn Bhd ("OGX"), a leading Malaysian network distributor specialising in IT Enterprise Distribution and Services. Together, Sangfor and OGX will provide a globally distributed data centre powered by MCS, offering Infrastructure-as-a-Service and Platform-as-a-Service which enables customers to embark on their digital transformation while focusing on running the day-to-day business.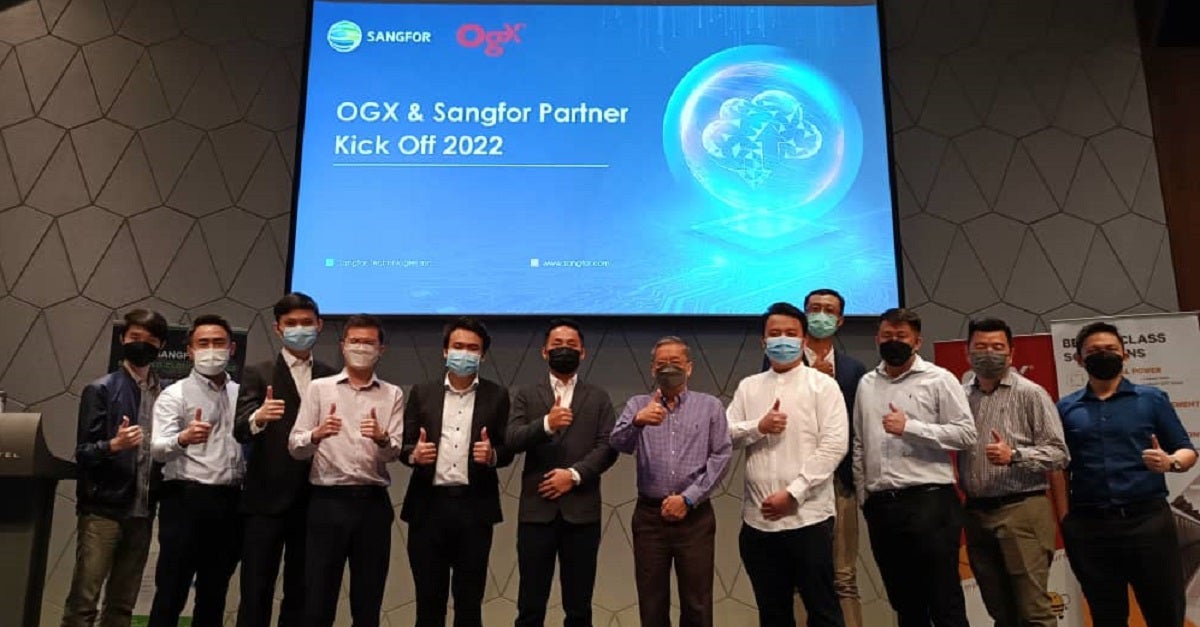 "The biggest benefit of a managed cloud service is that it frees you from the responsibility of running your IT systems and places it on the service provider. We developed MCS to empower our local partners, making it easier for them to manage their organisations' data and information, which are crucial for any organisation's competitiveness and growth. As we move into the endemic phase in Malaysia, we are committed to providing accessible cloud services to local customers, so they can thrive in today's changing economic landscape," says Jeffrey Zhang, Country Manager of Sangfor Malaysia.
Enterprises worldwide are leveraging MCS to suit many different applications such as managing private data centres, critical applications, back-up & disaster recovery, online & onsite professional services, and much more. An enterprise can choose which IT functions it prefers managing in-house and outsource the rest to MCS. MCS offers end-to-end service support by working together with local certified local service partners such as ICO Certified Datacentre Hosting companies. MCS features expert butler-level service which allows customers to get a 1-on-1 personalised response within 5 minutes, for services including application migration, business recovery and trouble shooting.
"Whether you're a small, medium, or large enterprise, MCS enables you to adopt cloud technology by outsourcing to a trusted and experienced partner. This is especially important for organisations with limited resources. Enterprises are looking for customisable, reliable, scalable and secure solutions that allows them to make changes to their existing offerings on an as-you-need basis, without disrupting their current business processes. We seek to encourage and educate many of our local customers about embracing cloud services, and how it can have a positive impact on their bottom line and future growth", Tan Suan Loong, Managing Director, OGX Networks Sdn Bhd elaborates.
Sangfor MCS enables a hybrid cloud strategy, which combines a public cloud and a private cloud, by allowing data and applications to be shared between them with increased security and flexibility. The company also strives to build an ecosystem with Amazon Web Services (AWS) and Microsoft Azure to offer multiple cloud services to top-level enterprises.
For more information on Sangfor's Managed Cloud Services, and other cloud and security solutions, visit Sangfor's website at https://www.sangfor.com.
About Sangfor Technologies Malaysia
Make Your Digital Transformation Simpler and Secure. This is Sangfor Technologies' commitment to our customers. Since forming in 2000, Sangfor has been a global leader of IT infrastructure, security solutions and cloud computing, delivering industry-leading products for Hyper-Converged Infrastructure, Virtual Desktop Infrastructure, Next-Generation Firewall, Secure Web Gateway, Network Detection & Response, Endpoint Protection, Ransomware Protection, Incident Response, SD-WAN and SASE.
Sangfor Technologies (Malaysia) Sdn Bhd was established in Kuala Lumpur in 2010, with sales & support service centres located in Mid Valley City. Sangfor Malaysia has 50+ staff dedicated to the Malaysian market with more than 500 local partners to ensure that its customers can benefit from the support and service they need and deserve. Sangfor Technologies has faithfully served more than 2000 Malaysian customers in the past 12 years and is a trusted name in the Malaysian IT industry.
About OGX Networks Sdn Bhd
OGX Networks Sdn Bhd was incorporated in 2007 as an extension to the Originex Group that was founded in 1996, specializing in IT Enterprise Distribution and Services and mainly focusing on IT Networking, Wireless Networking, Networking Security, and Data Centre Implementation.
OGX creates value by connecting its partners in this high-tech and exciting business sector. They are also looking forward to expanding their professional services unit by providing certified engineers to assist in the implementation and maintenance of new and existing IT Infrastructure.
Sangfor Media Contact
Wilson Yek
+60 163398935
Email: marketing@sangfor.com
Website: www.sangfor.com