Sangfor Technologies is proud to announce their next-level strategic partnership with Tech Data Distribution (Hong Kong) ("Tech Data HK"), the leading end-to-end distributor of technology products, services, and solutions around the world. In addition to providing customers with enhanced sales & after-sales support, this partnership agreement empowers extended capabilities to provide clients with customized services and total solutions to meet various sophisticated requirements.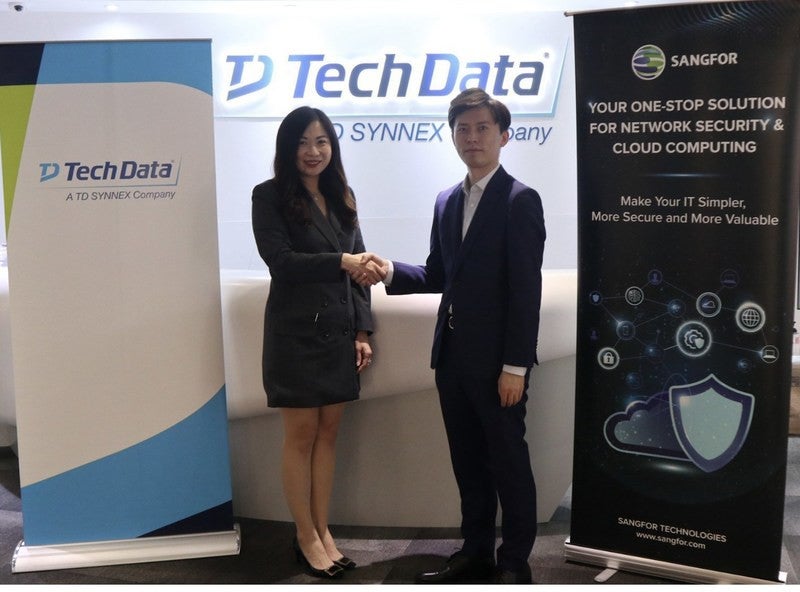 Karly Li, Vice President and Country General Manager, Tech Data HK (left) and Ringo Yiu, Regional General Manager, Sangfor Technologies (right)
"Through constant innovation, Sangfor Technologies always strives to create value for customers by helping them to achieve sustainable growth. This has also well-matched what Tech Data HK has been delivering to our partners, shareholders and each other with excellence and success every day. As the renowned security solutions provider in the China market, it is our great pleasure to partner with Sangfor to extend its distribution network in Hong Kong and Macau," said Karly Li, Vice President and Country General Manager, Tech Data HK. "With its robust background and its first-class network security and cloud computing solutions, the addition of Sangfor to Tech Data HK can further leverage its impact in the market, especially a shot in the arm of the networking, security and cloud sectors."
Commenting on the strategic alliance, Ringo Yiu, Regional General Manager, Sangfor Technologies says that "we are excited to be aligned with Tech Data HK to expand our expertise to the Hong Kong and Macau market. With our comprehensive innovative range of security and cloud products, we aim at providing a truly total solution to our customers."
"As the top security solutions vendor in China, our dedication to innovate and provide value-added service to our clients is reflected in allocating more than 20% of our total revenues into R&D each year. Together with TD SYNNEX's global resources and support, Tech Data HK's rich experiences and its established network in the market will benefit us to outreach our exposures in the South China regions. With the joined forces of Tech Data, which shares the same customer-oriented business philosophy, we are expecting to have 100% growth in revenues this year."
Sangfor works closely with Partners to build integrated solutions based on market insights and partner and customer need and goes even further to help develop demand and business growth. With this partnership, Sangfor and Tech Data HK further differentiate their solutions and services from the rest of the market, helping customers effectively optimize their IT operations and accelerate their digital transformation journeys.
About Sangfor Technologies Inc.
Sangfor Technologies is a leading global vendor of IT infrastructure and security solutions, specializing in Cloud Computing and Network Security, with a wide range of products & services including Hyper-Converged Infrastructure, Virtual Desktop Infrastructure, Managed Cloud Services, Next-Generation Firewall, Internet Access Management, Endpoint Protection, Ransomware Protection, Managed Detection and Response, WAN Optimization, SD-WAN, along with many others.
About Tech Data HK (A TD SYNNEX COMPANY)
As the world's leading IT distributor and solutions aggregator, TD SYNNEX (NYSE: SNX) is 22,000 of the IT industry's best and brightest co-workers dedicated to uniting compelling technology products, services, and solutions from 1,500+ best-in-class technology vendors for more than 150,000 customers in 100+ countries. To be one of the indispensable arms of TD SYNNEX in Asia, Tech Data HK connects the world with the power of technology.