Customer Background
Sangfor was contacted by one of Jakarta and West Java, Indonesia's most respected motor vehicle dealers, established in 2001, and employing over 500 people.
Incident Overview
On July 30th, 2020, company administrators discovered that 6 application servers were encrypted. The attack was confirmed to be a version of Crysis ransomware, using ransomware information and encryption suffix.
Experts searched for the encrypted suffix using an "everything tool," and sorted by time to confirm that the earliest encryption started at 5:53 pm on July 23rd, 2020.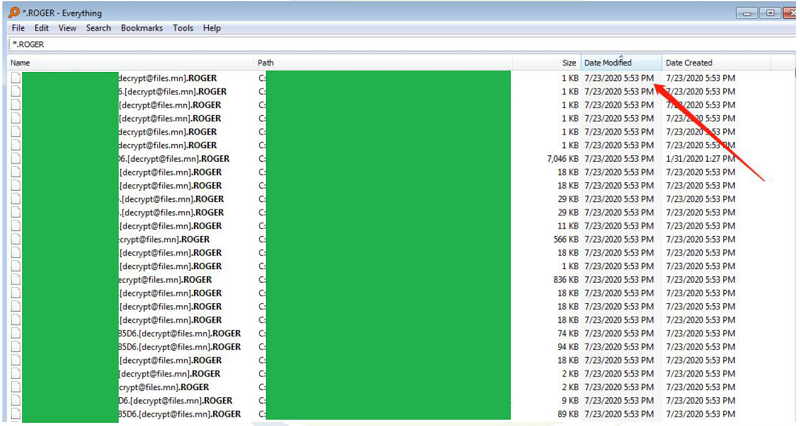 The investigation log showed a Remote Desktop Protocol(RDP) login at 5:41:43 pm on July 23, 2020, using an administrator account and an RDP logout record at 5:31:24 pm on July 23, 2020. Looking at the security log, you can see a large number of login failure records. It can be inferred that the hacker invaded using IP 10.100.X.XXX using an external network and a brute force attack.
Investigation Conclusions
The ransomware family is Crysis, and There is no public decryption tool available during that time

Hackers first logged into 10.100.x.xxx using brute force cracking from an external network, then used it as a jumping-off point to log into other hosts on the internal network, and manually run the ransomware.
Customer Requirements
The customer began a search for a vendor who could provide forensically the investigation, ransomware removal, and enhanced protection.
Sangfor Solution
Sangfor suggested a combination of Sangfor NGAF, HCI, and Endpoint Secure to harden network security and correlate their incident response capabilities.
Ensure those network security devices are properly deployed and installed to protect against both internal and external threats.
NGAF protects the network perimeter from external threats and attacks

NGAF and SSL-VPN restrict unauthorized users from accessing the internal network

Endpoint Secure protects endpoints from both known and unknown malware and viruses

NGAF URL and application filtering ensures that only authorized URL and applications can be assessed by authorized employees
Ensure continuous monitoring of any possible attacks and threats, early detection and proactive response.
Platform X and Cyber Command provide real-time monitoring for attack attempts, security incidents, and events.

Cyber Command vulnerability and security assessments allow managed security service providers (MSSP) to assess organizational assets for vulnerabilities, threats, and risks.

NGAF, Endpoint Secure, and Cyber Command product integration provide an active and automatic response when an attack attempt is discovered.

Sangfor's incident management prepares standard operation procedures and incident management plans according to different breach scenarios.




Ensure quick business recovery by using a private cloud platform, Hyper Converged Infrastructure (HCI).
Sangfor General Improvement Recommendations
Use VLAN segregation to ensure that all servers are separated based on the role and functionality of the servers

Perform server hardening before migrating to the production environment

Perform vulnerability assessments and penetration tests to identify possible threats and hidden risks on a regular basis

Perform server and network security product configuration reviews to ensure that all settings and configurations are secure

Ensure that the server, firmware, and software are updated to the latest version on a regular basis

Ensure high availability and redundancy on servers that support critical business operation

Make sure business data is backed-up on a regular basis

Ensure no unnecessary ports are listening externally and exposed to Internet
---