Customer Overview
The Community Development Department, often known to the public as
KEMAS
, was established in 1961 as an extension of the Adult Education Division.
Following the launch of the "New Economic Policy" in 1970, KEMAS shifted its a focus toward community development, and in an effort to combat illiteracy and poverty in the rural communities of Malaysia, KEMAS adopted the
"Functional Literacy"
concept, introduced by UNESCO in 1977.
Challenges
3 Tier Structure
Traditional structure (server, storage, and network)
·A majority of the servers were aging with only 2 engineers responsible for managing all the conventional servers.
·Management of the 8 physical servers and 4 ESXI VMware hosts was a primary challenge in terms of management efficiency.
·Because the network was separated into 2 zones (server and DMZ), an excessive number of ports were being utilized and the complexity of the network was greatly increased.
·Management of both VMware and physical servers, all with different access methods, was complex and inefficient.
High Availability
·Traditional servers weren't necessarily highly available, causing management to worry about reliability.
·With no restoration method in place, in the event of a failure, all data would be lost. After experiencing a catastrophic data failure, management was convinced they needed a virtualization solution to prevent this loss in the future.
Expansion Bottleneck
·When new applications were added, the VMware host became fully occupied and KEMAS was required to purchase additional physical servers to support their network.
·Their existing system required an increased cost when expanding with new applications.
Sangfor Solution
Sangfor consolidated both the traditional & VMware platforms into Sangfor HCI, with high availability features and automatic VM failover when node failure occurs. HCI enhanced the CPU expansion efficiency, meaning easy future expansion of memory and disks without requiring additional nodes.
Solution Values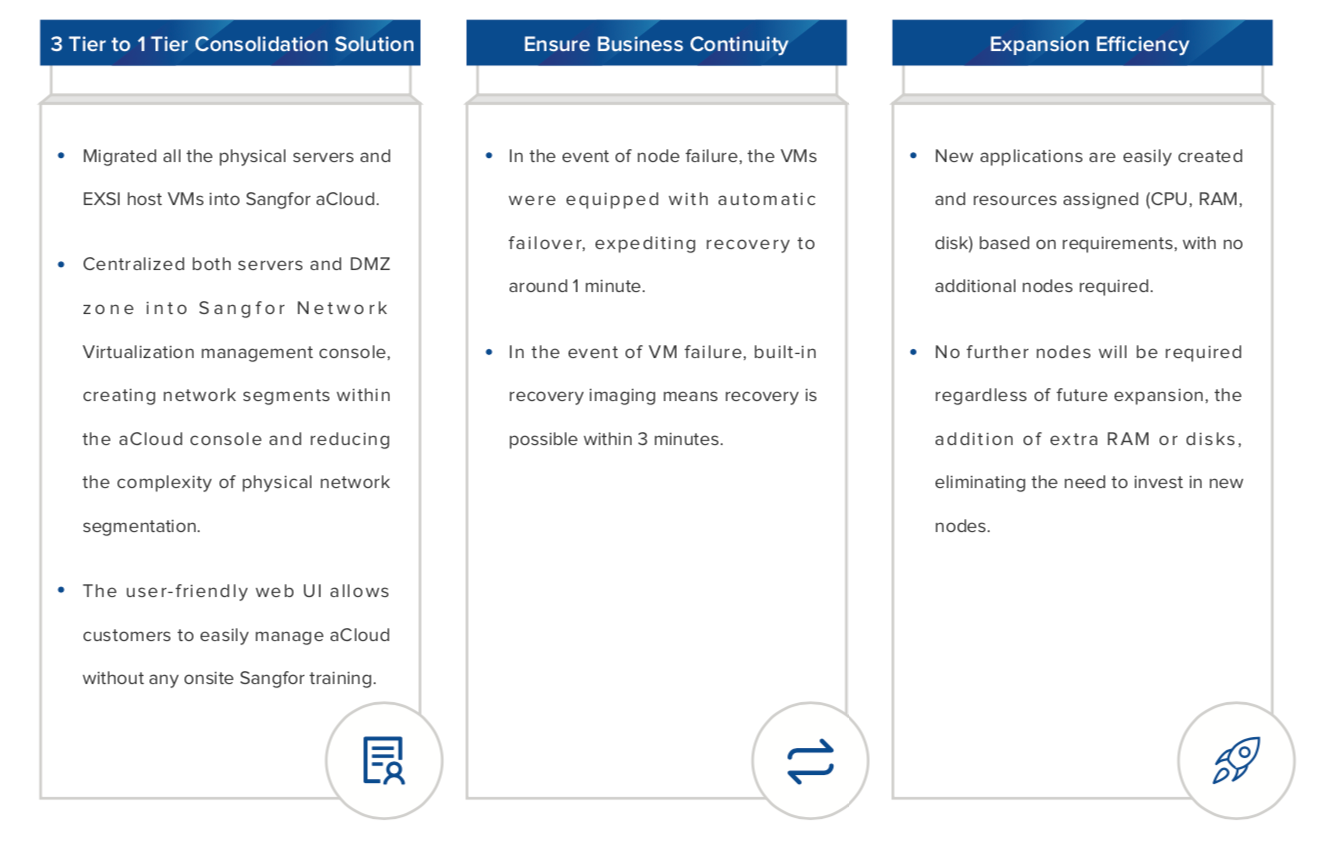 ---