About M Concrete Company Limited
M Concrete Company Limited was founded in 2016 in Thailand. The company specializes in the production of ready-mixed concrete, with a primary mission to cater to the ever-evolving demands of the domestic construction sector.
The company's journey in the ready-mixed concrete industry began with the inception of five cement plants. Today, it boasts a network of 30 plants strategically positioned across the country. This expansion has been driven by a commitment to meeting the diverse requirements of customers throughout the nation.

Image source: M Concrete Facebook Page
M Concrete's Challenges
Previously, M Concrete Company's IT infrastructure comprised four physical servers. The infrastructure limited the capacity of its work systems to support only five plants. This presented several challenges, including:
System downtime during equipment maintenance,
Prolonged system recovery times,
Complications in scaling up the infrastructure to accommodate the rapidly growing number of plants.
To address this, the company explored infrastructure and applications that can adapt to the rising plant count. Moreover, it's crucial that the system remains highly available with minimal downtime, ensuring seamless operations.
Sangfor Solution for M Concrete
To address these challenges, M Concrete Company adopted the Sangfor HCI solution.
Sangfor HCI is a hyperconverged infrastructure solution that seamlessly integrates compute, storage, networking, security, and management into a unified software stack. Whether running on Sangfor's aServer appliance or commercially available x86 servers, Sangfor HCI offers an agile, simple, resilient, and scalable software-defined data center. It optimizes performance and reliability, streamlines operations and maintenance, and significantly reduces data center footprint.
Initially, M Concrete Company deployed 2 Sangfor HCI nodes to replace its original physical server system, effectively supporting work systems for 5 plants. Subsequently, M Concrete Company acquired an additional Sangfor HCI node, expanding the system's capacity to accommodate 30 plants. This expansion not only increased the company's system capacity but also brought about significant cost savings in terms of backup solutions.
Previously, the company had to rely on external third-party software for data backup; however, with Sangfor HCI, a bundled backup software solution was included, reducing the need for additional expenditures.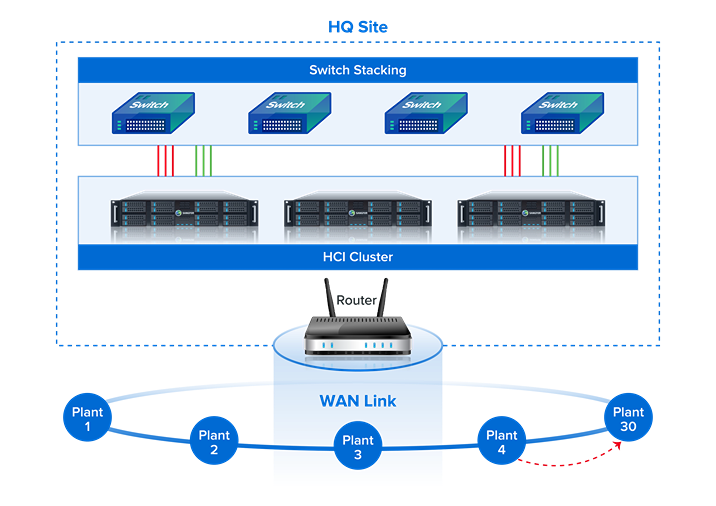 Customer Feedback
Reduced Downtime: Previously, when the system encountered issues, it resulted in prolonged periods of downtime, causing disruptions in cement deliveries to customers. However, after implementing Sangfor HCI, the company experienced zero downtime, ensuring uninterrupted service to customers.
Improved Stability: Sangfor HCI's High Availability (HA) capabilities have enabled the company to operate its work systems continuously, enhancing overall system stability.
Centralized Management: With Sangfor HCI, administrators can centrally manage all the company's servers, including resource utilization and backup, through a user-friendly management interface.
Time Savings: Reduced maintenance and repair times have allowed the company's IT team to allocate more time to address other critical areas, improving overall operational efficiency.
M Concrete Company has benefited significantly from Sangfor HCI, experiencing improved reliability, streamlined management, and enhanced productivity.