ABSTRACT > Healthcare is one of the biggest beneficiaries of cloud adoption as it relies on technical innovation by design, and cloud computing has made each aspect of innovation in healthcare bigger, better, and much more efficient in terms of performance and reliability. The industry's adoption of Hybrid Cloud computing, in particular, has accelerated a variety of new possibilities through Digitalization, thus allowing the transformation of critical operational workflows to boost efficiencies and lower operating costs, which are both crucial to growth and sustainability.
Challenges of Legacy Infrastructures in the Healthcare Industry
The healthcare industry is known for its complex workflows, which involve numerous elements tied together in a myriad of complex systems. For a long time, the industry has relied on costly legacy infrastructures comprising disparate elements to manage these complex systems - mainly due to a lack of better options. The biggest issue with legacy infrastructures is their inability to handle an exponentially growing volume of medical data - and healthcare operations produce vast amounts of data - patient admissions, diagnosis information, online interactions, discharges. The list goes on.
How Healthcare Cloud Drives Digital Transformation
However, rapid advancements in technology such as cloud computing are driving the shift into a new digital era for the healthcare industry, requiring a significant departure from outdated infrastructure. Consequently, there is a constant push to move away from legacy infrastructure as the healthcare industry embraces all sorts of new innovations to refine their operations and continuously increase reliability and effectiveness.
In addition to the technological advancements, the pandemic has sparked a substantial period of digital transformation in the healthcare industry in recent years. The pandemic has disrupted the delivery of healthcare across the globe and incited changes in patient expectations. This sudden disruption has highlighted the unpreparedness of many healthcare cloud platforms when it comes to supporting exponential growth and scaling. In response to these challenges, many healthcare IT projects have been expedited, including the acceleration of healthcare cloud adoption to support remote working and digital patient record systems.
Hybrid cloud, which integrates on-premises, private, or public cloud, is well-placed to increase efficiency and manage fluctuating demands in healthcare. It offers the security and control of a private cloud, working together in tandem with the flexibility and cost savings of the public cloud. With hybrid cloud configurations, data is spread across various platforms, allowing applications and workloads to shift seamlessly between them. It also allows legacy applications to work on local on-premises servers, but still have them as part of the organization's overall hosted platform.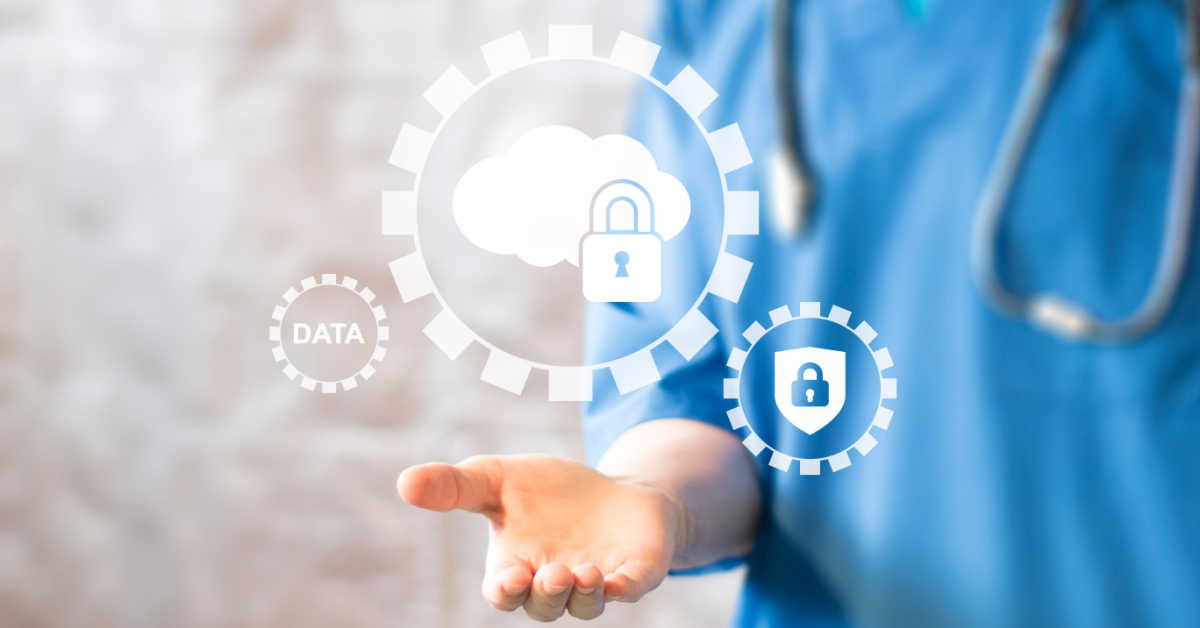 The Advantages of Hybrid Cloud to the Healthcare Industry
1. Scalable and Versatile Healthcare Cloud Infrastructure to Accommodate Complex Healthcare Workflows
The healthcare industry has highly complex workflows, and each medical workflow has unique requirements in terms of performance and goals. Therefore, the cloud solution needs to be both diverse in its application and efficient in providing scalable infrastructure for it. Hybrid cloud offers a solution that integrates on-premises infrastructure with public and private cloud services, enabling healthcare organizations to move workloads quickly and securely between cloud platforms to accommodate changes in IT resource requirements. This ensures that medical cloud computing can handle lots of these complex flows at the same time.
2. Improved Collaboration and Patient Outcomes through Efficient Data Transfer
Healthcare systems need to be highly connected for efficient communication and data transfer. Hybrid cloud infrastructures enable different teams, departments, and even medical establishments to transfer data between each other via different cloud platforms, boosting cooperation and ultimately resulting in better treatment.
3. Improved Workflow Manageability and System Stability
Another crucial benefit of using hybrid cloud infrastructure is the better manageability of the workflow and infrastructure. Because the workflow elements are intertwined and co-dependent on each other, it is important to keep the consequences of one element failing from spreading to the entire system. In a hybrid cloud architecture, each element is presented as a self-contained application that interacts with the rest of the system via API. As a result, if one element fails, the impact will be contained and limited to that specific element, without affecting the other elements in the workflow or the entire system. This ensures better system stability, reliability, and availability. With hybrid cloud, healthcare operations can handle immense workloads without compromising the integrity and safety of data. Furthermore, hybrid cloud infrastructure makes the workflow of each component more balanced and transparent, making it easier to manage and refine.
4. Cost-Effective Infrastructure with Greater Flexibility and Control
Cost-effectiveness is also a key benefit of adopting healthcare cloud computing in the healthcare industry. Using cloud infrastructure is much less taxing on the budget than maintaining your own hardware infrastructure due to the intricacy of the workflow. The reason why a hybrid cloud is the preferable type of cloud infrastructure for healthcare is simple - it provides more flexibility in terms of arranging and managing operations with manageable control over patient medical record (PMR) data.
In essence, a hybrid cloud infrastructure is a natural solution for the healthcare industry. It can bring the efficiency of the healthcare workflow pipeline to a new level - faster, more scalable, and more productive. The higher level of flexibility allows much better use of resources and, as a result, much more efficient budget spending.
Sangfor Hybrid Cloud solution effectively supports cloud transformation in healthcare with our Award Winning HCI & MCS Cloud offerings. For more information, read more about Sangfor's Healthcare Cloud Solution here.
Useful Resources on Healthcare Cloud