The last few decades have led us to a world reliant on advancing technology for seamless operation – in businesses, in governments, in healthcare, and almost every sector. We can all understand that the most efficient way for any organization to stay connected is through utilizing the most innovative IT solutions.
Cloud computing is just one example of the pioneering technology that will define tomorrow. Simply put, cloud computing involves utilizing the IT infrastructure of an outside server for your organization's computing needs.
This allows businesses to choose cloud platform services instead of investing heavily in databases, software, and hardware themselves. The multiple services offered through the cloud include servers, software, analytics, storage, databases, and networking – to name only a few.
The cloud computing industry has grown exponentially and is expected to continue this drastic trajectory as more companies switch to more remote and accessible computing solutions that can provide speed, scalability, and flexibility.
According to a report, the global cloud computing market size is expected to grow from $445.3 billion in 2021 to $947.3 billion by 2026 and it's not difficult to see why - cloud computing offers organizations innovative, scalable, and flexible options that don't weigh too heavy on the wallet.
Deloitte surveyed 400 commercial real estate executives and asked which technologies they planned on investing in and 36% of commercial real estate executives assured that they plan on investing in cloud computing.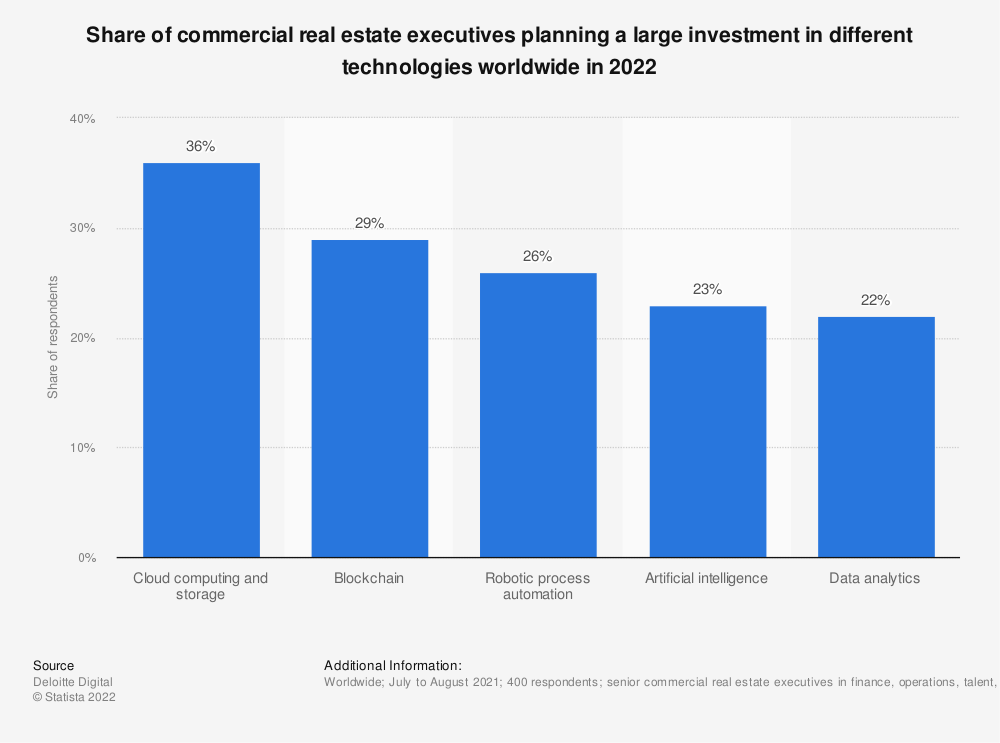 Source: https://www.statista.com/statistics/1291081/most-popular-technologies-for-investment-cre-globally/
The global market for cloud computing is being propelled forward by newly emerging technologies such as big data, artificial intelligence, and machine learning technology, while the expansion of cloud computing services is being propelled upwards by the need for data protection, effective disaster recovery options to ensure operational capacity and the fulfillment of regulatory mandates, says GlobeNewswire.
More businesses are choosing to move to the cloud and avoid the expenses and complications involved in owning and maintaining their own IT infrastructure. Moreover, the enterprise cloud platform still stands as the best-suited computing model for most businesses.
What is an Enterprise Cloud? Definition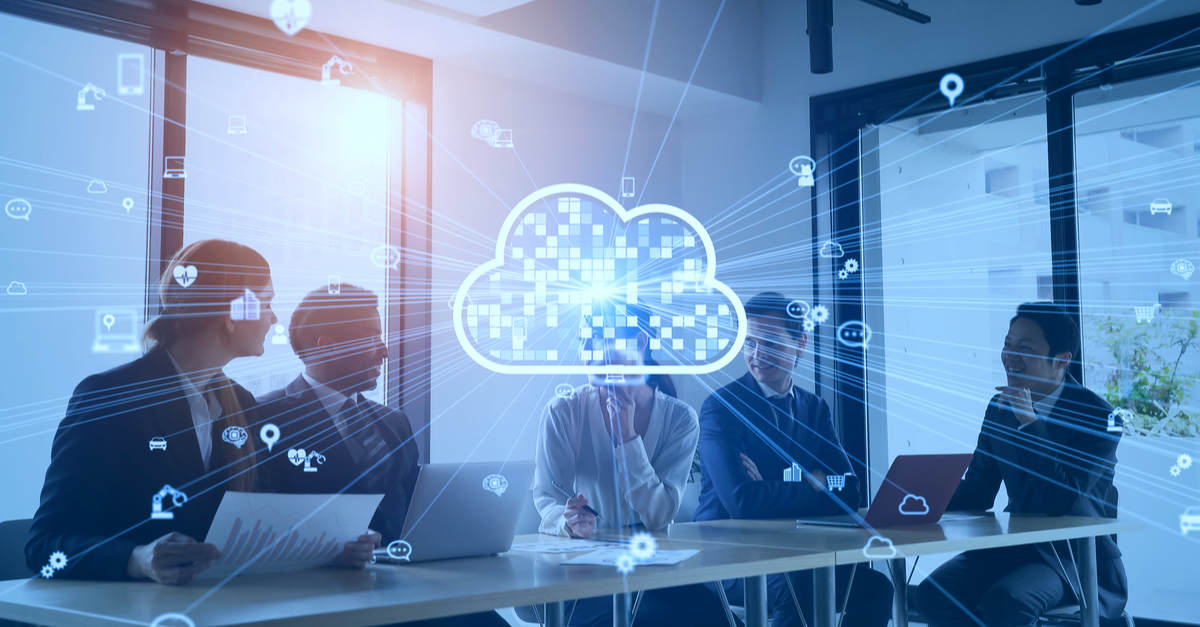 An enterprise cloud is an IT architecture model that combines the flexibility of a public cloud platform with the security and protection of a private cloud platform. It provides a high-performance and seamless experience for both management and consumers.
The enterprise cloud platform allows you to scale resources according to your businesses' needs and invest in only what you'll need – giving your company added agility and the freedom to choose where to run which workloads.
It's easy to think of the enterprise cloud platform as the best of both worlds.
What Are the Business Benefits for Enterprises Moving to the Cloud?
Cloud computing presents a host of advantages for businesses and as the digital age advances in leaps, organizations need elastic access to the top 3 main computing resources - processing power, computer memory, and data storage. Cloud platforms offer these enhanced computing applications with several advantages tagged along:
Cost Effectiveness: On-site servers can put a dent in your company's expenditure - from maintenance of machinery and operational costs to the huge amount of power needed to keep the structure running. System upgrades and hardware repairs can also be awfully expensive, along with wages needed for the expert staff employed. The resources provided by cloud computing on the other hand offer a much more cost-effective alternative.
Security: Outsourcing an external vendor for your IT needs provides a higher level of security for your data and your business. On-site data servers pose liability and put your data in a compromising position in terms of any physical threat or data breach. Cloud computing ensures a safe backup of all your files, sensitive data, and storage capabilities.
Automated Updates: Cloud platforms will ensure that your IT infrastructure is automatically upgraded to the latest technology and is provided with the most advanced computing, storage, and networking features.
Scalability: Your business can scale resources according to its needs at the time and choose to increase or decrease those investments at any point. This provides complete flexibility, cost efficiency, and immediate results.
Increased Accessibility: A cloud environment provides the ability to share data and communicate more efficiently with co-workers, employers, and clients across the globe in real time. The cloud focuses heavily on security which helps to protect this remote network access from any potential threats or malware.
Flexible Work Environment: The pandemic made us all too familiar with the concept of working from home, and in some ways, it became a more efficient work model for some companies. Hybrid work environments are now catching on – allowing employees to work from both home and on-site. Cloud computing helps greatly in this aspect to allow workers to access relevant data wherever they might be located and carry out their duties remotely.
Disaster Recovery: Through natural disasters, cyber-attacks, or power failures – things don't always go according to plan. Every business needs to have a backup plan to ensure that downtime does not affect business operations and that data is consistently protected – a feat that is easily accomplished by introducing a cloud computing platform. Active disaster recovery options ensure that your sensitive data always has a redundancy plan in place.
User Satisfaction: Cloud-based applications ensure that your clients will enjoy a seamless and advanced user experience. It also stands to show potential customers that your company invests in the latest technology - which will build up the brand image of your business.
The advantages of cloud computing can span across a lot more pages but let's focus on the actual cloud platforms available.
What Are the Different Types of Enterprise Cloud Architecture?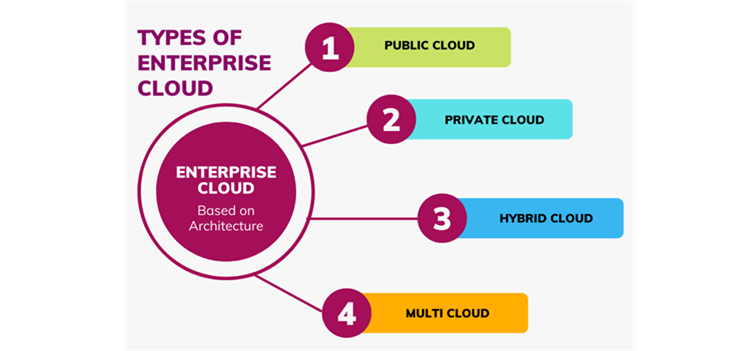 As more businesses choose to move towards cloud computing, they need to choose an enterprise cloud model that meets their needs. The cloud model chosen dictates the implementation of the platform and accessibility to the system. There are four main types of enterprise cloud computing platforms, let's take a look at them:
Public Cloud
A public cloud is a cloud framework in which computing services and IT infrastructure are managed by an external third party. This makes cloud computing accessible to anyone and offers the use of a cloud infrastructure that can be shared with other companies, or tenants, through the internet.
Public cloud platform providers may offer Infrastructure-as-a-Service (IaaS), Platform-as-a-Service (PaaS), or Software-as-a-Service (SaaS) – giving companies improved flexibility and mitigating the need to host data servers and IT services on premises. Public cloud users can simply rent out data centers or make use of software applications, application development tools, or storage capabilities.
Businesses usually capitalize on public cloud services for storing data that does not need frequent access or for less-sensitive applications that have erratic spikes in usage.
Alternatively, a private cloud platform offers cloud services that are hosted within a company's private servers.
Private Cloud
A private cloud is an architecture type where the IT infrastructure is hosted privately - either at their own data center, a third-party facility, or through a private cloud vendor. All the resources provided by a private cloud have isolated access, which means they're accessible to only one customer.
Private cloud platforms offer more control and improved security but require a higher level of IT expertise than a public cloud.
With both models offering efficient solutions, a middle-ground cloud model might seem more appropriate for your organization.
Hybrid Cloud
The hybrid cloud is by definition a blend of both the public and private cloud platforms – providing a unified and flexible computing model. The combination of cloud computing designs allows companies to choose the optimal cloud computing environment for each workload and navigate between services as required.
The platform provides a seamless and controlled solution with increased scalability as needed, heightened security, and streamlined migration between systems.
Hybrid cloud is quickly becoming the solution of choice for most enterprises interested in ease of management, longevity, and efficiency. However, some organizations may want a more distinct difference in cloud platform services.
Multi-Cloud
A multi-cloud framework involves the deployment of multiple cloud computing systems for one enterprise. This model is different from a hybrid cloud platform in that multi-cloud configuration does not make use of only one cloud computing vendor for cloud hosting - rather making use of several providers.
The model can be chosen for the sake of increased backup and assurance that your data is safer spread across different cloud vendors, instead of relying on a single cloud provider for your entire business.
While these cloud computing solutions pose great benefits in their ways, most enterprises will still show hesitancy to make the jump to the cloud.
Jump from Cloud First to Cloud Smart – Gartner Whitepaper
The advancement of cloud computing and the way most industries rushed to stay ahead has pushed most companies to adopt a "cloud first" understanding of the platform – where organizations were mandated or chose to push towards cloud computing without considering private or on-premises cloud benefits for their company.
This move only added to the hesitancy instilled in most people for cloud platform services, but this is also where "cloud smart" strategies come into play. A cloud smart strategy involves finding a tailored set of cloud computing services that serves your business goals before committing to one. Gartner's 2021 "The Cloud Strategy Cookbook" outlines how to create a cloud strategy that connects business strategy to cloud implementation and migration.
A 2020 Gartner paper by Henrique Cecci states that the main objective of a Cloud Smart Journey is to ensure that the adoption of cloud initiatives aligns with each organization's priorities and delivers value.
This journey is charted as:
Close the Gap Between Cloud Expectations and Reality. Companies need to identify gaps and obstacles that could prevent a successful cloud journey – including lack of resources, technical limitations, and lack of skills. This helps to set a realistic precedent for your business before committing to a cloud platform.
Create an Automated Governance Strategy. An automated governance strategy needs to be implemented in the business to adjust to the dynamic nature of cloud computing and to prevent the risk of security breaches and data loss.
Get Cloud-Smart "FEVER": Faster, Easier, Valuable, Efficient, and Repeat. Prioritize which workloads to move to the cloud by using a "full circle" continuous loop selection process which helps to deliver results in waves of migrations suited to the organization's delivery capacity.
Focus on Simplicity with KISS (Keep It Simple and Safe). Reduce the complexity of your cloud journey to improve focus, speed, cost efficiency, and security.
Reflect Your Organization's Unique Context and Cloud Realities. Choose a cloud infrastructure that aligns with your organization as well as proximity and regulatory factors to ensure a successful journey to the cloud.
With so many options available for cloud computing infrastructure, it's important to rely on a vendor that understands the industry and actively seeks innovation that suits their clients' needs - Sangfor Technologies prides itself in this respect.
Sangfor's Enterprise Cloud Solutions
Sangfor offers a cloud adoption framework focused on practical preparations, such as strategic alignment, avoiding common mistakes, minimizing vendor lock-in, and identifying cost issues.
Sangfor's Enterprise Cloud Success Stories
Multiple organizations have seen proven business benefits using Sangfor's Cloud and Security solutions. To be successful with the enterprise cloud, you need the right tools and support. That's why Sangfor provides the best cloud computing solutions – but don't take it from us, let the success stories of our clients speak for our product and service integrity:
Frequently Asked Questions
An enterprise cloud is an IT architecture model that combines the flexibility of a public cloud platform with the security and protection of a private cloud platform. It provides a high-performance and seamless experience for both management and consumers.
Cloud computing is the use of third-party servers for IT operations within an organization.
There are 4 cloud platform models available: Private cloud, public cloud, hybrid cloud, and multi-cloud.

With the advances made in the industry, cloud computing has become an essential aspect for most businesses to stay ahead and prioritize their clients – providing multiple advantages for the modern-day business model.
It's important to employ smart cloud strategies when choosing a cloud computing platform to suit your organization and to consider the needs of your business. Sangfor provides a range of cloud computing options that put your company first.