Cybersecurity is a growing industry in the modern age. As technology evolves, so do the threats against it. To emphasize the importance of cybersecurity to the public and business sectors, October was deemed the National Cyber Security Awareness Month (CSAM) by the US and is an internationally recognized awareness campaign.
Cybersecurity solutions protect businesses and individuals from damage to networks, systems, and data. Businesses are quickly undergoing a digital transformation to keep up with the times. This creates a gaping vulnerability for enterprises only looking to advance their technology. National University has described the top reasons why cyber security is now crucial for businesses:
The Protection of Data – Companies need to keep their data secure from breaches or ransomware. This includes personal information, financial records, and propriety intellectual property. A data breach can financially cripple a business and ruin its reputation.
Regulatory Compliance – Most businesses are subject to regulations dictating the standard cybersecurity standards to be met for a business to operate lawfully. Cybersecurity solutions ensure that you stay compliant at all times to avoid hefty penalties.
Maintaining Business Operations – Preventing downtime is one of the main purposes of good cyber security. A cyber-attack can disrupt operations for long periods – affecting profits, livelihoods, and supply chains.
Building Trust – Customers are the cornerstone of a good business. Cyber security measures show that a business cares about data safety and fosters loyal and long-term clients.
Staying Ahead – Investing in cybersecurity solutions also demonstrates to the market how seriously you take your business. This gives you a competitive edge and gives you a better – more secure – position in the industry.
CISA Cybersecurity Awareness Month 2023
This year, the Cybersecurity and Infrastructure Security Agency (CISA) is marking the 20th annual Cybersecurity Awareness Month. The agency has launched a new awareness program that encourages 4 simple steps to stay safe online. These steps are described as "simple actions we should all take not only during Cybersecurity Awareness Month - but every day throughout the year." The theme of 2023 is "It's easy to stay safe online."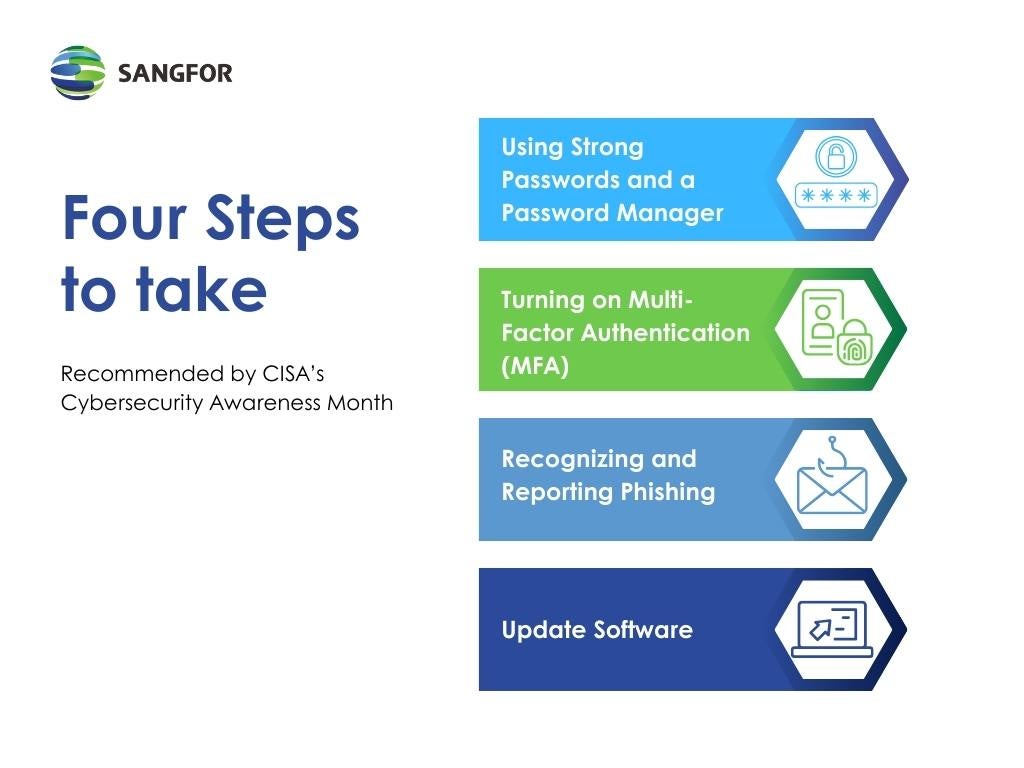 The 4 CISA cybersecurity awareness month steps include:
Using Strong Passwords and a Password Manager: The agency has noted that strong passwords are crucial to protecting data in the digital age. Using long, random, and unique passwords that include uppercase, lowercase, numbers, and symbols will go a long way to securing your accounts. Password managers are also ideal for storing and generating strong passwords.
Turning on Multi-Factor Authentication (MFA): Using multi-factor authentication protects your accounts and reduces your chances of getting hacked. This feature is especially helpful for social media, email, and finance accounts.
Recognizing and Reporting Phishing: Phishing scams make up the majority of data breaches. CISA has asked that the public be vigilant when answering calls, emails, or texts asking for personal information. Avoid sharing any credentials without verifying the source through the official organization. Moreover, try to report any phishing scams you suspect to the relevant authorities or departments.
Update Software: The last step is to ensure that your software is updated with the latest security patches. Regularly check for updates to keep your systems running efficiently and securely.
Source: CISA
Sangfor has already touched on the importance of these issues when discussing Cybersecurity Awareness Month CSAM 2022 and how you can stay protected from cyber threats. Moving into 2023, the cyber threats we face are now rapidly evolved and evolving. To counter this, businesses need to take full advantage of cybersecurity solutions while they still can.
Top Enterprise Cyber Threats in 2023
2023 has been a year of great strides in technology. From AI and the Internet of Things to 5G and quantum computing, the future has never looked this bright. However, these steps cannot be taken without the risks casting shadows on their progress. Enterprises are becoming the soft and favorite target of Cyber criminals. In 2022, we have published this highly detailed article on Top Ransomware attacks in 2022.
The IT sector has been struggling under the weight of new and advanced cyber threats that are rapidly evolving. The University of San Diego has noted that these threats have placed the data and assets of corporations, governments, and individuals at constant risk. The university further rounded up some of the top cybersecurity threats of 2023 that businesses need to watch out for:
Vulnerability in the Cloud
While cloud platforms offer many benefits in terms of storage, security, and flexibility – they also present certain risks. The university went on to caution against the following cloud vulnerabilities:
Misconfiguration
Poor access control
Shared tenancy
Insecure APIs
Lack of multi-factor authentication
Data Breaches
Data breaches are gaining traction in the modern age. Even large companies are not safe anymore and risk losing billions through compromised data. This article illustrates the recent data breaches in 2022. In addition, not only the EU, but the ASEAN countries also apply fines and penalties to enterprises for the data breaches.
Mobile Attacks
The popularity of smartphones has made them a growing target for cyber-criminals. Spyware, phishing attacks, and hacking have all gotten easier in the smartphone generation.
Complex Phishing
The use of machine learning and AI has made phishing scams more sophisticated. Using these technologies, hackers can now make credible-looking phishing scams to manipulate people into downloading malware to steal credentials and personal information. The 2023 Phishing attacks statistics can be read from here.
Evolved Ransomware
In line with evolved malware, ransomware has also taken a few classes to up the ante. The RaaS – Ransomware As A Service has made hacking simple. RaaS is malware designed by professional coders, designed to be launched against a target quickly and without the need to be an expert coder, hacker or cyber-criminal. Sangfor had a detailed webinar on Hacking Made Simple With Ransomware-as-a-Service.
Cryptojacking
The university also claimed that cryptocurrency is responsible for the Cryptojacking trend. Basically, cryptocurrency is fueling the ransomware attacks. This involves hackers hijacking a computer's processing power to "mine" for cryptocurrency. This can cause serious downtime and performance issues for businesses.
State-Sponsored Attacks
Cybercrime is also an attractive avenue for entire nations looking to infiltrate other governments and attack critical infrastructure. The Russia-Ukraine cyber-attacks have highlighted the dangers of state-sponsored hacking. This emerging threat also poses a danger to thousands of innocent civilians.
IoT Attacks
Statista noted that the number of devices connected to the Internet of Things is expected to reach 75 billion by 2025. These connections can be useful for businesses to collect data, streamline processes, and stay in touch. However, it's also a vulnerability having that many devices connected under the threat of a potential cyber-attack.
Smart Medical Devices and Electronic Medical Records (EMRs)
The healthcare sector is facing rapid digitalization in a race to keep up with emerging technologies. As a result, many of these facilities have fallen behind cybersecurity measures. Cyber-attacks on the healthcare industry can affect thousands of patients. These areas are especially vulnerable to ransomware attacks and phishing scams.
A Severe Shortage of Cybersecurity Professionals
The university also cited the shortage of cybersecurity talent as a factor in the IT industry's high alert. As fewer cybersecurity professionals are found, the digital landscape faces an uncertain future.
Cyber Security Awareness Month is about understanding the growing threats to your data, networks, and devices. As these trends grow and new ones emerge in 2023, it's our joint responsibility to mitigate the risks through the use of robust cybersecurity solutions.
Cyber Security Implications of Remote Work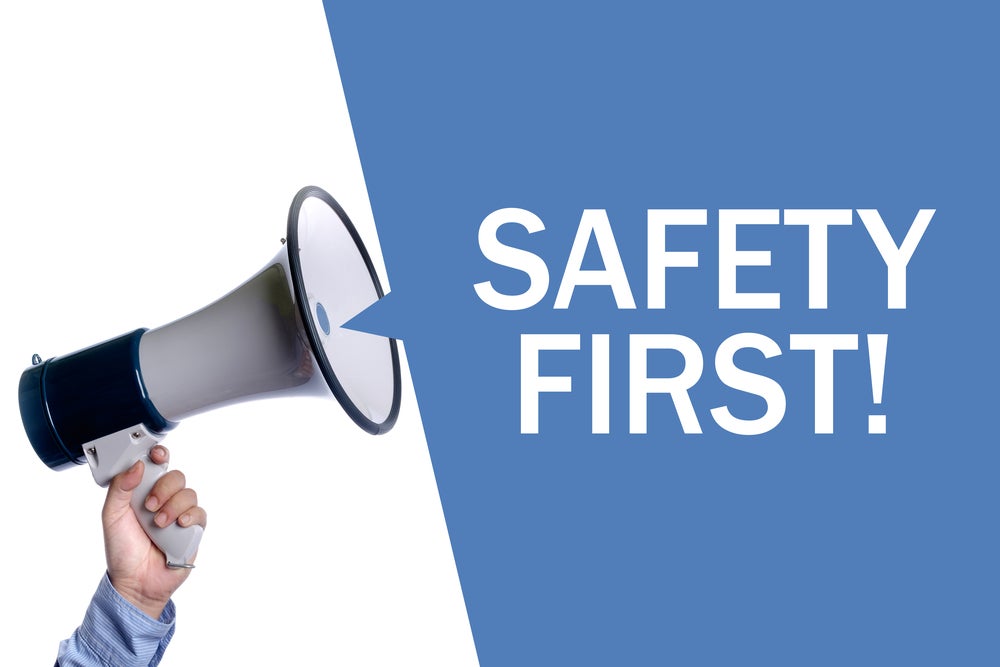 The COVID-19 pandemic changed the world in several ways. For the business sector, the sudden shift to remote work became a popular setup. Most companies realized that they could cut costs, maximize productivity, and improve employee retention through remote work.
Today, the options include a hybrid working model as well. This entails working from home while also visiting the office as needed. While the remote working setup has multiple benefits, it can also present a cybersecurity risk. Securing your network for remote workers can be challenging for most companies. Some of the common cybersecurity challenges faced can include:
Remote Accessibility
Naturally, a remote worker needs access to the network from wherever they are. However, companies need to be completely certain about who exactly is accessing their files and network at all times. Organizations can set up the Virtual Desktop Infrastructure (VDI). VDI is a technology that virtualizes desktops and hosts them on remote servers. It enables users to access and use their desktop environment and applications from any device and location.
Social Engineering
Working from home also makes you more vulnerable to phishing scams and other social engineering tactics. Often, workers assume the legitimacy of emails and attachments due to constantly receiving them from the company regularly.
Data Loss
Remote workers means that company data can often be stored in different locations and on less secure devices. This opens your business up to a potential data breach.
Ransomware
Virtual Private Networks (VPNs) and Virtual Desktop Infrastructure (VDI) have been widely used to enable remote working conditions. However, the use of these technologies presents a security vulnerability that has been exposed by a hike in ransomware attacks.
There has been a direct correlation noted between the rise of remote work and the increase in ransomware attacks.
Shadow IT
Shadow IT is an unregulated IT solution carried out by novice employees. This includes workers accessing data on their own home devices. Even though well-intentioned, these processes can cause more harm than good and create an attractive vulnerability for hackers.
Building a Layered Cybersecurity Defense
To fully capitalize on National Cyber Security Awareness Month, companies need to invest in the right tools and services to maintain the best security posture. Enterprises have a responsibility to their customers and workers to build a layered cybersecurity defense. Fortunately, Sangfor's solutions are available for you. Sangfor Technologies is a leading provider of advanced, integrated, and effective cybersecurity solutions that will enhance your defense plan. Some of the essential tools to build a fully layered and impenetrable defense for business include:
Managed Detection and Response
This is a solution that finds and mitigates threats before they can damage the network or access data. Sangfor's Cyber Guardian platform is an MDR cybersecurity platform that combines state-of-the-art AI threat detection technology with the latest global threat intelligence to detect and identify both known and unknown threats. Using logic and skill to analyze threats for context-relevant threat notifications and alerts enhances the effectiveness and value of security operations.
Secure Access Service Edge (SASE)
Using a SASE solution keeps your cybersecurity agile, secure, and efficient – especially for businesses that need secure direct access between branches or remote offices. Sangfor's Secure Access solution provides a secure, cloud-based connection throughout the company. The platform also audits both external and internal traffic to ensure consistent network security from malware, viruses, ransomware, and insider threats.
Zero-Trust Network Access (ZTNA)
Adopting a zero-trust environment for your network assumes that access authorization needs to be re-established often. This prevents the company's data and network from being accessed by people without those privileges.
Employee Training and Awareness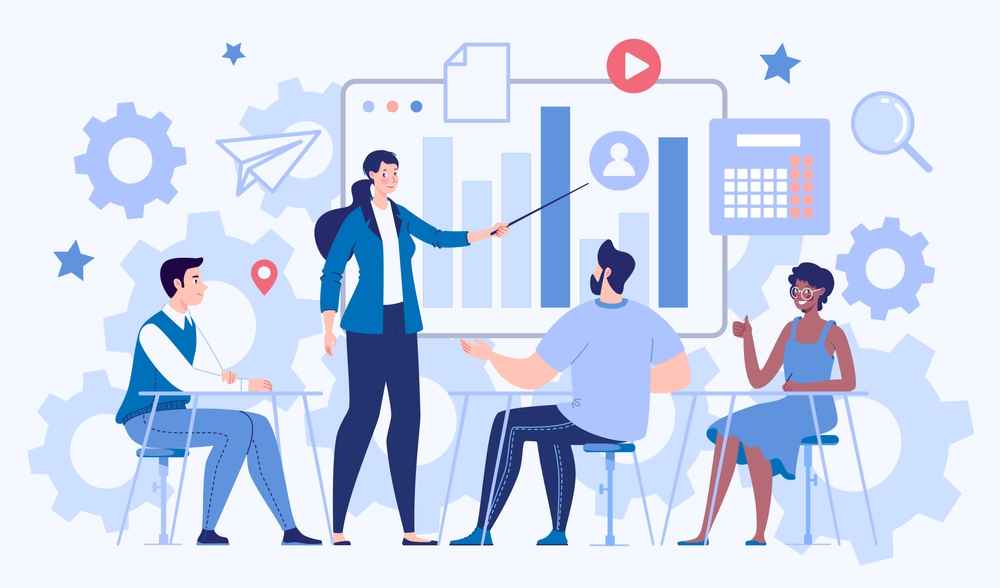 More than just cybersecurity platforms and services, the core of any business is the workforce. Your employees are your greatest asset; however, they can also be your greatest liability. National Cybersecurity Awareness Month CSAM is the ideal time to brush up on the cyber hygiene practices that need to be followed by every employee. Educating and training your employees to see the signs of cyber-attack and actively avoid risky cyber behavior can greatly improve your company's security posture.
A well-informed workforce is less likely to click on suspicious links, download dodgy attachments, or put company data at risk. Another key to ensuring employee cyber-safety is to protect the endpoints of your network.
Endpoint security is a process of protecting all the endpoints of a network. This includes laptops, cellphones, tablets, desktops, and more. Once secured, these endpoints can't be infiltrated by malware. Sangfor's Endpoint Secure platform provides holistic end-to-end protection before, during, and after an attack. Using powerful, multi-layered threat detection, it mitigates all cyber threats seamlessly. Moreover, the platform has the added benefit of being user-friendly and easy to maintain. This accessibility makes it an ideal solution for employee cybersecurity awareness campaigns.
Incident Response Preparedness
While we can try to stay protected, unfortunately, you can't always prevent a cyber-attack from happening. This is why it's equally important to have an actionable incident response plan ready to go. The 2023 Cybersecurity Awareness Month is the ideal time to campaign for a clear and concise Incident Response Plan for your company. This is a set of guidelines to follow after a cyber-attack that prioritizes 3 main aspects:
Breach containment
Minimizing damage
Restoring operations
Cyber-attacks can have a huge impact on businesses – regardless of size. However, most small to medium-sized companies balk under the weight of an attack. While prevention is better than a cure, you can't always be the lucky statistic. Some of the main reasons why businesses need an effective incident response plan are:
It allows you to react faster and minimize damage to the network.
It can save you the cost of a complete breach.
It helps to restore your brand's reputation.
It helps your company stay compliant with your local data regulations.
It signifies that your company is prepared in the face of uncertainty.
It assures your customers, partners, and potential clients that they're in safe hands.
Making the Most of Cybersecurity Awareness Month
Cybersecurity Awareness Month 2023 - CSAM is a teaching moment for us all. In a world caught up in the latest trends, we tend to lose sight of the true nature of working together to achieve greatness. This October Cybersecurity Awareness Month needs to be a reminder to us all that it is only through the collaboration of services, employees, leaders, and governments, that we can truly secure our digital landscape. For cybersecurity and cloud computing solutions that go the extra mile, visit www.sangfor.com to start your secure journey today.
Frequently Asked Questions
Cyber Security Awareness Month is in October of every year. CSAM is an annual initiative that aims to raise awareness and educate the public about the importance of cybersecurity. It also provides resources and tips to help people protect themselves and their data online.
The focus of Cybersecurity Awareness Month 2023 according to CISA has been:
Using strong passwords and a password manager.
Turning on Multi-Factor Authentication (MFA).
Recognizing and reporting phishing.
Updating software.
To help out this Cyber Security Awareness Month, you can:
Share helpful tips and resources with friends, colleagues, and family members.
Post tips and advice on social media using the hashtag #CybersecurityAwarenessMonth.
Encourage your employer to host a Cybersecurity Awareness Month campaign in your workplace.
Commit to employee education and training exercises such as cyber-attack simulations, mock phishing tests, and more.