Customer Overview

Husada Hospital is a type B hospital, with a capacity of 311 beds. Inpatient facilities available are; Super SUITE, SUITE, VIP SUPERIOR, VIP STANDART, Class I, II, III, Children's Room, Room for Midwifery and Genecology and Intensive Care Room (ICU/ICCU). The superior units of Husada Hospital include an integrated Diabetes Services Unit, Stroke Unit, Liver and Gastro-intestinal Unit, Interventional Radiology and Laparoscopic Surgery unit.

Husada operates 24 hours, serving patients who need emergency, laboratory, radiology and pharmacy health services.

Customer Requirements
Physical servers for critical applications including HIS, LAB and EMR, which needed high resources while running to avoid any applications suffering downtime.
Good after-sales support services to support the continued development of the infrastructure.
The IT team was searching for competitive pricing, suitable to their budget and matched with the virtualization solution.
Sangfor HCI replaced their traditional infrastructure by reducing 2 servers into 1 cluster, and within this cluster, unifying com- pute, storage resources and management, with no need to install an agent on the client computer to manage applications.
By using 2 nodes of the Sangfor HCI appliance, aServer, no external storage was needed. Sangfor aSAN provided virtual stor- age, boosting performance and data protection capabilities through multiple copies of all policies.
"What You Draw Is What You Get" topography simplifies O&M.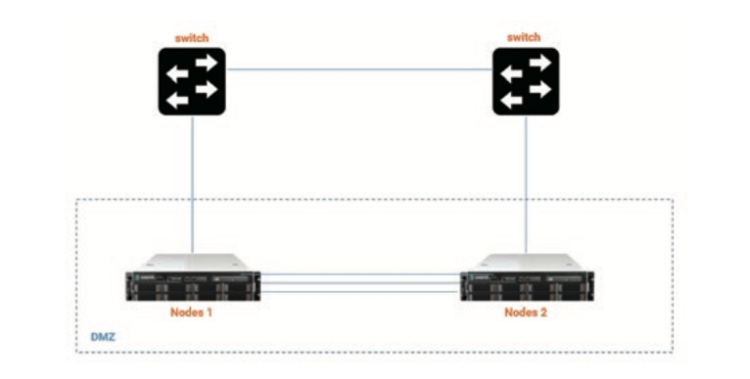 Proposal Value
1. Simple
Sangfor HCI is simple, with fewer server virtualization technologies, more external storage, physical router/switch and security devices than are typically found in traditional cloud architecture. The initial scale was large and initial investment high. With the increase of equipment, the system's point of failure increased, leading to the decline of reliability of the entire platform. Finally, a large amount of physical equipment leads to a longer procurement process and extends the time to market.
Sangfor HCI needed only a X86 server and switch, two kinds of equipment, making the initial total cost of the cloud data center drop sharply. Based on distributed architecture, two all-in-one machines can build a resource pool, guaranteeing system reliability. Based on a modular and standardized resource pool, the construction process is very simple.

HCI is a category of scale-out. IT architecture was simplified by consolidating legacy hardware into servers and switch, all func- tions are delivered by software. Sangfor consolidates more hardware, like firewall and load balancer, providing better CapEx and management.
2. Stable
HCI stably and efficiently carries enterprise-level core services such as Oracle RAC and SQL Server clusters.
The combination of software-defined distributed storage architecture, deep optimization of RAC scenarios, and optimization for CPU and memory, HCI stably supports Oracle RAC and ensures performance, stability, and reliability.

Multi copies is totally different from a traditional RAID based mechanism. This feature dramatically enhances data security. Sangfor provides technology designed to ensure reliable data, such as multiple copies of data. All data is written to disk and on multiple hosts. The platform also provides built-in standby functions that can reserve backup data on local or remote storage space.
3. Security
Because traffic between virtual machines is invisible, a virtual machine can easily become a springboard to reach the entire data center in the event of an attack. Sangfor incorporates WAF code into the kernel and provides a distributed virtual firewall function in the hyper-converged architecture, providing firewall protection for each virtual host and micro-isolation of virtualized services.
Sangfor has also virtualized various network security devices such as NGAF and ADC, which can be deployed directly at key locations in the cloud data center. All security components are managed through a unified web platform and achieve rapid deployment and policy delivery.
Sangfor simultaneously provides east-west micro-isolation and north-south NFV cloud security solutions, the most comprehensive virtualization and cloud data center security solution in the industry.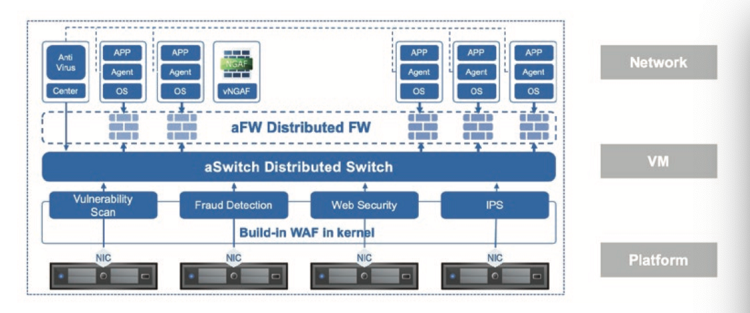 4. Easy-to-use
Sangfor is the only vendor that enables network topology automatic generation. Network provisioning is a majority of an IT engineers work load, making automation a valuable feature. Before automation, engineers would spend 5 days a week in the machine room, while now all work can be completed on the management console.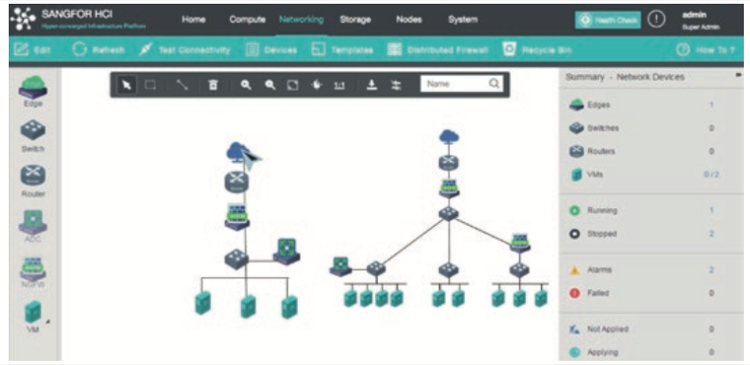 ---