Customer Background
The Institute of Business Administration (IBA) is an independent university in Karachi, Sindh, Pakistan. Founded in 1955, it is the oldest business school outside North America. IBA today is one of Pakistan's selective and highest-ranked institutes particularly known for its business program.
Customer Demand
- Difficult to allocate and manage the bandwidth
- Unable to monitor the network, network status, and usage percentage is unclear
- Unable to manage user-based Internet permissions
- The online behavior of visitors cannot be effectively tracked
- Unable to protect web application server
- Need to understand network security status
Sangfor Solution for Customer
Sangfor has placed two sets of IAM and two sets of NGAF in IBA Karachi's two campuses, University Rd campus and city campus. The IAM deployment mode is bridge mode, which is placed after the firewall. Two IAMs help IBA do users' authentication, bandwidth management, granular application control, and user report. NGAF is in the network to protect the DMZ zone and local users. NGAF helps IBA with IBA WAF, UTM function, and network visibility.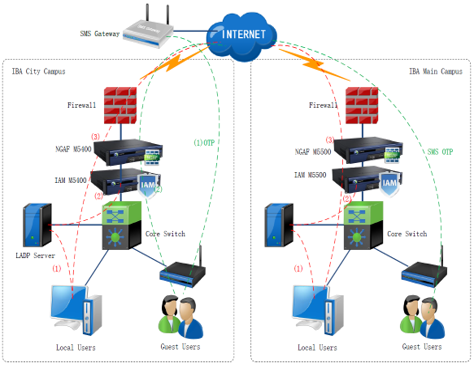 Customer Benefits after Deploying Sangfor Solution
- Full visibility and detail reports, making monitoring easier
- Bandwidth management is more flexible with role-based, time-phased management
- Simple and convenient application control
- Makes visitor management easier with SMS authentication
- Professional NGAF provides a safe network with full security visibility
---