Development has and continues to play a key role in society's advancement. However, while development is an essential part of meeting the world's current and changing needs, the continual use of natural resources and the environment mean we must find ways to sustain the natural systems from which we source the materials we use. The Brundtland Commission defines sustainable development as our capacity to meet the needs of the present without compromising the ability of future generations to do the same.
Where does technology come into the equation? According to Ericsson, the total life cycle carbon footprint of the ICT sector is approximately 730 million tons CO2 equivalent (Mt CO2-eq), or 1.4 percent of total global greenhouse gas emissions. This includes all equipment powered by electricity at every phase of the life cycle, from the manufacturing, to the loads contained and processed through networks as well as data centers, devices such as desktops and cellphones, and any other electrical equipment.
In 2020, global data centers were responsible for 1% of the global final electricity demand. However, even with the growth in internet traffic and digitization and subsequently the demand for electricity, according to the International Energy Agency, huge strides in energy efficiency have helped limit electricity demand growth from data centers and data transmission networks. The use of data centers will only continue to grow as the world evolves. This begs the question of how organizations can sustainably make use of the solutions provided by data centers and on-premises infrastructure without halting development. The answer is Hybrid Cloud!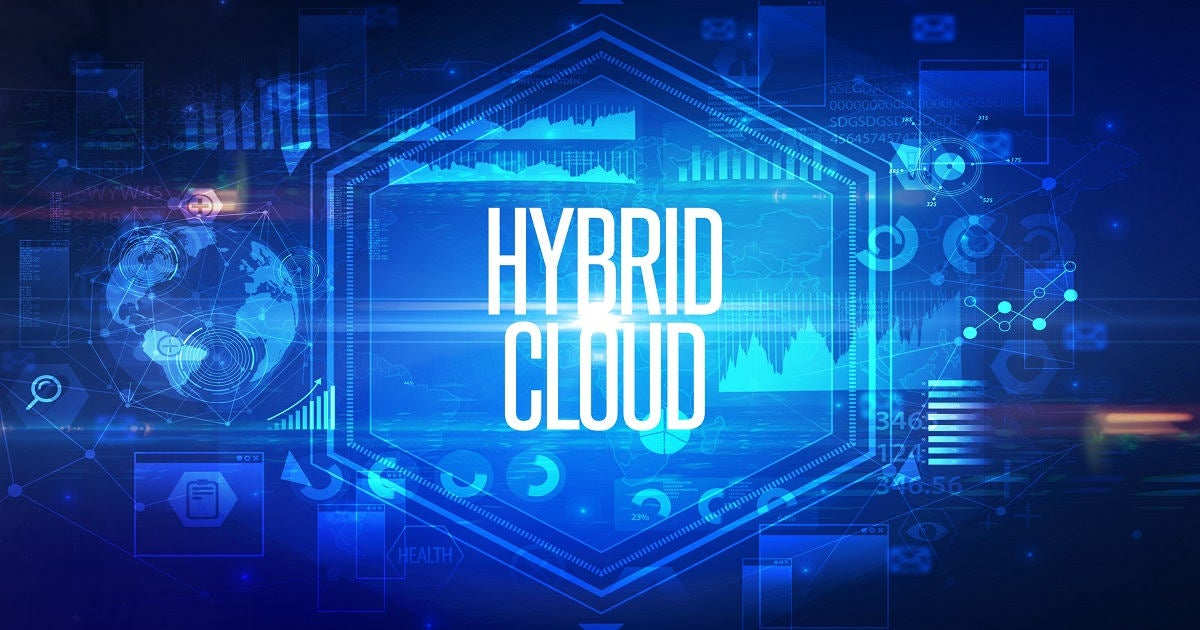 How Are Hybrid Clouds Sustainable and Environmentally Friendly?
A hybrid cloud strategy blends public and private clouds by providing enterprises with access to public cloud resources while maintaining the use of select on-premises hardware. There are several organizational advantages to implementing a hybrid cloud strategy, but among the benefits is its sustainability.
Gartner defines the term Cloud Sustainability as the use of cloud services to achieve sustainability benefits within economic, environmental, and social systems. It consists of the sustainable operation and delivery of cloud services by a cloud service provider, as well as the sustainable consumption and use of cloud services.
By opting for a cloud solution, you are already embarking on the journey towards more sustainable business practices. Clouds, by nature, aim to reduce the strain incurred by businesses when solely relying on on-premises solutions- decreasing energy loads.
Reduced Hardware/Infrastructure
One of the most notable benefits of the use of cloud solutions is that they enable enterprises to reduce their use of hardware. This means less electronic waste. Without the cloud, businesses are forced to acquire their own infrastructure, which is not only costly to keep but also directly contributes to manufacturing - a part of production that plays a significant role in carbon emissions.
Reduced Electricity Used
Cloud use significantly reduces enterprise use of electricity for cooling, power conditioning, and lighting, shrinking energy consumption. Businesses benefit from the low costs of platforms such as AWS and Azure because it takes less money for them to cool and power a server than on-premises infrastructure. Furthermore, clouds such as Microsoft's cloud are 93% more energy efficient than traditional data centers. This emphasizes the importance of choosing a cloud vendor that is just driven toward sustainability.
Reduced Carbon Footprint
The use of clouds has played a salient role in digital transformation; providing solutions to IT challenges and driving transformation all with less of a negative environmental impact than more outdated technologies with similar functions. Cloud users utilize 77% fewer servers, consume 84% less power, and reduce carbon emissions by 88% through its usage, according to research conducted by Mission Cloud Services. There are many cloud vendors that not only provide carbon footprint measurement services to assist clients in tracking but also aim to lower their own footprint while providing services to enterprises.
The first step in migrating to a sustainable cloud strategy is choosing the right vendor. Gartner predicts that carbon emissions data will become a key selection consideration for IT buyers when sourcing hyper-scale cloud services in the next three years. Vendors such as Microsoft, Amazon, and even Google Cloud are amongst those dedicated to lowering their carbon footprints as part of the mission to a net-zero economy.
Sangfor is one such vendor with a user-centric approach dedicated to embracing sustainability and providing services to businesses that envision taking on cloud services as part of their mission towards sustainable business practices.
"For some, going 'carbon neutral' will be achieved using carbon offsets, but designing data centers from the ground up to be carbon neutral will be the real measure of contribution. And for advanced cloud providers, matching workloads with renewable energy availability will further accelerate their sustainability goals," Cushing Anderson, program vice president of the IDC said.
Conclusion: Cloud Computing Sustainability
The cloud is just one of many ways organizations can lessen their carbon footprint. Accenture suggests that migrating to the public cloud could reduce global carbon (CO2) emissions by 59 million tons per year. This represents a 5.9% reduction in total IT emissions and equates to taking 22 million cars off the road. Hybrid Cloud presents an opportunity for organizations to pursue innovation responsibly while increasing the sustainability of their businesses where sustainable development is a global priority. Additionally, a hybrid cloud solution provides businesses with the flexibility of having access to the resources they need as and when they do.
The goal is not to immediately convert or pressure all enterprises into public cloud solutions. Instead, hybrid clouds equate to lower maintenance of on-premises infrastructure with unlimited public cloud resources- a realistic way to pursue sustainable development.
About Sangfor Technologies
Sangfor Technologies is an APAC-based, global leading vendor of IT infrastructure solutions specializing in Network Security and Cloud Computing. Visit us at www.sangfor.com to learn more about Sangfor's Security solutions and ransomware protection, and let Sangfor make your IT simpler, more secure, and valuable.